The Plaza Downtown offers business space, services
August 9, 2017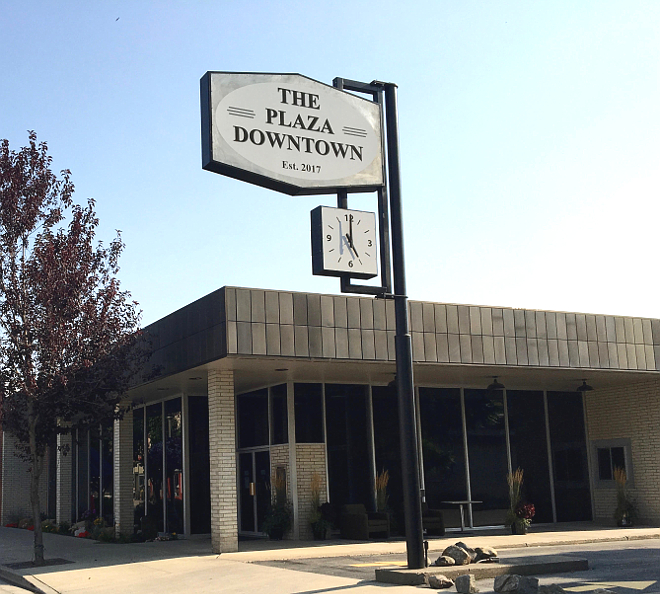 Over the past six months, renovation has been underway at 7177 Main Street in Bonners Ferry in anticipation of a new and fully furnished business center. The Plaza Downtown, located in the former Dr. Barker and First Security Bank building, offers a dynamic and energetic shared office space in the heart of downtown Bonners Ferry.

Owners Victor and Tess Rae have been working hard at updating and beautifying both the interior and exterior of one of Bonners Ferry's landmark buildings.

"As a local community member, I have always had a vested interest in Bonners Ferry," Tess said. "Seeing a building downtown with so much potential and being able to capture its amazing history and splendor has been something I have wanted to do for a long time. It has been very exciting to embrace a concept that is considered somewhat progressive for our small town. However, I believe in order to help revitalize downtown, it is crucial to have the necessary infrastructure in place. The business center will be able to offer services that will help attract new businesses and retain businesses currently in the area."

The business center promises to do just that.

Not only does the space feature natural light, historic character and modern aesthetics, but the co-working and shared office will also provide professional office and meeting space solutions for small businesses and entrepreneurs with the necessary tools to help them grow and to prosper.

With 3,400 square foot professional space, The Plaza Downtown has six private office suites for rent and also will offer dedicated desks and flex seating. Dedicated desks and flex seating are an affordable option for those needing access to the high-speed Internet and various business amenities.

The 14x24-foot conference room is available by the hour, half-day or full day to accommodate business meetings, video teleconferencing, training, seminars, mediations and more.

"Having a business center downtown is crucial for developing entrepreneurs and retail business activity," said Boundary Economic Director Dennis Weed. "Every time I meet at the business center in Sandpoint, I marvel at all of business activity taking place there. I look forward to having that in Bonners Ferry, and I am excited to see all of the great things it will provide for our residents and businesses."

Weed will be moving the Boundary Economic Development office to the new business center this month.

"The main street location provides a better opportunity for me to meet and help serve those looking at Bonners Ferry as a possible location for their business venture," he said.

The office space also allows flexibility to use as little or as often as needed, especially for those who travel to Bonners Ferry. Financial Advisor Bruce Pedey has been serving the community since 1993, traveling back and forth from Spokane to meet his clientele.

"The Plaza Downtown is a great spot for me and I am excited to be downtown in my former hometown," he said.

Certified Public Accountant James Hutchens and Ronald Denova of Gateway Financial Partners have also relocated to the business center and are co-sharing a space.

"The building looks beautiful and I am happy to be going in there," Hutchen said.

Through the month of August, the business center will be available by appointment with regular business hours starting in September.

Space is limited and anyone interested in leasing a private suite or a dedicated desk are highly encouraged to contact Tess Rae by email at tessrae@theplazadowntown.com to schedule a tour. For more information, visit The Plaza Downtown's website at www.theplazadowntown.com.
Questions or comments about this article? Click here to e-mail!