Back to Archives Home
News Bonners Ferry
is dedicated to providing news and information of importance to the people of Boundary County, Idaho, when it happens, sometimes as it happens.

Our archives will stay on line as long as News Bonners Ferry does ... accessible to everyone and providing a look back at the news and information that was presented on these pages.
Obituaries
Audus Winzle Helton, October 5, 1922 ~ December 15, 2016
Michael (Mick) Wayne Loney: July 31, 1942 ~ December 25, 2016
Daisy Marie Huggins, February 26, 1934 ~ December 22, 2016
Larry D. Swing, January 3, 1942 ~ December 15, 2016
Jason Ian Zierke, April 5, 1982 ~ December 17, 2016
Dean Peterson, May 11, 1925 ~ December 20, 2016
Donna Marie Duncan, March 20, 1959 ~ December 15, 2016
Nancy Jennifer McGinnis, April 8, 1945 ~ December 14, 2016
Dean C. Miller, July 12, 1929 ~ November 29, 2016
Stephen Moody, March 22, 1940 ~ December 5, 2016
Kevin McNally, March 17, 1952 ~ December 11, 2016
Cheryl Jean Adkison, July 19, 1944 ~ November 26, 2016
Kenneth Dale Gee, December 17, 1952 ~ November 27, 2016
Social

Varhus earns wings at Northern Air: Jacob Varhus, Yakima, Washington, has dreamed of flying ever since building a wind tunnel for his sixth grade science fair. Jacob now works as an aerospace engineer. Time and aircraft access allowed Jacob to train and earn his commercial license at Northern Air on December 12.

Boundary Community Clinics welcomes Nurse Yercheck: Boundary Community Clinics, 6641 Kaniksu Street, Bonners Ferry, bids welcome to Beverly J. Yercheck, ANP-C. As an Adult Nurse Practitioner, Yercheck will be working closely with Dr. Susan Layeux in the primary care/rural health clinic.

BFHS students earn CNA credentials: Congratulations Bonners Ferry High School Certified Nursing Assistant Graduates! They are Cassie Clum, Katelyn Bennett, Victoria Smith, Auburn Burt, Nicole Henslee, Jennica Branson, Bailey Jenkins, Michaela Worley and Ashlyn Hittle.
Boundary Ambulance welcomes Kelly Halleman: Boundary Ambulance bid welcome a new paramedic to their team this month. Kelly Halleman and his wife recently moved to Bonners Ferry and he started December 1, assigned to "Green Shift."

Mrs. Hart BCSD Employee of the Month: It's not every day that a principal gets the opportunity to recognize the efforts of one of their incredible teachers. Today I do. It's with great honor and admiration that I recognize Mrs. Lyndsay Hart as Boundary County School District's November Certified Employee of the Month. By Principal Lisa Iverson

Meyers named BCSD Employee of the Month: Boundary County Middle School is proud to announce Charles Meyers as the district's Classified Employee of the Month. Charles tries hard to bring out the best in his students, always keeps a positive attitude, and has more patience than most people have.

Mt. Hall names November's top citizens: Mt. Hall Elementary held their November Citizen of the Month assembly on November 22. November's Citizens of the Month are ...
Sports
Steelhead season opens New Years Day: For some anglers, the best thing about New Year's is the start of the spring steelhead season, which opens January 1 on parts of the Clearwater, Salmon, Little Salmon, Snake and Boise rivers.
Salmon forecast: sockeye up, chinook down: The forecasted return of adult spring and summer chinook salmon to the Columbia River basin in 2017 will be lower than initial estimates made last year in December, but the estimate of sockeye salmon is nearly twice the size of last year's estimate.

No more Moose Madness: Bonners Ferry and Sandpoint tipped off their annual basketball contest F

riday

night, but this time there are no moose antlers on the line. After eight years of Moose Madness basketball, along with its crazy, rambunctious, and noisy student competitions between the two schools, this year will be just a plain old basketball game.
Hunting, fishing seasons continue through holidays: There's still time to bag that Christmas goose, game bird, or maybe a nice solstice-season steelhead. For hunters and anglers itching to get out during the holiday season, several opportunities are available.
Local voices needed on trails council: The U.S. Forest Service is soliciting nominations for the Pacific Northwest National Scenic Trail Advisory Council. which provides recommendations to the Forest Service on the long-term management of the Pacific Northwest National Scenic Trail.
Hunters urged to turn in reports: With most of the major big game hunting seasons over for the year, Idaho Fish and Game reminds hunters who purchased a 2016 deer, elk, or pronghorn tag to report the results of their big game hunts as soon as possible.
IDFG seeks input on proposals: Idaho Fish and Game wants to hear from hunters on proposed changes to moose, bighorn sheep and mountain goat seasons for 2017 and 2018.
Idaho hunting and fishing licenses back online: People can once again buy Idaho hunting and fishing licenses and tags online, but they will have to establish a user name and password to get entrance into the system.
Letters
Rosanne Smith: ... Moyie Springs already has a youth center. It is called "outdoors." It involves riding bikes, walking with parents, playing in the yard with their pets and neighbors, walking to the store, sledding and many more activities.
Robin Merrifield: Thank you, Mr. Bauer, for your letter to NewsBF.com regarding the Go-On rate of Bonners Ferry High School students. First of all, we'd like to ensure the data is correctly reported. Bonners Ferry High School's "Go-On" rate for 2015 was 45%, up from 41% in 2014.
U.S. Senator Mike Crapo: The quiet service and giving spirit of Idahoans are among the many blessings I am counting this holiday season. A recently released study from the Corporation for Community and National Service further confirmed the prevalent service in Idaho communities concluding that Idaho ranks fifth in the nation for volunteer service.
U.S. Congressman Raul Labrador: As 2016 draws to a close, I want to thank you for the privilege of serving the First Congressional District of Idaho. Constituents inspire me every day with their commitment to hard work, family and community.
Larry Bauer: In the "things we can do better" part of School Superintendent Pflueger's most recent Superintendent Scoop report, he did not mention the need for the district to improve the "Go On" rate. Only 40-percent of graduating students at Bonners Ferry High School will go to a tech school, community college or four year school. The military is not included in this figure.
U.S. Senator Mike Crapo: A Haskett point from the Snake River is one of the historical items from Idaho on display in the National Museum of the American Indian in Washington, D.C. The museum dates the point's creation to a remarkable 10,000-6,000 BC. The Native American tribes of Idaho — the Coeur d'Alene, Kootenai, Nez Perce, Shoshone-Bannock and Shoshone-Paiute — are undoubtedly a deep and central part of Idaho's history and development.
U.S. Congressman Raul Labrador: Some Americans are so disappointed by the result of the election that they call for abolition of a 229-year-old institution that has kept our nation strong and united, the Electoral College.

Home
News
Sports
Social
Obituaries
Events
Letters
Boundary County Archives ~ Mo.Yr
News
December 31
Winter storm to bring in New Year: The National Weather Service has issued a winter storm warning for heavy, blowing snow across Boundary, Bonner and north Kootenai Counties in effect from 11 p.m. today through 4 p.m. Monday.
December 29
Extension starting a seed library: The Boundary County Extension Office is soon starting a seed library. This library will be a collection of open pollinated and heirloom seeds that you can borrow to plant and grow at home.
December 26
Watch upgraded to winter storm warning: The winter storm watch issued Sunday for the region has been upgraded to a winter storm warning in Boundary, Bonner and part of Kootenai County, indicating a higher certainty of adverse weather.
December 25
Winter storm could snarl Tuesday morning commute: The National Weather Service has issued a winter storm watch for North Idaho and northeast Washington, including Boundary and Bonner Counties, for moderate to heavy snow Monday night through Tuesday morning.
December 24
AARP Driver Safety class offered: A driver safety class will be offered on Thursday, January 12, at the Bonners Ferry Senior Center, 6635 Lincoln on the South Hill in Bonners Ferry. The class is open to anyone, but emphasizes safety issues related to people 50 years and older.
December 22
Mail thieves steal Christmas: Several law enforcement agencies, including the Boundary County Sheriff's Office, the Bonners Ferry Police Department and the Idaho State Police, are working together and believe they are close to making an arrest in a rash of mail thefts in three counties earlier this month that targeted mainly Christmas cards and credit cards.
It looks like we'll have a white Christmas: According to the National Weather Service, there's a good chance that Boundary County and the region will see a new dash of snow just in time for Christmas; they've issued a winter weather advisory for snow from 4 a.m. Friday through 10 a.m. Saturday.
117th Audubon Society bird count a week away: Do you like to watch birds? Do you need help identifying your feathered friends? Please consider joining the Audubon Society's 117th Annual Bird Count on Wednesday, December 28 ... and don't forget to fill your feeders!
December 21
Provigil users may be eligible in settlement: Idahoans who bought the wakefulness drug Provigil may be eligible for part of a $35 million settlement. Consumers who purchased generic versions may also be eligible.
Cossalman stepping down, new P&Z member needed: Boundary County Commissioners are seeking letters of interest from individuals who have lived in Boundary County for at least two years who are interested in filling a vacant position on the Boundary County Planning and Zoning Commission.
Positive reflections from BFHS: Warm Holiday Greetings from Bonners Ferry High School. I would like to take this opportunity to reflect and share. Any position in education comes with its own unique amount of adversity, and my position as Principal at BFHS is no different. By Principal Kevin Dinning
Labrador names service academy nominees: Representative Raúl Labrador, R-Idaho, on Tuesday announced his office's nominations to the United States service academies. Though none are from Boundary County, there are several from North Idaho.
December 20
Avalanche danger high: The Idaho Panhandle Avalanche Center has issued an avalanche warning indicating high avalanche hazard for the entire forecast region, which includes Benewah, Bonner, Boundary, Kootenai and Shoshone Counties.

Leadership Class tops FFA; everybody wins! The Boundary County Middle School Leadership Class under Kelly Hinthorn out donated the Bonners Ferry High School FFA and Julie Smith in a friendly competition to support the Ministerial Association Christmas food basket delivery program.
December 19
Winter storm warning issued: The National Weather Service has issued a winter storm warning for snow, in effect for North Idaho and northeast Washington from 10 p.m. today through 10 p.m. Tuesday. A winter storm warning indicates a very high probability that severe winter weather is imminent. The winter storm watch issued Sunday has been cancelled.
December 18
I-90 semi collision kills Minnesota trucker: An 80 year-old Minnesota man lost his life in North Idaho this morning after the driver of a west bound semi lost control of his rig on I-90 near Wallace.
Two part snow storm heading in: The National Weather Service has issued a winter weather advisory in effect from 4 a.m. to 4 p.m. Monday, to be followed by a winter storm watch in effect from Monday night through Tuesday evening as a pair of winter storms move into the region.
Ministerial Association distributing food baskets: The Boundary County Ministerial Association Christmas Food Baskets will be distributed on Monday at the Fairground's Memorial Hall.
Expect cold, wet start to new year: The Columbia River basin states are in for a cold and wet winter as a result of continuing influences from the La Nina weather pattern that builds off colder than normal water temperatures in the Pacific Ocean.
Cereal School slated for Bonners Ferry: The Idaho Wheat and Barley commissions sponsor eight "cereal schools" across the state each January, providing free lunch and a half-day of updates on wheat and barley production in Idaho. The northernmost will be held in Bonners Ferry.
Idaho unemployment holds steady: Idaho's seasonally adjusted unemployment rate held at 3.8 percent in November – the same rate reported since July.
Boundary County Commission minutes, November 21-22
December 16
Hospital Auxiliary raffle a success: The Hospital Auxiliary held their Holiday Raffle. There were gift certificates and baskets donated by 24 local businesses. Winners in this drawing were ...
December 15
A nice place to sit ...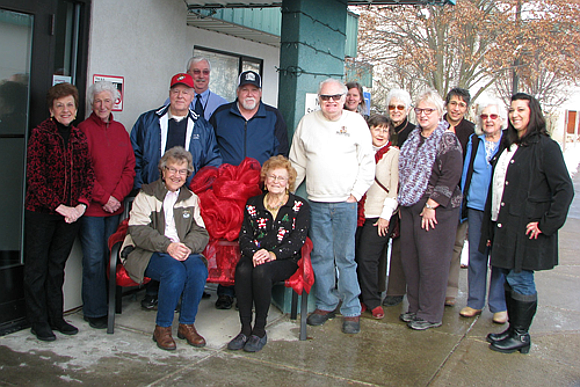 Patients waiting at the Outpatient Services entrance at Boundary Community Hospital now have a place to sit, thanks to the Boundary Community Hospital Auxiliary, whose members made the donation in memory of Annie Koon.
Drive Sober holiday campaign to begin: As part of the nationwide Drive Sober or Get Pulled Over campaign, Idaho State Police and the Bonners Ferry Police Department will be out this holiday season to save lives by keeping impaired drivers off our roadways.
Two injured in Naples collision: Two people, including a young girl, were injured in a collision between a semi and a pickup near Naples shortly before noon Wednesday that shut down Highway 95 for more than two hours.
Just a reminder: First half property taxes due December 20: Boundary County Treasurer Susan Larson would like to remind all Boundary County taxpayers that the deadline for paying the first half of the 2016 property taxes without penalty is Tuesday, December 20.
December 14
Snow, cold on the way: National Weather Service forecasters say snow is likely Thursday, though accumulation is expected to be light, and then the skies should clear Friday as the bottom falls out of the thermometer. More new snow is likely next week.

A Bonners Ferry Christmas, 1955: We youth of the 1950s certainly looked forward to Christmas as much as any kid does today. For the month preceding Christmas break, our classrooms were decorated with red and green paper chains. Cut-out angels flitted about the room, suspended from the ceiling with strings.

BCMS robotics team earns state berth: Boundary County Middle School robotics team Omega 14910 is gearing up for a trip to state competition in Moscow January 14 after an impressive performance on their home turf Saturday, where they won awards for best robot design and for programming.
December 12
A look back at the year that was, and a look ahead: As we come to the end of another year (as my parents taught me) it's time to reflect—what went well, what can we do better? By School Superintendent Gary Pfleuger
December 10
Snow advisory extended: The National Weather Service has issued a winter weather advisory for snow in Boundary and Bonner Counties from 7 p.m. today until 4 p.m. Sunday. Light to moderate snowfall is expected tonight and into Sunday morning, bringing an additional two to five inches of snow.
December 9
Snow advisory issued: The National Weather Service has issued a winter weather advisory for snow for the Idaho Panhandle, in effect until 10 a.m. Saturday.
Farm Service Agency seeks help: The USDA Farm Service Agency in Bonners Ferry is hiring for a Program Technician position. This is a temporary position with health benefits available.

Flags at half staff for John Glenn: As a mark of respect for the memory of John Glenn, I hereby order ... that the flag of the United States shall be flown at half-staff ... throughout the United States and its Territories and possessions until sunset, on the day of interment.

Idahoans come together to light up nation's capitol: It's been a wonderful and memorable week in Washington as we celebrated the holidays with the lighting of the Idaho-grown U.S. Capitol Christmas Tree. From the time it was felled with a crosscut saw at the Little Ski Hill in McCall to Tuesday's lighting ceremony at the West Front of the Capitol, the tree was warmly embraced by Idahoans and Americans.

Longest night of the year approaching: Late dawn. Early sunset. Short day. Long night. For us in the Northern Hemisphere, the December solstice marks the longest night and shortest day of the year. Meanwhile, on the day of the December solstice, the Southern Hemisphere has its longest day and shortest night.
December 8
Ministerial Association making Christmas baskets: The Boundary County Ministerial Association is creating 200 Christmas baskets again this year, and sends its thanks to our local schools for the donations and help and to local veterans for lending your helping hand.
Driver's license services to close for holidays: Boundary County driver's license services will be closed on the following dates for the Christmas, New Years and Human Rights Day holidays; December 25-26, January 2 and January 16.
December 7
Local man missing after falling into Kootenai: Lincoln County, Montana, authorities are continuing to search for a 41-year-old Bonners Ferry man who fell into the Kootenai River Tuesday night as he and his fiancé were scouting a spot to be married.

Santa's Bonners Ferry arrival caught on tape! A distinguished visitor arrived in Boundary County the day after Thanksgiving. Transported in a fire truck furnished by the Bonners Ferry Fire Department, Santa Claus arrived at the Georgia Mae Plaza in downtown Bonners Ferry to the cheers and greetings of a very large crowd of children and parents.
Holiday spirit alive and well at BCMS: Our Citizen of the Month results for November are in. November's trait was Citizenship. Please congratulate Dillon Mai sixth, Jenny Owens, seventh, Kami Bremer, eighth, and Jerry Jiminez, staff. Next month, December, the trait is Generosity. By Principal David Miles II

Community Choir to present annual Christmas concert: Bonners Ferry Community Choir presents "Peace on Earth, Goodwill to All" at 7:30 p.m. Friday, December 16, and at 3 p.m. Sunday, December 18, both at Trinity Lutheran Church, just off Highway 95 on Cody Street in Bonners Ferry.
Flags half staff for Pearl Harbor Remembrance Day: Seventy-five years ago, Japanese fighter planes attacked the United States Naval Base at Pearl Harbor, destroying much of our Pacific Fleet and killing more than 2,400 Americans. The following day, President Franklin D. Roosevelt called on the Congress to declare war and "make it very certain that this form of treachery shall never again endanger us."
County seeks Emergency Management director: Boundary County is seeking to fill the position of Director of Boundary County Office of Emergency Management to fill the shoes of current director Dave Kramer, who will be taking over as sheriff in January.
Join the 117th annual Audubon Christmas Bird Count: Boundary County is where we call home. It is that time of year to count another group that also calls it home. It is time to survey our feathered friends. No matter the weather, volunteers will start in the first light of the day to begin counting.
Moyie Springs City Council minutes, November 7
December 6
Winter storm watch calling for snow: The National Weather Service has issued a winter storm watch for the possibility of heavy snowfall Thursday through Saturday morning in the Idaho Panhandle.
First half property taxes due December 20: Boundary County Treasurer Susan Larson would like to remind all Boundary County taxpayers that the deadline for paying the first half of the 2016 property taxes without penalty is Tuesday, December 20.
County P&Z to consider conditional use: The Boundary County Planning and Zoning Commission will hold public hearing at 5:30 p.m. Thursday, December 15, in the main courtroom at the Boundary County Courthouse to accept public comment on Conditional Use Application 17-016 by John Oxley.
December 2
Night of Nativities underway at LDS Church: The first of two days of the annual Night of Nativities is underway and continues until 9 tonight at the LDS Church, 6568 Alderson Lane, Bonners Ferry. There is no charge for admission. Over 200 beautiful nativity sets are on display, from around the world, all unique in nature, many loaned by people in our community and some specially loaned by people from other states.
Winter weather advisory: The National Weather Service has issued a winter weather advisory for snow in areas above 2,500 feet in much of the Idaho Panhandle, including all of Boundary, Bonner and Shoshone Counties, in effect until 10 a.m. Saturday. Snow is expected late this afternoon through Saturday morning, with less than an inch accumulating below 2,500 feet, from two to four inches between 2,500 and 4,000 feet and three to five inches above 4,000 feet.
December 1
Explorers raising funds to attend memorial: It is estimated that every 53 hours a law enforcement officer is killed in the line of duty in the United States. The month of November has seen the tragic loss of 20 officers' nationwide; more than any other month in 2016.
Holiday season busy at BCMS: Our Penny War fundraiser was a fantastic success! Through the efforts of our students and the competitive nature of our school, we were able to raise $1,517.40 to donate to local organizations. The money was split and checks given to the local Legion and VFW chapters. By Principal David Miles II
ITD seeking public input on projects: The Idaho Transportation Department is taking public comment on 26 bridge projects on highway routes across the state. The bridges will be built as funding becomes available. That list includes five spans in the Idaho Panhandle, including the Round Prairie Creek Bridge, Highway 95 at Mile 529.96 in Boundary County.
Back to archives