Boundary County Archives ~ November, 2013
Home
News
Sports
Social
Obituaries
Events
Letters
News
November 30
Winter storm watch upgraded: A winter storm watch issued by the National Weather Service this morning has been upgraded to a winter storm warning at 3:54 p.m., meaning the threat of heavy snow above 3,000 feet through Monday is high, and could make travel extremely hazardous or impossible.
Winter storm watch issued above 3,000 feet: A winter storm system expected to move into the region late tonight could cause problems for motorists heading home from the Thanksgiving holiday, especially at higher elevations.
Festival of Trees Gala tickets on sale: Gala Night at Festival of Trees is a chance to have a good time, an enjoyable dinner, and great company, all the while helping the community offer better healthcare.
Jazz Festival tickets go on sale Monday: The University of Idaho Lionel Hampton Jazz Festival will celebrate its 47th year February 19-22, and Festival tickets go on sale to the general public on Monday, December 2.
November 29
Freezing rain advisory issued: The National Weather Service has issued a freezing rain advisory for the Idaho Panhandle in effect until 4 p.m. today, which could make travel dangerous.
November 27
Teen killed in collision with train: A 19-year-old Sandpoint woman died this afternoon after colliding with a train at a railroad crossing near Elmira.

You think you know someone: You think you know someone. On a combined birthday of three friends a few years back, the late Roger Guthrie passes out plastic noses, chicken, pig and duck, and makes us pose for the camera. Then he insists the picture be published in his son's newspaper, the Kootenai Valley Times.
All hands on deck for holiday: The Idaho State Police wants all those traveling on Idaho's highways to make it to their holiday destination safely this weekend. To prove the point, all commissioned officers, even those usually behind a desk, will be on the road tomorrow for what is one of the busiest travel days of the year.
Gym memberships a needed expense: In today's uncertain economy, families are looking to cut back on any expenses that seem like a luxury or even the slightest bit frivolous. One of the items receiving scrutiny in many households -- and in the media -- is gym memberships. Yet a growing body of evidence suggests that cutting that gym membership may be exactly the wrong move for even the most cash-strapped family.
County commission minutes, November 18-19
November 26
Local groceries not hit in URM attack: Many people are expressing concern over the safety of using credit cards in local groceries after hackers targeted the computers of major regional grocery supplier URM, but managers at Super 1 Foods and Akins Harvest Foods in Bonners Ferry say no problems have arisen here, and steps have been taken to see that they don't.
November 25
Junior Class parents needed: To those who might want to help, Sandy Garner is looking for junior class parents to help sell trees this holiday season at Sugar Plum Floral.

Christmas tree being raffled: The beautifully decorated Christmas tree pictured, complete with all the toys around it, are being raffled off by the Boundary Community Hospital Auxiliary, making a fine Christmas memory for someone when the drawing is held.
Mystery couple thanked: Tish Lagerwey was hiking around Brush Lake Trail weekend before last and found there were several trees down on the trail. Big trees, and the trail was a mess.
Vapor Max to reopen Black Friday: After considerable work, Zeus and Crystal Anton are ready to open an all-new Vapor Max after their first store, located at 6387 Kootenai Street in downtown Bonners Ferry, was all but destroyed in an early morning electrical fire October 31.
Conoco Food Mart looking for help: Conoco Food Mart, 6453 Main Street on the South Hill across from Super 1 Foods, is seeking to immediately fill two openings, either one full time and one part time or both part time positions.
USFS to hold job fairs state wide: The U.S. Forest Service has scheduled job fairs for December 2 at all 25 local Idaho Department of Labor offices.
Winter weather is like a box of chocolates ... You just don't know what you're gonna get. This winter will likely see above-average precipitation in the Northern Rockies, particularly over Montana and northern Wyoming, but the Pacific Northwest has an "equal chance" for above, near, or below average temperatures, according to the National Oceanic and Atmospheric Administration.

Fulcher announces gubernatorial run: Idaho Senator Russ Fulcher (R - Meridian) announced that he has launched a campaign for Governor of the state of Idaho on Saturday, challenging two-term incumbent C.L. "Butch" Otter, who will seek a third term.
Court records and sheriff's log
November 23
2:05 p.m.: Three vehicle collision at Three Mile: A three vehicle collision has been reported at Three Mile Junction and emergency crews are responding. It is unknown at this time if there are injuries. Please use caution if driving in that area. There were injuries, but the extent is unknown. One of the vehicles, a white pickup with local plates and front end damage, reportedly left the accident scene. 3:02 p.m.: The accident has been cleared and traffic is back to normal.
November 21
Flags to half staff in memory of JFK: A half century ago, America mourned the loss of an extraordinary public servant. With broad vision and soaring but sober idealism, President John F. Kennedy had called a generation to service and summoned a Nation to greatness. By President Barack Obama
Festival 18 years old: This is the 18th year of Boundary County residents celebrating the Christmas season with a gift to the community through their support of Festival of Trees. This year, funds raised at the Festival of Trees will go towards the purchase of a 15-passenger van for Boundary Community Hospital. By Marcia Morman
65th FFA Harvest Sale a huge success: On November 9, the Bonners Ferry FFA Chapter held its 65th Annual Harvest Sale at the Bonner Ferry High School Ag shop. For 65 years the Harvest Sale has been Bonners Ferry FFA Chapter's main fundraiser and the local chapter has received outstanding support from their community for each of those years. By Emma Pluid
Care n'Share deadline drawing near: Linda Lederhos is getting concerned. The deadline for applications for a Care n'Share Christmas is just one week away, and so far, requests are coming in at a trickle instead of a rush.
November 20
Elk dictionaries!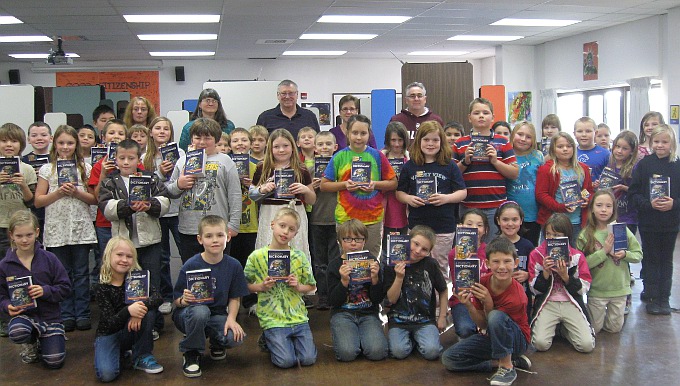 Linda and Dave Tatlock of the Sandpoint Elks Lodge came to Valley View Elementary on November 14 and distributed dictionaries to all of our third graders! The third grade teachers are Mrs. Beck, Mr. Shryock and Mrs. McRoberts.
New ale has roots in Boundary County: Goose Island Beer Company, Chicago, is celebrating the aroma and taste of hops with the introduction of Ten Hills Pale Ale, the first of three new limited release beers slated for this year and 2014.
Lockdown drill at BCMS coming: Lockdown drill to occur this month! In light of recent events around the country and to be better prepared for such an event, we will practice a lockdown drill this month. Teachers are going over procedures with students during this first week of November in preparation for the event. By Principal David Miles II
Mobile USFS maps available: The U.S. Forest Service now offers access to variety of visitor maps for people using Android and iOS devices.
Risch joins effort to save health plans: Senators Jim Risch (R-Idaho), Lamar Alexander (R-Tenn.), Marco Rubio (R-Fla.), and Senate Republican Leader Mitch McConnell (R-Ky.) today introduced a bill that would protect the right of employers to provide insurance to employees through self-insurance plans.
November 18
Library to close in Glenda's honor: In honor of Glenda McCalmant's 29 years of dedicated service to the library and Community, the Boundary County Library will be closed for her memorial service at Trinity Lutheran Church, Wednesday, November 20, from 10:30 a.m. to 12:30 p.m.

One Million Cards for Bowe launched worldwide: As the only living American POW, Sgt. Bowe Bergdahl approaches four and a half years in captivity, the residents of Bowe's hometown have launched an international project to send one million Christmas cards to Bowe in care of the White House.
FFA team travels to national convention: October 28 through November 3, the Bonners Ferry FFA Chapter had eight students and two chaperones travel to Louisville, Kentucky, to attend the FFA National Convention and Expo. By Emma Pluid

Ashlynn enjoys experience of a lifetime: In August, Ashlynn Rushing traveled to Washington D.C. for six days to attend the Junior National Young Leaders Conference. Ashlynn was nominated by her former sixth grade teacher, Jaak Sanders.
Court records and sheriff's log
November 17

Debsey lost in Troy: A female mini schnauzer named Debsey is missing in Troy. She was last seen last night between 6 and 7 p.m. at the Town Pump.
Man hospitalized after Long Bridge crash: A two-vehicle collision on the south end of the Long Bridge in Sandpoint this morning sent one man to the hospital and closed Highway 95 at milepost 471 for 2 1/2 hours.
November 16
Ponderay Wal-Mart reopens: After being closed for most of the afternoon, the Ponderay Wal-Mart is now reopened after a bomb threat was received at around 2 p.m.
Special family DVD found: Sherry Woomert was going through her DVD case today and came across one that doesn't belong to, and she's sure it is special to the rightful owner.
More mail thefts in Moyie: After almost a year of quiet, it appears that someone is once again stealing mail from rural mailboxes on the Moyie Springs postal route, and folks are once again being encouraged to pick up their mail as soon after delivery as possible.
Sierra Spangler student of the Month: A very busy and talented Bonners Ferry High School senior, Sierra Spangler, is the student of the month selected by the Delta Kappa Gamma Women Educators.
November 15

All Gussied Up opens on the North Hill: A new store opened at the top of the North Hill last Friday, and it's not quite like any you've ever seen. As you enter, "worker bee" Ken "Doc" Toline is on the floor, putting a new finish on a beautiful old chest. His wife, owner Brenda Toline, greets you in old blue jeans daubed with multi-color paints and stains.
Downtown gearing up for Christmas: The Friends of Downtown say it's time to think about this year's Christmas Celebration for Bonners Ferry. They hope to make 2013 the most fun for kids, the most profitable for our merchants, and the best ever to make us feel young at heart!
Princess the foster dog is missing: Last Sunday, Wayne and Krista Kreiger-Hurst's foster dog, Princess, took fright at something, nipped Krista and bolted out the door of their Round Mountain Road home. She's been missing ever since.
A call for help: As we enter the second quarter, we look back at how things went and clearly see what we need to help us move forward. And, what we need is … YOU! Cutbacks in education place a greater emphasis on the support of our local community, specifically the involvement of the Parent-Teacher Organization. By Principal Gary Pfleuger
Senate approves resolution to free Idaho pastor: U.S. Senator Jim Risch praised the unanimous support for passage of his resolution calling on the government of Iran to immediately release Pastor Saeed Abedini and all other individuals detained on account of their religious beliefs.
County commission minutes, October 28-29
County commission minutes, October 14-22
November 14

After 30 years, coach steps down ... to teach: On November 11, 30-year Badger varsity volleyball coach Janis Tucker wrote on her Facebook page, "Tonight was my last awards presentation as a varsity coach" ... Many may be surprised to learn why, all except those who know her best. They understand.
Storm watch upgraded: A storm watch issued Wednesday has this afternoon been upgraded to a winter storm warning, meaning the National Weather Service is now almost certain heavy snow is on the way.
November 13
Winter storm watch issued: The National Weather Service has issued a winter storm watch calling for three to nine inches of valley snow across much of the region, including Boundary County.
Ooops ...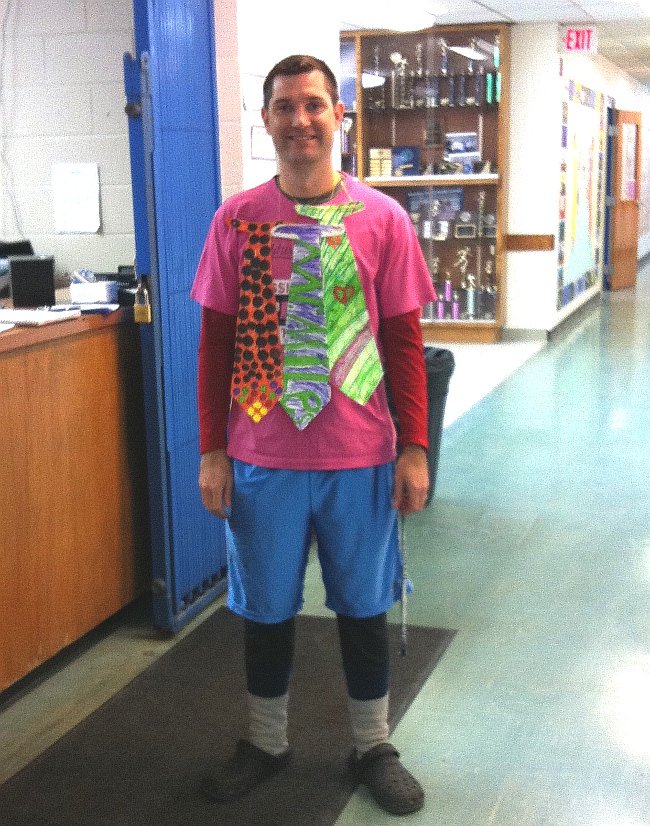 First year Boundary County Middle School principal Dave Miles II learned the hard way what more seasoned district principals already know ... if you challenge your students, they'll usually succeed, no matter how lofty the goal. Mr. Miles bet that the Middle School students couldn't raise $2,000 during their book fair. As you can tell by his outlandish dress yesterday, he lost.

Copper waiting for happy home: Introducing the latest new face at our shelter ... Copper! A two year old male Rat Terrier, Copper came in from the Moyie Springs area and was never claimed. He is now available for adoption at Second Chance.

Holloway district Employee of the Month: One of the primary reasons students, parents, staff, and community members love Naples Elementary is because of Linda Lee Holloway, who has been named Boundary County School District 101's November Classified Employee of the Month.
Planning underway for 2014 county fair: Winter is just around the corner but fair preparation for the 2014 Boundary County "Once Upon a Fair Time" Fair, scheduled August 13 through 16, has already begun!
Free movie and a dinner offered: Springs of Living Water Free Methodist Church is beginning a series of Winter Family Movie Nights, where the movie, the popcorn, and even dinner is free.
Three Mile signal to be in flash mode: The traffic signal at the intersection of U.S. 2 and U.S. 95 (Three Mile Junction) will be in flash mode for approximately a week, starting today, as ITD technicians work to locate a possible short in the electrical system causing the signal to flash "all-red."
November 12
School board enjoys 'quiet' meeting: The School District Board of Trustees enjoyed a remarkably quiet meeting this evening, and even a special hour-long session on school security and safety that was expected to be at least a little bit heated turned out to be a reasonable and productive discussion that laid a foundation the board can build on.
Christmas tree permits now available: Christmas tree permits are now available from the Forest Service and Bureau of Land Management. Here's what you need to know about the tree permits ...
Court records and sheriff's log
November 11

Local church joins effort to help Troy woman: A Troy woman is recovering in a Seattle hospital more than a month after her husband allegedly assaulted her with a baseball bat. A Bonners Ferry Church is working with our Troy neighbors to help her and her children as she struggles to recover.

Devil Pup joins Devil Dogs at celebration: For most teens, summer vacation means freedom; a chance to engage in fun or just chill. For one Bonners Ferry teen, summer vacation saw a dream fulfilled, though it had little if anything to do with fun, and no chilling at all. But he wasn't quite prepared for what happened yesterday.
Mt. Hall auction and dinner Saturday: In the years since the tradition began, the Mount Hall Auction has grown to be not only the elementary school's biggest fund raiser of the year, but the social event of the season in northern Boundary County, and doors open at 4:45 p.m. Saturday, November 16, at Mt. Hall Elementary, 1275 Highway 1.
Care-N-Share 2013 underway: Linda Lederhos has long been the driving force in marshaling the community's generosity to ensure that no child in Boundary County goes without at Christmas, and this year, her 31st, the need is as great as ever.
Turning Winds needs cook: Turning Winds Academic Institute is seeking to hire a qualified cook with a minimum of two years experience and/or an education at a cooking or culinary school at their campus in Troy, Montana.
November 9
Historical Society annual meeting Tuesday: The Boundary County Historical Society will hold its annual meeting in the museum Portrait Hall at 6:30 p.m. Tuesday, November 12.
BCMS news; meeting set on school safety: The school board is hosting a special community discussion about school safety. This will be a community meeting to discuss need of more complete plans concerning school safety. This will take place at BFHS at 5 p.m. Tuesday, November 12.
Champion guitarist to perform at the Pearl: Chris Proctor, winner of the U.S. National Fingerstyle Guitar Championship and internationally recognized six and 12-string guitarist, composer, recording artist, performer and clinician for Taylor Guitars, will be performing in concert at the Pearl Theater at 7:30 p.m. Friday, November 22.
Flapjacks for Head Start: Friends of Head Start is inviting the public to breakfast to help children in the five northern counties benefit from early education. The Friends of Head Start Flapjack Fundraiser at Applebee's in Coeur d'Alene November 23 will cost $10 per person for pancakes, sausage, eggs and drinks.
November 8

Local D.A.R.E. Officer has rare cancer: Bonners Ferry Police Corporal Tiffany Murray, who serves as both the Boundary County D.A.R.E. Officer and as school resource officer in Boundary County public schools, was recently diagnosed with a rare and malignant form of cancer.
November 6
AARP invites half of Boundary County: Nearly half of the population of Boundary County is 50 years and older. These are senior citizens who want to be active and informed concerning things in their community, state and nation.
Flight scholarship deadline nears: The local Experimental Aircraft Association, in 2014, will be offering an aviation scholarship for youths 16 to 18 years of age. The scholarship is for Boundary County residents and Troy, Montana.
Family Reading Week coming: Get ready … Idaho Family Reading Week is November 18-21! Valley View has a full week of activities planned to get your family reading. Just Imagine the fun at your library!
6 a.m.; Road conditions treacherous, drivers warned to slow down: Road conditions in Boundary County are treacherous this morning with snow and black ice, and drivers are urged to take additional time to get where you're going. Emergency responders are on their way to multiple slide offs near Naples, where Highway 95 is a sheet of ice, and Peterson Hill is extremely slick. Please slow down! 6:05 a.m.: Highway 95 is shut down to all traffic at Schoolhouse Road in Naples due to extreme black ice. Drivers are being asked to slow to about 35 miles per hour due to hazardous conditions. ITD is working to clear snow and deice, but it is unknown how long Highway 95 will remain closed. Update: Highway 95 reopened to normal traffic at 8:50 a.m.
November 5
Former commissioner now a councilman: It was a quiet election cycle this year in Boundary County, and it's little surprise to most that the incumbent in the sole challenged race, that for Mayor of Moyie Springs, won by a landslide.
'Distract and attack' has parents up in arms: Teachers at Boundary County Middle School had an assembly Friday during which principal David Miles II discussed something we all pray never happens, what to do if a person with a gun enters the school and opens fire.
Court records and sheriff's log
November 3
Naples a beehive of fun: Hope y'all are staying warm and preparing for the winter ahead. Here's just a few notes from the Naples Community Group ... By Theresa Wardle
Blue skies giving way to fall's end: Blissfully blue skies have graced us this month and the fall colors are more spectacular than ever. Even though the valley may seem hazy, the sky is crystal clear just a thousand feet up, but it won't last long because November has rolled in. By Ashley Glaza
Meetings set for idled workers: The Idaho Department of Labor's Sandpoint local office has scheduled two meetings for workers laid off from Coldwater Creek Inc., the Sandpoint-based women's clothing retailer.
Governor to speak at ribbon cutting: The community is invited to come celebrate with North Idaho College the opening of a new Aerospace Center for excellence at a ribbon cutting ceremony at 10 a.m. Thursday, November 7 at 1845 Dakota Avenue in Hayden.
Senators call for pastor's release: Idaho Senators Jim Risch and Mike Crapo were joined by their Senate colleagues Rand Paul (R-KY) and Patrick Leahy (D-VT) in authoring a resolution calling on the government of Iran to immediately release Pastor Saeed Abedini and all other individuals detained on account of their religious beliefs.
Comment period extended for wolverine: The U.S. Fish and Wildlife Service announced Thursday that it is reopening the comment period regarding the proposed listing under the Endangered Species Act of the North American wolverine.
If you like it, why can't you keep it? Idaho Senators Mike Crapo and Jim Risch are co-sponsoring a measure known as the "If You Like Your Health Plan, You Can Keep It Act."
Proposal seeks change in river management: The British Columbia provincial government recently released draft recommendations for a modified Columbia River Treaty, with clear differences with the United States over compensation for flood control and a specific call for adjusted operations at Libby Dam.
November 2
Expect a windy day: 5:45 a.m.: The beginning stages of our first big early-season storm system is affecting the Inland Northwest this morning. Widespread rain and high mountain snow has developed, and this will continue through the weekend.
Obituaries
George Patrick Kennick, April 18, 1944 ~ November 25, 2013
Kayle Jean Porter, January 10, 1994 - November 27, 2013
Shirley Louise Marcy, September 6, 1953 ~ November 13, 2013
Glenda Doreen McCalmant, September 25, 1940 ~ November 15, 2013
Winnie Louise Stanley, April 22, 1919 ~ November 8, 2013
Sharon Grace Bennett: April 28, 1942 ~ November 9, 2013
Linda Lee Charpied, April 30, 1942 ~ September 30, 2013
Social

Golden anniversary reception set
:
Bill and Jaylyn (Burns) Hayden were married on August 17, 1963, in Tonkawa, Oklahoma. All who know them are invited to a reception November 30 in their honor.

Wakkinen graduates Air Force basic
:
Air Force Airman Hayden W. Wakkinen recently graduated from basic military training at Joint Base San Antonio-Lackland, San Antonio, Texas.

Flower graduates Air Force basic
:
Air Force Airman Gavin J. Flower recently graduated from basic military training at Joint Base San Antonio-Lackland, San Antonio, Texas.
Local students earn scholarships
:
Inland Northwest Community Foundation recently awarded 94 scholarships totaling $147,767 to students from Eastern Washington and North Idaho for the 2013-2014 school year, including two to local students.
Sports
A Fish & Game Christmas: It's getting close to that time of year again, and here's an idea for anyone who's looking for a gift that's always in style, never the wrong size or color, and useable every day of the year.
2014 game licenses on sale Sunday: When 2014 licenses and tags go on sale this Sunday, hunters and anglers have a new option this year to buy a three-year license, adding convenience to a small savings.
Six named to All-IML team: Six Bonners Ferry Badgers have been named to this years' All-Intermountain League football team.
Bear gates to open for winter: As forest visitors take to the woods to hunt and/or collect firewood, the Idaho Panhandle National Forests remind them that gates will be opened on November 16 in the Selkirk Mountains and on December 1 in the Purcell and Cabinet Mountains of the Idaho Panhandle National Forests' North (Kaniksu) Zone.
Resilience marks this year's Badgers: Although it was not the way any Badger player or fan would have liked, the 2013 football season came to an end in Homedale Saturday with a 67-0 loss to a very strong Homedale team. By Coach Ed DePriest
Dig Pink gives local: On October 1, the Badger volleyball team took on Timberlake in this year's Dig Pink match, a tradition in Bonners Ferry to raise funds for the Side Out Foundation and to raise awareness of breast cancer.
Badger runners end season on a high note: The season finale for the Badger Cross Country team ended on a high note. After strong performances at districts, the Badgers carried their enthusiasm into Idaho Falls. The picturesque 5k course featured slight hills and twists and turns ideal for the teams' style of running.
Letters
Congressman Raul Labrador
: President Obama famously promised that, under the Affordable Care Act, "If you like your health care plan, you will be able to keep your health care plan, period." He made that promise at least 29 times.
Mike Weland:
It's taken nearly three years, but newsbf.com is finally beginning to close in on what I dreamed it should be; a small town "paper" in a new and exciting media that combines the best of all that's come before.
Congressman Raul Labrador
:
Today, on Veterans Day, we pay tribute to those brave men and women who have served our nation in uniform. We also honor the enduring service of our soldiers, sailors, airmen, Marines, and Coast Guardsmen.
Mike Weland
:
I've been thinking a good bit lately about security and safety in Boundary County's public schools, particularly since the "distract and attack" lesson raised such a stir at the middle school last week.
Robert Bissett
:
Regarding "
'Distract and attack' has parents up in arms
; God forbid such a thing ever happens in our schools. As someone who graduated from the Air Force Academy, took escape and evasion training, served nine years in the military, two of those in Viet Nam, it is my opinion that the school trustees, the superintendent and the principle are living in fantasy land.
Congressman Raul Labrador
:
There's so much partisanship in Washington, D.C. these days, it's always good news when both parties can come together for the common good.
Thomas Bushnell
:
I'm sure you are getting a proverbial earful on this subject. I agree that our schools should be prepared for an active shooter situation and that sending unarmed, untrained teenagers against an active shooter is not generally a good idea. What could possibly go wrong?
Back to archives