Boundary County Archives ~ May, 2013
Home
News
Sports
Social
Obituaries
Events
Letters
News
May 30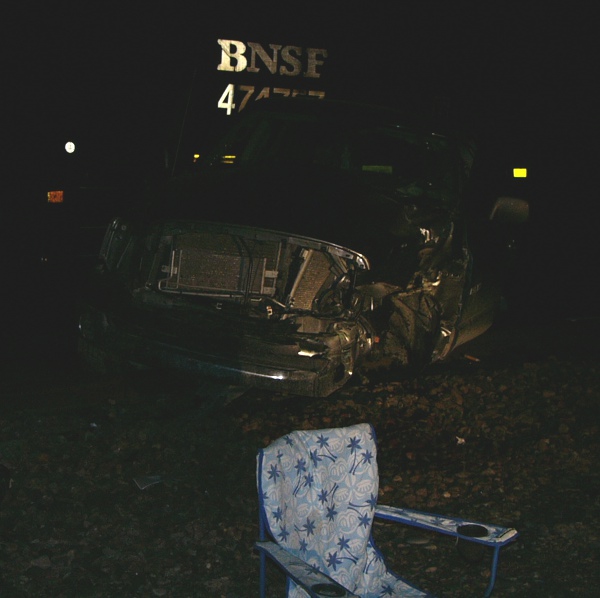 Train hits pickup, one to hospital: 4:37 a.m.: A Burlington Northern Santa Fe Railroad engineer contacted the Boundary County Sheriff's Office at 2:49 a.m. today to report having hit what he believe to have been an unoccupied vehicle at the Pine Island crossing south of Bonners Ferry, but a deputy arriving on scene minutes later found that the pickup had been occupied.
---
Risch, GOP question Obama appointments: U.S. Senator Jim Risch has joined his 44 Republican colleagues in filing an amicus brief in the Supreme Court of the United States that challenges President Obama's unconstitutional "recess" appointments to the National Labor Relations Board in January 2012.
---

Perez Certified Employee of the Month: Ms. Connie Perez, fourth grade teacher at Valley View Elementary School, has been selected as Boundary County School District 101's Certified Employee of the Month for May.
May 29
Proposed mud bog bogged by restrictions: Boundary County Commissioners on Tuesday approved a one-time special event application by DelRey Romero to run a mud bog on his property in Highland Flats in August, but the restrictions imposed would so limit the event that success would be impossible.
---
Rotary names 'Students of the Month:' Seven students have been selected as Rotary Students of the Month for March, April and May 2013.
---
Rivkin earns high score at forestry contest: The Boy Scout Troop 114 team had a warm but exciting time at the recent 31st annual Idaho State Forestry Competition, one of the warmest on record, coming away with a third place finish overall in the junior division as well as first place individual.
May 28
Another memorable Memorial Day: Dark clouds threatened rain, but no rain fell on those gathered as Boundary County remembered and honored those of our own "who gave the last full measure of devotion." Mentioned often today was the name of Army Specialist Ethan Martin, who gave the ultimate sacrifice for his country, family, and friends on Tuesday, August 7, 2012, while serving his country in Korgay, Afghanistan. Remembered, too, were the many veterans of ours who served and came home; Navy, Marine, Army and Air Force, and continue to serve. A (long) News Bonners Ferry pictorial.
---

Family's puppy missing: Stacey Chouinard and her family have been working to find her daughter's dog, a small, brown male dachshund/terrier mix, still a puppy, who went missing up Katka Mountain on Saturday.
---
Sending help to tornado victims: A Bonners Ferry woman is working to send help to the victims of the recent tornados that battered Moore, Oklahoma, and she's asking everyone who can to help. It's not the first time she's helped make a difference during a disaster.
---
Flag football to benefit Bliss family: It is that time of year again! The Bonners Ferry Rotary Club will sponsor the second-annual U.S. Customs vs. Border Patrol charity flag football game. Last June they raised over $3,000 and were able to purchase a customized tricycle for seven year old Aiden Brenamen.
---
Court records and sheriff's log
May 23

Rotary awards scholarships: On May 16, the Bonners Ferry Rotary Club had the pleasure of awarding $13,000 to 14 local high school and college students at a dessert reception held in their honor at the Kootenai River Inn. The students were joined by their families for this celebration.
---
Internet down much of afternoon: Much of North Idaho, including many internet users from Kootenai County to the Canadian border, lost their service shortly before noon today caused by a disruption in a Frontier transmission line, leading to near riots in many communities as internet users, many not seen outside for months, poured into the streets. I

t's not necessarily news!
May 22
Fun and learning as school year winds down: The Knowledge Fair and Dessert Auction held on May 16 was fun, informative and productive ... All participants and guests walked away knowing more than they knew when they arrived! By Principal Gary Pfleuger
---
Idaho senators seek to defund proposed FDA rule: In an effort to prevent potentially devastating regulatory burdens from being placed on U.S. farmers, Senators Mike Crapo and Jim Risch and Congressman Dr. Dan Benishek (R-Michigan) today introduced the SCRAP Act, or Stopping Costly Regulations Against Produce, in the U.S. House and Senate.
---
ITD suspending highway work for holiday: Work that could impact travel will be suspended on all Idaho Transportation Department highway construction projects statewide Saturday, Sunday and Monday, May 25-27, for the Memorial Day holiday, except in special circumstances.
May 21

Local author to have book signing: After raising six rambunctious kids and setting them loose on the world, Willow Feller found the time, and the peace, to pursue her passion for writing, and she'll be signing copies of her first novel, "The Epic Undoing of Haley Ann Ewing" by Evergreen Press, from 11 a.m. to 2 p.m. Saturday, June 1, at Bonners Books, 7159 Main Street in downtown Bonners Ferry.
---
White Caribou Bar dedicated: It took a lot of people to bring back to life the old White Caribou Bar, founded more than 100 years ago in Bonners Ferry.
Fred Fisher opened the bar, which featured the iconic Bonners Ferry white caribou, on Main Street in 1905, and ran it until it closed four years later in 1909.
---
Court records and sheriff's log
---
8:19 a.m.: Highway
95 shut down in Bonners Ferry: Traffic is stopped on Highway 95 in Bonners Ferry as crews respond to a gas leak in the parking lot at Chic n' Chop Restaurant. 8:47 a.m.: Traffic is reopening in both directions on Highway 95 and the leak is under control.
May 20
On the mend ...
Raptor rehabilitator Ken English, Moyie Springs, has spent years putting broken birds of prey back together. His latest patient is this fierce-looking juvenile bald eagle, acquired earlier this month after suffering a broken wing from hitting a semi. Once recovered, the bird will be set free to once more soar majestically.
Memorial Day theme; 'Because They Gave:' Monday, May 27, American Legion Boundary Post 55 will host the annual Boundary County Memorial Day Parade. This year's parade theme is "Because They Gave."
---
Meet school board candidate Kim Peterson: My name is Kim Peterson and I am running for School Board Trustee in Zone 5 of Boundary County. As a constitutional and fiscal conservative, I believe we have to move towards a smaller, more fiscally efficient government. This starts at the local level.
---
Hams to celebrate Amateur Radio Week: Amateur radio is alive and well in North Idaho during Amateur Radio Week June 16-23. Field Day, June 22-23, is a celebration of our ability to talk to the world via radio and takes place during Amateur Radio Week.
May 18
Commissioners to decide on August mud bog: Boundary County Commissioners will hold public hearing at 10 a.m. Tuesday, May 21, in the extension office meeting room to consider an application for a one-time special event; a three day mud bog/rock crawl August 9-11 at 3096 Highland Flats Road.
---
BCSD bidding farewell to retirees: Boundary County School District 101 will bid farewell to nine teachers and employees at the end of the school year, including some long familiar faces, all going off to new adventures in retirement.
---
Hearing set on boarding kennel: The Boundary County Planning and Zoning Commission will hold public hearing at 5:30 p.m. Thursday, June 20, in the main courtroom at the Boundary County Courthouse to accept public comment on Conditional Use Permit Application 13-037 by Ken Comer to open a dog grooming and boarding commercial operation on property located on Bridle Path Road in Naples, on parcel RP61N01E282414A.
---
Survey bodes ill for school administration: A recent district-wide survey of Boundary County School District 101 employees appears to show an unsettling lack of confidence in school superintendent Dick Conley or the school board.
---
County commission minutes, April 29-30
---
County commission minutes, April 22-23
May 17
Missing teen safe
The search on Grizzly Gap Road in south Boundary County for an 18 year old autistic man reported missing at 11:24 a.m. today ended well. Family and caregivers had already been searching three hours before the call was made. An Air Force rescue helicopter has been called in to assist deputies, the sheriff's posse and Boundary Search and Dive Rescue look for Reese Brown, said to have the mental capacity of a seven or eight year old, who is familiar with the rough terrain of the area and who has a propensity to hide from approaching people and/or vehicles. After an all-day search, he came out of the woods on his own, and was seen, safe, by a neighbor at about 7:30 p.m.
---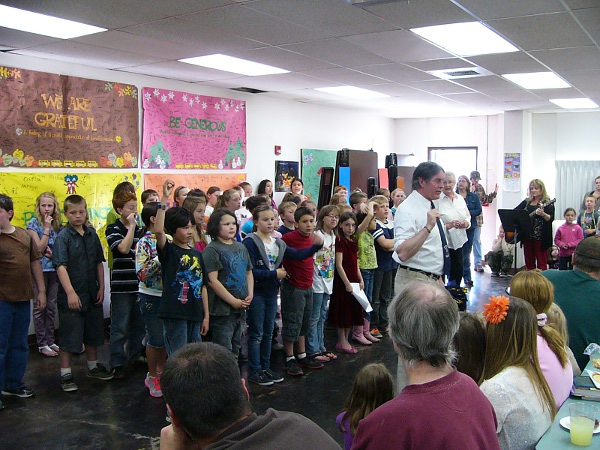 Valley View Principal Gary Pfleuger introduces the school's fourth graders as they get ready to perform for a packed school cafeteria Thursday.
Fun Day at Valley View! Valley View Elementary was a hive of activity Thursday, with both a Book Fair and a Knowledge Fair going on at the same time, along with a free dinner for guests, entertainment by the fourth-grade class and a dessert auction.
---
Work on Twin Rivers hatchery to begin: The Kootenai Tribe of Idaho will begin construction of a new hatchery at the Twin River's Resort in June of 2013. The Twin Rivers Hatchery will produce Kootenai River white sturgeon and native burbot.
---
P&Z nixes motocross proposal: The Boundary County Planning and Zoning Commission faced a packed house Thursday evening for a public hearing on a proposed motocross track on Smith Lake Road, about equally divided pro and con, but in the end the application was denied.
---
New owners at Mr. Suds: A hard working Bonners Ferry couple are now the proud new owners of a long-standing Bonners Ferry business, Mr. Suds Car Wash, 6775 Main Street on the South Hill.
---
County P&Z looking for applicants: Boundary County Commissioners are seeking letters of interest from those in our community interested in serving on the Boundary County Planning and Zoning Commission.
May 15
School board elections Tuesday: Voters in school district Zones 1, Mount Hall, and 5, Naples, are being asked to go to the polls between 8 a.m. and 8 p.m. Tuesday, May 21, to elect two trustees.
---

Bullies and chicken killin' dogs ... Those of you who grew up with farm animals like I did probably remember a dog that just couldn't be cured from killing chickens. Once it got the taste in its system, there wasn't much of a cure. By Sheriff's Detective Dave McClelland
---
Sportsman Club memorabilia going on sale: Years of Bonners Ferry history will go on sale at 11 a.m. Sunday, May19, at the old Sportsman Club, 6395 Bonner Street in downtown Bonners Ferry, as old is cleared out to make way for the new.
---
Risch seeks answers on pastor's release: U.S. Senator Jim Risch quizzed State Department officials during a Senate Foreign Relations Committee hearing today on the latest efforts to secure the release of Idaho Pastor Saeed Abedini.
---

Pretzel bag a clue to a predator: U.S. Immigration and Customs Enforcement's Homeland Security Investigations is seeking the arrest of an unidentified man for producing child pornography and the rescue of a 7 to 9-year-old victim of sexual exploitation. A careful review of the four videos leads authorities to think the images were made in the U.S., particularly items in the background, including a bag of pretzels made and distributed only in the United States.
---
VA seeks Gulf War vets' comments: Today, Secretary of Veterans Affairs Eric K. Shinseki announced that the Department's Gulf War Veterans' Illnesses Task Force will publish a comprehensive draft report in the Federal Register for public feedback and comment.
May 14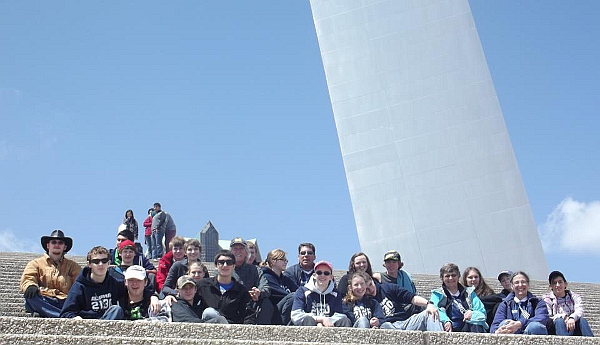 Bonners Ferry FIRST Team Alpha+ gathered under the St. Louis Gateway Arch.
Alpha+ has great experience at Worlds: The BFHS Robotics had an amazing experience attending the FIRST Robotics World Championship held at the Edward Jones Dome in St. Louis, Missouri. Everywhere we went the theme was Science, Technology, Engineering and Math.
---
FSMA comment period extended: The Food and Drug Administration calls the Food Safety Modernization Act "the most sweeping reform of our food safety laws in more than 70 years." Signed into law by President Barack Obama January 4, 2011, critics, particularly small producers, say it's another nail that could all but seal the coffin on the small ag producer in the United States.
---
Flags to half staff on Peace Officer Memorial Day: Day after day, police officers in every corner of America suit up, put on the badge, and carry out their sworn duty to protect and serve. They step out the door every morning without considering bravery or heroics.
---
BCH Health Fair this Saturday: Health, at one time or another, becomes a major interest in our lives. "Our bodies are fearfully and wonderfully made" is more than a quote; it is a truth we discover as we live our lives.
---
79 years of swimming at the city pool: By the 1920s, the Village of Bonners Ferry was researching and planning for a public swimming pool. This dream was finally realized in 1934 by a project done by the depression era Works Progress Administration.
---
USDA offers rural business grants: Agriculture Secretary Tom Vilsack today announced that USDA is seeking applications from qualified organizations to provide technical assistance to rural businesses to help them expand and create jobs.
May 13
Flood warning issued on Moyie: The National Weather Service issued a flood warning at 11:01 p.m. today for minor flooding on the Moyie River at Eastport, to be in effect until 5 p.m. Wednesday.
---
Eastport flooding likely: Boundary County Emergency Management Incident Commander Bob Graham spent much of his morning along the banks of the Moyie River near Eastport this morning, and said some could see problems with flooding.
---
Naples group to address school board: A number of members of the Naples community plan to attend Tuesday evening's school board meeting to address two issues of concern, and they're hoping that all potentially affected will be there as well.
---
Mates needed for pirate crew: ARGH! Listen up, ye scallawags ... pirates be wantin' to come to Bonners Ferry, but savvy ... more crew is needed.
---
Youth sentenced for bomb threats: A 12-year-old Naples boy isn't going to be alone in atoning for calling 911 twice in March to report bombs in a local public school; Magistrate Judge Justin Julian was very clear last week in saying that his parents will pay consequences as well.
---
Series of complaints lead to arrest: A string of calls to the sheriff's office Sunday over a period of hours regarding a well tanned, shirtless man with a skateboard at various locations on the South Hill in Bonners Ferry ended at 6:19 p.m. with the visitor to the county becoming a guest of the county.
---
Court records and sheriff's log
May 11
Flooding possible at Eastport: The recent warm temperatures, expected to continue through the weekend, has increased mountain snowmelt, and several rivers through the region, including the Moyie River at Eastport, could reach flood stage.
---
Third time a charm? Sturgeon strategy altered: Flows sent down from northwest Montana's Libby Dam with the intent of benefiting endangered Kootenai River white sturgeon will take a new shape this year in an ongoing attempt to lure the big beasts away from badly functioning spawning areas and onto gravelly river bottoms believed to be prime habitat for reproduction.
---
Valley View thankful for great teachers: Last week was Teacher Appreciation Week, and here at Valley View, we have a great deal to be thankful for! Principal Pfleuger Press
May 10
Sturgeon augmentation flows to begin: Water managers at the U.S. Army Corps of Engineers, along with federal and state fish biologists, determined forecasted inflows are sufficient to provide flow augmentation at Libby Dam for endangered Kootenai River white sturgeon downstream in Idaho.
---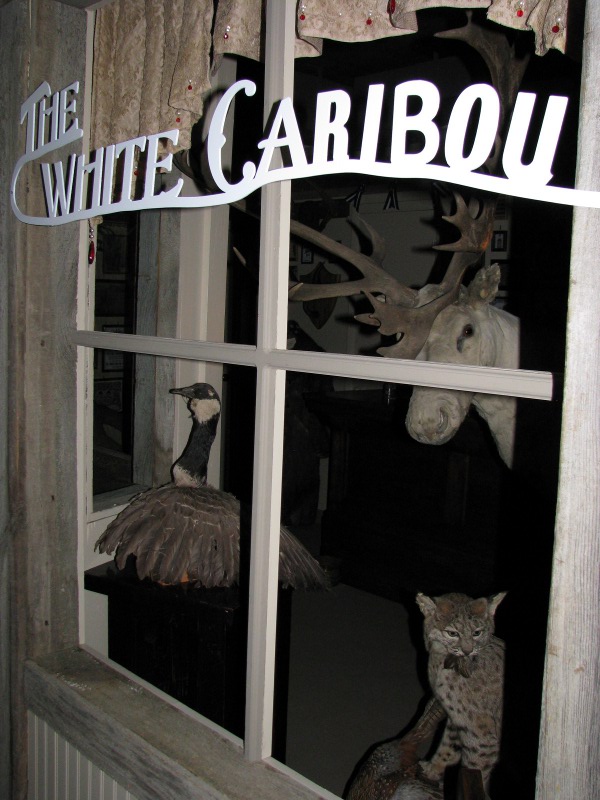 White Caribou exhibit to be dedicated: Another piece of Bonners Ferry's history will come alive at the Boundary County Museum at 11 a.m. Saturday, May 18, when the Boundary County Historical Society dedicates its newest exhibit, the White Caribou Bar.
---
Reminder on yard sale signs: With the temperatures on the rise, so are the numbers of yard sales. This is just a reminder that signs advertising yard sales can not be attached or posted on the city's electric/light posts.
---
Valley View looking to showcase student talent: The Valley View Elementary School Student Council will hold a Talent Show at 2 p.m. Thursday, May 30, in the gym. This is an opportunity for a child to gain confidence by performing a true skill which they have honed through hard work and practice. No lip sync allowed!
---
New pilots in our midst: Northern Air's student pilots are taking advantage of the summer weather. Two young, new pilots are in our midst as of May 8. Katherine Boger, Bonners Ferry, and Ian Wheeler, Sandpoint took their private pilot check-rides, and came out feeling higher than the clouds!
May 9
Bonners Ferry man accused of sex crimes: A 55-year old Bonners Ferry man was charged April 30 with three felony counts of lewd conduct with a child, each of which could lead to life in prison if he's convicted.
---
Wild babies need left alone: It's spring and ducklings and other animal babies are out and about; drivers should be alert for critters crossing the road. May and early June is also the fawning and calving season for Idaho's deer, elk and pronghorn.
May 7
Don Vickaryous passes: News Bonners Ferry is saddened to report the passing of community stalwart Don Vickaryous, who collapsed May 4 during the annual Northern Lights meeting in Sagle. He was taken to Kootenai Medical Center, Coeur d'Alene, where he died Monday. A vigil will be held at St. Ann's Catholic Church, Bonners Ferry, at 7 p.m. Friday, May 17, services will be held at 10 a.m. Saturday, May 18, also at St.
---
Otter proclaims 2nd Amendment Protection Month: In a proclamation signed Monday, May 6, Idaho Governor C.L. "Butch" Otter has designated May, 2013, as Idaho 2nd Amendment Protection Month, inviting arms manufacturers to consider relocating to gun-friendly Idaho.
May 6
American Legion Post #55 to be re-dedicated: After members made the decision last year to take over management of a bar previously leased, and after members and volunteers worked for months to completely renovate a facility that had been going downhill for years, American Legion Post #55 will be re-dedicated with fanfare May 27 at 3 p.m., following the Memorial Day Remembrance Services.
---
Teens nabbed for vandalizing signs: A report of malicious injury to property on Smith Lake Road early Friday morning led to the arrest of two teens, with two more fleeing officers but, having been identified, also facing potential charges.
---
Preventing burglary everyone's responsibility: Burglary prevention is everyone's responsibility. How many times have you seen someone you didn't know walking or driving down a neighbor's driveway, and before taking time to perceive their legitimacy, immediately dismissed it, as you had somewhere else to go?
---

City pool gearing up for hot summer: The Bonners Ferry municipal swimming pool will open for the summer on Monday, June 10, and you can sign up now for swimming lessons for all ages and abilities. If the early jump to summer is an indication, a lot of folks will be at the pool from day one to beat the heat!
---
North Idaho woman top scoring student in state: North Idaho College student Michelle Bristow was recently named the top-scoring student from Idaho, earning her the honor of Coca-Cola New Century Scholar.
---
Court records and sheriff's log
May 5
Closed fire season begins Friday: Closed fire season in Idaho begins May 10 and extends through October 20 each year. During this period it is unlawful for any person to set a fire outside of an incorporated city or town without first obtaining a fire safety burn permit from the Idaho Department of Lands.
May 3
Kim Norwood BCSD101 Employee of the Month: Boundary County Middle School is excited to announce that our counselor Ms. Kim Norwood has been chosen as the "Certificated Employee of the Month" for the Boundary County School District.
May 2
Planned power outage
A planned power outage will take place tomorrow, May 3, from 1:30 p.m. to around 3:30 p.m. for Bonners Ferry Electric customers on Walnut Street. Those served by the utility are asked to make arrangements and to share this information with those who might be affected.

Cheryl Economu ... 'nuh uh!' Mt. Hall Elementary Principal Jim Nash is a talker, but he's seldom effusive. You can tell he's run out of things to say when he says, "and I could go on and on!" That's what he did in nominating School District 101's April Classified Employee of the Month, Cheryl Economu.
---
Eternal Care helps remember: A group of North Idaho ladies, including Vicki McNally of Bonners Ferry, saw a gap that needed filling in cherished places in communities throughout the region, and created Eternal Care Services to fill that gap, tending to the graves of those who've passed when those who love and remember can't or are unable.
---
11:08 a.m.: Emergency crews are responding to the Valley View Elementary School parking lot in response to an accident involving three vehicles At least one person is injured. The scene has been cleared, injury minor. No students were involved.
May 1
Beware scams ... nothing is free: Fraud -- it's a word that doesn't even sound good. In the computer-driven world we live in, there are a huge amount of scammers that I generally identify as "parasites." By Sheriff's Detective Dave McClelland
---
Libby Dam flow increased: Between 9 and 11 a.m. today (MST), discharge from Libby Dam increased from nine kcfs to 13 kcfs. The current discharge of 13 kcfs will be held throughout the day today and tomorrow.
---
ING hosting 'Retiree Appreciation Days:' The Idaho National Guard will host two "Retiree Appreciation Days" at Gowen Field in Boise this summer. The Idaho Army National Guard event will be on Wednesday, July 17 and the Idaho Air Guard's will be on September 8.
---
Huckleberry breakfasts back at airport: May is back and so are the Huckleberry Pancake Breakfasts at the Boundary County Airport hosted by the local EAA club. The first one is May 25 at 8 a.m., so bring your hungry bellies and a donation ($5 suggested) to enjoy your local airport and all you can eat huckleberry pancakes, eggs, sausage coffee and juice!
---
May is Motorcycle Awareness Month: The Idaho Transportation Department (ITD) and its safety partners encourage motorists to "Look Twice for Motorcycles," a reminder that will be shared with hundreds of riders at free events on Saturday, May 4, at safety rallies across the state for Motorcycle Safety Awareness Month.
Obituaries
Victor Edwin Cherven, June 22, 1918 ~ May 27, 2013
Lawrence R. Unruh, December 9, 1923 ~ May 27, 2013
Terry Lynn Wright, June 21, 1968 ~ May 25, 2013
Charles Francis Adams, December 16, 1951 ~ May 23, 2013
Samuel Lee "Sam" Reifsteck, April 3, 1947 ~ May 21, 2013
Carmel Sandy, February 19, 1922 ~ May 9, 2013
Evan Miles Gatherers, November 11, 1959 ~ December 28, 2012
Tamera Lynn Stemmene, July 4, 1959 ~ May 12, 2013
Donald Bernard Vickaryous: May 27, 1938 ~ May 6, 2013
Hobert Calvin White
, April 5, 1926 ~ April 21, 2013
Dorothy Rita (Wilson) Anderson
,
July 13, 1951 ~ April 30, 2013
Patricia Youngwirth
, September 15, 1940 ~ April 30, 2013
Mildred Glendoris Lippert

,
June 17, 1916 ~ April 27, 2013
Social

Welcome, TJ Tatum!
Travis Jason Ray "TJ" Tatum was born in Libby, Montana, at 7:51 p.m. Monday, May 27, 2013, to Ali Nicole Tatum, Bonners Ferry. He weighed seven pounds, 12 ounces and was 20 1/2 inches long.
---

Bushnells welcome baby girl
:
Rosalyn Anne Bushnell was born May 10 at Lavendar and Rose Birth and Mothering Center, Libby, Montana, to Jacob and Renita Bushnell, Bonners Ferry. She joins big brother Kyler Jacob Bushnell.
---

Jaxon Barajas first spring baby: In observance of agriculture, spring, and new beginnings, Farm Bureau is pleased to announce this year's first baby of spring, Jaxon Barajas. Jaxon was born April 5, 2013, to Ashley and Zeke Barajas, Bonners Ferry.
---
Sports
Salmon fishing to close on part of river
:
Fishing for adult Chinook salmon in the lower Salmon River from the U.S. Highway 95 Time Zone Bridge upstream to the mouth of Shorts Creek will close at the end of fishing Sunday, June 2, according to Idaho Fish and Game.
---
Badgers one game short of state
:
The Badger baseball team endured a rough season all year but never gave up the fight, missing the state tournament for a second straight year by one game. The Badgers finished the season 11-12 overall last Saturday, losing to Priest River in the winner to state game.
---
Idaho stream fishing already open for fun: The general fishing season in Idaho, often referred to by anglers as "stream season," opened the Saturday before Memorial Day for many years. A few years ago that changed, and most streams are now open all year.
---
Badger spring football begins soon
:
Badger football spring practices for players in eighth thru 11th grades start at 4:30 p.m. Tuesday, May 28.
---
Record doesn't speak for Badger girls
:
Districts are over, softball is done for another year, and the weather is finally beautiful. On Thursday, May 2, Bonners played number one seed Kellogg in the first district playoff game.
---

Fore! Golfers needed! The Fry Healthcare Foundation's fifth-annual golf tournament is right around the corner, and duffers are in demand ... and you don't have to be a Tiger or an Arnie to contribute and have fun! The tourney gets off to a shotgun start at Mirror Lake Golf Course, Bonners Ferry, at noon Friday, June 14.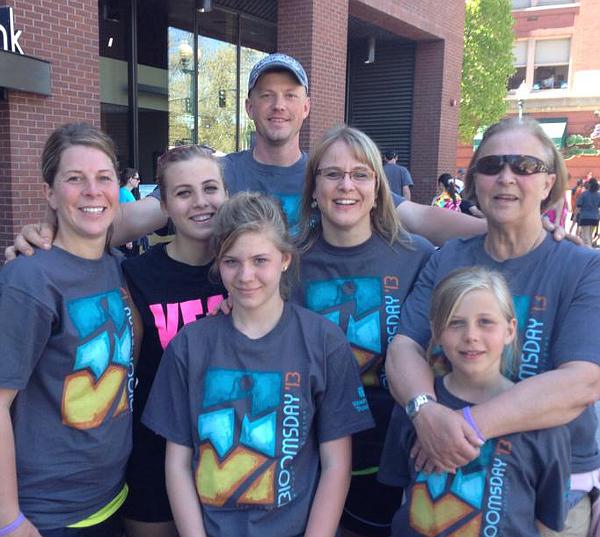 While the full list of finishers in Sunday's 2013 Bloomsday has yet to be released, a lot of Boundary County folks both made the trip to Spokane and crossed the finish line, including theSse familiar folks (l-r) Tacy Chouinard, Serenity Rose Winey, Sydney Chouinard, Cale Chouinard, Sabrina Winey, Hailey Chouinard and Pam Hamilton.
Basketball Camp coming
:
The Badger Boosters and NBC Basketball Camps have teamed up to bring the Bonners Ferry Basketball Camps June 10-11. Camp for 7 to 11 year olds will be from 9 a.m. to noon and camp for 12 to 18 year olds from1 to 4 p.m. Cost is down this year, too; $65 if you pre-register, $75 if you sign up at the door. To find out more, call (208) 755-6118.
---
Spring Chinook season opens Saturday
:
The Idaho Fish and Game Commission approved a spring Chinook salmon fishing season to start Saturday, May 4, on parts of the Clearwater, Salmon and Snake rivers.
Letters
Governor Butch Otter: On Memorial Day I spent some time with many of my good friends in Bonners Ferry. American Legion Post 55 is undergoing an extensive renovation and I was invited to come out and rededicate this historic facility.
---
Mike Weland: I'm standing election today against two good people. In a big way, I hope I lose. With the polls closing soon and most of the votes cast, I can now say that.
---
U.S. Senator Mike Crapo: As part of our government's system of checks and balances, Congress conducts oversight over agencies to bring about transparency and accountability. This is even more necessary with the Consumer Financial Protection Bureau (CFPB), which was established unlike any other federal department or agency.
---
Gary Leonard: You know I am a big fan of sheriff involvement in crime prevention and our community. I commend Detective McClelland for his efforts and I hope you encourage his efforts as we all should.
---
Troy Janda: Mr. Weland, an article you published in reference to posting the name of the Juvenile in Naples I found to be lacking in ethics as you say. I personally talked to the Boundary Paper, and the Bonner Bee both of which did not publish the name in the articles they ran.
---
Mike Weland: I recently published the name of a 12-year-old who, in court, entered an admission of guilt to a criminal act. I was immediately informed that publishing the names of minors is illegal at worst, unethical at best. Comments added
Back to archives