Boundary County Archives ~ June, 2012
Home
Sports
Social
Obituaries
Events
Letters
News
June 29
Three years captivity for Idahoan: On June 30, the only U.S. prisoner of war being held in the War on Terror, Sergeant Bowe Bergdahl, 26, Hailey, Idaho, will have spent a full three years as a captive of the Taliban in Eastern Afghanistan.

Power poles get protection: It is, apparently, a municipal law that's been on the Bonners Ferry books forever, but one few long-time residents knew existed and one that has never before been enforced. Not anymore. Better think twice before you tack notice to a Bonners Ferry power pole. Editor's note: This article has nothing to do with the benefit sale for Badger athlete Blaine Invernon, which continues at 8 a.m. Saturday, June 30, at the fairgrounds dining hall.
North Dakota hunters plead guilty: Three North Dakota bow hunters face up to a year in jail and a $100,000 fine each after pleading guilty to shooting cougars in Boundary County without tags.

Sand Creek Byway dedicated: It is what is hoped to be a good idea first conceived 65 years ago, and at $100-million, the largest single highway project in the history of Idaho. Today, it was dedicated.
June 27
City water still safe: There are several rumors going around this morning that the City of Bonners Ferry water system has been compromised by the flooding and that city water is unsafe to drink. That's all they are, rumors.
June 26

Everyone wins at first DHS charity game: The score said it was a blowout, with Border Patrol shutting out U.S. Customs 13-0 in the first North Idaho DHS charity flag football game, but everyone involved; players, sponsors and spectators came out on the plus side, and thanks to all the fun, a Bonners Ferry boy won a newfound measure of mobility.

City declares flood disaster: Bonners Ferry Mayor Dave Anderson and the city council met in emergency session earlier today and signed a declaration of disaster as the Kootenai River has risen nearly one foot above flood stage.

Texting and driving now a no-no: Idaho is officially the 37th state to prohibit texting while driving as Idaho Code 49-1401A goes into effect July 1.

Nice April this June! As a local hay farmer recently said, "It's been a really nice April this June!" But the airport hasn't been washed off the hill yet, and pilots and students are still finding holes in the clouds to launch their planes through.

Court records and Sheriff's log
County commission minutes, June 11-12
County commission minutes, May 28-29
June 25
Heavy rain forecast Tuesday morning: If the National Weather Service continues their spot-on short term forecasts, folks in Boundary County will be waking up tomorrow morning to dark skies and heavy rain, with about .82-inches of new precipitation predicted.
June 24
Flood warning issued on Kootenai: The Spokane office of the National Weather Service issued a flood warning for the Kootenai River at 5:15 p.m. Sunday, to last through Friday, June 29.
June 22
Guilty pleas in major pot grow: Sentencing has been set for three men who entered guilty pleas to federal charges stemming from a major marijuana growing operation in the Paradise Valley area that was busted by the Boundary County Sheriff's Office last summer.

IOCC cross-country cyclists to visit: "Race to Respond," a group of bicyclists making a cross-country trek representing the International Orthodox Christian Charities, will be making a stop in Bonners Ferry at the Holy Myrrhbearing Women Orthodox Mission, 1957 Pleasant Valley Loop, for morning services on Friday, June 29.

County seeking P&Z member: Boundary County Commissioners are seeking letters of interest from those in our community interested in serving on the Boundary County Planning and Zoning Commission.
June 21
Backpack program blessed twice: The Idaho Community Foundation blessed the children of Boundary County twice this month when they awarded two separate grants totaling $4000 to the BoCo Backpack weekend supplemental food program.
June 19
Riverside School gets reprieve: The Boundary County School District 101 board met at 5 p.m. today to deliberate the closure of Riverside School, and after deliberations, board members decided to keep the school open for at least one more year.

Sheriff's race down to two: The November general election race for Boundary County Sheriff is now down to two contenders after the Democratic candidate officially withdrew from the race last week.

Community yard sale to be a monthly event: Earlier this year, the owners of Sharon's Country Store sent up a trial balloon and opened the lot up for a yard sale, offering folks high-visibility spaces with Highway frontage for a little of nothing from where they could display their wares. It went so well despite less than perfect weather that it's going to be a regular event.

Court records and sheriffs log
June 14
Vacationer finds bad hunting: A Roy, Washington, man with a vacation cabin in Boundary County came over to do some hunting, and it turned out to be an expensive trip. Instead of hunting, he did some poaching.

BFHS Class of '83 getting early reunion start: It's 13 months and counting until the Bonners Ferry High School Class of '83 celebrates its 30th reunion, and work is already underway to make it a reunion to remember.
June 13
Sturgeon spill to last through June 16: After a five-day interruption for flood risk management, the U.S. Army Corps of Engineers re-commenced spilling as part of the sturgeon flow augmentation at Libby Dam on June 10 and expect the operation to last through Saturday.

School district offers summer meals: The Boundary County School District is participating in the summer food service program.

Moyie Springs City Council minutes, May 9
Moyie Springs city council, May 2 minutes
June 11
Town's newest grocery nears opening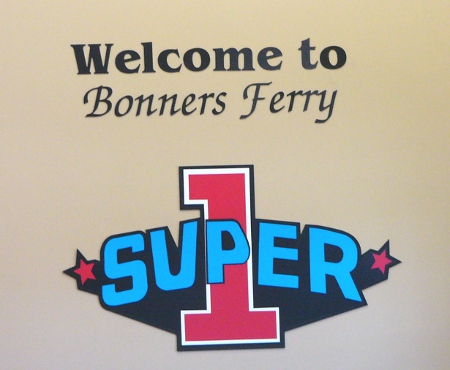 After months of hard work, employees at the new Bonners Ferry Super 1, a 24-hour full-service grocery and pharmacy, are putting on the final touches in preparation for their grand opening celebration at 7 a.m. Wednesday. We're told there's a lot planned, but no one there wanted to spoil the surprises that await the store's very first shoppers!
Summer brings out the airport's best: It's June already and summer is only moments away. Grass runways throughout our beautiful state, like Cavanaugh Bay on Priest Lake, are opening up for a summer of endless adventures for pilots. It's also the season when airports all over the country are hosting airshows, fly-ins, camp-outs, and pancake breakfasts.

Tree house travail gets global attention: If you Google "tremain albright tree house," you'll have your choice of 20,900 websites from around the world to find out that a Bonners Ferry man will lose what is perhaps the coolest tree house in North Idaho, if not the entire state, because the tree it sits in, while on private property, is in the wrong place.

Court dispositions and sheriffs log
June 10
Nice catch!
Jace Dowell enjoys a cool soda and Dad Aram shows off a nice stringer after a hot morning of fishing on Free Fishing Day Saturday at the Lion's Den. Despite the less than stellar weekend weather, turnout wasn't bad and the fish were hungry!
Deadline nigh for ambulance service: A gauntlet thrown by the Boundary Volunteer Ambulance Association is set to trigger the end of BVA at one minute past midnight Thursday morning if their funding demands aren't met, and so far, neither side is blinking.

Riverside High may be closed: The School District 101 board of trustees has a full agenda for their upcoming regular meeting June 12, and it's liable to be an emotional one, as they are set to discuss and possibly approve a resolution to close the Riverside Alternative High School.


Major back home: For as far back as they can remember, Cliff Kroeger has had a male boxer named Major. At nearly every call Cliff responded to as Bonners Ferry's long-serving fire chief, Major was there with him. What could have been a sad story with the latest Major instead has a happy ending.

Brain needs exercise year-around: This summer, please do the best you can to keep the written word in front of your children. Have your child read daily. Math games and writing activities will keep all of our students on an even keel. Like any body part, the brain will atrophy without exercise. Principal Pflueger Press!
June 6
Dam outflow reduced as more rain looms: With the Kootenai River level less than half an inch below flood stage and more rain looming, the Army Corps of Engineers scaled back outflow from Libby Dam early this morning. A flood warning has been issued on the Moyie River at Eastport.
June 4
Rex fans needed tonight for video: A film crew will be at the Rex Theater in downtown Bonners Ferry this evening, Monday, June 4, to film a promotional video, and everyone who loves the Rex is encouraged to take part.

DHS to do battle to help local boy: Mark your calendars for 5 p.m. Saturday, June 23; that's when two teams from the Department of Homeland Security will take to the field to do some flag football combat, not only for your entertainment, but to raise money for a local boy in need.

Court dispositions and sheriffs log
Moyie Springs city council minutes, April 4
County commission minutes, May 21-22
County commission minutes, May 14
Obituaries
Patricia Joyce "PJ" McNally,
April 18, 1928 ~ June 26, 2012
Emmett E. Robins,

February 25, 1931 ~ June 22, 2

012
Jon Michael Adams
, March 17, 1940 ~ June 21, 2012
Vada Voncille Armstrong
November 18, 1941 ~ June 19, 2012
Lila Arlene Belden Sweet,
November 11, 1921 ~ June 6, 2012
Social
St. Mary's Guild helps food bank: One of the oldest and smallest church service groups in Bonner's Ferry, Saint Mary's Guild, recently continued their giving, making a $200 donation to the Community Action Partnership Food Bank.
Yoga classes at the Pearl: Knowing the huge gap which will be left as Sharon Allured, our current primary yoga teacher, leaves our community, the Pearl Theater, 7160 Ash Street, Bonners Ferry, will offer yoga classes taught by Victoria Blake Thompson each Tuesday and Thursday through July, beginning June 19.
Sports
Moe, Hinthorn win Fry Foundation tourney: Sixty-four golfers, some in full golf regalia, brought sunglasses, sun-block, clubs, aspirations of winning the golf tournament, and possibly winning a car, to the Mirror Lake Golf Course in Bonners Ferry, Friday, June 15.
Another spectacular Kootenai River Run: As the clouds broke Saturday morning, June 23, approximately 300 runners lined up at the Boundary County Fairgrounds to race in the annual Kootenai River Run. Full results provided.
Badgers gearing up for football: Spring football practice started May 30 and continued for 11 days after school. Practices consisted of learning techniques, using drills to practice those techniques and only two days of full contact football. This all led up a three day football camp at Montana University Western in Dillon, Montana.

Badger wrestler needs our help: Blaine Invernon, 17, who'll be a senior at Bonners Ferry High School this fall, is spending much of his summer competing on the wrestling mat at places far from home, and a two-day benefit yard sale and auction has been set to help his family offset expenses.
Young Badgers shine at Hershey meet: Several Bonners Ferry kids made the trip to Timberlake High School, Spirit Lake, June 16, and several of them did well enough to qualify for the regional meet coming up July 7 at the University of Oregon's Hayward Field, Eugene, Oregon.
Letters
Raul Labrador: The decision by the Supreme Court of the United States that Obamacare is constitutional undermines the concept of limited government embodied by the Tenth Amendment.
Jessica Tingley: I am so disappointed about Tremain's tree house situation!
Tia Avery: Regarding Tree house travail gets global attention, I just have to say that I think this whole thing is a load of crap! I want to hold a sit-in at his place to protest!
Rosanne Smith: The management of Boundary Volunteer Ambulance would like county commissioners and taxpayers to purchase their business and enter into a long term contract without showing anyone their books. How can anyone make an informed decision without knowing the numbers?
Concerned Citizen: If a community is to thrive and remain viable, there are some infrastructure needs that must be met. Those requirements are good schools, good high speed internet and wireless phone coverage; and good, fast medical services.
Back to archives