Lila Arlene Belden Sweet
November 11, 1921 ~ June 6, 2012
June 10, 2012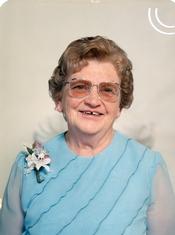 Lila Arlene Belden Sweet left the rain to go to the sunshine on June 6, 2012, with her family by her side.

Services will be held at 10 a.m. June 16 at the Bridgeway Assembly of God Church on Highway 2 with a potluck to follow at the church. Graveside services for those wishing to attend will be at 2 p.m. at Grand View Cemetery.

Lila Arlene Belden Sweet (Granny) was born November 11, 1921, in Thorp, Wisconsin (a place to belong), to Guy Belden and Grace (Howe) Belden. She was the eighth of nine children.

In 1927, at the age of 6 1/2, their family moved to Mission Creek in Copeland, Idaho, where she attended grade school at the old Copeland school. Her favorite thing to do was play baseball. At the tender age of 16, she quit school to marry the love of her life, Stanley S. (Red) Sweet, on November 27, 1937.

They loved to go dancing at the local grange hall, where they were married.

They lived in the logging camps on Pipe Creek, Rock Creek, and the old Ranger Station at Camp Nine before moving into their new cabin on the north bench, where she resided the rest of her life.

They had two children. In 1938 their son Stanley Alec "Skeezix" Sweet was born and then, in 1943, came their daughter, Etta Mae Sweet Schneurle.

Lila was a life member of the Busy Bee club, teaching all the family Bunco. She split fence posts to raise $45 to buy her new couch and chair. She skidded logs with a buckskin horse to help make railroad ties for the railroad. For 20 years she had two Jersey cows she called *#@*- and had a milk route to Moyie Springs. Some people still owe her money, but she would deliver the milk anyway, because of the kids. That's the way she was!

She worked for Walt Worley as the chief meat wrapper; she worked over 20 years at Three Mile Corner, then retired. After retirement, she went to work at Taft's until she was 78.

Granny had many favorite things she enjoyed doing: she always had a love for bowling, which she started in 1959 when the bowling alley opened, and she bowled until the age of 89, winning many trophies and awards and being very proud of beating the men's team.

Many hours were spent embroidering; she won lots and lots of ribbons at the fair. She made pillow cases for every child, grandchild, great grandchild, and great - great grand daughter. She was very family-oriented, attending all sports events of her family. She shopped for those great Black Friday bargains, and never missed a rodeo, wearing her bull riding jacket. She attended all of Sandpoint's moto-cross events; branding day was a Mother's Day tradition, always with her famous chocolate fudge cake, and she always went huckleberry picking, even though she never liked them.

She never missed a Sunday breakfast at Three Mile, and Christmas Eve was a family tradition at Granny's, where dishes had to be done before gifts were opened.

She is survived by son Stan (Dolores) Sweet, daughter Etta Mae (Bob) Schnuerle, grandchildren Cindy (John) Plato, Candy (Greg) Forrester, Ryan (Cece) Schnuerle, Philip Sweet, Rhonda (Gabe) Bandelin, Renee (Pat) Murphy, Rolina Arlene (Jeff) Thaldorf, 21 great grandchildren, and one great-great grand daughter.

She was preceded in death by her husband, Stanley (Red) Sweet in 1971, her parents, brothers Guy, Carl, Glen, Hank Belden; sisters Hazel Stockton, Iva Stockton, Tony Russell, Wanda Harrington, and numerous nieces and nephews.

Family and friends are invited to sign Lila's book at www.bonnersferryfuneralhome.com. Arrangements are entrusted to the care of Bonners Ferry Funeral Home.