Boundary County Archives ~ February, 2014
Home
News
Sports
Social
Obituaries
Events
Letters
News
February 27
Naples to be site of training exercise: The Boundary County Office of Emergency Management, in conjunction with the Idaho Bureau of Homeland Security, will be hosting a full scale training exercise on Friday in and around the Naples School.
Penguin Plunge draws nigh: As the Olympics play out on television, you have the opportunity to participate in the support of Special Olympians by participating in the Penguin Plunge at 11 a.m. March 8 at the Search & Rescue Waterways building on Riverside Street.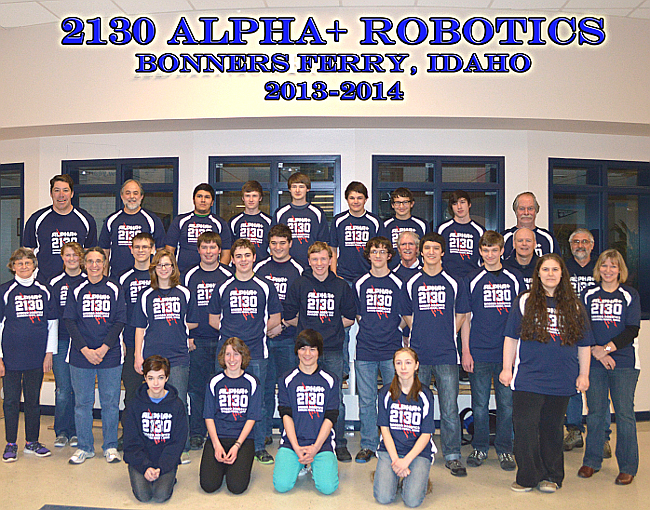 BFHS robot bagged and tagged
:
Bonners Ferry High School's FIRST Team 2130 Alpha+ has finished building this year's robot! By midnight of February 18, we had our robot in its bag, ready for competition, where we can no longer work on it.
By Derek Reynolds

'Out of Kilter' takes to the interwebs: Thanks to the technical prowess of his son, Heath, the wit and wisdom of one of Boundary County's most prolific yet warped writers is no longer confined to ink and paper, but available to family, friends and strangers around the world via his new and charming blog, http://outofkilteronline.wordpress.com.
Central committee invites GOP candidates: The Boundary County Republican Central Committee has extended an invitation to all Republican candidates seeking to serve the Idaho public in this year's elections to attend their monthly meetings and meet our local voters.
Local man expected to get nod as new police chief: After a nation-wide search to name a new Bonners Ferry Chief of Police, Mayor Dave Anderson is expected to once more request approval of someone right in our own back yard when the city council meets on Tuesday.

Joshua Kirk to be remembered at Boston Marathon: Megan Gavin-Kirk, the wife of Sergeant Joshua Kirk, Bonners Ferry, who laid down his life while serving in Afghanistan in 2009, is dedicating her third Boston Marathon to her late husband's memory and working to raise funds for the Maine Run for the Fallen.
-- Badger boys in district play tonight --
The Badger boys basketball team travels to Timberlake to take on the Tigers at 7 p.m. tonight in the opening round of the Intermountain League Championships. Please plan to go cheer them on!


Go, Badgers!
Bee Fit Studio now at Naples: Bee Fit Studio, Pam Hittle's Zumba palace in Boundary County, now boasts a new location and more space to dance and have fun on your way to fitness, having moved from their former location on McCall Street in Bonners Ferry to the Naples Elementary School gym.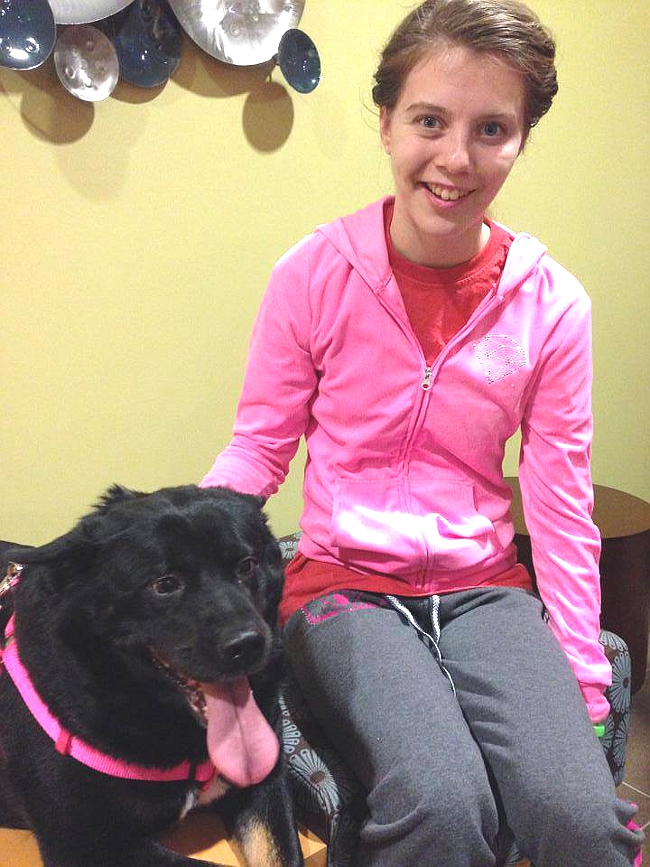 Special visitor for Kelsey on Wednesday
:
The family of Kelsey Shutes, 18, who is recovering from serious brain trauma at Kootenai Medical Center after a two vehicle collision February 9, sends out thanks to everybody for praying for Kelsey's left arm, because she was able to move it Wednesday, which was special in another way as well.
February 26
Court records and sheriff's log
February 22
Winter weather advisory to start week: Commuters can expect a snowy start to the coming work week as the National Weather Service, Spokane, has issued a winter weather advisory in effect in North Idaho and eastern Washington from 4 a.m. Sunday through 4 a.m. Monday and calling for as much as five inches of new valley snow.
February 19

Pro X invites entire business community to seminar: Jeff Brubaker, owner of Pro X Home Center at Three Mile in Bonners Ferry, knows opportunity when it comes knocking, and he is absolutely certain that his staff and employees will each benefit greatly when internationally-acclaimed psychologist, consultant and motivational speaker Bill Truby visits Bonners Ferry later this month to share his skills, experiences and insight.

District 1A to get new face: A ten-year triumvirate in North Idaho state politics will come to an end, as Eric Anderson (R) Priest Lake, recently announced that he will not seek a fifth term as Ditrict 1A representative so that he can focus his efforts full time on fighting the spread of invasive zebra and quagga mussels in northern Idaho waters.
Senators oppose Medicare Advantage cuts: A bipartisan coalition of forty senators, led by Mike Crapo (R-Idaho) and Charles Schumer (D-New York), have written the Centers for Medicare and Medicaid Services (CMS) to express concern with additional cuts to Medicare Advantage in 2015.
February 18
My apologies for 'falling down' on the job: A little over a week has gone by since this site was last updated, and though I begged and pleaded, the EMTs who came to give me a ride to Boundary Community Hospital Sunday evening to allow a me a minute to post notice to let readers know what was going on went unheeded.
February 10
Winter weather advisory issued: The National Weather Service, Spokane, has issued a winter weather advisory for snow in Boundary and Bonner Counties, which goes into effect at 7 a.m. today and lasts through 4 p.m. Tuesday.
February 9
Three injured in head-on collision: Three people, one a Bonners Ferry High School senior and two from Creston, were taken to the hospital Saturday evening following a head-on collision on Highway 95 in the Rock Creek area.
Cheering for one of their own ...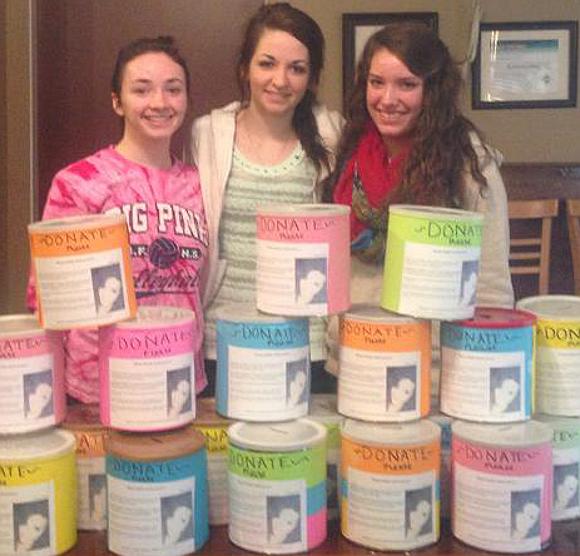 Great day turned tragic
:
Saturday was a wonderful day for a group of Badger cheerleaders, who traveled to the district championships in Moscow and took first place for a trip to state. Then, in a matter of seconds, their euphoria turned to worry and sorrow when one of their team, Kelsey Shutes, was seriously injured in a car crash.

Shutes family needs prayers: A local family is asking for the community's prayers after a a two-car collision Saturday evening on Highway 95 near milepost 518 put a young Bonners Ferry woman in the hospital.
February 8
Farm Bureau looking for first spring baby: In observance of agriculture and spring, Farm Bureau is looking for the first Boundary County baby born on or after March 19, which is National Agriculture Day and the day before spring begins.

Calico kitty found in soffit: Ed McElfresh found this cute little calico, cold and hungry, hiding in the soffit of his house this morning, about a block away from Super 1 Foods.
February 7
One dies in North Side house fire: Bonners Ferry Police and Fire responded to a residential house fire this afternoon on Westview Drive in Bonners Ferry, reported at 3:09 p.m.
-- House fire in progress --
3:34 p.m.: City fire crews are on scene at a home on fire on Westview Drive in Bonners Ferry. The incident has been described as a major residential fire. No one is believed to be in the home but entry has not yet been made so as to verify. People are encouraged to stay away from this area.
Tribe develops wildlife assessment tool: The Kootenai Tribe of Idaho, working with federal, state and other tribal partners, has developed what it feels is a reliable tool for assessing impacts to wildlife habitat along the Kootenai River caused by the operation of the U.S. Army Corps of Engineers' Libby Dam in northwest Montana and measure how well particular restoration actions might help ecosystem functions.
Buckhorn prescribed fire project approved: The Bonners Ferry Ranger District announced the approval of the Idaho Buckhorn Prescribed Fire Project, located in the Buckhorn Mountain vicinity approximately seven miles north of Moyie Springs within the Deer Creek Watershed.
BCH has car seats available: Boundary Community Hospital, with the help of a $1,500 grant from Idaho Community Foundation, made possible by the Gladys E. Langroise Advised Fund, has purchased children car seats. In addition, the Hospital Auxiliary funded car seats.
PAWS and pink slips at VVES: We are now in the second half of the school year; the clock will spin quickly for the rest of the school year! Make sure to stay informed of the upcoming events, as we have many activities happening. By Principal Gary Pfleuger
Logging roads exempt from EPA rule: Federal, state, county, tribal and private forest owners, along with farmers and ranchers, will benefit from language, included in the Farm Bill, signed into law by President Barack Obama, Senator Mike Crapo said today.
February 6
-- Cheerleading exhibition tonight --
Just a reminder of the Cheer leading Exhibition that is happening tonight at 7 p.m. in the high school gym. They would love to see you there!! And yes, it's on despite the closure and cold!
What is FIRST Robotics? FIRST Robotics is an international high school competition founded in 1989 by Dean Kamen that combines the excitement of sport with the rigors of science and technology. By Maggie McCoy, Derek Reynolds and Joe Sher
Pawsitive Works coming home: Pawsitive Works recently received a grant to make a difference in the Bonners Ferry community. The organization piloted its efforts in Boundary County in 2009 and has its administrative headquarters here.
Classical Conversation group meets: Classical Conversations is a tuition-based homeschool group that meets on Fridays. The Foundation's classes (K-6) are led by trained tutors who facilitate science experiments, art projects and review games.
Young Living to host open house: To celebrate the completion of a new, fully automated, state-of-the-art distillery, Young Living Essential Oils is inviting the community to join us for an evening of festivities on February 15 at our Highland Flats Tree Farm.
February 5
New rules, diligence in bomb hoax fight: In the wake of yet another bomb hoax at Bonners Ferry High School last week, principal Tim Gering on Tuesday set some new rules all BFHS students will have to abide by, but he didn't fail to accentuate the positive, asking students who value their education to protect it.
Children's book drive on: The Community Children's Book Drive is now underway through the month of February in celebration of Read Across America Week, and organizers are asking folks to "think books" next time you go to the grocery store.
-- School Closure --
Boundary County School District 101 schools are closed today due to cold weather. The seventh grade ski trip scheduled for today has been postponed and will be rescheduled.
Lake Pend Orielle District schools in Bonner County are also closed.
February 4
Farm Bill retains PILT another year: Idaho Senator Mike Crapo joined a bipartisan majority in the U.S. Senate and voted to approve the House-passed Agricultural Act of 2014 conference report, commonly known as the Farm Bill.
Famous pie sale right around the corner: Picture in your mind tables full of pies side by side — lemon meringue pies with towering browned meringue peaks; delicious double-crusted apple pies, huckleberry pies, and cherry pies; tempting open-faced pecan pies, and raisin-cream pies; and whipped-cream mounded chocolate pies and banana cream pies — that, and more, is what you will see at the Hospital Auxiliary Pie Sale.
FLS hosting Valentine's Dance: The Bonners Ferry High School Foreign Language Society will host a Valentine's Day Dance at the high school from 7 to 10 p.m. Saturday, February 8. Sweethearts arriving early can get their Valentine's Day picture taken by photographer Katie Blumenauer beginning at 6:30 p.m.
Valentine's basket raffle this week: The Friends of the Restorium Valentine's baskets raffle tickets can be purchased from 10 a.m. to 6 p.m. this Friday and Saturday, February 7-8, at Akins Harvest Foods.
Casey Solt working for chance of a lifetime: A Bonners Ferry girl now living in Post Falls while attending cosmetology school in Spokane has a once in a lifetime opportunity, but she needs her hometown to help make her dream come true.
Court records and sheriff's log
February 3
Cold temps coming: The National Weather Service has issued a wind chill watch effective Tuesday night through Wednesday morning predicting numbing temperatures and even colder wind chill.
February 2
Truck spills fertilizer, closes highway: A 62-year-old truck driver from Peck, Idaho, lost his life Saturday when he lost control of his tractor-trailer rig on Highway 95 in the Cocolalla area and spilled ammonium nitrate, forcing closure of the highway for several hours.
February 1
BFHS robotics team making headway: Over the past three weeks, Bonners Ferry High School robotics FIRST Team 2130 has progressed significantly, but with three weeks down we only have until February 18 to get our robot done. By Derek Reynolds

Pianist Scott Kirby coming to town: The Pearl Theater is excited to present composer, pianist, and visual artist Scott Kirby at 7 p.m. Thursday, February 13, at Bonners Books, 7195 Main Street, Bonners Ferry.
College info night at NIC: All students and parents who are interested in North Idaho College's dual credit program and other information needed after high school are encouraged to attend College Info Night from 4 to 7 p.m. Tuesday, February 4 in the Edminster Student Union Building, Coeur d'Alene.

Busy week at Second Chance: It's been a busy week at Second Chance Animal Adoption, with a family desperately trying to find their lost pet, dogs found wandering who want to go home and concern that there may be loose hounds starving in the Camp Nine area just as temperatures begin to plummet. But not all the news is bad.
Bible book store opens Monday: A new business will open in downtown Bonners Ferry at 10 a.m. Monday as Linda Elliston unlocks the door at the Olive Tree Bible Book Store at 7219 Main Street, which was the old South Hill Furniture.
County commission minutes, January 13-14
Obituaries
Bobie Harrison Eby, December 29, 1932 ~ February 20, 2014
Veronica Mae Abraham, May 27, 1988 ~ February 7, 2014
Elden Lee Merrifield, October 19, 1939 ~ February 12, 2014
Ditler L. "Ditty" Lauritsen, November 2, 1953 ~ February 14, 2014
Mary Jean Carver, September 18, 1923 ~ February 3, 2014
Mildred Irene MacDonald, November 13, 1921 ~ February 1, 2014
Phillip Eugene "Bud" Finley, Jr., August 12, 1959 ~ January 29, 2014
Social
Essay contest winners named
:
The Boundary County Human Rights Task Force has announced the winners in the essay contest submitted for Martin Luther King Day.
Local students on NIC Dean's List:
North Idaho College recently announced its Dean's List for fall semester 2013. Students eligible for the NIC Dean's List must be enrolled in a minimum of 12 credits and obtain a grade point average of 3.75 or above.

Lyle BCH Employee of the Year
:
Charlene Lyle is Employee of the Year for 2013 at Boundary Community Hospital. Charlene has been employed at BCH for five years. As a Certified Nursing Assistant (CNA), Charlene works full time in Acute Care.
Sports
Badger boys off to state: The Bonners Ferry Badger boys basketball team earned a trip to state Thursday evening, traveling to Timberlake and downing the Tigers 36-33 in a loser-out game decided at the free throw line with only 35 seconds left on the clock.
Letters
Concerned wife Susan:
Just read the letter about
common courtesies while hunting
. Would like to add one other note: When hunting behind a locked gate, do not block the gate with your vehicle!
Representative Raul Labrado
r
: On Thursday, the House passed legislation, H.R. 2954, that includes a bill and an amendment that I introduced to aid Idaho's agriculture community.
Idaho Senator Shawn Keough
:
Like you, I enjoy the outdoors and all of the opportunities afforded to us living in such a beautiful part of the state. We are fortunate to have so many recreational pursuits to choose from. With our many lakes and rivers, one of our most popular activities is boating. Boating is part of our way of life, but we need to make sure that it is done in a safe and responsible manner.
Mike Weland
:
I would like to give kudos to the Sandpoint Police Department for recognizing the power of the internet and razzies to self proclaimed "local" media that have lost track of its value and purpose. A wreck near Cocolalla this morning that should, if all of us who purport to serve the public view it honestly, sound a clarion.
Back to archives