Boundary County Archives ~ April, 2013
Home
News
Sports
Social
Obituaries
Events
Letters
News
April 30
Kootenai Exhibit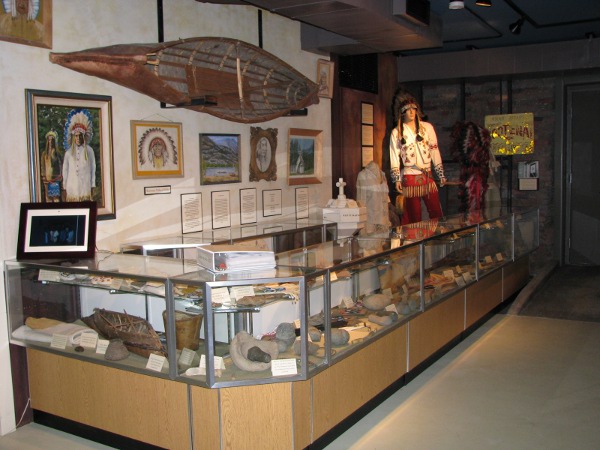 On Tuesday, April 23, there was a dedication of the Kootenai Exhibit at the Boundary County Museum. The Museum's collection doubled in size with the help of the Kootenai Tribe of Idaho, who placed on display artifacts returned to the tribe from the Freddie Florea Collection, Paul Flinn Collection and Nellie Ruckey Collection; and also donated money to purchase new display cases. The dedication was followed by a presentation entitled "Kootenai Tribe: Our Heritage and Future." The program was well attended.
Rawlings original to be staged at the Pearl: May is almost upon us and The Pearl Theater is featuring an original play by Paul Rawlings, "In My Secret Life," a production which stars seven women, all seasoned actresses and all long time residents of Boundary County.
---
BFHS students walk to Statue of Liberty: From Thursday, April 25, to Saturday, April 27, four Bonners Ferry High School students walked to Sandpoint after reading the book Walk Across America by Peter Jenkins in Mr. Bonnell's junior English class.
---
orestry contest 31 years old: The Idaho Department of Lands (IDL), Bonner Soil and Water Conservation District, and the U.S. Forest Service will hold the 31st Annual Idaho State Forestry Contest on May 9 from 8 a.m. to 2 p.m. at Delay Farms in Careywood.
---
Juvenile admits to bomb hoaxes: A Naples 12-year-old who confessed to sheriff's deputies in March to placing two calls to 911 to report a bomb in an unspecified school has also admitted his guilt in court.
---
Court records and sheriff's log
April 29
Wind advisory issued: The National Weather Service, Spokane, issued a wind advisory covering Boundary County at 10:52 a.m. today, effective until 5 p.m. today, calling for gusts up to 45 miles per hour below 3,000 feet.
Cleaning up ...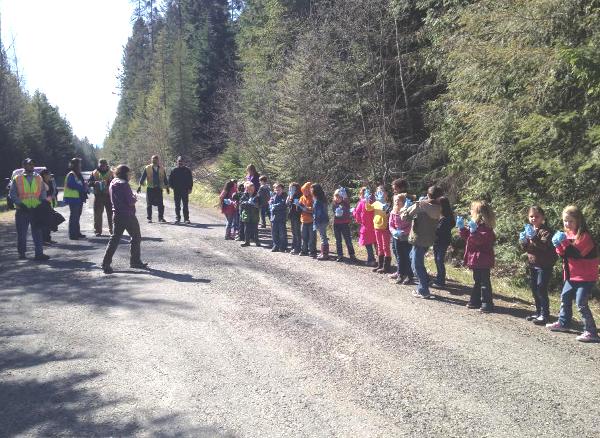 First graders at Mt. Hall Elementary did their part on World Environment Day, picking up trash along the West Side Road. When they finished, they were treated to a picnic at Elk Mountain Farms!
April 28
Anika Blackmore crowned DYW: It was an evening of superlatives on the Becker Auditorium stage Saturday as another year of Distinguished Young Women culminated months of hard work by 11 Bonners Ferry women and innumerable volunteers.
---
Amber Alert issued for Kalispell boy: An Amber Alert was issued Sunday morning for a one-year-old boy who authorities believed to be in danger. Local authorities believe they might travel through Boundary County. Amber alert cancelled, boy safe
---
Ugly critter rears its head: We must be having an incredible time, "if time flies when you're having fun!" The end of the school year is coming quickly. The first two weeks of ISAT Testing have gone very well. On a not-so-nice note, we've had some unwelcome guests at school - head lice. By Valley View Principal Gary Pfleuger
---
Train safety to be emphasized: On Friday, May 3, city, county and state law enforcement officers will be conducting an Officer On A Train and Adopt A Crossing enforcement operation in Northern Idaho.
April 26
Moyie Mud Bog cancelled, may be no more: For the past several years, Mothers Day weekend has been synonymous with the Moyie Mud Bog, an event that drew more than a thousand people from around the country with their monster machines to try their hand at bogging through one of the best-run mud bogging events in the nation. Sadly, there will be no Moyie Mud Bog this spring.
---
Parks and Rec Board may have opening: The Boundary County Parks and Recreation board has a possible opening. If you are interested in sitting on this board, please submit a letter of interest to Boundary County Parks and Recreation, P.O. Box 3044, Bonners Ferry, ID 83805.
---
What do you know about H2O? The American Water Works Association (AWWA) and the water community today kicked off Drinking Water Week 2013, which takes place May 5 through 11 across North America, by asking the question "what do you know about H2O?"
April 25
Prescribed burns start today: The Idaho Panhandle National Forest plans to initiate their annual prescribed fire program starting today and continue into the following weeks.
---

Molly Rivkin needs community help: This summer, Molly Rivkin, the daughter of

Linda Richardson and Mitch Rivkin, Bonners Ferry, and a 2005 graduate of Bonners Ferry High School, is

going to be working at a summer camp in the Ukraine called GLOW (Girls Leading Our World), and she's asking the community's help to make it possible.
---

Children's author coming to Valley View: Deby Fredericks, a Spokane school crossing guard and substitute secretary by day, writes for children as Lucy D. Ford, and she has been a writer all her life. She viewed it as just a fun hobby until the late 1990s. She'll be visiting Valley View Elementary on Wednesday, May 1.
---
County commission minutes, April 15-16
April 24
Normalcy returning after high school bomb threats: Things have slowly trickled back to normal at Bonners Ferry High School following the rash of bomb threats that occurred from the first through third quarter of this school year.
---

Linda Alt 'Beta Woman of the Year:' "What a beautiful day, blue sky and sunshine this morning," Linda Alt wrote on Facebook this morning. " Just needs to warm up a bit! Have to say yesterday was an amazing day." The day turned out better than she imagined.
Kindergarten registration set at Valley View: Registration for next year's new kindergarten students at Valley View Elementary takes place from noon to 4 p.m. Friday, May 3, and there'll be a lot going on, both for kids and their parents.
---
County commission minutes, April 8-9
April 22
Remembering ... lest we forget: May 27 is but a month away, and only a hard corps are working on the plans as yet. Memorial Day. This community always remembers, but the remembrance, so solemn and fitting, doesn't happen of its own accord.
---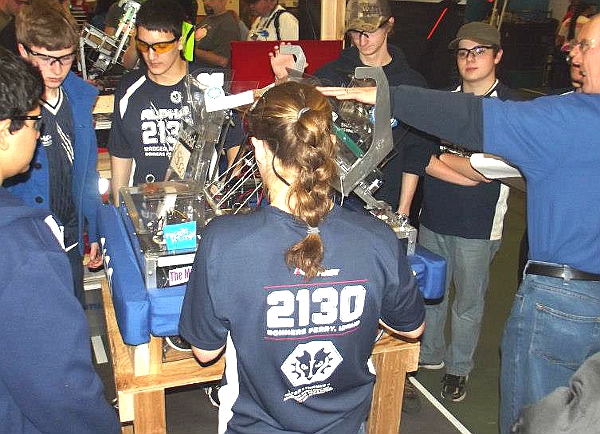 Alpha + heading for glory: The Bonners Ferry High School robotics team once again made Bonners Ferry proud. April 4-6 FIRST Team 2130 traveled to Cheney, Washington, to compete in their second competition of the year. The team leaves for the gateway to the west early in the morning. Story by Kristen Gannon; Photo by Sarah Schuman
---
Father of All Yard Sales cancelled: Due to an apparent lack of interst, this year's Father of All Yard Sales, which had been scheduled this weekend at the fairgrounds, has been cancelled. As of this morning, only seven booth spaces had been reserved; those who have already paid will have their money refunded.
---
Changes proposed to roadless areas: The chief of the Forest Service is proposing to modify Idaho Roadless Area boundaries for the Big Creek, Grandmother Mountain, Pinchot Butte, Roland Point, Wonderful Peak Idaho Roadless Areas on the Idaho Panhandle National Forests to reflect lands acquired within and/or adjacent to these roadless areas.
---
PHD to test emergency ability: From April 29 to May 1, Panhandle Health District (PHD) will test its plans and ability to order and dispense medication in a crisis to the people living in the five northern counties.
---
Court records and sheriff's log
April 20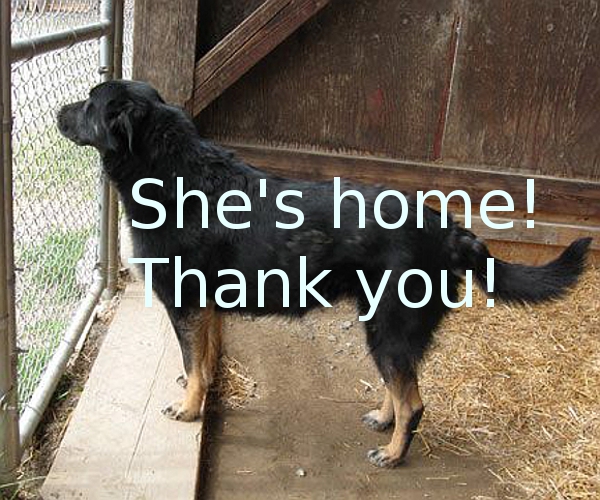 This big girl was brought to the Second Chance shelter after being found on Syringa Drive Thursday. April 18. She is very friendly and well mannered. If anyone knows who she belongs to please contact us. If she's yours or if you know who she belongs to, you can reach Second Chance, 6647 Lincoln Street, Bonners Ferry, by calling (208) 267-7504. We were informed April 22 that, thanks to our readers, she's back home!
April 19

Sweet kitty turns up at wrong house: This beautiful cat, described as being very sweet and used to being inside, turned up at a home near the Boundary County Landfill Wednesday and has been there since. The homeowners are certain someone must be missing her.
---

Walking Montana Marine reaches Bonners Ferry: Starting this morning, Facebook lit up with messages of people seeing a tall man wearing a red U.S. Marine Corps sweatshirt and pushing a cart bedecked with an assortment of flags and a banner on front, "Walking for the Fallen."
---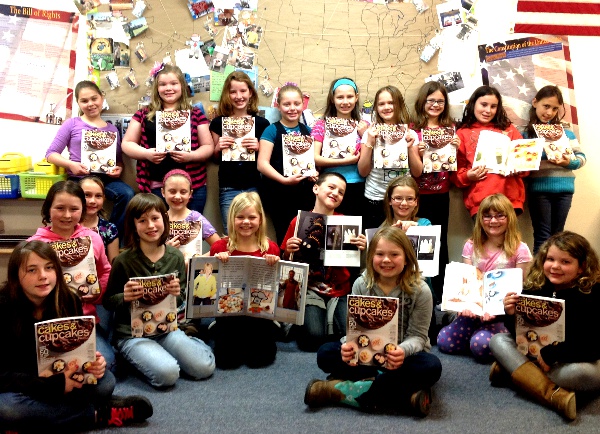 Writing a long-term project at Naples: The famous writer, Willa Cather said, "Most of the basic material a writer works with is acquired before the age of fifteen." At Naples school, the teachers believe this quote to be true and they strive to create purpose with their writing assignments while encouraging students to be creative, descriptive, and precise. Writing starts in kindergarten and excels throughout all the grades.
---
Friends of the Restorium raffle starts today: The Friends of the Restorium Spring Basket Raffle started today and lasts until 6 p.m. at Akin's Harvest Foods, and this year's baskets are great as ever! Two baskets are being raffled, with tickets going for $1 each or six for $5, and they are both stuffed with value and goodies to get your spring started right.
---
Kootenai added to list of most endangered rivers: Five open-pit coal mines in southeastern British Columbia in the Elk River watershed, a major tributary of the Kootenai River, an international watershed that covers 18,000 square miles in British Columbia, Montana and Idaho, were cited by American Rivers for ranking the Kootenai River among the most endangered in the United States, and the group is urging its 100,000 members to write Secretary of State John Kerry to use the International Joint Commission to protect the river.
---

Seeking freedom for Boise pastor: Idaho First District Congressman Raúl Labrador, along with 45 of his House colleagues, recently introduced a bipartisan House resolution (H.Res. 147) calling for the release of Boise Pastor Saeed Abedini from an Iranian prison.
---
Regulations strangling small business, Risch says: U.S. Senator Jim Risch confronted Small Business Administrator Karen Mills this week about the negative impact regulations are having on small businesses. During a Senate Small Business Committee hearing Risch presented a stack of growing Obamacare regulations over seven feet tall to illustrate the difficulty businesses have in complying with regulations.
---
Idaho unemployment remains flat: Idaho's seasonally adjusted unemployment rate held steady in March at 6.2 percent, the result of the continuing decline in the labor force and caution on the part of the state's employers.
April 17
Pre-teen charged for school bomb threat: A 12-year-old Bonners Ferry girl has been charged for a bomb threat made at Boundary County Middle School January 15.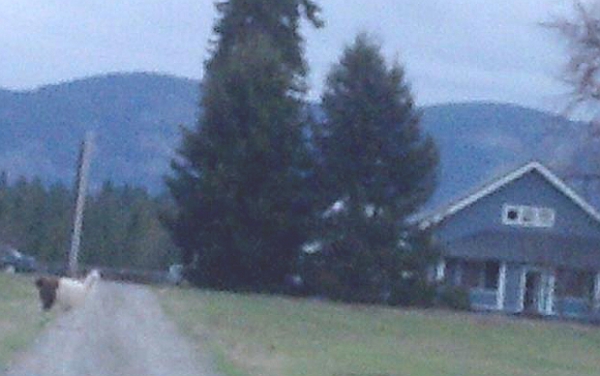 Llost, wayward llama found: An apparently lost llama turned up at the Christopherson home Friday near milepost 510 on Highway 95 just south of Three Mile, and while skittish, she seems to have settled into the neighborhood. The Christophersons are trying to find its owner.
VV Student Council has productive meeting: The Valley View Elementary Student Council met April 11 and covered a lot of ground; everything from door mats to May Day cards!
April 16

Harv Martin diagnosed with cancer: A Bonners Ferry man who watched with tears as his community turned out in honor of his son, killed in Afghanistan August 7, 2012, had planned to spend time this week meeting with the soldiers his son served with in the

1st Squadron, 40th Cavalry Regiment, 4th Brigade Combat Team, 25th Infantry Division, Joint Base Elmendorf-Richardson, Alaska, due to arrive tomorrow. While long in the planning, his time with the late Ethan Martin's comrades in arms will be cut short.
---
One jailed after 'kidnapping:' Quick action by a Bonners Ferry Police Officer didn't end in an arrest for kidnapping, but it did stop a drunk driver Sunday night. Officer Chris Langan was on routine patrol when a motorist stopped him and reported having just seen a woman being forced, apparently against her will, into a vehicle occupied by two men on Highway 95 in south Bonners Ferry.
---
Gearing up for the Fourth of July: The warm breeze of summer is still but an anticipation, but plans for this year's Bonners Ferry Fourth of July celebration are warming up nicely, with a parade, games, live music and a lot more. Oh ... and fireworks!
---

Pretty mother of three looking for home: This pretty young female arrived at the Second Chance shelter yesterday, found by a man cutting wood up Deer Creek Road. Thinking she had been "dumped" since there were no homes around, he called to her. She immediately came to him, then raced back to the same spot he'd first seen her. He walked over to find three little puppies stashed under a log. Meet her and others dogs looking for a Second Chance
---
It's Work Zone Safety Week: The scene has repeated itself many times over, in many different locations: Signs indicated an active highway construction zone ahead. Traffic slowed to accommodate construction workers and equipment. Nothing prepared motorists and workers for what happened next.
---

Flags to be lowered for Boston bombing: President Barack Obama has ordered all federal flags flown by the United States be lowered to half-staff or half-mast from sunup to sundown Saturday as a mark of respect for the victims of the April 15 bombings at the Boston Marathon, which claimed the lives of three and injured more than 140.
---
Annual Mutt Strut coming May 18: This May will mark the third year that Pawsitive Works™ has sponsored the ever popular community 5k dog run. On Saturday, May 18 at 9 a.m., dogs and humans will take off from the fairgrounds to run or walk along the scenic Kootenai River.
---
Court records and sheriff's log
April 14
Possible kidnapping situation unfolding
11:10 p.m.: Police and sheriffs deputies are working to block traffic on Highway 95 at the top of Peterson Hill as a result of a possible kidnapping in Bonners Ferry shortly before 11 p.m. Officers have the vehicle stopped and three people detained as of 11:10 p.m. A motorist stopped a police officer and reported having witnessed a person apparently being forced into a vehicle before it drove off south. Traffic has now been released. One person has been arrested for DUI and obstructing a peace officer as officers work to determine what occurred. All three occupants of the vehicle are from Kootenai County.
April 13
Crapo opposes firearms package: On Thursday, the U.S. Senate voted 68-31 to move a firearms package to the floor for debate. Idaho Senator Mike Crapo joined several colleagues in voting against the legislation, finding that it further restricts the Second Amendment rights of law-abiding Idahoans.
April 12
Meet this years' Distinguished Young Women: Your first chance to see this year's Bonners Ferry Distinguished Young Women participants on stage takes place this evening at the Pearl Theatre, 7160 Ash Street, when the truly distinguished group take part in the DYW Style Show, which begins with a social at 6:30. According to those who've been working with this years' group, most of them themselves former DYM, or, before that, Junior Miss participants, the dedication, hard work and talent of these young ladies, high school juniors all, is just as amazing as ever.
---
Important tests ahead, parents' help needed! This issue is dedicated to "holding on to our hats!" The school year is going to move very fast from this point on! That being said ... I need your help! By Valley View Principal Gary Pfleuger
April 10
Prescription drug Take Back coming: On April 27 from 10 a.m. to 2 p.m. the Bonners Ferry Police Department and the Boundary County Sheriffs office, in partnership with the Drug Enforcement Administration (DEA), will give the citizens of Boundary County their first opportunity to rid their homes of potentially dangerous, expired, unused, and unwanted prescription drugs.
---
Kindergarten registration at Mt. Hall: Mt. Hall Elementary School's kindergarten registration will be held from noon to 4:30 p.m. Thursday April 25.
---
Time to GROW! Spring is here and the excitement of gardening is being felt by the members of the GROW! community garden volunteers.

For those who like to garden or who want to try their hand at gardening in order to raise wonderful organic vegetables, the community garden offers that opportunity.
---
INWCF luncheon set: All Boundary County non-profit organization representatives and community leaders are encouraged to attend a special lunch presentation at the Kootenai River Inn at noon Thursday, May 2, when representatives from the Inland Northwest Community Foundation tell how they can help bring local goals and dreams to fruition.
---
County commission minutes, April 1-2
---
County commission minutes, March 25-26
---
County Commission minutes, March 11-12
April 9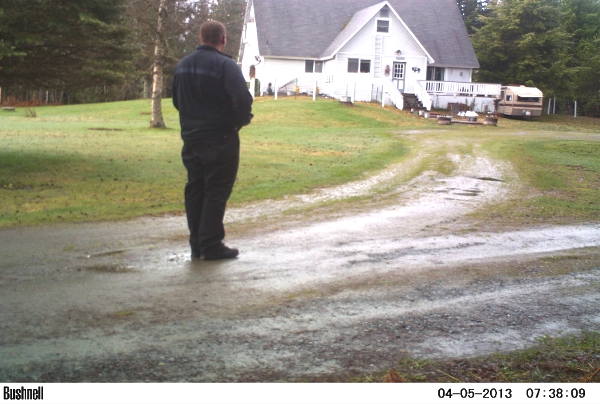 Burglaries, scams on the rise; suspect sought: The Boundary County Sheriff's Office has issued an alert that with the warming weather, the number of burglaries in the county, both business and residential, are on the rise, and they encourage everyone to take precautions to avoid becoming a victim. If you recognize the man in the photo, above, the sheriff's office needs your help.
CROP Walk 2013 coming: Last year, Brad Buerge walked his way to $1,739 to help fight world hunger, both here and abroad, to become the top walker in the Bonners Ferry CROP Hunger Walk, which raised a total of $8,428.16. This year's CROP Hunger Walk is taking place at the Bonners Ferry High School track from 8 a.m. to 2 p.m. Monday, June 8, and walkers, volunteers and donors are once again needed.
April 8
Team 2130 bound for St. Louis: The results for the FIRST robotics competition in Cheney, Washington, have come in and, once again, FRIST team 2130 has performed outstandingly. In the final elimination rounds, FIRST team 2130 placed third overall. While this is a great achievement, the greatest surprise was that the judges selected the Alpha + as winners of the Engineering Inspiration Award, which is highly coveted. Story by Sally Balcean, plus a publisher's challenge
---
Court records and sheriff's log
April 6
Bonners Ferry robotics team in first
Out of 41 teams, Bonners Ferry's FIRST Robotics Team 2130 Alpha + is in first place after the qualifying rounds of the Washington FIRST Robotics competition now underway in Spokane. For details and video, visit http://www.firstwa.org/.
April 4

Crackdown on aggressive drivers: They're out there and you've seen them – bold, pushy or selfish drivers putting you and others at risk. That's why the Idaho Transportation Department (ITD) and Idaho law enforcement agencies are combining forces to stop aggressive driving April 5-14.
---
Senator Risch to seek another term: U.S Senator Jim Risch announced today he will seek to retain his Senate seat in the 2014 election.
---
NIC celebrates American Indian Heritage Week: North Idaho College will host a number of events throughout the week of April 8-12 in honor of American Indian Heritage Week. Nearly all these events, which celebrate the tribes of the Northwest, are free and open to the public.
---
Almost time for summer tires: Studded snow tires must be removed from motor vehicles in Idaho before May 1, the Idaho Transportation Department reminds drivers. The use of studded tires is legal in Idaho from October 1 through April 30 each year.
April 3
Risch stands up for Second Amendment: U.S. Senator Jim Risch today joined a group of his Republican colleagues in signing a letter to Senate Majority Leader Harry Reid (D-NV), which states his opposition to legislation that would infringe upon Second Amendment rights.
---
Library board contemplating big changes: From a fledgling service in 1913 that saw volunteers pushing wheelbarrows loaded with books to a modern facility housing over 35,000 books, a computer center, audio, video and more, the Boundary County Library has enjoyed a long history of growth, but perhaps nothing as impressive as what might lie just ahead.
---
U of I offering local GPS class: A Global Positioning System or "GPS" receiver is becoming as common to work and play in forests as a compass. Yet many who own a GPS unit feel they are only using a small portion of its capabilities. A class on GPS will be offered in Bonners Ferry May 11.
April 1
Court records and sheriff's log
---
Obituaries
Mildred Glendoris Lippert,
June 17, 1916 ~ April 27, 2013
---
Philip H. Robinson,
March 17, 1946 ~ April 29, 2013
---
Rita Dellamano Armstrong DeVeau,
April 26, 1951 ~ April 26, 2013
---
Marlan Eugene Entriken
, April 12, 1944 ~ February 18, 2013
---
Mary Elaine Entriken
, February 6, 1945 ~ April 13, 2013
---
Charles Adon Brittenham
, July 6, 1927 ~ April 7, 2013
---
Evelyn Lietha
, May 4, 1921 ~ April 8, 2013
---
Vonna Ella Throckmorton
, June 25, 1919 ~ March 28, 2013
---
Soren Michael Klanderud,
April 27, 1968 ~ March 29, 2013
---
Betty Jean Tashoff
, August 12, 1923 ~ March 31, 2013
Social
Friends of the Restorium raffle winners: Terri Dunning and Jamie Hull were winners of the Friends of the Restorium basket raffle drawings held in April at Akin's Harvest Foods.
---
Fredericksons welcome Bre'Ann Sun Young: Bre'Ann Sun Young Frederickson was born at 9:17 a.m. Monday, April 29, at the Mat-Su Regional Medical Center, Wasilla, Alaska, the daughter of Virgil and Ra'Shell Frederickson, Talkeetna, Alaska.
---

Linda Alt 'Beta Woman of the Year:' "What a beautiful day, blue sky and sunshine this morning," Linda Alt wrote on Facebook this morning. " Just needs to warm up a bit! Have to say yesterday was an amazing day." The day turned out better than she imagined.

---
---

Elias Grey engaged: Terry and Dawna Miller of Astoria, Oregon, recently announced the engagement of their daughter, Mariah Liegh Miller of Astoria, to Elias Jeshua Grey of Norfolk, Virginia.
---
Butigan, Winey engaged: Tom and Denise Winey, Bonners Ferry, are pleased to announce the engagement of their daughter, Jenelle Lynn, to Kevin Patrick Butigan, Bonners Ferry, the son of Kim and AnnMarie Butigan, Priest River.
Sports
Badgers drop final two
:
The Badger baseball team finished the regular season by being swept rival Priest River, 6-0 and 13-6 in Intermountain League play.
---
Badger girls take first win
:
The Bonners Ferry High School softball team can finally add one to the "W" column of their record this year. The second game of their league doubleheader with Priest River resulted in the first win of the season for the Lady Badgers.
---
Badger boys have one more test before playoffs
:
The Badger baseball team travelled to Kellogg Tuesday and came away with a 10- 6 win over the Kellogg Wildcats in Intermountain League play. The win improves their record to 10-8 and 4-3 going into the last weekend of the season.
---
Big game rule books out this week:
The 2013 Idaho Big Game Seasons and Rules brochures are back from the printer and are being distributed. They should be available at license vendors and Fish and Game offices in most locations later this week.
---
Badger boys tame the Wildcats
:
The Badger baseball team celebrated senior day in style by sweeping the Kellogg Wildcats on Saturday. Seniors Garrett Skeen, Mike Clarkson, Jesse Woods, Cade Umphenhour, Will Weir and Austin Hawks were all recognized between games.
---
Another loss, no lack of 'try:'
Well, senior day may not have gone as all seniors dream, but the rain held off long enough to get both games of the doubleheader in. Seniors Aaramie Hoisington and Lindsay Taggart were honored before the first game on Saturday for their dedication and commitment to the softball program as well as a plethora of other achievements throughout their high school careers.
---
Interim fast pitch softball league formed
:
A group of concerned parents and community members met March 21 to discuss the lack of a well functioning fast pitch softball league in our area. Of those in attendance, current high school softball coach Lauren Bartoe expressed her opinions on having a strong league for girls to participate in and how much that helps her high school program.
---
Boys win Priest River dual:
On Tuesday, April 16, the Bonners Ferry track team hosted an Intermountain League dual meet against the Priest River Spartans. The boys won, 89-57, but the girls fell, 86-60.
---
Rae takes hard hit, jokes at practice
:
The Bonner's Ferry High School girls softball team traveled to Newport, Washington, for the first time in as long as anyone can remember on Thursday afternoon. With both teams fielding foreign exchange students and new players, it was sure to be a close match.
---
Happy birthday, Jesse Woods!
Senior Jesse Woods took the mound for the very first time in his high school career and came away with a 14-3 win over the Newport Grizzlies.
---
Tough day against Timberlake
:
The game Wednesday was another disappointing loss for the Badger softball team against the Timberlake Tigers.
---
Badger girls in closest game yet
:
In the closest game yet this year, the Badgers fell to the Libby Loggers JV team, 9-10 and 13-2.
---
Annual 3D bow shoot this weekend
:
The Selkirk Archers are hosting their annual 3D bow shoot and first shoot of the year this weekend at their range on Highway 2, offering 40 targets run in three staggered loops, money dots and a money shot.
---
Tigers sweep Badger boys:
The Timberlake Tigers swept the Bonners Ferry Badgers in an IML baseball doubleheader last Saturday 10-5 and 8-3. The losses move the Badgers record to 5-8 overall and 0-3 league.
---
Dismal day for softball
:
The BFHS softball team met league rival Timberlake on Saturday for a doubleheader. In what was probably the worst weather in softball history, the Badgers lost both games.
---
Girls fall to Priest River
:
The Badger girls softball team played Priest River Tuesday evening. After the first three innings, the Badgers were winning 3-1. Unfortunately things fell apart and by the fifth inning the score was 4-14.
---
Badger boys drop IML opener
:
The Badger baseball team dropped its IML season opener to the Priest River Spartans 6-3 last Tuesday. Freshman Vince Bennett took the loss for the Badgers as their record went to 5-6 on the season.
---
Turkey, bear hunts open
:
The general spring turkey and black bear hunts open April 15 – turkey hunts run through May 25, and spring black bear closing dates vary.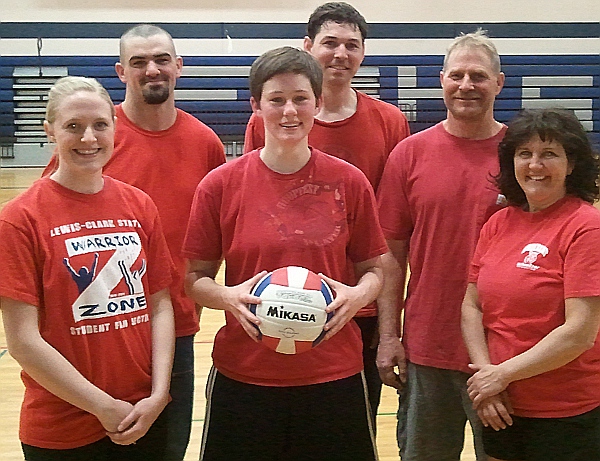 K

elly's Diggers league champs
:
The Boundary County Volleyball Association wrapped up their season on March 27. In a season marked by close competition between most of the teams, Kelly's Excavating Diggers (a.k.a. RPMS) won the 'A' League championship.
Letters
Congressman Raul Labrador: While Congress last week passed last-minute legislation to avert the air-traffic controller furloughs, it appears common sense about budgeting and saving at the Federal Aviation Administration (FAA) was also furloughed.
---
Bonners Ferry Rotary Club: The recent Free CommUNITY Breakfast was a huge success for everyone involved - the Badger Boosters, the students, the community, and the Bonners Ferry Rotary Club.
---
Senator Mike Crapo: The best way to ensure that we continue to have clean water and air, productive soil and healthy habitat for wildlife is by working cooperatively with property owners to promote conservation.
---
Congressman Raul Labrador: In Idaho, the economies of rural communities once relied upon the timber industry for job creation and tax revenues. Over the last several decades, radical environmental groups have hindered the ability to develop timber from our public lands.
---
Mike Weland: I am, sadly, a rotten commodity. I am a journalist, a reporter. My job is to provide information to people who need it, much of it referred to as "public" information by those who serve the public. Getting public information from those public servants who compile and maintain the "official" public record in a timely and expeditious manner can be frustrating, but that's my job. Comments added
---
U.S. Congressman Raul Labrador: As Tax Day approaches, imagine you had the opportunity to invent a new tax code for the United States. You would be hard pressed to come up with something more confusing, cumbersome and less job-friendly than we have now.
---
Lee Haarstick: The surge of bullet-buying confirmed by the federal government, estimated in the billions, even as the U.S. military scrimps to find training ammo is raising lots of questions about the government's so-far unexplained actions.
Back to archives