Boundary County Archives ~ November, 2012
Home
News
Sports
Social
Obituaries
Events
Letters
News
November 30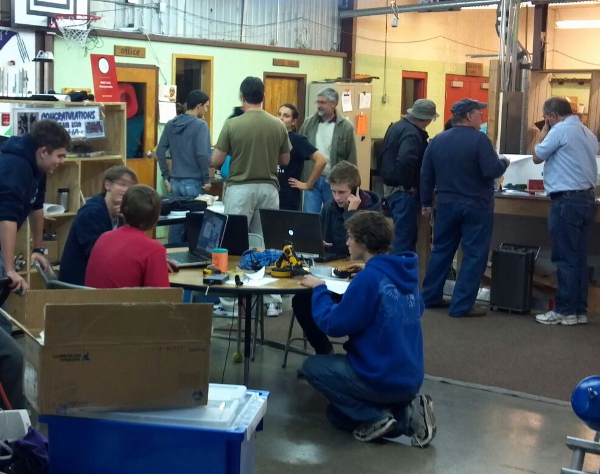 BFHS robotics team gearing up: One only has to step into the robotics headquarters behind the middle school in Bonners Ferry to see that the team is already hard at work preparing for a new season. Even though details of this season's First Robotics Competition (FRC) won't be released until January, Bonners Ferry Robotics Team 2130 is already gearing up to ensure a well-prepared season.


STEM Jobs Act passes House: The House of Representatives today approved H.R. 6429, the STEM Jobs Act of 2012, introduced by Idaho First District Congressman Raúl Labrador in conjunction with House Judiciary Committee Chairman Lamar Smith (TX-21) and Representative Bob Goodlatte (VA-06).
November 29
505 Steak & Sushi ready for grand opening: There's a new, upscale eatery in town, and while 505 Steak & Sushi began serving their first guests Tuesday, which was the day of the "soft" opening … the actual grand opening begins when they open their doors at 4 p.m. Friday, November 30.
November 27

Final decision made on caribou habitat: The U.S. Fish and Wildlife Service announced today its final critical habitat designation for the southern Selkirk Mountains population of woodland caribou, an area much reduced from the range originally proposed.


Help needed on All-Hazard plan: The Boundary County Local Emergency Planning Committee earlier this month began the process of the updating of the Boundary County All Hazard Mitigation Plan, and your help is needed in a community survey to identify those risks you consider most important, either natural hazards or man-made.



Festival of Trees tickets now on sale: In its seventeenth year, the Festival of Trees is as vibrant as ever. This year the decision by the Fry Healthcare Foundation and the Board of Trustees of the Boundary Community Hospital is to run the Festival of Trees on an all-volunteer basis, preserving more of the monies generated through donated pledges and auction items for use in purchasing needed items for the local hospital.


Grace Villelli elected president: In hindsight, the month of November was a busy one at Valley View! Parent-teacher Conferences were successful, with many teachers enjoying 100% participation; overall we met with 95% of our parents and we are still looking to make up the missed 5%! A reality of any successful school program is that no one can do it alone; we are clearly in this together.


Personal income higher state-wide: A significant surge in business profits, especially in rural Idaho, pushed 2011 total personal income higher in 42 of the state's 44 counties. In resource-dependent Lewis and Idaho counties, business-profit declines were offset by higher than average wage increases to boost total personal income there as well.


Court records and sheriff's log
November 25
Junior Class Parents offer Christmas trees: The Bonners Ferry High School Junior Class Parents are offering fresh Christmas trees at reasonable prices starting Monday at Sugar Plum Floral, 6368 Main Street, Bonners Ferry, with proceeds going toward this years' Senior All-Night Class party.
November 22
Happy Thanksgiving!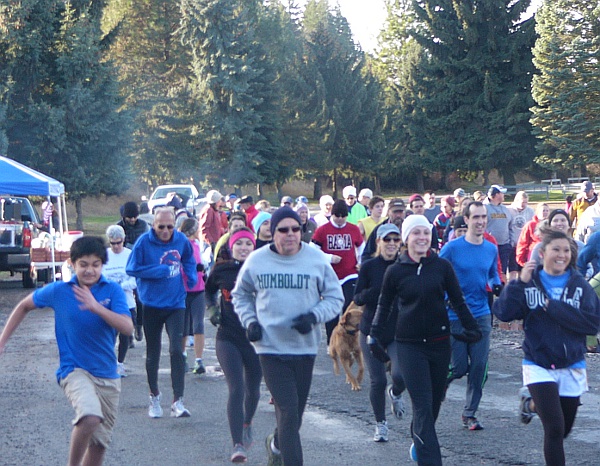 The fourth annual Bonners Ferry Turkey Trot was a big success, with 98 runners turning out to get a good start on Thanksgiving day. They filled two 33-gallon cans with food, destined for the Bonners Ferry Food Bank.
November 19
Elves needed for Christmas events: Every year, Boundary County kids look forward to two events that herald the Christmas season in Bonners Ferry; the annual Bonners Ferry tree lighting ceremony and the free annual Christmas movie at the Pearl Theater. Both are going on this year as always, but much help is needed.


Screenings way up during awareness month: The seven-week average for mammogram screenings at Boundary Community Hospital is 97. During the seven-week period of the hospital's Breast Cancer Awareness, Early Detection campaign, 211 women had mammogram screenings. Our goal was 147 mammogram screenings.


Court records and sheriff's log
County commission minutes, November 12
County commission minutes, November 5
County commission minutes, October 22
November 18

Tiffany Murray; keeping the flame alive: Bonners Ferry Police Officer Tiffany Murray participated in a 5k law enforcement Torch Run while attending the International Law Enforcement Torch Run in Indianapolis, Indiana, last week.


Kramer photos earn international accolades: Andrea Kramer was recently awarded the top awards in the International Professional Photography category in a contest sponsored by the International Association of Chiefs of Police. She received her awards at the International Law Enforcement Torch Run Conference in Indianapolis, Indiana last week.


Local man pleads guilty to groping: A Bonners Ferry man pled guilty Thursday to voyeurism and three counts of fourth-degree assault in the Benton County Courthouse, Prosser, Washington, admitting a long-standing "sexual problem" that led him to drive from here to Benton County to live it out.


Flood watch through Tuesday night: The Nation Weather Service, Spokane, has issued a flood watch on small creeks and streams throughout the region, including all of North Idaho, effective late tonight through late Tuesday night.
November 17
High country storm watch issued: The National Weather Service, Spokane, this afternoon issued a winter storm watch in effect above 4,000 feet from Sunday evening to late Monday night, calling for significant snow and high winds.
November 16
Moderate to heavy rain expected: The National Weather Service has issued an advisory for several days of heavy to moderate rain throughout North Idaho.


Suit filed over Selkirk caribou listing: Bonner County and the state's snowmobile association this week launched a lawsuit in U.S. District Court aimed at forcing a response from the federal government regarding Endangered Species Act listing of the "Southern Selkirk" population of woodland caribou.


BPA seeks to raise wholesale power rate: The Bonneville Power Administration has proposed a 9.6 percent average wholesale power rate increase to compensate for reduced revenue expectations from surplus power sales and to continue funding needed investments in the Federal Columbia River Power System.


Throwing my hat in the ring ... unless: I know this is unfair; as I own "ink," albeit digital. Therefore I have to give background and disclaimers. I will run for the privilege of serving on the Boundary County School District 101 Board of Trustees, unless someone else steps up. Our county's kids deserve the best we have ... I hate to think that's me.
November 15
Moyie Spring City Council minutes, October 3
November 14
School district to seek $1.4 million levy: At the last school board meeting last week, the School District 101 Board of Trustees voted unanimously to pass a resolution to put a two-year, $1.4 million supplemental maintenance and operations levy to voters on March 12, 2013.


Bad week for trucks in Moyie Springs: Boundary County Sheriff's detectives are currently investigating two incidents involving pickups that happened in Moyie Springs this week, one a theft, one a fire.


Resolution honoring Native Americans passes: The U.S. Senate passed a resolution I co-sponsored that recognizes this November as National Native American Heritage Month and celebrates the heritages and cultures of Native Americans and their contribution to the United States.


Farmers Holiday Market Saturday: After wrapping up a successful outdoor season October 6, the Bonners Ferry Farmers Market is going indoors this Saturday, November 17, for their Holiday Market.


Know a hero? Give 'em gas! If you know someone in the community whose giving spirit deserves thanks, and there are many in Boundary County, Cenex and the Bonners Ferry Zip Trip, 6723 Main Street, would like to give them a "Tank of Thanks."


Court records and sheriff's log
November 13
Superintendent's letter to the community: Boundary County School District #101 has had four bomb threats in the past several weeks. As a district and a community we take these threats very seriously.
November 12
Bomb threats not credible, Conley says: The number of bomb threats in Boundary County public schools climbed another notch today as another scrawled message was found in a restroom at the middle school, forcing the fourth school evacuation in as many weeks.


On the eleventh hour: A windy, cool morning could not damper the spirits of the many Boundary County citizens who came together Sunday, November 11, at Veterans Memorial Park in Bonners Ferry to honor local veterans and commemorate Veterans Day.


School district seeks trustee: The Boundary County School District #101 Board of Trustees declared a vacancy on the board for Trustee Zone 2 at its November 8 board meeting.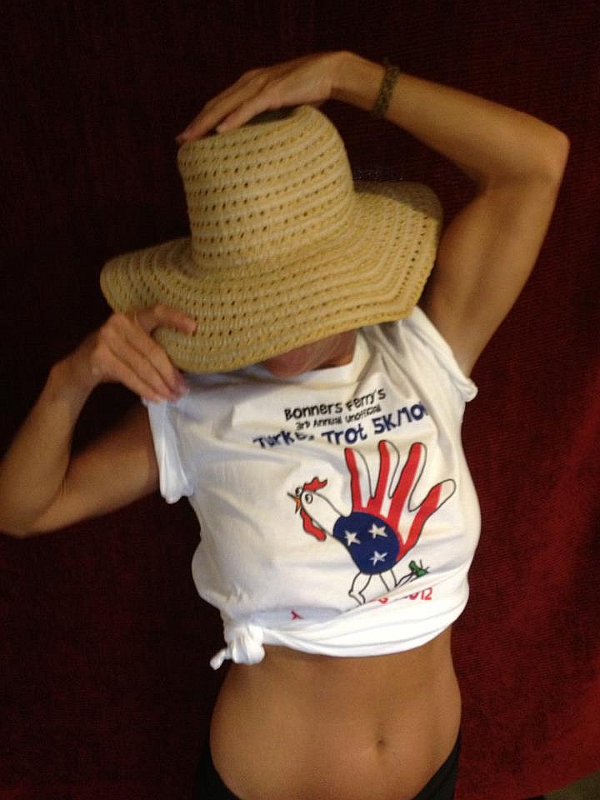 Gearing up for the Turkey Trot: The fourth annual Thanksgiving Turkey Trot, a free and fine way to burn off some calories as well as get a head start on pumpkin pie, is shaping up to be better than ever, and for the first time, runners can opt to buy a cute and witty T-shirt, complete with typo.


Making sure all have something for the holidays: For 30 years now, Linda Lederhos is spending much of her time and boundless energy through the holiday season working to make sure that no child in Boundary County goes without a present for Christmas, and the Boundary County Ministerial Association is once again hard at work to make sure all have a holiday feast. This year, the need is once again great.


Nature Conservancy buys Hall Creek Forest: The Nature Conservancy last week acquired the 317-acre Hall Creek Forest at the base of Hall Mountain in northern Boundary County.
November 11
Winter weather advisory begins tonight: The National Weather Service, Spokane, has issued a winter weather advisory for an area including Boundary County, beginning at 10 p.m. today and lasting through 4 p.m. Monday.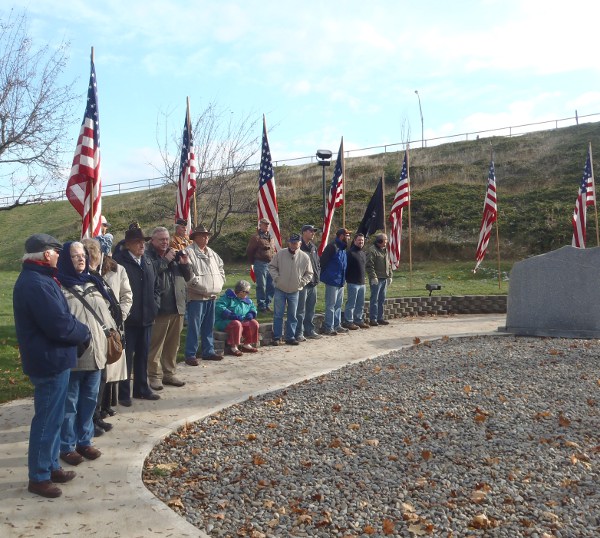 Though the turnout this morning at Veteran's Memorial Park was light, a hardy few braved the cool temperatures to be on hand as the Bonners Ferry American Legion observed Veterans Day.
Glory Rossbacher photo
November 10
South Boundary Fire hopes RV owner returns: After spending much of the day Friday working a major accident on U.S. 95, firefighters were called out a second time last night to both fight a fire and to control traffic when a recreational vehicle was reported on fire on U.S. 95 shortly after 11 p.m. ... not too far from where they'd been earlier.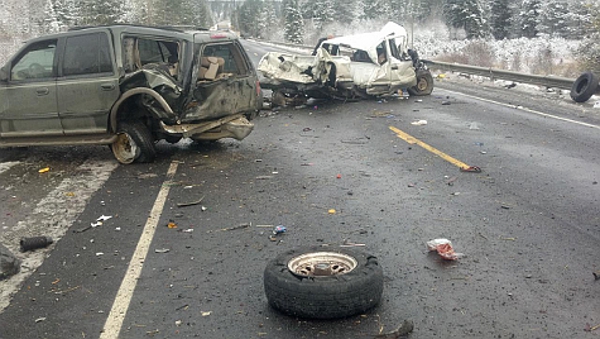 Spencer family asks for prayers: A Naples family involved in a serious vehicle collision yesterday on U.S. 95 in which three members were involved and two injured, mother Cassie Spencer, 27, and five-year-old Cason, say they're grateful for the community's prayers.

November 9

Woman arrested in bomb scare has long history: In an odd coincidence, while local officials were responding to a bomb scare at the Bonners Ferry Middle School Monday, officers in Sandpoint were responding to one there at the federal building, and the person taking credit, now sitting in the Bonner County Jail on $50,000 bond, is from Bonners Ferry.


Four locals injured in three vehicle crash: Four people, three from Naples, two of them children, and one from Bonners Ferry, were injured in a collision involving three vehicles at 9:30 a.m. today near milepost 497 on U.S. 95.


Local kids to play 'Gathering of the Bands:' North Idaho College is hosting "The Gathering of the Bands" at 7:30 p.m. Wednesday, November 14, in the Schuler Performing Arts Center. Eighth-grade students from 12 different area middle schools will perform along with special conductors Dave Weatherred and Lee Spock.



Katz honored with ISBA award: Bonners Ferry High School science teacher Ed Katz was called away from a parent/teacher conference last night in the high school gym by school board trustee David Brinkman, who presented him with the Idaho School Board Association's Citizenship Award, an honor bestowed on only one Idaho public school teacher each year for promoting education both in and out of the classroom.


BCSD says goodbye, hello: The Boundary County School Board took a break between meetings Thursday evening to recognize two employees who gave the district years of outstanding service and commitment, as both move on into retirement. High School principal Kirk Hoff used the occasion to welcome two older teachers, one of them a long-time BFHS favorite.
November 8

Helping Ryan Win: Ryan Stippich, the son of Jason and Rachel Stippich, Bonners Ferry, is a cheerful two-year-old who is facing a terrible illness. But he's not doing it alone, as the people of the community are stepping up to help Ryan and his family through the ordeal.


Winter weather advisory issued: At 4:08 a.m. today, the National Weather Service, Spokane, issued a winter weather advisory for North Idaho, including Boundary County, and much of western Montana, calling for snow, wind and falling temperatures.


Looks like Christmas at Huckleberry's: Behind the white paper covering the door and windows of what was once South Hill Furniture in downtown Bonners Ferry, Dolly Boling and the crew of Huckleberry Variety, the store right across the street, are creating a Christmas wonderland.


Church hosting election season challenge: In the tradition of early American political and religious life, Providence Bible Presbyterian Church in Bonners Ferry will host an Election Season Challenge from 7 to 9 p.m. Friday, November 9, that will feature messages from the Bible addressed to elected officials and citizens regarding their mutual duties and obligations.


Super Fall Fest a success: On October 25, the Chamber of Commerce, along with Boundary Community Hospital, Paradise Valley Fire Department, Jo Jo Baker, Super 1 employees, local Boy Scout troops, ET Wireless, Bonners Ferry High School Jr. class parents, and D.A.R.E. officer Tiffany Murray came together to provide a fun evening for the community; the community Super Fall Fest.
November 7
BFPD seeks info on bomb threats: In the past week the Boundary County High School and Middle School have experienced three bomb threats. The Bonners Ferry Police Department along with the Boundary County Sheriffs Department, Bonners Ferry Fire Department, US Border Patrol, US Forest Service, Boundary County School District and the Boundary County Volunteer Ambulance Service have worked diligently in making sure the staff and students remain safe.


Actions by the few affect the many: In the wake of a series of several serious hoaxes, many in the community are fed up. None more so than Boundary County School District 101 Superintendent Dick Conley. He sincerely detests that a lot of great students are being daubed with the rough brush of what appears to be a single classmate, at most a few, and he sincerely regrets that so many will pay the price.


Commissioner Smith thanks community: I take this opportunity to thank all those in this community who've supported me during all the elections in which I've been a Boundary County candidate, both as sheriff and, for 16 years, as county commission. I have been gratified to serve the great people of the best county in the world.


Men sentenced in Naples pot grow: Four men – three from Oregon, one from Alaska – were sentenced this week for conspiracy to manufacture and possess with intent to distribute marijuana for a grow operation taken down last year in Naples.


Where to turn for school snow closure info: It may seem strange to some that here it is November, and folks can still go out in shirtsleeves, even barefoot if so inclined. But that's going to change and the snow will eventually start flying. Here's where you can turn to find out if the weather will have an impact on students in Boundary County's public schools.


Local man guilty of bank fraud, identity theft: Christopher M. Doyle, 25, Bonners Ferry, pleaded guilty Tuesday in United States District Court to bank fraud and aggravated identity theft, U.S. Attorney Wendy J. Olson announced.

Bonners Ferry City Council minutes, October 16
November 6
Sprungl wins another term: In the only contested local race on the Boundary County 2012 general election ballot, incumbent sheriff Greg Sprungl (R) easily held off two challengers today to win another term. It wasn't the first piece of good news for him this month, either.


Reward offered for bomb hoaxer: Just one day after law enforcement and emergency responders scrambled to respond to a bomb threat, this one at the Bonners Ferry Middle School just after 1 p.m., another note threatening a bomb in a local school was found.


Rotary names Students of the Month: Four Bonners Ferry High School seniors were recognized as Bonners Ferry Rotary Students of the Month, two for September and two for October.


Valley View votes ... and other important news: This is an important week—both locally and nationally! To start with and what I feel is most important: Parent-Teacher Conferences begin today!


Court records and sheriff's log
County commission minutes, October 29-30
November 5
Another fake bomb threat disrupts school: There was an old tomcat once who got his biggest thrill by strutting back and forth outside a wooden fence that held back a mean and ugly dog.
November 3
Idiot hunters put good ground off limits: It seems that an article I wrote last month, Deer season not welcome by all, didn't reach its intended readers, and, as usual, it's the responsible hunters who pay and the gracious people who open their land to hunters who lose their trust. One local property owner, a responsible outdoorsman himself, has gone so far as to offer a $300 reward for information that will convict the idiot(s) who abused the privilege of hunting on his land.


Local crews assisting Sandy victims: Drawing on their expertise in emergency response and management, FEMA has requested assistance from the USDA Forest Service in Hurricane Sandy relief efforts. Locally, a 20 person crew of Forest Service firefighters from communities throughout north Idaho will be sent back east to assist with relief efforts.
November 2
Leonard pledges to preserve the peace: My name is Gary Leonard and I am running for Boundary County Sheriff. I am a man of strong conservative values. I pledge to exercise all powers of the Sheriff's office to ensure I fulfill the Sheriff's primary responsibility of preserving the peace.


Seminar on building relationships offered: A two day free seminar, "How to Build Successful Relationships, Especially in Marriage, the Most Important Relationship of All," will take place Friday and Saturday, November 9-10, at Holy Myrrhbearers Orthodox Church, 1957 Pleasant Valley Loop, Bonners Ferry.


Making middles school a little easier: The following are a couple of thoughtful and some what humorous ideas presented by Cindi Rigsbee, the 2009 North Carolina Teacher of the Year and a parent of adolescents, on how to help children be successful in middle school.


Mountain meadows may be disappearing: Some high mountain meadows in the Pacific Northwest are declining rapidly due to climate change, a study suggests, as reduced snowpacks, longer growing seasons and other factors allow trees to invade these unique ecosystems that once were carpeted with grasses, shrubs and wildflowers.
November 1

A Boundary County Hallowe'en: Hallowe'en eve set dank and drear over Bonners Ferry, mists of fog and patters of rain, light winds whispering through the eaves. Not a good night for people to be astir, not at all. For it was the perfect night to bring out souls from the netherworld ... goblins and ghosts, zombies and ghouls.


Dancers invited to Cranbrook workshop: This November, Stages School of Dance is bringing world-class dance experience to Cranbrook, B.C., with a European contemporary dance workshop. The workshop will be taught from Friday, November 16, to Sunday, November 18, at Stages School of Dance, #42-6th Avenue South, Cranbrook, BC, by dance professionals from international dance company SQx Danza.
Obituaries
John Timothy "Tim" Day,

December 16, 1946 ~ November 9, 2012
Dorothy Ann 'Dee' Parr
, December 31, 1951 ~ November 13, 2012
Lilly M. Figgins
, January 7, 1928 ~ November 16, 2012
Jack Eugene Spence
, January 21, 1931 ~ November 7, 2012
Janice Spangard
, April 3, 1953 ~ October 31, 2012
Thomas Ervin "Tom" Copeland
, July 11, 1927 ~ November 8, 2012
Tyler Keith Mastre
, November 8, 1985 ~ October 16, 2012
Mary Ann Giesbrecht Unruh,
February 14, 1925 ~ November 4, 2012
Social

New neighbor looking for work, friends: Todd Liljedahl and his wife, Rae Ann, spent the first 37 years of their life together in blustery Minnesota, and moved to Bonners Ferry September 1, liking the idea of a milder climate where they could still enjoy all four seasons as well as beautiful scenery and friendly neighbors.

Savannah Shepherd a 'Citizen of the Month:' Savannah Shepherd, the daughter of Dave and Jessyca Shepherd and a first-grader in Mrs. Hart's class at Mt. Hall Elementary, was named one of the school's Citizens of the Month for November. Congratulations, Savannah!

Jarred Huseby releases first album: Jarred Huseby, the son of Thad and Rebecca Huseby, Bonners Ferry, earlier this month released his first solo album, "Ride of Your Life," a collection of 13 original contemporary Christian songs.
Mulvey, Solt to wed: Brenda Mulvey and Jeremiah Solt, both of Bonners Ferry, have announced their engagement and forthcoming wedding at 5:30 p.m. August 10, 2013, at Snyder Creek Guard Station north of Bonners Ferry on Meadow Creek Road.

Callister a U.S. Marine: Jacob Callister, the son of Ryan and Valerie Callister, Eastport, and a 2012 graduate of Bonners Ferry High School, recently spent some time at home on leave after graduating 13-weeks of boot camp at the Marine Corps Recruit Depot, San Diego, to become a private first class in the United States Marine Corps.
Sports
Lady Badgers take down CdA Charter, boys fall: The Bonners Ferry Lady Badgers chalked up a road win Tuesday night, defeating Coeur d'Alene Charter handily, 55-26. The Badger boys struggled through the first half, and though they caught up in the second and forced overtime, they couldn't overcome the scrappy Panthers, and fell 41-38.
Badger boys edge Lake City JV: The Bonners Ferry boys varsity basketball team opened their season with an overtime win at home Monday, downing the Lake City JV squad 49-45. The girls opened their season on the road in Coeur d'Alene to take on Lake City JV, but fell, 46-56.
Letters
Jaye Gross: Its really frustrating that the secretary of the City of Moyie Springs can order water meters be removed without any authorization from the city council.
Rosanne Smith: Enough is Enough! Mayor, City Council, City Employees of Moyie Springs ... Having just received my property tax bill I say enough is enough.
Carolynne Anne Reed: Thank you so much for your kindness after the terrible fire to our camper (see South Boundary Fire hopes RV owner returns). Yes, we did get our items returned. The kindness that the Red Cross and Brother Leach, from the LDS Church, and the paramedic who took us to the hospital was extremely kind.
Gaylene Keyes: We are writing to you in hopes this letter will be published to honor some very remarkable people whose lives crossed on Friday, November 9, 2012. My husband Derek and I were traveling from Creston B.C. to Sandpoint. At approximately 9:15 a.m. just south of Bonner's Ferry, we were one of the first vehicles on the scene of a horrific crash that involved a pickup truck, an SUV and a semi with a low bed trailer hauling a CAT.
Jaye Gross: Re Ordinance 109 in Moyie Springs, (Moyie Springs City Council minutes, September 5). I believe that the single wide trailer being spoke of sits well out of sight and behind the property owned by Terry Johnson.
Lee Pinkerton: Please allow me to extend my genuine praise and gratitude to Commissioner Ron Smith for his years of exemplary service to the citizens of Boundary County.
Back to archives