Boundary County Archives ~ July, 2012
Home
Sports
Social
Obituaries
Events
Letters
News
July 31
Raffle, spaghetti feed set to help Carlson: Plans are underway for a spaghetti feed and silent auction fundraiser to benefit Customs and Border Patrol agent Rich Carlson, who is suffering from pancreatic cancer, and on September 15, the day the feed is taking place, two people will win firearms in a "win one of these gun" raffle.


Looking Back: Drowning in the fairgrounds parking lot: As I recall from by childhood days, sometime in the 1953-1956 era, it was early spring and high water time on the Kootenai. The fairgrounds parking lot wasn't as we now know it; back then it was a low, large bowl. A new historical column by Jack Flinn

Aggressive driving the target in August: Idaho law enforcement will partner with ITD to target aggressive drivers and motorcycle riders on Idaho's roads August 1-13.

Firewood areas open in Bonner County: New opportunities for firewood cutting have opened up on the Sandpoint Ranger District.

Court records and sheriff's log
July 26

Family looking for Gypsy: This is Gypsy, and she wandered away from home recently and the Gorder family, and especially their son, who is devastated, want her home.

Family outing ends in tragedy: A family outing at Twin Rivers Canyon Resort ended in tragedy today with the drowning of a 16-year-old Bonners Ferry girl.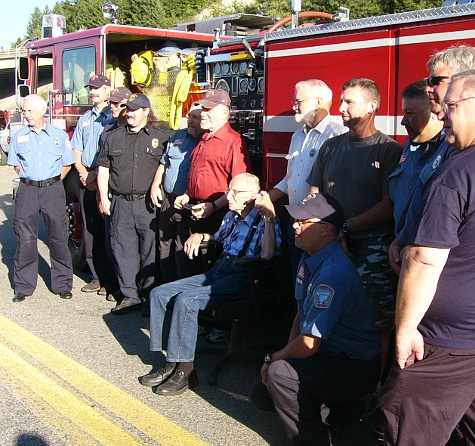 A grand party for the chief: Somehow, despite hundreds knowing the secret, news of Cliff Kroger's surprise 90th birthday party this afternoon didn't reach him, and he was all smiles when his "limousine," Engine 55, dropped him off at the Bonners Ferry Fire Hall, where generations of local firefighters were on hand to hail the chief. A News Bonners Ferry pictorial.


'Voice of the Vandals' Bob Curtis passes: The University of Idaho community is deeply saddened by the loss of legendary broadcaster Bob Curtis, who served as the voice of the Vandals, who died Wednesday, July 25. He was 87.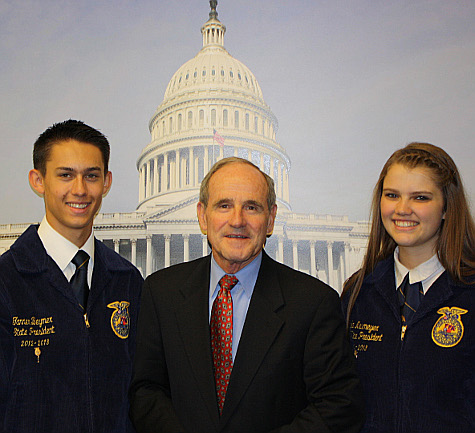 U.S. Senator Jim Risch poses for a photo with State FFA President Tanner Beymer of Kimberly and Vice-president Ayla Neumeyer of Bonners Ferry on July 25. The two state officers met with Senator Risch to discuss career and technical education and agricultural issues. They were in Washington, DC for the National FFA conference representing Idaho.
(Photo courtesy Office of Senator Jim Risch)
Big dreams at the Rex: Bonners Ferry girl Abra Chouinard and her husband, Chris Robinson, purchased the venerable Rex Theater not so long ago, and they have big dreams to bring the old picture house into the modern age, and to expand beyond the usual idea of a movie theater to bring arts programs to kids and the community with direct access to industry leaders.

Kaniksu Clinic holding open house: The Bonners Ferry Kaniksu Clinic, 6635 Comanche Street, is holding an exciting open house from 11 a.m. to 2 p.m. Saturday, and everyone is invited!

Sand Creek Byway opening on track: The long-awaited and highly anticipated opening of the Sand Creek Byway is set for Friday morning, July 27, the Idaho Transportation Department announced.

Beat the NIC BF Center rush, enroll now! You can beat the August 9 application deadline for the North Idaho College Bonners Ferry Center by applying now for fall semester.

U of I offering class for aspiring attorneys: Anyone interested in applying to law school can prepare for the demanding Law School Admission Test (LSAT) by enrolling in a preparatory course sponsored by the University of Idaho College of Law.

Moyie Springs City Council minutes, June 6
Moyie Springs City Council minutes, May 9
Moyie Springs City Council minutes, May 2
Spot pot? Report it! An anonymous tip to the Idaho State Police led to the destruction of a major marijuana grow in Gooding County, and they'd like help closing down more.
July 24
Lane closures planned on I-90: Motorists will experience temporary lane closures Thursday, July 26, on Interstate 90 at the site of the Beck Road Interchange construction project in Post Falls, the Idaho Transportation Department announced.

Court records and sheriff's log
County commissioner's minutes, July 16-17
County Commissioner's minutes July 2-3
County commissioner's minutes June 25-26
County Commissioner's minutes June 18-19
County commissioner's minutes June 4-5
July 20
Sand Creek Byway to open in one week: Idaho Transportation Department officials announced today that the Highway 95 realignment project will open to traffic on Friday, July 27.

Severe thunderstorm watch in effect: At 11:34 a.m. today, the National Weather Service, Norman, Oklahoma, issued a severe thunderstorm watch for a large portion of the Pacific Northwest, including Boundary County, Idaho, through 8 o'clock this evening.
July 19

Cliff Kroger celebrating 90th birthday: Nobody spoil the secret, but on Thursday, July 26, a Bonners Ferry icon will celebrate his 90th birthday, and everyone in the community is welcome to attend Cliff Kroger's surprise party.

Yet another flood watch issued: Just when it appeared that the worst local flooding in decades might be receding, the National Weather Service has issued a call to brace once again.

FFA and FFA alumni Ag Festival coming: From breakfast to well after dark, the Boundary County Fairgrounds will belong to local Future Farmers of America and alumni as they celebrate their Agriculture Festival on Saturday, July 28, but you don't have to be affiliated with the FFA to enjoy, this family-friendly event is open to everyone!

Second Idaho Run For the Fallen July 28: In coordination with the the cross-country memorial run event, "Run for the Fallen," Gold Star Sister Jessica Tingley, Bonners Ferry, has organized the second annual memorial run to honor and remember 86 fallen soldiers with ties to Idaho.

Idaho gets new Homeland Security director: After nearly five years of serving as director of the Idaho Bureau of Homeland Security, Brigadier General William Shawver is stepping down to take a job in the private sector, and Colonel Brad Richy has been named to step in.
July 16
Court records and sheriff's log
July 11
Kootenai drops below flood stage: For the first time in nearly two weeks, the Kootenai River has dropped below flood stage and a flood warning that's been in place since June 24 has ended. But that doesn't mean our troubles are over.


The Wizard of Oz coming to town: "Watch out for flying monkeys and Munchkin giggles," agreed Charena Branscum and Sara Owinyo when asked what people should know about the Bonners Ferry Summer Youth Theatre presentation of "The Wizard of Oz," which hits the stage for three performances beginning August 3.

Too many to thank for a wonderful Fourth: When it came to writing a list of people and businesses to thank for their support of organizer Gary Leonard's effort to bring the Fourth of July celebration back to Bonners Ferry, he had a tough time of it.
July 10

Amanda Horricks joins Boundary Community Clinics: Dr. Michael Snyder was recruited and hired as part of Boundary Community Clinics and he serves the community from his office at 6641 Kaniksu, right across the street from the hospital's main entrance. Now, Amanda Horricks, PA-C is joining Dr. Snyder.

County crime rate up slightly: According to the Idaho State Police 2011 Crime Report, there were 298 total criminal offenses last year in Boundary County, up eight offenses from the year before but considerably lower than 2009, when 338 offenses were tallied.

Court records and sheriffs log
July 8
-- NOTICE --
Due to high, fast water conditions, the Kootenai River has been closed to all except official government boating and floating through July 20.
July 7
Friday dance classes coming to the Pearl: Laurie Buck, who has been an instructor and artistic director for 30 years and currently runs Studio 1 Dance Academy in Sandpoint, will begin offering a full array of dances classes and workshops on Fridays at the Pearl Theater, Bonners Ferry if there's enough interest.
July 6

Hippie Chic Cosmetics and Day Spa opens: "God opened the door, so here I am!" said Jess Bremer, Moyie Springs, who opened her new business, Hippie Chic Cosmetics and Day Spa, on Kootenai Street in downtown Bonners Ferry.

4-H Friday Friends having fun summer: The 4-H Friday Friends ended the school year with a bang May 25, inviting their family and friends to join them at their year-end ice cream social, where they presented the slide shows they created.

Kootenai to stay high through mid-month, work begins on levy: In response to a direct assistance request from Boundary County, the U.S. Army Corps of Engineers is collaborating with county and state officials to construct temporary repairs and stabilize a levee protecting critical infrastructure near Copeland.
July 5
USDA offers emergency assistance: The good news is – water levels in the Kootenai River will peak Friday night and Saturday morning and then start to recede. The bad news is that we will undoubtedly see more damage to crops in Boundary County due to elevated water tables. The U.S. Department of Agriculture has emergency assistance programs that may be able to provide technical or financial assistance.
July 4
Flood damage likely to be worse than '06: For a little over three weeks, Boundary County Emergency Management Incident Commander Bob Graham has been out leading the response to the Flood of 2012, quite a bit longer, he said than was necessary in our last flood year six years ago.

Idaho soldier killed in Afghanistan: Army private first class Cody O. Moosman, 24, of Preston, Idaho, died July 3 in Gayan Alwara Mandi, Afghanistan, when enemy forces attacked his unit with small arms fire.

U.S., Canada coordinating on flood control: Water managers and dam operators in the United States and Canada are working together to reduce the impacts of flooding along the Kootenai River. On Monday, The U.S. Army Corps of Engineers and B.C. Hydro reached an agreement for the second time in a week to increase lake level in the Koocanusa Reservoir.

Court records and sheriff's log
Obituaries
Janna Michelle Mong, February 23, 1996 ~ July 26, 2012
Anna Martha Esser Wromar
, June 12, 1926 ~ July 24, 2012
Joan Vivian Baesemann
, April 4, 1926 ~ July 20, 2012
Shirley Lorraine Maddox Wewee
, September 14, 1925 ~ July 10, 2012
James Ernest Roland,
June 6, 1947 ~ July 5, 2012
Karen Dianne Robinson
, July 21, 1953 ~ June 20, 2012
Gary Don Kerby
,
July 10, 1946 ~ July 5, 2012
Carol Lee Dendurent,
September 9, 1938 ~ June 30, 2012
Dale Donald Harrington
,
July 9, 1933 ~ June 29, 2012
Social
The Gary Kerby family: Words are inadequate to express the gratitude and appreciation we feel for the outpouring of love, caring and condolences we all have received. Delicious food, beautiful flowers and plants, phone calls, e-mails, Facebook comments and messages, cards, prayers and visits have touched our hearts beyond measure.
Invernon family says thanks: The Invernon family would like to say thank you to our community for all the support shown for Badger wrestler Blaine Invernon during the fundraiser held June 29-30.
Keoughs welcome new arrival: Sara and Bryan Keough are the proud parents of a Fourth of July baby. Owen Michael Keough was born at 3:27 a.m. Wednesday at Gritman Medical Center, Moscow.
Sports
Former NIC player competing in Olympics: Former North Idaho College basketball player Tugce Canitez is competing for her homeland, Turkey, in the 2012 London Olympics.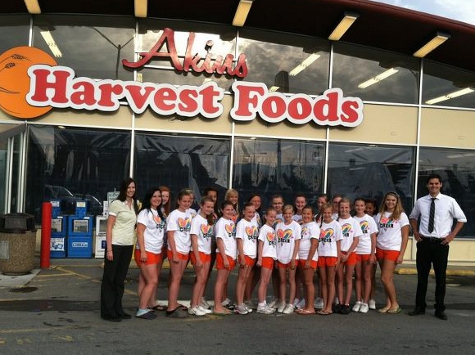 Thank you goes out to Akins Harvest Foods for helping to send all these amazing young ladies to cheer camp! Their total donation was over $4200!
Raina Haworth photo

Idaho Vandals have Olympic ties: University of Idaho alumna Kristin Armstrong will seek her second Olympic medal at the summer games opening tonight in London. She's not the only Idaho Vandal with Olympic ties.
Badger football practice kicking off: Badger High School football kicks off with the first practice of the season at 8 a.m. Wednesday, August 8. The practice lasts until noon.
New rules help young and disabled hunters: The Idaho Fish and Game Commission recently adopted rules that allow a companion to assist a disabled hunter without having a tag or permit, and that allow a person to transfer a controlled hunt tag to their child or grandchild.

Volunteers refurbishing Spyglass Lookout: The Idaho Panhandle National Forests have partnered with Lutherhaven Ministries and the Forest Fire Lookout Association to renovate three historic structures at Spyglass Lookout.
IDFG seeking comment on WMA future: The Idaho Department of Fish and Game is seeking public comments and opinions to help chart the future of the state's 32 wildlife management areas.
Hoops news: With Bonners Ferry Swish this weekend and a new class of Badger hoopsters who'll be enrolling this fall, hoops are in the news this week.
Free sports physicals July 31: Physicals are required before the first practice starts for students participating in any sports, including cheerleading, who are entering grades 7, 9, 11, or new to the sports programs, or part of the flag football team.
IDFG quarterly meeting to be held here: The Idaho Fish and Game Commission is coming to Bonners Ferry next week for their three-day quarterly meeting, providing local residents the opportunity to weigh in on issues of importance.
Letters

Aiden Breneman family: Our family would like to personally thank the wonderful participants of the special Flag Football fundraising event recently coordinated by the Bonners Ferry Rotary Club.
Thos. Ulappa: To the hardy crew that fire-worked Clifty Mountain peak on the 4th of July...stunning and thanks for the best show ever!
Back to archives