Idaho soldier killed in Afghanistan
July 4, 2012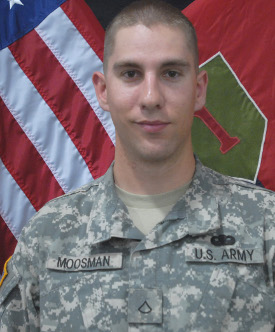 The Department of Defense has announced the death of a U.S. Army soldier who was supporting Operation Enduring Freedom.

Army private first class Cody O. Moosman, 24, of Preston, Idaho, died July 3 in Gayan Alwara Mandi, Afghanistan, when enemy forces attacked his unit with small arms fire. He was assigned to the 1st Battalion, 28th Infantry Regiment, 4th Infantry Brigade Combat Team, 1st Infantry Division, Fort Riley, Kansas.

"Cody told us when he was in 3rd grade that he wanted to be in the Army when he grew up, so he joined in 2010 at age 22," said his parents, who ask that we respect their privacy at this difficult time. "We think his experience as a Boy Scout, who reached the level of Eagle Scout, helped prepare him for his role as a soldier. He loved the idea of protecting his fellow citizens. Our family enjoyed watching him stand up for America. Cody loved the outdoors, and hunting and fishing were his passion."

He leaves behind his mother and father, two brothers and two sisters, his grandparents and his nieces and nephews who all very much adored him.

"We loved him, and we will miss him very much."