Boundary County Archives ~ November, 2011
Home
Sports
Social
Obituaries
Events
Letters
News
November 30
Patsy Stockdale is recovering: According to ambulance personnel, everything went right when the call came in Monday evening that a Bonners Ferry resident needed assistance for a possible heart attack.

Is the VA killing our heroes? Because he chose to remain quiet, one of the most highly decorated of our local veterans, Ricardo C. Binns, has earned a reputation as a curmudgeon. He finally rode in one of our recent local parades as a guest of honor. Put up with the pain of long-ago wounds to stand with this community as it remembered those who served. No one noticed when he "went missing."
November 28
Ponderay woman injured in crash: A 57-year-old Ponderay woman suffered serious injuries in a single-vehicle crash on U.S. 95 in Bonners Ferry early this morning.

Honoring our local veterans with wreaths: At noon Saturday, December 10, a ceremony will be held for the presentation of seven wreaths as Bonners Ferry joins in another tradition honoring our fallen veterans, Wreaths Across America. The ceremony, conducted by American Legion Post 55, will take place at Veteran's Memorial Park at the Boundary County Library.

Court records and sheriffs log
November 24
Badger boosters, junior parents offering Christmas Trees: Beginning Friday, the day after Thanksgiving, you'll find a bunch of Badger Boosters and Junior Class parents at Sugarplum Floral in Bonners Ferry, offering five- to eight-foot tall Fraser fir and six-foot-tall Grand fir Christmas trees.

Care n'Share deadline near: Those whose Christmas can be made a little brighter through help putting gifts under the tree from Care n'Share have until December 1 to get their applications in.
November 23
Mud slide shuts down UP railroad near Feist Creek: Warming weather coming on the heels of the first real snow of the season, bringing a soaking overnight rain that is expected to continue for much of the coming week, caused several reports of mudslides this morning, including one that shut down the Union Pacific Railroad near Feist Creek and impacted traffic on Meadow Creek Road.

Deadline near for NIC spring semester: Those interested in attending North Idaho College during the spring semester must file an application for admission no later than 2:30 p.m. Friday, December 16, to be eligible.

Public hearing set on airport overlay: Boundary County commissioners will hold public hearing at 10 a.m. Tuesday, December 20, to accept public comment on establishing an airport overlay zone proposed by the Boundary County Airport Board that will require airport approval before development permits can be submitted to planning and zoning on properties surrounding the airport.

EIS relesased on Priest Lake fuels reduction project: The Priest Lake Ranger District released the Supplemental Draft Environmental Impact Statement (DSEIS) for the Lakeview-Reeder Hazardous Fuels Reduction project today.
November 22

Geocaching ... what? One night while taking care of my newborn daughter, I flipped the TV on to PBS and caught part of a show about geocaching. I thought it sounded extremely interesting, something my family would enjoy.
ISP honors officers: On Monday, November 21, Idaho State Police District Five held a ceremony to honor the heroic deeds of Sergeant John Kempf, Detective Paul Olsen, and Corporal David Noyes.

A special Thanksgiving weather forecast: In the pre-Thanksgiving rush, we have received an early weather report from our in-house weather reporters here in North Idaho.

Young entrepreneurs get chance to shine: "We're working to put funding where it can have the greatest impact on our community," said Panhandle Bonners Ferry branch manager Carol Julian. "And that starts with our children."
Court records and sheriff's log
November 16
Bonners Ferry gets bigger: Despite the objections of nearly every property owner involved, the City of Bonners Ferry grew Tuesday night by about 70 lots and parcels, properties within the city area of impact the city has the right to annex and which, Tuesday night, they were.

It's official! Super 1 breaks ground: Braving frigid temperatures and with heavy equipment rumbling in the background, a big group of local officials, contractors and the just plain curious gathered this morning with Super 1 Foods officials on the spot where the old Lantern Restaurant used to sit to officially break ground on what will soon become Boundary County's newest grocery ... with room and plans for more local economic development.


Train vs. semi collision sends one to hospital: A flat-bed semi entering the parking lot at the Idaho Forest Group saw mill in Moyie Springs was struck by a slow-moving train shortly before noon, sending the driver of the semi to the hospital with serious but non-life threatening injuries.
November 15
Bonnell, Cossairt and Johnson BCEA Employees of the Year: The Boundary County Education Assocation has named Paul Bonnell, Sherrie Cossairt and Greg Johnson this school year's Employees of the Year, and a potluck feast featuring Italian cuisine will be held Wedensday evening in their honor.

Panhandle Bank benefit for Friends of the Arts: Panhandle State Bank employees are working to raise $2,500 in qualifying contributions to help the Boundary County Friends of the Arts present the Missoula Childrens Theater's week long residency and presentation of "The Jungle Book."

County seeking 4-H program coordinator: With the recent promotion of Erika Thiel to bigger and better things, Boundary County is seeking someone with big shoes to fill the void as the Boundary County 4-H 4-H Program coordinator.

Senior Class planning trip to Triple Play: The Senior Class graduates will be going to Triple Play this year for their annual all night party. The junior class parents are already hard at work raising money to make this happen.

'Tis the season for Christmas tree permits: Christmas tree permits are now available from the Forest Service and Bureau of Land Management. Here's what you need to know about the tree permits.

Principal Pfleuger Press: In my last letter, I wrote about strengthening the academic effectiveness at VVES. This letter will address attendance. My focus will always hold to maintaining a strong academic school program for each and every child. To do this, we need the students at school as often as possible. The four day week has increased the importance of faithful attendance.

County Commission minutes, November 7-8
Moyie Springs City Council minutes, October 5
Court records and sheriff's log
November 10
Uncle Bud makes the front page on Kootenai River restoration:
While recuperating from one of those old-man medical set backs, Uncle Bud spent the past two weeks reading the "Kootenai River Master Plan" …or as he says, "I scanned the plan, as it is a document almost equal in size to rival Tolstoy's infamous novel, "War and Peace." He asked before he started if this journal would have the guts to run with what he found. It did and it does ... on the front page.

Students inspire veterans: The members of Bonners Ferry American Legion Post 55, veterans of all of our nation's armed services; Navy, Marines, Army, Coast Guard, Air Force, do routine duty in many events in Boundary County where solemnity is due. Memorial Day is possibly the most recognized ... Veteran's Day hasn't, until now, been considered quite as important.


Idaho icon to be laid to rest on Veteran's Day: Idaho Governor Butch Otter will be among many attending the funeral service of Idaho State Representative Patrick Takasugi, who served his state for 10 years under three governors as director of the Idaho Department of Agriculture before being elected twice to represent Idaho's District 10A.
November 8
Anderson still Mr. Mayor: With 30.9-percent of the registered voters in the City of Bonners Ferry casting ballots, incumbent mayor Dave Anderson fended off a challenge by Stephen Galbraith to retain his seat, garnering 243 votes to 170 for the challenger.


Funkhouser charged, bond set at $1-million: John August Funkhouser, 61, Naples, was formally charged with second degree murder Monday for the shooting death of Anna Carina Jill Old, 43, in the home they shared at 7163 Deep Creek Loop in the Moravia area.

Private pilot ground school begins January 5: It's dark early these days, the snow is in the mountains and the clouds are rolling in. This is the time of year for reading a good book by a warm fire and learning a new skill. If you have ever dreamed of freeing yourself from clutches of gravity to soar above the birds, to touch the sky and dance on the clouds, to look down on the unclimbed peaks and all the wildlife that has eluded you this fall perhaps its time you learned to fly!

Court records and sheriff's log
County Commissioners minutes, October 31-November 1
November 7
Highway 2 accident claims the life of Roy Kelso: A single vehicle accident initially reported at 9:28 p.m. Monday claimed the life of Roy Dale Kelso, 56, Moyie Springs, apparently the first victim of winter driving conditions in Boundary County this year.

DAV seeking storage space: Bonners Ferry Idaho Chapter #28 of the Disabled American Veterans (DAV), are seeking a free or low-cost storage building in or near Bonners Ferry in which to store all the medical equipment and supplies they have on hand for local veterans.

Libby Dam flow update, area weather forecast
November 5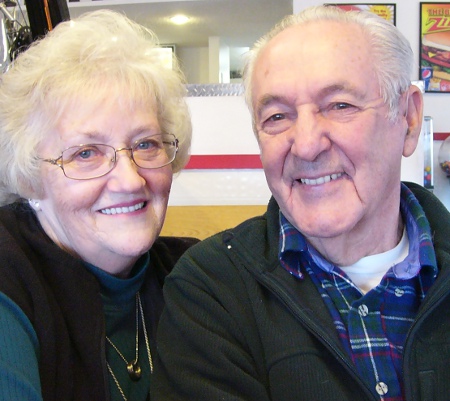 When Boy Scout Troop 114 convenes it's Eagles Court of Honor Monday evening, they'll be honoring Alva and Peach Baker, who've dedicated decades to improving the lives of the young men of Boundary County.
Boy Scout Troop 114 to honor Alva and Peach Baker: When Boy Scout Troop 114 convenes its Eagle Court of Honor at 7 p.m. Monday evening, it will mark the first time in decades that a new Scout Master, Lee Colson, acts as master of ceremonies, taking the role from Alva Baker, who has spent over six decades as a Boy Scout or Scout Master.

Naples woman shot and killed: A Naples woman died of a single gun-shot wound to the head, and her roommate, 61-year old John "August" Funkhouser has been arrested and is being held in the Boundary County Jail.

Election results to be posted on county website: After the polls close on the two local city races at 8 p.m. Tuesday, the first place to read the results will be on the Boundary County website, www.boundarycountyid.org.
November 4
Because of glitch, county ordinance on hold: Because of a communication glitch between staff at the Bonners Ferry Herald and the Hagadone News Network offices down south, a new county zoning and subdivision ordinance expected to be enacted Thursday, November 3, has suffered a week-long delay.

Idaho veterans welcome to 'Hiring our Heroes' job fair: More than four dozen Idaho employers will man exhibits at the Hiring our Heroes Job Fair November 9 in Meridian, and they have job openings they want to fill.

First ever nation-wide EAS test Wednesday: With the first-ever nationwide test of the Emergency Alert System (EAS) less than one week away, the leaders of the Federal Emergency Management Agency and the Federal Communications Commission sent an open letter to all stakeholders recently, including governors, federal legislators, broadcasters, news networks and other organizations, asking for their continued help in educating their respective communities about the test.
November 3
Quilt to be bestowed to the family of a fallen soldier: While he can't take away the pain on Veteran's Day, Friday, November 11, a special presentation will be held in conjunction with ceremonies honoring our Veterans, at which a special quilt honoring the memory of one of our own fallen soldiers, Army Sergeant Joshua Kirk, who died in action in Afghanistan October 3, 2009, will be presented Joshua's family, including his mother, Bernadette Kirk-Bonner, and his sister, Jessica.


Super 1 rumors true? It looks likely: Rumors have been rampant regarding what's going to happen on the currently vacant land that used to hold the Lantern Restaurant and Motel and the RV park on the north side of U.S. 95 in south Bonners Ferry, and based on anonymous reports from reliable sources, the rumor is that Super 1 Foods, which recently opened a popular new grocery in Sandpoint, is going to be adding a Bonners Ferry location in the near future.
November 2
School District 101 gearing up for winter: With the promise of bad weather coming on and a bad winter predicted, Boundary County School Distrit 101 superintendent Richard Conley and his crew are already working hard to make sure that parents are informed.


Local woman pleads guilty to rare offense: Twyla Dawn Basil, 33, of Bonners Ferry, pled guilty Tuesday in United States District Court in Coeur d'Alene, to misprision of a felony, United States Attorney Wendy J. Olson announced.
Crack-down coming on new hire reporting: Only about 30 percent of Idaho employers comply with the 1997 law requiring them to report newly hired workers to the Idaho Department of Labor within 20 days. While the complying businesses are the largest in the state and employ two-thirds of Idaho's workers, the failure of all employers to report undermines the law's purpose to identify people who owe child support so their wages can be garnished and the money recovered to support their children.

Whooping cough confirmed in North Idaho: Whooping cough, also called pertussis, has been confirmed in nine children who live in Kootenai County and who range in age from 3 months to 15 years.
Obituaries
Ruth Nellie (Wesselman) Smith, December 31, 1920 ~ November 7, 2011
Wesley "Keith" Wiley, May 29, 1927 ~ April 6, 2011
Betty Bernice Bell, October 22, 1929 ~ November 4, 2011
Anna Carina Jill Old, September 28, 1968 ~ November 4, 2011
Tibor Kovacs, Jr., September 13, 1949 ~ November 2, 2011
Richard Cal "Rick" Bateman, September 12, 1951 ~ November 1, 2011
Charles Howard Garrett, August 5, 1948 ~ October 29, 2011

Social
Carson West born: Carson Bentley West was born at Bonner General Hospital, Sandpoint, October 29, the son of Samantha Barton and David West, Bonners Ferry.
Miriam Jensen born at home: Miriam Grace Jensen was born at home in Bonners Ferry shortly after midnight October 30. She is the daughter of Craig and Heather Jensen.
Tiffany Little welcomes baby girl: Alyx Lee Little was born October 4 to Tiffany Lisa Little, Bonners Ferry, weighing eight pounds, two ounces and measuring 21 1/4 inches long. She joins her big sister, Aspen Lisa Little.
Chayse Paulsen arrives: Chayse Christopher Paulsen was born October 8 in Libby, the son of Savannah Paulsen and Dustin Langford, Bonners Ferry.
Mr. and Mrs. Thiel celebrate 40 years: Daryl was a lot better looking back then, and his girlfriend, Elizabeth, was and still is a stunning beauty.

Sports
Looking for a high school scribe: News Bonners Ferry is in dire need of employing a worthy high school student who likes to write and who is considering a career in journalism an opportunity to be published, and to be paid for it.

Letters
Carrie Suldovsky: I am a long-time resident of Boundary County, and I am writing to express my concern about recent development in our schools lunch program.
Friends of the Restorium: To the Bonners Ferry High School Class of 1971: The Friends of the Restorium sincerely thanks you for your generosity in donating over $500 to our group.
C.R. Yeoumans: What a joy to get news while it's still NEWS!
Idaho Governor Butch Otter: How can a largely rural western state of roughly 1.5 million people – a state whose Republican credentials are matched only by its almost contrarian sense of independence – possibly set an example of responsible governance for the rest of America?
Rosanne Smith: Really? Taxpayer funded Costco Cards for Moyie Springs council members and employees?
Carla Dedera: As the holidays approach, the giant Asian factories are kicking into high gear to provide Americans with monstrous piles of cheaply produced goods -- merchandise that has been produced at the expense of American labor. This year will be different. This year Americans will give the gift of genuine concern for other Americans. There is no longer an excuse that, at gift giving time, nothing can be found that is produced by American hands. Yes there is!
Back to archives