Boundary County Archives ~ September 2011
Home
Sports
Social
Obituaries
Events
Letters
News
September 25, 2011
Fire displaces Eastport families: An early morning fire destroyed an Eastport-area home Saturday, displacing not one but two families, now temporarily staying in a motel provided for by the Red Cross.

Sunspots to blame for lack of bfnews updates: The usual daily updates to this website came to a screeching halt about a week and a half ago when attempts to connect with our web host failed. After checking with the host, going through our computer system, checking routers and other hardware, even undoing some recent Windows updates to see if they may have been the cause, it turns out to be something beyond earthly control ... sunspots.

Idaho personal income falls short of national growth rate: Personal income in
Idaho
rose only one percent during the spring from last winter, substantially below the increase posted from the final quarter of 2010 to the first three months of 2011. Unlike the first quarter, increased income in the second quarter resulted from rising wage and salary payments. Business profits were essentially flat.
September 23, 2011
P&Z puts gravel pit decision into commissioners' hands: The Boundary County Planning and Zoning Commission met Thursday evening to consider a new permit application for a gravel pit near Porthill that has been a contentious issue since it was first approved in 2005, and subsequently shot down by the Idaho Supreme Court.

Stevenson killed by bullet, not bear: The Montana State Crime Lab medical examiner notified the Lincoln County, Montana, Sheriff's Office Friday that it was a bullet to the chest that claimed the life of Steve Stevenson, 39, Winnemucca, Nevada, September 16 during an attack by a wounded grizzly bear on the Montana side of Buckhorn Mountain.
September 19, 2011

Acclaimed Idaho poet to share his work: Writer and teacher William "Bill" Johnson, professor emeritus of Lewis-Clark College, Lewiston, who has served as Idaho's "Writer in Residence" twice, from 1998 to 2001 and again from 2010 to 2011, will share his work with Bonners Ferry residents at 7 p.m. Friday, September 23, in the visitor's center, and everyone is welcome to attend.

Chamber welcomes Pearl Theater: Welcome Carolyn Testa and the Pearl Theater, our newest chamber members. As you have heard from the buzz (not just the sound of saws in the little Church on Ash Street ... no pun intended) but the excitement created around the opening of the Pearl, a small theater that along with the Friends of the ARTs will encourage more live theater in Boundary County. Carolyn in collaboration with play writer Paul Rawlings will open in late October with a new play by Paul about romantic love.

Mandolins, vino! Naples is going Italiano! From 4 to 7 p.m. Saturday, September 24, Naples is going Festiva Italiana! Pizza, Italian soda, vino from Pend Oreille, checkered table cloths and mandolins ... Mama Mia!

Court records and sheriffs log
September 18, 2011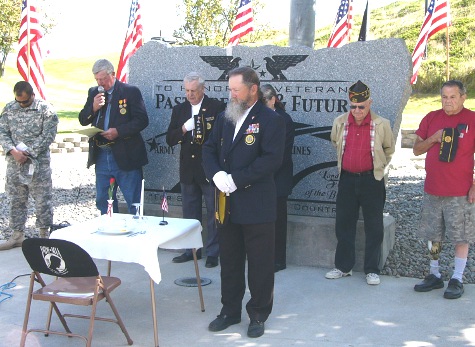 Members of American Legion Post 55 gathered solemnly Friday morning at 11 a.m., time and date set by the President of the United States, to commemmorate a new and annual remembrance, one that will continue until all this nation's Prisoner's of War and Missing in action return home or are accounted for.
Birthday Fire turned over to local control: Management of the 628-acre Birthday Fire, burning high up in the Smith Creek drainage since September 5, was turned back over to the Bonners Ferry Ranger District this morning, and the Type II Northern Rockies Incedent Management Team led by Rick Kusicko has been released.

Commissioner irked over grizzly email: Boundary County Commissioners were among many to receive an email Friday from John O'Connor, ower of Bonners Books, criticizing the "shrill" letter county commissioners sent to the Idaho Congressional Delegation and Governor Butch Otter August 22, and commission chair Ron Smith took umbrage.


Local probation officers recognized: Boundary County Chief Probation Officer Stacy Brown and juvenile probation officer Jessica Poston were honored for the quality of their work Monday, September 12, during the Idaho Juvenile Justice Conference in Moscow.
September 16, 2011
Victim of bear attack identified, caution urged: The Lincoln County, Montana, Sheriff's Office has identified the person killed in this morning's grizzly bear attack as Steve Stevenson, 39, Winnemucca, Nevada.

Grizzly kills hunter on Buckhorn Mountain: A Nevada hunter was attacked and killed by a grizzly bear on Buckhorn Mountain at about 10:07 a.m. today, and Boundary County Sheriff's deputies, Idaho Fish and Game and U.S. Fish and Wildlife personnel spent hours getting the the site, only to discover that the incident occurred on the Montana side of the border.
September 15, 2011
City races underway: Bonners Ferry Mayor Dave Anderson is going to face challenge, and two city council positions in both Bonners Ferry and Moyie Springs are going to be up for grabs when city voters go to the polls November 8. Here's who's in the running.


Finding Melody Braden and Ray Sayers: My Mom and I were having a cup of coffee in the kitchen when we found out Melody Braden and Ray Sayers had not returned home after short hike the day before. We learned that Search and Rescue, family members, and friends were already searching. My Mom immediately called Alicia Braden, Melody's Mom and a long time family friend, to offer our support. With all the resources on the search, Melody's rescuers turned out to be her friends.


Accentuate the Positive: "I really need some help from my friends on this one!" Gini Woodward said, and that's a piece of good news, as the reason she needs the help shows she's not changed a whit in retirement. Get her to volunteer for a good cause, and she goes all out in the effort ... even when slowing down and doing less might be the better course. She turns an obligation for a cause dear to her into an artistic opportunity for everyone who wants to learn.

A misunderstanding resolved: As seen below by the publication of minutes, the City of Moyie Springs has responded well to a tirade published on this site yesterday.

Moyie Springs City Council Minutes, August 3
September 14, 2011
Idaho delegation calls for grizzly ESA amendment: Ambiguities in the Endangered Species Act (ESA) have prompted Idaho's Congressional Delegation to introduce legislation clarifying the rights of individuals to protect themselves and their loved ones from grizzly bear attacks. Idaho Senators Mike Crapo and Jim Risch and Congressman Raúl Labrador say the legislation would amend the ESA to permit actions carried out against grizzly bears in self-defense situations. The Center for Biological Diversity, however, says the move is mere policital posturing.

Rotary's Kootenai River Ride a big success: Nearly 200 riders turned out Saturday for the ninth annual Rotary's Kootenai River Ride, the most ever in the nine years the Rotary has hosted the event.

Airport news: On September 2 Adam Alverez took the first solo flight of his pilot training. Adam was this year's recipient of the EAA Youth Flight Scholarship, which has funded the first $2,000 of his flight training. Dave Peterson of Bonners Ferry passed his private pilot exam on September 7, and Joel Cook of Creston, BC, completed his instrument rating.

2010 gross state product boost eroded by inflation: Economic activity in rural Idaho bounced back from the depths of the recession, sending the 33 counties' contribution to gross state product up 4.3 percent in 2010. But when adjusted for inflation, especially the high cost of energy in rural communities, the real economic activity outside the five urban areas rose just 1.7 percent.

County Commission Minutes, August 22
County Commission Minutes, August 15-16
Idaho companies among nation's fastest growing: Sixteen Idaho companies were among the fastest growing companies in the country during the last three years. Those companies have had a significant impact on the economy, adding a total of 1,400 jobs during that time.

National rankings bring good news for U of I: A series of recent national rankings have some good news for the University of Idaho: its national reputation is on the rise – and it's all adding up to a quality, affordable education with impact.
September 13, 2011
Birthday Fire sparks trail and road closures: The Birthday Fire currently under attack by firefighters in the Smith Creek Drainage has held steady through today at about 600 acres, but it's prompted U.S. Forest Service fire fighters to close several roads, trails and areas in the vicinity to not only protect citizens, but to enable firefighters to better battle the blaze.


Bonners Ferry teen gets a chance after burglary: Caleb U. Perez, 19, Bonners Ferry, has five years to prove he deserves a second chance, with the threat of up to six years in the Idaho State Prison hanging over his head after he pled guilty to burglary.
September 12, 2011
Birthday Fire sparks up: A fire that began in a thunderstorm August 30 sparked up Sunday, September 11, after several feeble fits and starts, and this evening, a U.S. Forest Service incident command team is on hand to take over management of the 600-acre fire high up the Smith Creek drainage about 20 miles north of Bonners Ferry.

Selkirk Loop official accused of grand theft: The former administrator of the International Selkirk Loop is scheduled to be arraigned on three counts of grand theft September 19, and even though her accusers are convinced she's guilty, they hope she's given a chance to atone for her weakness.

Court record and Sheriff's Log
September 7, 2011
Hill pays fine, charge dropped: The United States Attorney's Office for the District of Idaho announces that it is dismissing the pending misdemeanor criminal charge against Jeremy Hill for the killing of a grizzly bear on Mr. Hill's property on May 8, 2011. (Updated twice, comments added.)

City Council hearing set on annexation: The Bonners Ferry City Council will hold public hearing at 5:30 p.m. Thursday, September 29, at the Bonners Ferry Visitors Center to accept public comment on a proposal to annex about 77 parcels into city limits.

August 8 Special Bonners Ferry City Council minutes
Court record and sheriff's log
September 4, 2011

Bonners Ferry girl seeks big city office: Amber Copeland grew up here and graduated from Bonners Ferry High School in 1999. Unemployed but pursuing higher education, the single mother of four beautiful daughters, she's not your likely candidate, but she's in the running for a seat on the Coeur d'Alene City Council.


4-H, FFA say thanks for the support! It was a Fair Market Animal Sale for the ages, and the folks who organized it are grateful to everyone who made it possible. Here's a list of many of them, showers and buyers alike.

Priest River Experimental Forest marks 100 years: The 100th anniversary of the U.S. Forest Service's Priest River Experimental Forest (PREF) will take place October 6-8, 2011.

Urban renewal public hearing set: The directors of the Bonners Ferry Urban Renewal Agency will hold public hearing at 5:30 p.m. Monday, September 26, at the Bonners Ferry Visitor's Center, for consideration of the proposed budget for October 1 through September 30, 2012.
September 3, 2011

Herald typo brings laughs, gripes: In an article at the top of page B1 in the September 1 Bonners Ferry Herald, editor Julie Golder made not one, but two identical typos. Some readers thought the typo hilarious, but at least one apparently called to give her a stern chewing-out. It's easy to laugh or complain until you know what was going on behind the scenes.
Obituaries
Steve Stevenson, December 11, 1971 ~ September 16, 2011
Monte W. Kieling, May 19, 1956 ~ September 3, 2011
William "Bill" Dean Mostek, January 28, 1949 ~ September 3, 2011
Robert Duane "Red Rob" Cassal, January 22, 1956 ~ August 31, 2011
Gary C. Williams, November 6, 1954 ~ September 4, 2011
Anthony John Cooper II, September 4, 1983 ~ August 30, 2011
Sunny Ray Blake, August 31, 1945 ~ August 16, 2011
Dr. Thomas Henry Taylor, January 31, 1962 ~ July 31, 2011
Social
Kootenai Kloggers kick it up in Cheney: On Saturday afternoon, September 17, Kootenai Klogger members Bob and Cheryl Myers and Art Morin traveled to Cheney, Washington, to dance with the Cheney Hi Fliers square dancers. They car pooled to the event with the Hoo Doo Hoe Downers. It won't be long before lessons begin!


Not-so-surprising retirement party set for Linda Alt: After 19 years as the smiling and ever-accommodating face behind the counter at the county motor vehicle licensing office, Linda Alt joined her husband, John Alt, who retired from County Road and Bridge a few years ago, as a retiree herself. What was supposed to be a surprise party the men in her life couldn't contain takes place from 3 to 6 p.m. Saturday at the Paradise Valley Fire Station.
Recent marriages
Solums welcome baby girl: James and Gabriela Solum, Bonners Ferry, are the proud parents of a baby girl. Isabell Daya Solum was born at 12:30 a.m. Saturday, August 13, at Bonner General Hospital.
Newest Green Bay Packer born: Nathaniel Chase Mellon, the littlest Packer, entered the world at 12:58 a.m. Saturday, August 6.
Sports
Running with the goats: The Farragut/Super-1 Cross Country Invitational hosted by Lake City High School includes a feature infamously named the Goat Hill. Right across Pend Oreille's Idlewilde Bay, real mountain goats might be seen negotiating the cliffs that rise straight out of the water.

MWBA Scramble off without a hitch! The second-annual MWBA Scramble went off without a hitch! This year's recipient to recieve the donation brought about by support of the golfers in this community is the Boundary County Fair Board, who used the $2,100 raised to replace the lights in the arena, a much needed improvement that benefits many organizations and events, and something Mountain West Bank and Boundary Abstract wanted to be part of.

Adam Hall heading for the Ivy League: After stellar academic and athletic careers at Bonners Ferry High School, where he graduated with academic honors and as one of the most decorated high school wrestlers in state history, including three state championship titles, in 2006, and Boise State University, where he ranked second all-time highest ranked wrestler in school history was named the 2011 PAC-10 Scholar/Athlete of the Year, Adam Hall, the son of Roland and Linda Hall, has been named assistant head wrestling coach at historic Columbia University in New York City.
September fish stocking set: A few years ago, Uncle Bud Larsen was on hand to give us good and timely coverage of where fish were biting and the issues facing sports-folks; before him, Ralph Anglen was there for the Herald for decades. News Bonners Ferry is looking for the next local outdoorsman able to step into such big shoes.
Badger football facing a tough start: The season's home opener for the Bonners Ferry Badger football team is always a festive event, and Friday night was no exception to that rule. And even though the Badgers fell to the Freeman Scotties, 37-7, the loss did nothing to dampen the high spirits. A News Bonners Ferry pictorial.
Krmpotich shines in season openers: The Bonners Ferry High School Cross Country teams kicked off their season with a home invitational Saturday, August 27, and while it appears that the girls, who don't yet have the numbers to comprise a full team, will be struggling against a very strong Timberlake program, the Badger boys look like they could well go to state to represent the Intermountain League.
Letters
John O'Connor: Please see paragraph 2 below.

It clearly refers to a human mortality, not a bear mortality, putting the lie to the statement in paragraph five or your "Commissioner Irked" article.
Roseanne Smith: Recently, you initially denied my request for public records. Now you're making it harder.
International Selkirk Loop: Even non-profits can't escape being taken advantage of as a trusted former employee of the International Selkirk Loop (ISL) is alleged to have been embezzling from the organization. Suspicion of missing funds was brought to light during a recent tax preparation, and later verified by an independent CPA firm.
School Superintendent Dick Conley: On behalf of the Boundary County School District, I would like to extend our sincere appreciation to the Kootenai Tribe of Idaho for their generous donation.
Donna Capurso: I have some wonderful news. The criminal charges against Jeremy Hill have been dropped as of today. In an agreement reached today with U.S. Attorney Wendy Olson, Jeremy has agreed to pay a $1,000 civil fine for killing an endangered species. I personally believe that this fine is ridiculous, but I do understand how Jeremy just wants to get this all behind him and to get on with his life.
Back to archives