Boundary County Archives ~ March 2013
Home
News
Sports
Social
Obituaries
Events
Letters
News
Spring road closures in effect
Hauling restrictions are now in place on many Boundary County roads. For details, click here.
March 30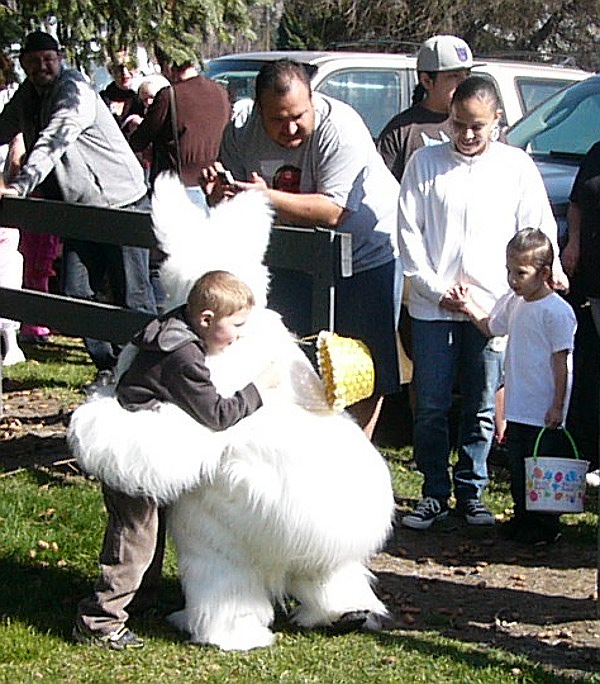 50 years of Easter memories ... a legacy: For 50 years, the Bonners Ferry Lions Club has been giving the kids of Boundary County memories to last a lifetime, hiding eggs on the fairground lawn and tucked among the swings and slides for eager kids from toddler to ten to set off in search of. More than a tradition. It's a legacy.
---
Breakfast menu announced ... real pancakes! After two years without a griddle, the Bonners Ferry Rotary Club's annual CommUNITY Breakfast April 20 is bringing back an old favorite ... real griddle fried pancakes!
March 29
Two school board races contested: Two of three school board trustee elections going before voters on Tuesday, May 21, will be contested, but an election for two seats on the Boundary County Library Board will be cancelled unless candidates file as write-ins.
---
Job search requirements to be enforced: The Idaho Department of Labor is reinforcing its 12-week limit on the period during which laid-off workers will be considered likely to be called back to their jobs.
---
BFHS students doubly entertained: As a good ending of the week before spring break vacation, high school students were treated to not one, but two excellent performances on Thursday: "Shakespearience" and a talent show comprising entirely of students and teachers.
---
DYW Style Show coming to the Pearl: Being stylish is just one of the many attributes the 2013 Distinguished Young Women of Bonners Ferry contestants possess, and they will be sharing this gift with the community.
March 28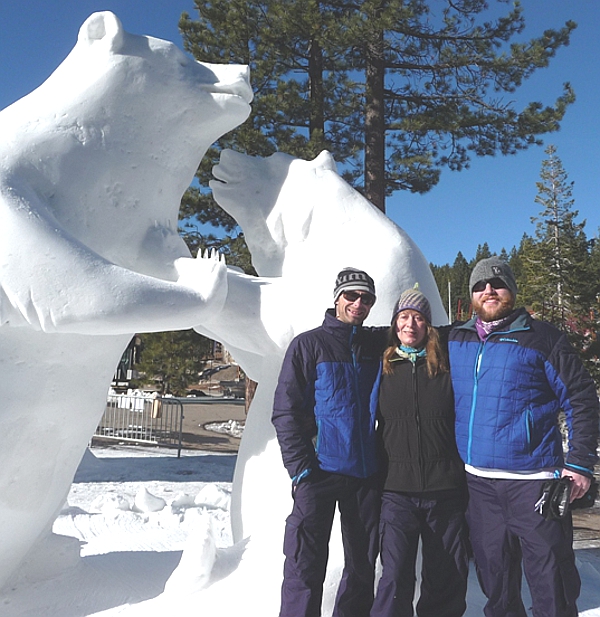 Local team shines in international competition: Competing against some of the very best snow sculpting teams worldwide, Team USA Idaho/Bonners Ferry; Lee Harris, Winter Braden and Josh Knaggs, traveled to Lake Tahoe, California in February to compete in Carve Tahoe International Snow Sculpting Competition, a juried event held at Northstar California Resort, and came away with third place behind teams from Germany and Japan.
Omodt, Robertson BCSD stars: Boundary County School District 101 has selected Barb Robertson and Luke Omodt as its March, 2013, Employees of the Month.
March 27
Work to resume on Highway 95: Crews will resume work on the Chilco to Silverwood project on U.S. 95 Monday, April 1, the Idaho Transportation Department announced. The project is expected to be completed by fall 2013.
---
Idaho per capita income gains: Solid investment earnings and strong business profits during the final three months of 2012 pushed Idaho's total personal income for the year to over $53.8 billion, finally returning per capita income to slightly above its prerecession peak.
---
County commission minutes, March 4-5
---
County commission minutes, February 25-26
March 26
Comment sought on Idaho Buckhorn project: Public input is being sought as the Idaho Panhandle National Forest proposes a planned fire project in the Deer Creek Watershed area on National Forest System lands within the Bonner Ferry Ranger District.
---
Shoshone County crash victim identified: The driver of a Honda Civic that crashed on a Forest Service road in Shoshone County early Sunday morning has been positively identified as a 20-year-old Osburn, Idaho, man.
---
Better finish that GED: Everyone who has started taking the GED test is encouraged to finish or they will have to start over when the current version of the test expires at the end of 2013. More than 1,400 North Idaho residents have started, but not completed, the current version of the GED test.
---
Correction: Single youth facing hoax call charges: Initial reports that there were two separate suspects in the bomb threat incidents called in to the sheriff's office last Monday and Tuesday, along with reporting that one of the suspects was from southern Idaho, were incorrect.
---
School emergency plans and procedures revamped: The last week or so has been very interesting and revealing. A district emergency has shown the administration that we need to revisit our emergency plans and evacuation procedures. By Superintendent Richard Conley
---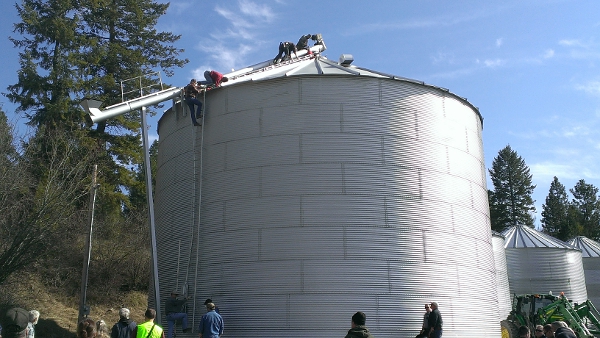 Man rescued from silo: When word got out Monday afternoon that a man was trapped in a silo at Olson's Farm in Copeland, it didn't take long for farmers for miles around to drop everything and run to help.
---
Eagles' benefit set for one of their own: The members of Bonners Ferry Eagles Lodge and auxiliary is famous for their monthly Eagle's breakfasts, held to raise funds for those in our community who are in need. In April, their breakfast will be held for one of their own, secretary Suzi Guy.
---
Katie Clairmont fifth at regional bee: Eighth-grade Canfield Middle School student Tricia McCullough, Coeur d'Alene, out-spelled 44 other fourth- through eighth-graders from the five northern counties of Idaho to become the champion speller in the ninth annual North Idaho Regional Spelling Bee March 23 at North Idaho College.
---

Lots of learning at Northern Air: Spring is in the air. The crocuses are sprouting and so are the new pilots! Monica Johnson, Bonners Ferry, took her first solo flight in a Cessna 172 on February 28, just four days after her 16th birthday (the minimum age to solo). Her solo was right on the heels of her older sister Ericka, who soloed in October of last year on her 16th birthday.
---
Court records and sheriff's log
March 25
Man trapped in grain bin
1:35 p.m. March 25: Emergency crews are responding to a farm on Farm to Market Road, where a man is trapped in a grain bin. He is reported to be okay at this time, but he's up to his armpits and his family is unable to extricate him on their own.
March 24
Principal Pfleuger Press: First and foremost, a big thank you for supporting the District Maintenance and Operations Levy! On behalf of my students and staff, I offer sincere appreciation and I applaud the community commitment to the children of Boundary County. Now, the next part is this: Hold US TO IT!
---
Unidentified driver killed in Shoshone County: An as-yet unidentified driver was killed in a single vehicle accident early this morning on a Forest Service in Shoshone County.
---
Turn in tobacco for free quit-kit: Panhandle Health District (PHD) will collect tobacco in early April from the people who want it out of their lives. National Public Health Week is April 1-7, and one of the healthy behaviors PHD will emphasize throughout the month is tobacco cessation.
---
March 23
Lincoln Day luncheon a grand affair: This time of year, you don't know what you might get in North Idaho, as Idaho Senators Shawn Keough, Sandpoint, and Russell Fulcher, Meridian, both testified. They both left Boise after a full day's work Friday to attend the Boundary County Lincoln Day luncheon today, and faced all an Idaho spring offers to get here; a little bit of sun, snow, hail, wind and rain. But when they arrived at the Great Northwest Events Center at the end of Mountain Meadows Road, neither the weather nor the ambiance could have been more perfect
---
Sprungl announces second hoax confession: Boundary County Sheriff Greg Sprungl announced during today's Lincoln Day luncheon that a second call-in bomb hoax case is being turned over to prosecutor Jack Douglas for a bomb threat called in to the sheriff's office on Tuesday. In this case investigators also obtained an admission, this one at long distance, thanks to inter-agency cooperation.
March 22
Juvenile admits to bomb call: A juvenile who is not a public school student has confessed to placing a hoax 911 call Monday to report a bomb in an unspecified Boundary County School, forcing the early closure of all five.
March 21
'Multiple suspects' responsible for threats
:
In a press release issued Wednesday, the Boundary County Sheriff's Office affirmed that not one but several people are suspected of perpetrating the 10 bomb hoaxes that have disrupted classes this year, and may lead to a shorter summer vacation to allow students to make up for lost time.
March 20
Publisher's note
You may be hearing of "arrests" in the Boundary County school bombing cases on regional news. To the best of my ability to verify, those reports aren't quite right. An expulsion hearing has been set for one student, but no criminal charges have been filed against either. The school can suspend, but not expel; the board has to approve the recommendation. I encourage everyone to remember, "innocent until proven guilty," and to refrain from condemning the students singled out. This story is just beginning; it's frustrating, but the truth will come out in time.
---
KVRI asks for info on wolverine proposal
:
The Kootenai Valley Resource Initiative will host a public meeting at 6 p.m. Monday, April 1, at the Kootenai River Inn, and they've requested that U.S. Fish and Wildlife staff from the North Idaho field office attend to provide a briefing on their proposal to list the North American wolverine as threatened under the Endangered Species Act.
---
Another bomb threat; deemed not credible
Yesterday, March 19, 2013, law enforcement did receive another non specific bomb threat that they felt was not creditable. They did follow up on the leads and were in contact with law enforcement that was at the school. Law enforcement was keeping the district advised of any threat potential and based on their continuing investigation it was not deemed creditable.
Dick Conley
Superintendent
School District 101
First day of spring ...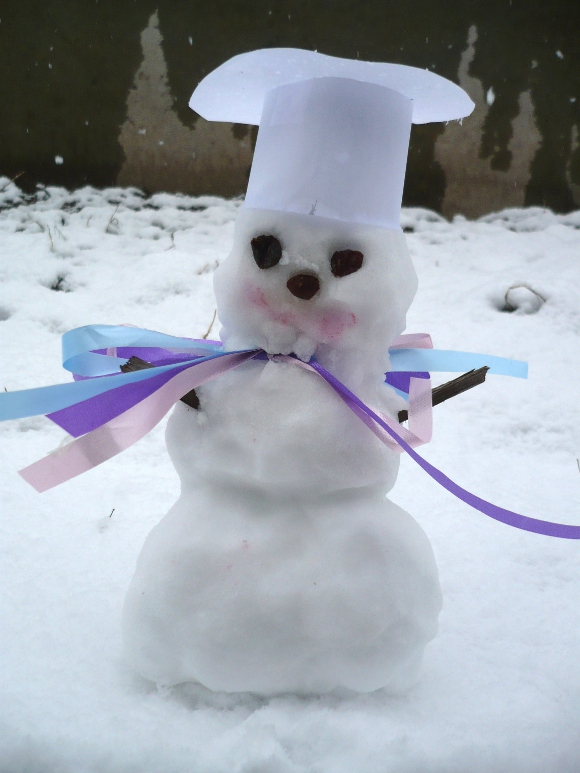 Residents at the Boundary Community Restorium woke this first day of spring to find this cute little snowman perched on the dining room windowsill, and about two inches of snow.
Robotics team successful in Portland: On March 6, FIRST team 2130, also known as Alpha +, left the high school for their first competition. Their destination: Portland. The trip and competition proved to be a successful, albeit busy venture for 2130 as they, once again, went to the final round of matches and performed extraordinarily.
---
Club 55 taking old U.S. flags: At their last meeting, Bonners Ferry American Legion Post 55 members voted to add another service to those offered at their recently opened Club 55, accepting for proper disposal the old U.S. flags of Boundary County residents.
March 18
City wins 'Best Tasting Water' competition: It's easy to take water for granted, but clean, fresh water is essential to our survival. We need clean water to drink, cook and clean. We need it for sanitation, fire protection, irrigation, and we really like it to taste good, and Bonners Ferry water does!
---
School bomb threat escalated: On Thursday, the Bonners Ferry High School Student Council held a special assembly in response to a bomb threat found in a boys locker room stall March 7, the eighth bomb threat to disrupt a school this year. On the first school day after that assembly, threat number nine was received, and this one prompted all five county public schools being closed early and all student activities for the day to be cancelled.
---
Court records and sheriff's log
---
School bomb threat called in
10:54 a.m. Monday, March 18: The sheriff's office just received a 911 call from a person threatening to blow up the school, though the caller didn't specify which school. Emergency responders are being activated. 1:05 p.m.: It has just been announced that Boundary County Public Schools are being evacuated as a result of this morning's bomb threat. All schools are being closed. Each school principal will decide whether parents may pick up their children; parents should call their child's school. My understanding is that this is being treated as a school closure; students will be released as if it were the end of a regular day. No credible indication of a potential threat has been found; the closure is being taken as a precaution. Fifth and sixth grade PTO basketball has been cancelled due to today's bomb threat.
March 15
Senate honors Idaho's fallen
:
In the past year, Idaho families laid to rest five soldiers who gave the ultimate sacrifice in service to their nation, and this morning the Idaho legislature paid them honor, with Senator Shawn Keough carrying the memorial for one of Bonners Ferry's own, Specialist Ethan Martin, on the Senate Floor.
---
Standoff situation ends
3:23 p.m. Friday, March 15: A stand off situation is developing on Wisdom Quest Road, which enters the mobile home park on Deep Creek Loop. Officers are responding to the scene now. The suspect, a female, is reported to be armed and intoxicated or impaired and barricaded in a bathroom. 4:34 p.m.: The suspect has been safely taken into custody and law enforcement is clearing the scene.
March 14
Pine Island Road crossing to close: The Pine Island Road railroad crossing at the south edge of Bonners Ferry will be closed for maintenance and repair beginning Tuesday, March 19.
---
Pinochle Party!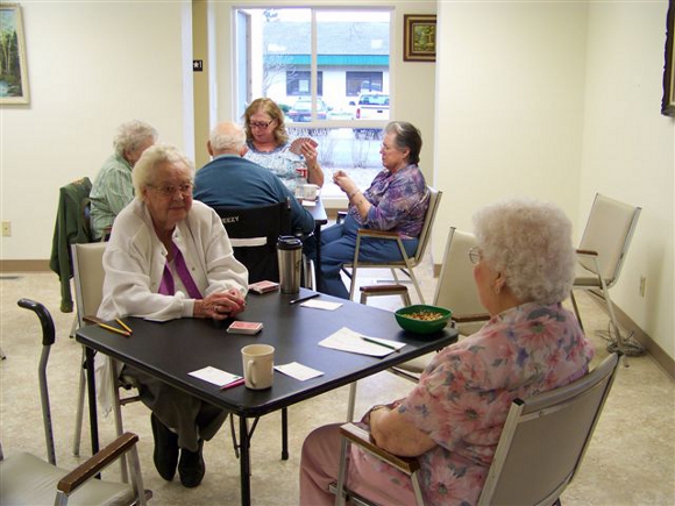 Evelyn Holmes hosted her second annual pinochle party at her home here at the Community Restorium on Thursday. With a dozen players and food catered by the Chic n'Chop Restaurant, they had a full day of fun!
March 13

Prostitutes coming to the Pearl: When thinking of the pioneers who settled our part of the west, most conjure images of Fred Thompson, explorer and mapper, or Lewis and Clark. You don't think often of "shady ladies," but their stories helped shape who we are. "Western Women: Pioneers and Prostitutes," will open your eyes.
---
Serve Idaho offers grants: Idaho nonprofit, educational, labor, community and faith-based organizations, Indian tribes and local governments are eligible for special federal funding through the Schools Turnaround AmeriCorps program to improve student performance.
March 12
Levy passes: For the first time in years, a school district M&O levy has passed on its first run. With 31-percent of registered voters going to the polls, 56.5 percent approved the measure, with a vote of 969 in favor to 747 opposed.
---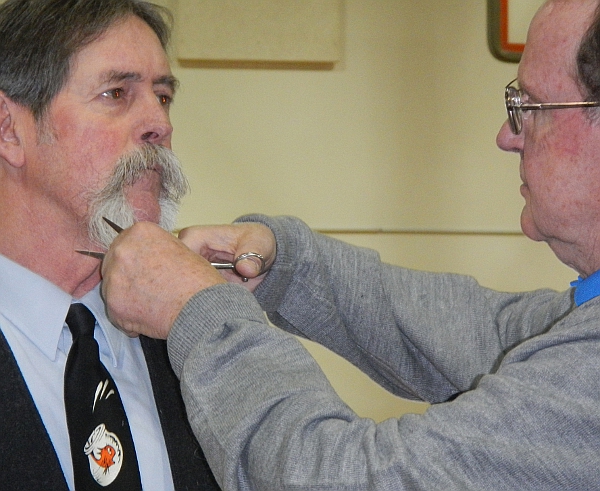 Kids read, principal shaved: To promote reading at Valley View Elementary, Principal Gary Pflueger agreed to shave off his rather large mustache, which he hasn't trimmed all year, if the students met their reading goals. They did, and on March 6, off it came!
---
Special guests help 'Read Across America:' On Monday, March 4, guest readers came to Valley View and read in various classrooms. Mayor Dave Anderson, Ron Smith, Rona Hall, Gini Woodward, and Beverly Krichbaum all donated their time to share their love of reading with Valley View's Students.
---
VVES student council minutes
March 11

Tibetan nun to speak at NIC: The Venerable Thubten Chodron, an American nun in the Tibetan Buddhist tradition who has practiced under the guidance and influence of the Dalai Lama and other masters since 1977, visit North Idaho March 15 to elucidate on the age old question, "can there be peace in an imperfect world?"
---
Court records and sheriff's log
March 10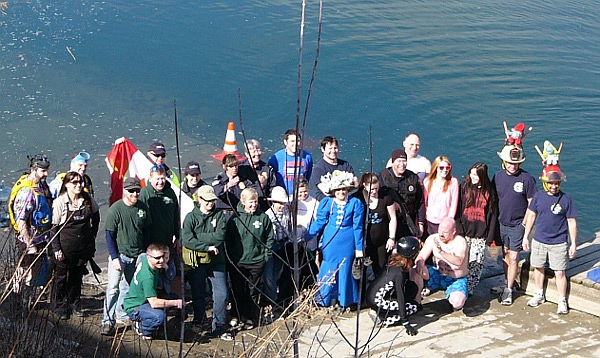 Penguin Plunge 2013 a day to remember: Boundary County Sheriff Greg Sprungl couldn't attend Saturday's Penguin Plunge, and it showed. After the past few years of his turning the waters of the Kootenai cold with the traditional dumping of ice, two officers; Bonners Ferry Police Chief Steve Benkula and Chief Deputy Rich Stephens both did the honor this year, but it wasn't the same. A News Bonners Ferry pictorial
March 8

Bonners Ferry native to retire from Army: Army Sergeant First Class Trina Best, a native of Bonners Ferry and the daughter of Tom and Cathy Florea, Bonners Ferry, will retire following a 21-year military career in a ceremony at 10 a.m. Thursday, March 28, at Joint Base Myer-Henderson, Virginia.
---
Gearing up for 'Father of All Yard Sales:' It's time to think spring and yard sales, in particular "The Father of All Yard Sales," now under the aegis of the Boundary County Fair Board and being held this year in the indoor comfort of the Fairgrounds Memorial and Exhibit Halls.
---
Orange flags for pedestrian safety: In an effort to increase the safety of pedestrians using the crosswalks on Highway 95 near Fry Street, Augusta Street and Eisenhower Street, the city of Bonners Ferry has placed orange flags at these locations for pedestrians to use while crossing.
---
ITD seeking help on bike/pedestrian count: Several Idaho communities are being invited to help provide data on bicycle and pedestrian use for the development of a tool that will be used to improve bicycle and pedestrian facilities. It also will help create a system of safe and efficient transportation corridors.
---
County commission minutes, February 25-26
March 7
BFHS a 'closed campus' due to threats: When students get to school on Monday, March 11, they're going to find things a bit different. If students want to eat, they'll eat what's served in the lunchroom or bring their own.
---
School bomb threat #8 another false alarm: Just four days after the last bomb threat forced evacuation of a Boundary County school, and only one day after it was announced that a suspect had been suspended, Bonners Ferry High School students again endured the all-to-familiar drill of evacuating again today. Comment added
---
Bomb threat at high school
Students are being evacuated at Bonners Ferry High School for the eighth bomb threat this year. The call was made at 11:45 a.m. and emergency crews are staging. 12:45 p.m.: Emergency crews have cleared the high school and students are being returned to class.
---
Final sentencing in Naples pot grow: Justin Edward Egner, 36, of Springfield, Oregon, the fifth defendant in a multi-state marijuana trafficking operation, was sentenced March 5 in United States District Court in Coeur d'Alene.
March 6
Crash snarls highway 95 traffic: 11:46 p.m.: A heavy, wet snow and temperatures right at the freezing point made road conditions in Boundary County treacherous today, leading to a two-vehicle non-injury accident on Highway 95's Peterson Hill that tied up traffic for hours.
---
Road conditions treacherous:
8:25 p.m.: Traffic is at a standstill on Highway 95 at Peterson Hill in Boundary county due to a vehicle collision and multiple slide offs. Driving conditions are extremely hazardous due to snow and poor visibility, with snow expected through the night. Motorists who can are advised to stay off area roads; if you must travel, slow down and use extreme caution. 10:42 p.m.: Traffic is still snarled on Highway 95 at Peterson Hill, though moving slowly, as they've run into problems moving the tow truck that became stuck. They've just asked for the biggest tow truck available in town to respond.
---
Suspect identified in high school bomb hoax: Boundary County school superintendent Dick Conley has confirmed that a suspect in the latest bombing hoax at Bonners Ferry High School has been identified and suspended with a recommendation for expulsion.
---
PHD looking for 'Moving Minutes:' Washing floors and bathtubs, raking gardens and walking the dog can win residents of northern Idaho prizes throughout the month of April if they do those activities enough.
---
Tremendous way to help schools ... vote! Let's start this edition with an update and celebration of our 'Beloved PTO'! The Valley View School Carnival was great fun! The food was good, the games were fun and the dunk booth was a splash! The reason for the event was to have family fun; on top of that we raised $1,700! By principal Gary Pfleuger
---
Comet may be visible, if sky clears: If the skies clear over the next several days, folks here could get a glimpse of comet PanSTARRS, which has been visible in the southern hemisphere for the past few weeks and will be visible in the western sky of the northern hemisphere beginning tomorrow, though the best days for viewing are expected to be next Tuesday and Wednesday, March 12-13.
---
Bonner Community Hospice offering classes: Bonner Community Hospice, which serves both Bonner and Boundary Counties, is offering two classes beginning in April, but the deadline for registering for either is fast approaching.
---
Road conditions poor: 9:30 a.m.: Boundary County Sheriff's deputies are reporting that conditions on county roads are getting extremely slick in spots with the snow now falling: Perkins Lake Road has been identified as particularly treacherous. County road and bridge is sending out sand trucks, but motorists are advised to use caution when travelling off main thoroughfares.
March 5
Art contest winners named: Boundary County School District 101 student winners of the Healthy Lifestyle art contest are Hannah Field, Samantha Schneider, Zack Wilson and Ashley Creutzberg.
---
Court records and sheriff's log
March 4
Bomb threats frustrating staff, students
:
Yet another bomb threat disrupted classes in Bonners Ferry today, this one at the high school, called in at about 1:24 p.m. after another note was found scribbled in a stall in a boy's restroom.
Bomb threat at high school
Emergency units have just been dispatched to a bomb threat at Bonners Ferry High School and are responding as of 1:24 p.m. All available units are being dispatched. Students have been evacuated to the middle school and investigators are on scene.
---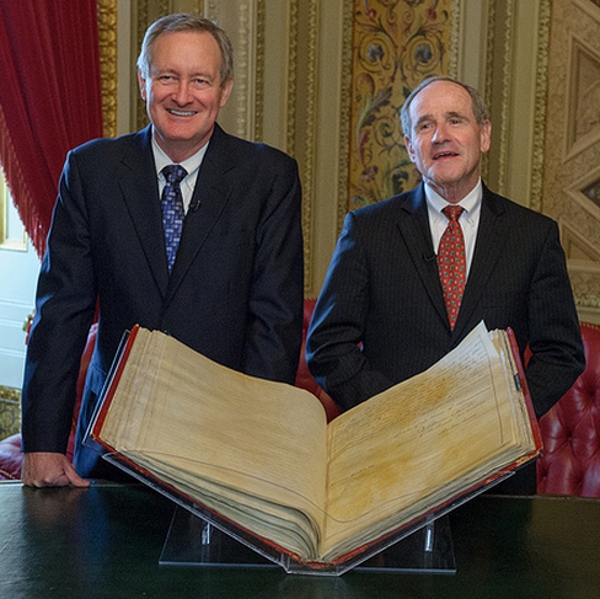 Idaho Territory formed 150 years ago today: On this day in 1863, President Abraham Lincoln, who on January 1 had signed the Emancipation Proclamation to turn the tides of a civil war then in its third bloody year in the Union's favor, signed the bill that created the Idaho Territory.
---
Quigley is missing ...

Quigley, a big, black and white eight month old tom, was last seen slipping out the kitty door at the Hale home on Blume Hill Road at 8:30 Saturday morning, and the family hopes someone has seen him and knows where he is. If you do, please call Marianne at (208) 290-4146.
March 2
Dunning, Lee honored by school district: Teri Dunning, a para professional at Bonners Ferry Middle School, has been named School District 101's Classified Employee of the Month for February, and high school teacher Carole Lee the Teacher of the Month.
---
Locals invited to participate in film: Have you ever wanted to be in the movies? Or learn what goes on behind the scenes? Now's your chance! Join the film and media professionals from Northwest Film Institute in the production of the community film, Harvey's Place.
---
Children's author visits Valley View: The Bonners Ferry Rotary Club, Valley View PTO, Idaho Reads! VISTA, Debbie Pauls and the EWU Get Lit! Program made it possible for children's author Carol Muzik to visit Valley View Elementary February 26.
---
Equinox grant program open for applicants: Inland Northwest Community Foundation (INWCF) is accepting applications for the Equinox Foundation Grant Program from nonprofit organizations providing services in Bonner and Boundary counties.
---
2012 Idaho unemployment figure adjusted: Revised figures released by the U.S. Bureau of Labor Statistics lowered Idaho's average unemployment rate for 2012 by three-tenths of a point to 7.1 percent.
---
County commission minutes, February 18-19
---
County commission minutes, February 11-12
---
County commission minutes, January 28-29
---
County Commission minutes, January 21-22
Obituaries
Erwin M. Voegele, June 2, 1922 ~ March 25, 2013
---
Merle Eugene Hunt,
August 22, 1925 ~ March 23, 2013
---
Carolyn T. James
, March 22, 1924 ~ March 9, 2013
---
Marian J. Karnes Halverson Melior
,
October 31, 1913 ~ March 14, 2013
---
Irene C. Clark
, October 30, 1922 ~ March 12, 2013
---
Social
Finley family gives thanks for support: Bud Finley and family would like to thank everyone for the outpouring of generosity and support as we fight this battle. We are humbled by the kindness and selfless acts of our neighbors and friends.
---
United Methodist celebrates Holy Week: The congregation at United Methodist Church, located at Lincoln and Denver Streets in Bonners Ferry, began their Holy Week celebrations with a palm processional last Sunday, but they have several more special services on tap through Easter Sunday.
---
Art coming to Moose Valley Farms: There are great things happening at Moose Valley Farms this season. Of course there are all the beautiful plants and flowers with everything a person would need to be a successful gardener, wonderful gift shop where the perfect gift or personal treasure can be found. But one new and very exciting thing; Moose Valley Farms is now going to showcase local artists from Boundary County.
---

LoPortos welcome first child: Joe and Brianna LoPorto, Bonners Ferry, welcomed their first child, Neriah Rose, born at 8:40 a.m. Saturday, March 2. at Bonner General Hospital, Sandpoint. She weighed seven pounds, four ounces and was 20 1/2 inches long.
Sports
Badgers second at BF tourney
:
The Badger baseball team won two of three games this weekend as they hosted the three other Intermountain League teams in their annual baseball tournament.
---
Badger boys split with Lake City JV:
The Badger baseball team traveled to Coeur d'Alene last Tuesday and split a double header with the Lake City JV squad.
---
Badger girls stunned at Lake City
:
It was a rough day for girls softball. They travelled to face 5A state champions Lake City for a doubleheader today and came away scoreless.
---
Badgers host track invite
:
On Saturday, March 23, the first track meet of the season was held on Bonners Ferry High School track. The day was graced with a warm sun, despite the chilly air as 11 teams participated.
---
Badger boys chalk up first wins
:
After starting the season off 0 – 3, the Badger baseball team got their first two wins of the season last weekend beating LV Rogers of Nelson, BC. 10-3 and 16-6.
---

Conrad Garner inducted into hall of fame
:
A big crowd from Bonners Ferry traveled to Coeur d'Alene Saturday evening to be on hand as wrestling coach Conrad Garner, who has not only coached the Bonners Ferry Badgers for 27 years, but has worked with and mentored local wrestlers of all ages, be awarded the Idaho Chapter of the National Wrestling Hall of Fame "Lifetime Service to Wrestling Award" and inducted into the Hall of Fame.
---
Badgers fall in Troy double header
:
The girls high school varsity softball team traveled to Troy Saturday to compete in a double header. Despite snow flakes persisting throughout the day, the girls held on through all seven innings in both games, but fell 6-14, 11-13.
---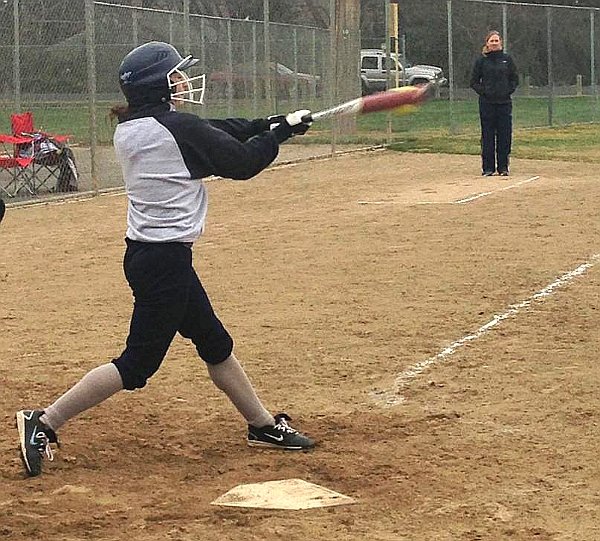 Badger girls awesome in season opener
:
After their opening game against Sandpoint was rained out, the Badger girls varsity softball team went to Lewiston Saturday and played their first two games of the season. Of the 15 girls on the team, half have never played softball before.
---
Not too late for Super Hunt
:
It's not too early to enter the first Super Hunt drawing in June. The deadline is May 31. With every entry in Fish and Game's Super Hunt drawings, hunters get a chance at winning the hunt of a lifetime, and their entry fee helps support hunter and angler access to and across private lands.
---
Idaho elk management plan being revised: Idaho Fish and Game has launched a revision of its long range plan for managing elk. Idaho's current plan is more than 12 years old. Starting in late 2011, Fish and Game launched an effort to revise and update that plan. Strategies in the plan will be driven by public expectations and changes in elk populations.
Lively discussion on Priest Lake fishery: Idaho Fish and Game hosted a meeting in Priest River on February 28 to share information and answer questions about the future management of the fishery in Priest Lake.
Letters
Mike Weland: As a candidate for Zone 1 trustee on the Boundary County School District 101 board and as owner and publisher of this website, I am offering each declared candidate for a school trustee post, on the ballot or write-in, free advertising on newsbf.com.
---
Penena Veneroso: The tenth bomb threat so far this school year in Bonners Ferry was reported March 19, 2013. This has been the most ridiculous school year yet for bomb threats. These are extremely serious situations and shouldn't be taken lightly, although, in my own opinion, I believe some people in our little community are becoming almost immune, treating them as if it were the story of the boy who cried wolf.
---
Rosanne Smith: A question for Commissioner Dinning ... In the February 25, 2013 minutes, the following was recorded; "Chairman Dinning said he learned through Idaho Code the Ambulance Service District cannot contract as that has to be done through County Commissioners."
---
John Savage: Catching these alleged bomb hoaxsters is all well and good, but what happens to them is where we are going wrong.
---
U.S. Congessman Raul Labrador: Rural communities that once relied on the timber industry for job creation and tax revenues are going broke. Over the last several decades, government regulation and environmental litigation have hampered the ability of our rural communities to best use public lands for economic growth.
---
Mike Weland: As a journalist, I never expected to be in a position of putting my hand out to ask for the vote of confidence of an elector, but when a sitting member the the Board of Trustees of School District 101 says that I'm needed, I listen. Albeit reluctantly.
---
School Board: The Board of Trustees of the Boundary County School District #101 would like to take the opportunity to publicly thank the community for the support of the Maintenance and Operations Levy (M&O) for the next two years.
---
Todd Liljedahl: It's Monday, March 18, and I have just pulled up News Bonners Ferry on my computer and once again read the headline "School Bomb Treat Called In."
---
Dave Kramer: So why do people jump in the cold Kootenai River in March? It is for a great cause to benefit Idaho Special Olympic athletes with year round sports training opportunities at no cost to the athletes.
---
Mt. Hall Teaching Staff: We, the teaching staff of Mount Hall Elementary School, are writing to share with the community our continued support of our school district and board.
---
Judy Capparelli: This is so much BS with all these bomb threats. They need to make an example of any that they catch so maybe their faithful followers will squelch the idea of trying it.
---
State Forester David Groeschl: Ask Idahoans if they value healthy forests and you'll likely get an affirmative response. Ask them how to manage for healthy forests and you'll likely get a wide range of opinions.
---
Lee Haarstick: March 5, 2013 - evening addition of Fox News, Hannity had Senator Rand Paul discussing the latest White House memo from Attorney General Eric Holder' which implies that President Obama may have, under certain circumstance (not defined), the power to assassinate Americans on American soil without due process of law.
---
Boundary County School Board: The Boundary County Board of Trustees wishes to take this opportunity to inform the public of the replacement maintenance and operations levy that will come before the voters March 12, 2013. This is not a new levy. This replaces the one that expires in 2013.
---
U.S. Congressman Raul Labrador: Our immigration system is broken and until it is fixed there will be continued threats to our economic and national security. The time has finally come to act; we have a bipartisan consensus that something has to be done now to modernize our immigration system.
Back to archives