Boundary County Archives ~ May, 2012
Home
Sports
Social
Obituaries
Events
Letters
News
May 30
Borders 3 Jamboree is on! Despite a short-lived scare that the biggest car show in Boundary County would need a new venue, the concerns have been ironed out and the 13th annual Borders Three Jamboree will once again fill downtown Bonners Ferry with classics this Saturday.
May 29

Lethrud gets chance to avoid hard time: Preston Lethrud, 23, Bonners Ferry, was sentenced to up to seven years in prison on a charge of aggravated assault with a deadly weapon and up to six years for second degree kidnapping May 8, but Judge Steve Verby gave him a chance to avoid prison.

Bomb threat closes BFHS: With the final day of school just two days away for seniors and today a day for final tests, Bonners Ferry High School had to be evacuated and school canceled for the day after a bomb threat was called in to the sheriffs office.

Community shines on Memorial Day: For the first time in memory, the people who packed downtown Bonners Ferry Monday on a clear, brisk Memorial Day didn't witness a parade led off by a color guard made up by the veterans of American Legion Post #55. A News Bonners Ferry pictorial.

Court dispositions and sheriffs log
May 24
Camano Island figures in local aviation ... again: For some reason, there seems to be some bad mojo at work when it comes to the beautiful Camano Islands, which lie off the Washington coast near Seattle, and the Boundary County Airport.

Protest planned at Idaho Run for the Fallen: Members of the infamous Westboro Baptist Church, Topeka, Kansas, plan to picket the second Idaho Run for the Fallen, a four-day event that begins tomorrow in Pocatello, but organizers believe the protesters may just as well be passing gas in a Kansas whirlwind.

Fourth fundraiser meets goal: After no Fourth of July fireworks celebration in Bonners Ferry last year because no one stepped in to fill the shoes of Skip O'Fallon, who retired and couldn't find anyone to take his place as organizer, the celebration is once again on this year, and the community appears grateful.

Court dispositions
County Commission minutes, May 7
May 22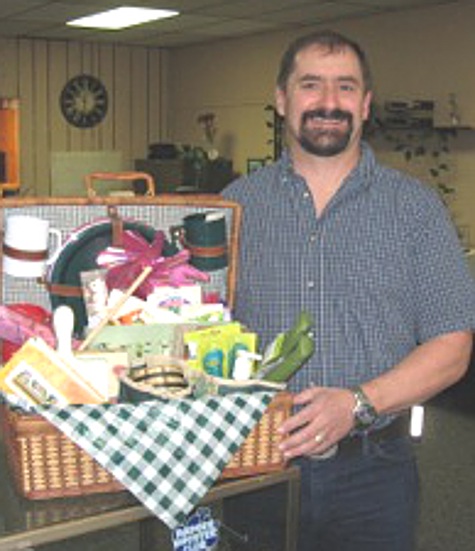 Bill McCabe, who's been buying tickets for four years, is happy to be the winner of this year's spring basket raffled by the Friends of the Restorium. The basket is chock full of valuable items donated by area businesses, including Akins Harvest Foods, Zip Trip and Moose Valley Farms. Donna Jo Dirks had a great time assembling the basket. Congratulations, Bill!
BVA issues ultimatum: On March 29, 2012, Boundary Volunteer Ambulance Service, Inc. ("BVA") notified the Boundary County commissioners that it wanted to enter into a new contract with Boundary County that paid BVA significantly more money to provide ambulance services to Boundary County's residents.Without additional funding, BVA will have no choice but to close its doors and stop providing ambulance services at 12:01 a.m. June 14, 2012.

Reward offered for shooting of grizzly, cub: A hiker came across the carcass of a nursing female grizzly on Hall Mountain in northern Boundary County last Friday, May18, and further investigation into the shooting turned up a carcass presumed to be her cub, also shot. A reward of $10,000 is being offered for information leading to the conviction of whoever is responsible.

Local Rotary awards scholarships for 10th year: The Bonners Ferry Rotary Club announced the recipients of the 2012 scholarships and honoured them at a dessert reception last Thursday at the Kootenai Inn.

Americans 'Never Too Old to Play:' Every May since 1963, when President John F. Kennedy designated May as "Senior Citizens Month," people in towns and cities across the country have come together to celebrate the enormous contributions of older Americans.

Sheriff's Log
May 20
Legion sets Memorial Day schedule: American Legion Boundary Post 55 is pleased to once again sponsor Bonners Ferry's annual Memorial Day Parade onMonday, May 28. "Service to Country" is the theme of this year's event.

Youth Theatre gearing up for 2012: The Bonners Ferry Summer Youth Theatre is seeking performers ages 3 to 20 who are interested in being involved in our fifth season of bringing musical theatre to North Idaho.

A lot going on at Valley View: As you can see from the list below, we have A LOT going on at Valley View! For the volunteers who have helped us all year, please join us at the Volunteer Appreciation on June 4th at 9 a.m.

Mutt Strut coming Saturday: This May will mark the second year that Pawsitive Works has sponsored the ever popular community "Mutt Strut," a 5k dog run. On May 26 at
dogs and humans will take off from the fairgrounds to run or walk along the scenic
Kootenai
River
.
May 18
Dual credit opportunities growing at BFHS: It took her several years to be able to offer it to her students, but Bonners Ferry High School Spanish teacher Linda Hall jumped through myriad hoops to make hers the first academic class in Boundary County to offer students dual credit, saving them big dollars when they graduate and move on to college.

Free rapid HIV testing offered: In recognition of National HIV Testing Day on June 1, Panhandle Health District will offer free Rapid HIV testing in its offices in all five northern counties at specific times throughout June. The rapid tests produce results in about 15 minutes.

Venus to transit sun in rare display: On June 5, 2012, Venus will pass across the face of the sun, producing a silhouette that no one alive today will likely see again.
May 16
Readers respond to Smith upset: I've been covering local elections in Boundary County for more than 20 years, and yesterday's primary went pretty much as I'd anticipated with one exception; Commissioner Ron Smith's 198-vote loss to challenger Lee Pinkerton.

Museum gets $2,000 grant: The Boundary County Historical Museum, Bonners Ferry, was awarded $2,000 for local interpretive exhibits to accompany the Smithsonian exhibit "The Way We Worked," on display from May 12 through June 23, 2012.

New road-kill rules take effect: New rules approved during Idaho's recent legislative session allow people to recover, possess and sell certain wildlife killed by accidental vehicle collisions.

Solar eclipse coming Sunday: Something strange is about to happen to the shadows beneath your feet. On Sunday, May 20, the Moon will pass in front of the sun, transforming sunbeams across the Pacific side of Earth into fat crescents and thin rings of light.
May 15
2012 Boundary County primary election results
Pinkerton upsets Smith: With 32.8% of registered Boundary County voters casting ballots today, only one race saw a primary incumbent ousted, as long-time public servant Ron Smith, who has served the county as both sheriff and county commissioner, fell to challenger Lee Pinkerton, 999 votes to 801.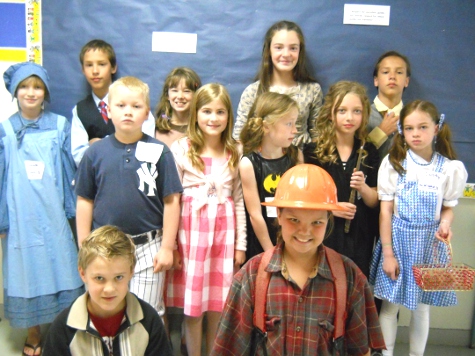 Tuesday, May 15, was Valley View's "dress as your favorite character from a book or famous person from history day." All participants earned a certificate and classroom winners earned a giant pencil. "It was really awesome," said fifth grader Randy Burdett from Mrs. Johnson's class. The classroom winners were: Presidents JFK and Richard Nixon, Elvis Presley, Laura Ingalls, Paul Bunyan, Lucy Pevancy, Nancy Drew, Derek Jeter, Batgirl, Bellatrix Lestrange, Dorothy, and Sacagewea.
'Handsome Men' vie for Mr. BFHS: On the night of April 20, 2012, the lights of the Becker Auditorium shone down on 17 elated high school senior men, also known as The Handsome Men's Club.
Time to fly! Spring is really here! This is one of the most beautiful times of year to be outside - the fields and trees are a vibrant green, and the brilliant blue sky outlines the snow peaked mountains and the brilliant white clouds. It is the time of year fill the plane with gas and take to the skies!
Crapo, Risch work to save PILT funding: Idaho Senators Mike Crapo and Jim Risch have sent a letter to the Senate conferees of the transportation conference committee, urging them to keep the Payments in Lieu of Taxes (PILT) and county payment programs in the final version of the legislation.
U.S., Canada work to ease cross-border business: Secretary of Homeland Security Janet Napolitano and Canada's Minister of Citizenship, Immigration and Multiculturalism, Jason Kenney, announced yesterday joint consultations with stakeholders on cross-border business - increasing efforts to facilitate business travel between the United States and Canada.
PHD hosting free teen dental party: Panhandle Health District will give teens from low-income families residing in Bonner and Boundary counties protection for their teeth and more at a dental party May 31 at the Sandpoint Teen Center, 104 S. Division Ave. in Sandpoint.
Count Commission minutes, April 30 - May 1
Court dispositions and sheriff's log
May 14
Coming back ... slowly: It happened in an instant April 22, so sudden and subtle that I didn't even know my life had changed profoundly until I reached for a glass of ice tea. It's the reason you've seen so little change on these pages for the past several weeks. By Mike Weland.

Ashby to receive Idaho Medal of Honor: Idaho State Police Corporal Allen Ashby, the son of Mike and Linda Ashby, Moyie Springs, is one of 10 peace officers and two firefighters set to recieve the Idaho Medal of Honor from Governor Butch Otter on Friday, May 18.

The Pearl celebrates youth: "Swingin' on a Star," the award-winning Bonners Ferry children's choir, takes the stage at the Pearl at 7 p.m. Friday May 18. The celebration of Bonners Ferry's amazing talented youth continues at 7 p.m. Saturday, May 19, when "On Stage at the Pearl" presents Gabriel Feller and Lauren Skye Palmer in concert.

Open house set at Snyder Guard Station: The Bonners Ferry Ranger District is proud to announce a celebration of the history and recent renovation of the historic Snyder Guard Station.

Curves celebrating Women's Health Week: Curves of Bonners Ferry will give a free 30-day membership to any non-member who visits the club during regular operating hours throughout National Women's Health Week, May 13-19.
There were no newsbf.com updates from May 1 through May 14 due to publisher Mike Weland's stroke April 22.
Obituaries
Darryl G. "Bud" Larsen, February 7, 1936 ~ May 23, 2012
Sun Yong Frederickson: March 8, 1938 ~ May 18, 2012
Mary A. Nail, December 18, 1936 ~ May 19, 2012
Sports
Volleyball opportunities abound this summer: Even though we're still waiting for that final day of school and the start of summer vacation, Badger head volleyball coach Janis Tucker is encouraging players to "keep moving," and there are several upcoming camps to ensure you're moving in the right direction.
Badgers represent community well: I had a great weekend traveling to Eagle, Idaho, with the Badger track team for the State 3A Championships. They represented Bonners Ferry well!
Adam Hall competes at 2012 Olympic trials: Every wrestler dreams of the Olympics, including Adam Hall, former Bonners Ferry Badger and current assistant wrestling coach at Columbia University. Hall, the son of Roland and Linda Hall, Bonners Ferry, competed in the 2012 Olympic Trials in Iowa City in an effort to represent the United States at the 2012 Summer Olympics in London.
June 9 is Free Fishing Day in Idaho: Saturday, June 9, is Free Fishing Day in Idaho, and the Idaho Department of Fish and Game invites veteran and novice anglers of all ages, residents and nonresidents alike, to celebrate the day by fishing anywhere in Idaho without a license.
Letters
Al Amato: The Boundary Volunteer Ambulance Association ultimatum moved me to contact you because we served together on the ambulance. I served on BVA for 17 years, and paid quite a price in my personal life doing so, but I did it because I couldn't stop. I felt a responsibility to help my neighbors ...
Edna Runyan: Well, the date is arriving soon. Next Friday, June 1, is our next meeting at the ambulance barn at 4:15 p.m. to continue to plan out the July 4 BBQ event to benefit stroke victim Mike Weland.
Back to archives