Boundary County Archives ~ August, 2011
Home
Sports
Social
Obituaries
Events
Letters
News
August 28
'Traffic hazard' turns out to be man in the road: An odd call was made to sheriffs dispatch at 8:15 p.m. Friday, reporting a "traffic hazard" on U.S. 95 in front of the Conoco Station.

City may be looking at more utility rate hikes: After a city council meeting August 8, the Bonners Ferry City Council may soon be looking at further rate hikes to maintain and upgrade an aging water and sewer system after a bleak report by superintendent Jim Fritsche.
August 26
Mama Griz subpoenaed to testify: In a move that surprised even the most wizened court watchers, it has been learned that prosecutors in the U.S. vs. Jeremy Hill case have, with great difficulty, had a subpoena served on the grizzly sow whose two year old silvertip male offspring was shot and killed in Boundary County on Mother's Day.


Trinity Lutheran gearing up for centennial: Pastor Bruce Barth and the congregation at Trinity Lutheran Church in Bonners Ferry are gearing up for the 100th anniversary of the church's charter, which takes place Sunday, September 11. Plans are underway to make the weekend special in honor of the event.



County prosecutor never involved in Hill case: On May 8, 2011, Jeremy Hill, a lifetime member of the Boundary County community, was involved in an incident that not only disrupted the lifestyle of his family but has also raised serious concerns within the community I serve as Boundary County Prosecutor.


Idaho's US Senators seek justice for Hill: Both Idaho U.S. Senators Mike Crapo and Jim Risch released statements today urging justice for Porthill resident Jeremy Hill, facing a federal charge for killing a threatened grizzly bear May 8, both also calling for reform of the Endangered Species Act (ESA) under which Hill was charged.


Logging truck overturns on Highway 2: 11:30 a.m: A logging truck overturned on Highway 2 at about 10:11 a.m. today, spilling a load of logs across the highway and blocking traffic in both directions for what is expected to be several hours.
August 25
Corrections: News Bonners Ferry has erroneously reported that the bear allegedly killed by Jeremy Hill was a grown sow; in fact, the sow fled the property and the bear killed was a two-year-old male cub. News Bonners Ferry also, early in its coverage, reported that the Hills' had three children when, in fact, they have six. Those errors have been corrected, and I regret promulgating false information.
August 24
Governor Otter weighs in on Grizzly killing: Idaho Govenor C.L. "Butch" Otter on Monday weighed in on the side of Boundary County Commissioners and Jeremy Hill, sending a letter to Secretary of the Interior Ken Salazar asking him to review the case and do what he can to assist people defending their right to protect themselves, their families and their property.


September Boundary County Preparedness Month: Boundary County Commissioners on Monday signed a proclamation declaring September Preparedness Month in Boundary County to encourage people and families throughout the community to learn, plan and prepare for local emergencies.


Bonners Ferry City Council minutes, August 16
Commissioners minutes, August 8-9
Bonners Ferry City Council minutes, August 8
August 23
Jury trial set in grizzly killing: Jeremy and Rachel Hill and their children would much rather have spent the day at home today celebrating the 14th birthday of their eldest daughter, Jasmine. Instead, they faced an overly intimidating morning in federal court more than 100 miles away in Coeur d'Alene, where Jeremy heard the charges and potential penalties he faces, entered a not guilty plea, and had a jury trial date set for 9:30 a.m. Tuesday, October 4.
August 22

Fire destroys Bussard Lake Road home: A fast-moving fire destroyed a home owned by Terri Duncan and Dennis Fitch this evening at 403 Bussard Lake Road. The call came to sheriffs dispatchers at 7:51 p.m. when an employee at Feist Creek Resort, alerted by someone from the home seeking to use the telephone, called 911.



Everyone's a winner at the Boundary County Fair: "I think it was a great one because there is hardly no negative comment out there this year," said fair administrator Sandy Schnepf of this year's fair just ended. "Wow, people are amazing aren't they?" Amazing people who did what is essential to any such undertaking … they participated in just about everything offered, including myriad fun contests and competitions. Here are the winners of just some of them, along with more pictures.


Commissioners seek to have Hill exonterated: Boundary County Commissioners today sent a letter to the Idaho U.S. Congressional delegation, Idaho District 1 Legislators and Idaho Governor Butch Otter seeking to defend a citizen's right to protect their families despite Endangered Species Act laws that make doing so illegal.


Court records and sheriffs log
August 21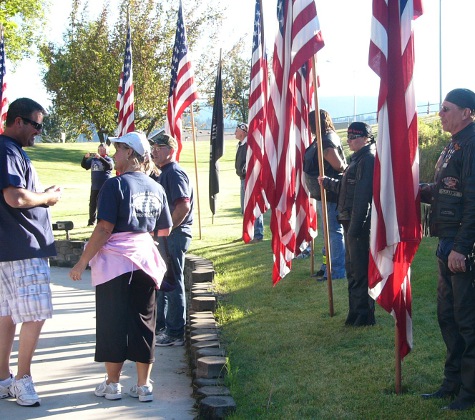 Flags were borne solemnly and proudly Saturday during Idaho's first Run for the Fallen Saturday, an event that is all but certain to become a state-wide tradition.
Run for the Fallen touched with sadness and joy: The first of Idaho's "Runs for the Fallen" was a solemn and moving event, but also one of joy, as more than 200 people paid tribute to the state's soldiers fallen in the line of duty in this nation's war on terror. A News Bonners Ferry pictorial, all photos link to original, high-resolution image.
August 20

A 4-H Market Animal Sale to remember: In E.B. White's "Charlotte's Web," Charlotte the spider extolled the virtues of Wilbur, calling him "some pig," in an attempt to save him from the butcher's block. Had Charlotte been at the fair barn during the 4-H Market animal sale Friday evening, she'd have run out of both web space and words to extol the virtues of Jasmine Hill's 4-H swine, Regina, who sold 15 times, raising a record $19,558, and who in the end was returned to Jasmine. Readers comments added ... and added!
August 19
Still having fun at the fair! It's getting close to wrapping up, but perhaps the biggest day of the Boundary County Fair comes on its final day tomorrow, when people from throughout the county can take at least one day off to come to town to visit with friends and neighbors they may not have seen in awhile and to catch up on all that makes living in this county great. In addition, Saturday night is Family Fun Night ... the judging is over, the sales are done, now it's time to relax and have a little fun! A continued News Bonners Ferry pictorial.


Commissioners side with defendant in grizzly death: Arraignment for a Boundary County man facing federal felony charges for killing a grizzly bear at his home May 8 has been scheduled for 10 a.m. Tuesday, August 23, in Federal District Court in Coeur d'Alene. And while County Commissioners have been working with state and federal agencies for years to see the grizzly bear population recover, in this case, they're standing beside the defendant, Jeremy Hill.


Idaho job growth remains flat: Idaho's seasonally adjusted unemployment rate remained unchanged at 9.4 percent for July. For Boundary County, the unemployment rate went up six-tenths of a percent since June, rising from 14.5 percent to 15.1 percent, though still below last July's rate of 15.9 percent.
August 18

116th Cavalry Brigade soldiers returning home: After their yearlong mobilization and deployment to Iraq in support of Operation New Dawn, the deployed members of the 116th Cavalry Brigade Combat Team (116th CBCT) are scheduled to return to the U.S. beginning late this month.


No charges in arrest death: Boundary County Prosecutor Jack Douglas, concurring with the findings of an Idaho State Police investigation, will not bring charges against the Boundary County Sheriff's Deputy involved in an early morning arrest May 16 that left a Mt. Shasta, California, man dead.


Another busy week at the airport: It was another eventful week at the airport, and the staff at Northern Air is thrilled to announce three happy new pilots.
August 17
2011 Boundary County Fair underway ~ And it's out of this world!: A News Bonners Ferry pictorial on the first day of the fair! All photos (including the one above) link to the original, high-resolution image from which they were derived, so you can save them if you'd like.


Cheer the families of the fallen: Folks from throughout Boundary County are being asked to take a few minutes out of your day Saturday afternoon to line the final leg of the 44 kilometer Run for the Fallen to let the Gold Star families of those 44 Idahoans who gave their all in service to this country did not give their lives in vain.
August 15
Camp ground fight lands two in jail, doo dah: A report of a fight in progress at Smith Lake Campground Sunday evening kept deputies tied up for hours and resulted in two people shifting camp to the Boundary County Jail. Ironically, the worst injured in the fracas was the one who ended up being charged.


More than 150 sign up for Run for the Fallen: Idaho's first "Run for the Fallen," which will honor 44 Idaho soldiers who gave their lives in service to our nation in wars since September 11, 2001, takes place at 7:45 a.m. Saturday at the Veteran's Memorial at the Boundary County Library, and more than 150 people from around the region have already signed up.


Court record and Sheriffs log
August 14
Personal income up slightly in Idaho: Total personal income rose modestly in both rural and urban Idaho in 2010 after significant recession-imposed declines in 2009.


Looking for 80-acres for rendezvous: Pacific Primitive Rendezvous is a corporation that, since 1995, has held re-enactments of the historic North America period of 1670 through 1840 in one of several western states, and they'd like to bring their June, 2013, camp to Boundary County.


Governor unveils new web pages on healthcare: Governor C.L. "Butch" Otter last week unveiled a new "Healthcare in
Idaho
" section of his Web site this week, providing an online resource for Idahoans to learn about efforts taking place to improve
Idaho
's system of healthcare.


Bonners Ferry City Council minutes, August 2
Bonners Ferry City Council minutes, July 26 special meeting
Bonners Ferry City Council minutes, July 22 special meeting
Bonners Ferry City Council minutes, July 19
August 10

Three new pilots trained at Northern Air: There are three new pilots in our midst. Jeremy Belford-Cave of Australia and Dave Noel of Bonners Ferry both successfully completed their private pilot check-rides on August 2, and Heather Vergie of Creston, British Columbia, completed hers on August 9.
Local GOP tables 'no confidence' discussion: The Boundary County Republican Central Committee met for the first time since Region 1 GOP leaders issued a vote of "no confidence" to Idaho Senators Shawn Keough and Joyce Broadsword, and about 25 people attended. But after a long meeting, the discussion was tabled until next month.
August 8
RCC agenda not received ... here it is: Some elected precinct committeemen and officials of the Boundary County Republican Central Committee expressed concern today that they hadn't received the notice or agenda for tomorrow afternoon's meeting, as is the usual practice, nor has the agenda been published on the RCC website, http://www.boundarycountyrepublicans.com, also a usual practice. Bonners Ferry News has obtained a copy and re-types it here as a courtesy.


Local man facing federal charges for grizzly death: Jeremy Hill, 33, Bonners Ferry, is facing federal charges for allegedly killing an endangered grizzly bear on his property May 8.


Zoning man anticipates a fine birthday: Boundary County zoning administrator Mike Weland has big plans for his 53rd birthday August 29 ... the culmination of a process that began seven years ago, and one required by state law to occur every ten years.


Court records and sheriffs log
August 7
Kitchen fire scotches plans for BBQ cookoff: A second kitchen fire at the home of "Border" Bob Hovish has forced him to cancel the Back Yard BBQ Cook Off competition originally scheduled for September 10.


School board agenda, August 9
Moyie Springs City Council minutes
August 6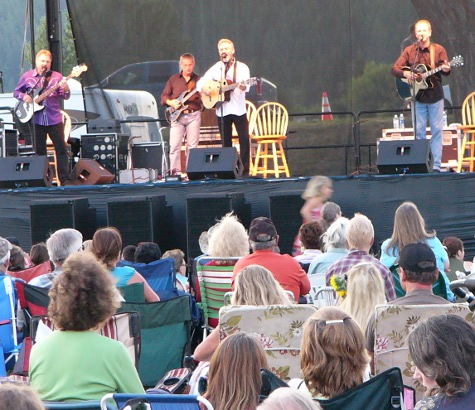 The legendary Gatlin Brothers rocked a big crowd at the fairgrounds Saturday evening, headlining Mountain Fest II, an afternoon-long celebration brought to Bonners Ferry by Mountain Springs Church.
Business windows should be 'Out of this World:' Hey all ... the business fair is right around the corner. The fair royalty will come around to all the businesses Tuesday, August 16, to judge your windows. To qualify, your window has to be decorated with the fair theme, "OUT OF THIS WORLD."


Kinley Nelson loses fight for life: News Bonners Ferry is saddened to report that Kinley Nelson, the son of retired Trinity Lutheran Church Pastor Larry Nelson and his wife, Barb, died Friday of injuries sustained in a motorcycle accident that occured Monday, August 1, on Canyon View Drive in Moyie Springs. Services will be held at 11 a.m. Friday, August 12, at Trinity Lutheran Church.


Local RCC meeting could prove contentious: For the first time since Idaho Region 1 Republican Central Committee leaders voted to deliver Donna Capurso's vote of "no confidence" to Idaho Senators Shawn Keough and Joyce Broadsword over issues involving redistricting, the Boundary County Republican Central Committee will meet at 5:15 p.m. Tuesday, August 9. Discussion is apt to be lively, and the public is welcome.


Evergreen Fresh Produce sprouting back after scare: After having spent 23 years quietly building a Boundary County agri-business growing sprouts, Fred and Nadine Scharf, owners of Evergreen Fresh Produce, Moyie Springs, were afraid it had all come to an end after the FDA issued what turned out to be a false salmonella alarm in late June.


Hearing set on county zoning ordinance: Boundary County Commissioners will hold a special meeting at 5:30 p.m. Monday, August 29, 2011, in the Extension Office meeting room to hold public hearing on the proposed Boundary County Zoning and Subdivision Ordinance, as amended by the Planning and Zoning Commission.
August 4
4-H offers Friday program for kids: How does a Boundary County parent reconcile a five-day work week and a four-day school week? By enrolling kids in the Explore 4-H Afterschool Fun!" program, that's how!
August 3
Motorcyclist killed in collision with deer: A north-bound motorcyclist collided with a deer just south of Wohali's Wrecking Yard on U.S. 95 at about 4:45 p.m. today, claiming the lives of both the motorcyclist, George Kirk, 64, Moyie Springs, and the deer. Updated 7 a.m. August 4
August 2
Local man seriously injured in motorcycle crash: A Bonners Ferry man suffered serious injuries Monday night in a single vehicle motorcycle accident on Canyon View Drive. Updated, 4:15 p.m. August 2
August 1
Five injured in head-on collision: Five people were treated Friday, July 29, for injuries sustained in a head-on collision at the Cow Creek Y. Most of the injuries were minor.


Commissioners minutes, July 25-26
Court records and sheriffs log
Obituaries
Martha Lee "Jo" Gillard passed away on August 19, 2011, in Mt. Vernon, Washington. There will be a graveside service at 2 p.m. Saturday, August 27, at Grandview Cemetery in Bonners Ferry.
Kinley Todd Nelson, August 14, 1962 ~ August 5, 2011
George Michael Kirk, May 3, 1947 ~ August 3, 2011
Francis Carlene Vetter, June 24, 1918 ~ August 4, 2011
Social
Hello, Nevaeh Elaine! Keera Christenson and Kyle Murphy of Bonners Ferry are the proud parents of Nevaeh Elaine Murphy, born August 7 at Bonner General Hospital, Sandpoint.
Beggerlys welcome new daughter: Simon and Melissa Beggerly, Bonners Ferry, welcomed a new bundle of joy into their lives July 7 with the birth of their daughter, Mahayla Jean Beggerly, at Bonner General Hospital, Sandpoint.
Recent marriages
Auraura Solum gets baby sister: Little Auraura Solum is glad to finally have a little sister to play after Lilyana Leigh Solum was born August 5 in Lynden, Washington, to parents Scott and Ashley Solum.
Hello Keegan Curtiss: Samantha Schmitz and Darrell Curtiss Jr., both of Bonners Ferry, are the proud parents of Keegan James Curtiss, who was born July 3 at Bonner General Hospital, Sandpoint.
Ken Carpenter celebrating 60!: Ken Carpenter ... lifelong resident, Army veteran and all aroud great guy, is opening his yard, at the request of his wife, Joy, his goats, chickens and weiner dogs, to a celebration of his 60th birthday.
Sports
Girls soccer team falls to Kellogg: The Badger girls soccer team hosted the Kellogg Wildcats Saturday, and gave a good account of themselves, though they came away with a tick mark in the loss column after Kellogg's Lilly Weske scored two goals late in the second half.

5th and 6th grade tackle football starting: The Bonners Ferry 5th and 6th grade tackle football program starts at 4:30 p.m. Tuesday, September 6 at the High School Baseball field with sign-ups and equipment being passed out.

Vandal Spirit Fridays kick off August 26: The University of Idaho hosts a kick-off celebration from 5:30 to 7 p.m. Friday, August 26, to mark the start of Vandal Spirit Fridays for the new academic and athletic year. The event will take place at the Palouse Empire Mall, 1850 W. Pullman Road in Moscow.

Letters
Roy Krohmer: In response to Rich Landers' "Time will tell if Hill needed to shoot grizzly" I find many of Landers' comments to be unnecessary and asinine.
Darrell Kerby: You have sent and I have received either directly by you bringing money into the office, or mailing to Jeremy Hill Benefit Fund, P O Box 882, Bonners Ferry, Idaho 83805, or through you sending your matching donation directly to Wells Fargo ... drum roll ...
Bernadette Kirk-Bonner and family: On Behalf of Idaho's Gold Star families we would like to extend a HUGE THANK YOU to all of the people in this wonderful town who made Run for the Fallen a successful event! Just for the record, we had 99 runners/walkers covering 362 miles for 44 fallen soldiers, as well as another 57 active participants in the event itself.
Robin Merrifield: I just wanted to take a moment to thank you for providing thorough, accurate and up-to-date news for our community. Additionally, the writing you do is refreshing and grammatically correct.
Anonymous, Spokane: It is wonderful that the community is supporting the Hill family the way that they are! Armed with the facts about what occurred that day, the community has come together to assist someone that they believed acted not only to protect him family, but also in accordance with the federal laws in place to protect both wild animals and humans.
Donna Capurso: On Mother's Day, May 8, 2011, 33 year old Jeremy Hill was enjoying this special occasion with his family. He had no idea that his life was about to change; and all because he did the right thing. After his guests had left, four of his six children were outside playing and shooting baskets in front of the house. His 5 year old daughter Aspen, the 8 year old twin girls Mercedes and Sierra, and his 11 year old son Cameron were engrossed in their play not realizing that three grizzly bears had come onto their property from the trees through the yard at the back of their home, not 40 yards away from where they were playing.
Raymond Danly: To Pastor Larry and Mrs. Barb Nelson and family: My name is Ray Danly. I'm the dad of Eric, Greg and C.J. Danly. We lived in Bonners Ferry from 1975 to 1982 while I was associated with the Bonners Ferry Police Department. My sons all knew Kinley, and Eric was his close friend and classmate. My kids are scattered now and I live in Hayden, Idaho. We are all very distressed to learn of Kinley's passing, and your family is in our thoughts and prayers during this trying time.
July, 2011 Archive →