Back to Archives Home
News Bonners Ferry
is dedicated to providing news and information of importance to the people of Boundary County, Idaho, when it happens, sometimes as it happens.

Our archives will stay on line as long as News Bonners Ferry does ... accessible to everyone and providing a look back at the news and information that was presented on these pages.
Obituaries
Johnnie Allen Cook, April 20, 1945 ~ November 22, 2016
Jakie Fern Cassatt, July 8, 1941 ~ November 16, 2016
Elizabeth (Beth) Y. Ashton, July 18, 1920 ~ November 25, 2016
Harold A. Skelton, May 29, 1930 ~ November 6, 2016
Ruth Marion Hoglan, October 20, 1932 ~ November 17, 2016
Julia Marie Morton Hankey, July 20, 1920 ~ November 16, 2016
Arlene Lynette Merrifield Schnuerle, August 5, 1949 ~ November 11, 2016
Lura Alice Dinning, May 11, 1931 ~ November 12, 2016
Suzi Guy, February 16, 1966 ~ October 30, 2016
Raymond Edward "Ed" Hartbarger, February 3, 1943 ~ November 5, 2016
Francis Fredrick "Fred" Richardson, August 20, 1930 ~ August 19, 2016
Peter Gordon Alastair "Al" Brown, April 29, 1937 ~ October 31, 2016
Lucilia Rebello Emerson, January 10, 1923 ~ October 29, 2016
Social
Mt. Hall fifth grade honor students announced: Mt Hall Elementary School's fifth grade Honor Roll students for the first quarter are ...
UMC to offer free meals: The Bonners Ferry United Methodist Church will offer a free meal from 11:30 a.m. to 1 p.m. every Thursday as a community service, starting December 1, in their basement hall at 6568 Lincoln Street.

Five new CNAs graduate: Congratulations to Boundary Community Hospital's newest CNA Graduates! These Certified Nursing Assistants just completed the Fall Semester thanks to Boundary Community Hospital and North Idaho College with instructor Tracey Maas, RN.

Holman to play in All-Northwest symphony: Bonners Ferry High School senior Amy Holman was recently selected from a field of over 4,600 music students from Idaho, Montana, Wyoming, Washington, Oregon and Alaska who auditioned for a chair in the All-Northwest High School Wind Symphony.
Becky James talks Victim's Services: Becky James spoke to Bonners Ferry Rotary members today about the Boundary County Victim Services, formerly known as Boundary County Youth Crisis and Domestic Violence Hotline.
Potluck to honor BCSD 101's best of the best: School District 101 has named its best of the best Employees of the Year, and a potluck celebration in their honor will be held Monday at the home of Roland and Linda Hall.

Eby wins at Woody's Pawn & Gun: George Eby was the lucky winner in the recent gun give away at Woody's Pawn & Gun!

Thompson new avalanche center director: The Idaho Panhandle Avalanche Center (IPAC) welcomes Jeff Thompson as the new Executive Director. Jeff joins IPAC with a wealth of knowledge and experience, including 20 years of snow industry safety.
Sports
IDFG land deals could open 11,000 North Idaho acres: The Idaho Fish and Game Commission on Thursday, November 17, approved two land deals that will provide and protect public access to about 11,000 acres on various properties available for hunting, angling and trapping.

Walking a mile in an elk's shoes ... er: For the past several years Idaho Department of Fish and Game has been working on a project to get to know our elk a bit better. Efforts and methods to monitor elk populations have always been a high priority for IDFG but recently new technology has given us an opportunity to walk a mile in our elk's "shoes"… ermm … I mean "hooves," like we never have before.
Upland game bird seasons look good: Idaho Fish and Game reminds hunters that with several upland bird seasons extending into December and January, they may find hunting areas uncrowded and the action top notch.
Hunters urged to dispose of carcasses responsibly: Hunters who are successful at harvesting a big game animal are required by law to remove and care for all of the edible meat.
Idaho Trails Association holding membership drive: Idaho's network of backcountry trails leads hikers to and through some of our state's most beautiful, hidden places. As one of the state's fastest growing volunteer-driven organizations dedicated to clearing backcountry trails, Idaho Trails Association needs you to help restore and maintain this invaluable legacy.
Badgers well represented in All-IML: Badger senior Ethan Erickson was recently named one of two Intermountain League Linemen of the Year, and he joins four other Badgers on this year's IML first all-league team offense.

KR Gun Club kicks off another season: The Kootenai Valley Rifle Clubs are starting a new season. Rifle shooting is not just for hunting or plinking, to some it is a serious sport of precision. A group of dedicated Boundary County residents meet weekly from October to May to participate in the sport of small-bore target shooting.
Letters
Rosanne Smith: Moyie Springs News ... Seems the city council has filled the position of mayor with Chad Farrens and appointed Heather Andrews to fill the seat vacated by Farrens. Also, in other news you won't see with your monthly water bill ...
Henry Yoder: I want to thank all the volunteers who participated in the second annual community thanksgiving meal last night and especially Tammy Schneider and Lisa Carle for your hard work and good job in running the operation.
Joe Bialek: The framers of the U.S. Constitution created the Electoral College as a result of a compromise for the presidential election process.
U.S. Senator Mike Crapo: Idaho fifth grader Isabella Gerard submitted this poem, titled "Pristine Idaho Mountains," which was selected at random from more than 200 entries from students across Idaho. As the contest winner, Isabella will be flown to Washington, D.C. to join House Speaker Paul Ryan and me to push the button to light the national tree.
Elden Koon and Craig Johnson: On behalf of the Boundary Community Hospital, the Board of Trustees and staff, we would like to thank the community for passing the Supplemental Levy for the hospital.
Jim Paulus: I wish to express my whole hearted support for the hospital levy. Why is the hospital asking us tax payers for this? Because the hospital wants our citizens in our community to be able to get the very best medical care possible, without taking our needs out of our community.
Tony McDermott: Heather Scott should not be reelected. While I would agree that she has a small group of hard core, extreme republican supporters in the Panhandle most of the voters have not closely followed her performance as our representative.
Charlene Godec: Take a look at Heather Scott's website as well as the Idaho Redoubt News. You will be able to see what Scott really stands for in North Idaho.

Home
News
Sports
Social
Obituaries
Events
Letters
Boundary County Archives ~ November 2016
News
November 29
Santa's Chariots of Fire Parade coming: Boundary Ambulance will be participating with area Fire Departments in "Santa's Chariots of Fire Parade" on Saturday, December 3.
Winter weather could finally be coming: After a relatively mild November, the arrival of December could finally bring the onset of winter, with the next six days in a row offering a good chance of snowfall, and temperatures predicted to drop into the single digits a week from today.
BCH hosting Giving Tree: This year, Boundary Community Hospital is sponsoring a Christmas Giving Tree in the Outpatient Services Lobby for the benefit of Boundary County children through the BoCo Backpacks program.
November 28
Man arrested for disturbance at Naples School: On November 21 at about 8:15 a.m., Naples Elementary School contacted the Sheriff's Office to report that they had placed the school on lock down due to an intruder being on the school grounds.
November 25
'Tis the Season!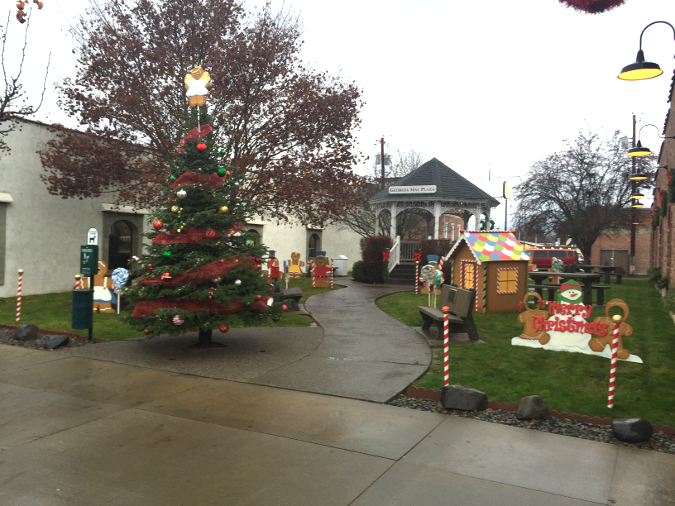 NewsBF photo
All was still at Georgia Mae Plaza this afternoon after Barb LePoidevan had put the finishing touches on her beautiful Gingerbread Wonderland and all the arrangements made for the arrival of Santa. By 4 p.m., though, excited children and their parents thronged as Santa arrived aboard a Bonners Ferry fire truck and the Bonners Ferry Christmas season was officially begun!
November 24
Santa schedules annual visit: Santa arrives in downtown Bonners Ferry tomorrow evening to be on hand at Georgia Mae Plaza as the Mayor throws the switch to light the Bonners Ferry Christmas tree!
ISP working to resolve *ISP issues: Through public feedback, Idaho State Police recently learned that *ISP (*477) was not working for some users with certain mobile phones.
November 23
Storm watch upgraded to warning: The winter storm watch issued yesterday by the National Weather Service has been upgraded to a winter storm warning in North Idaho and northeast Washington at elevations above 3,000 feet. The warning, which calls for heavy snow, is in effect from 8 a.m. Thanksgiving day through 10 a.m. Friday.
November 22
Winter storm could affect Thanksgiving travel: The National Weather Service has issued a winter storm watch in effect from late Wednesday night through 10 a.m. Friday for an area including Boundary and Bonner Counties.
Licenses, ID cards running late: The Idaho Division of Motor Vehicles wants to reassure customers who have not yet received a driver's license or identification card applied for in the last five weeks.
School district seeks bids: Boundary County School District 101 is seeking sealed bids for work to be done on the Valley View Elementary gym floor. The deadline is 2 p.m. Monday, December 19.

FFA digging their vermicompost project: The Idaho Farm Bureau recently chose the Bonners Ferry FFA Chapter as a recipient of the Agricultural and Environmental Research Foundation Grant, and now several local FFA members are up to their elbows in worms.

Rotary members make holiday delivery: Bonners Ferry Rotary heard the call from the local food back a few weeks ago ... so yesterday, a group of representatives gathered together to help pay for and transfer 20 turkeys to the food bank for Thanksgiving Dinner Baskets.
Idaho's unemployment holds at 3.8 percent: Idaho's seasonally adjusted unemployment rate held at 3.8 percent in October. Nationally, the unemployment rate decreased from 5 percent to 4.9 percent.
Boundary County Commission minutes: October 31, November 7, November 14
November 19
Care-n-Share gearing up for its 34th season: Applications for this year's Care-N-Share are now available at the Panhandle Health Clinic, 7402 Caribou Street, Bonners Ferry, and at the Bamboo Room Crafts Store, 35 Automation Lane on Highway 95 about a mile north of Three Mile, to help ensure that no child in Boundary County has to go without a gift at Christmas.
Sandpoint woman dies in US 95 collision: A Sandpoint woman died shortly after midnight this morning after allegedly running a stop sign on Selle Road and Highway 95.
November 18
Festival of Trees becomes Festival of Hearts: "When is the Festival of Trees this year?" is a question heard around Bonners Ferry recently. After 20 successful years, the Fry Healthcare Foundation has decided to change their major fundraising event from December to February.
Legion hosting Holiday Craft Show: American Legion Post 55 will hold their annual Holiday Craft Show in support of local veterans at the Boundary County fairgrounds Memorial and Exhibit Halls from 10 a.m. to 6 p.m. Friday, December 2, and from 9 a.m. to 4 p.m. Saturday, December 3.
ISP offering winter driving class: The Idaho State Police will hold a Road Safe Class for the 2016/2017 winter driving season from 9 a.m. to noon Saturday, December 10, at the Idaho State Police District 1 Office, W615 Wilbur Avenue, Coeur d'Alene.
November 16

BCMS students staying busy: Report cards were sent home Monday, November 14, to all parents who were unable to attend parent teacher conferences. Our Penny War fundraiser was a fantastic success! Through the efforts of our students and the competitive nature of our school, we were able to raise $1,517.40 to donate to local organizations. By Principal David Miles II
Idaho among top states in volunteering: Idaho ranks fifth in the nation in volunteering, according to the latest report on volunteerism by the Corporation for National and Community Service.
November 15

ISP collecting cards, letters for wounded Boise officers: In support of Boise Police Chief William Bones' recent invitation to school children from across Idaho to write cards and letters of support to the officers and their families, the Idaho State Police, in cooperation with the Boise Police Department, will be serving as a collection point around the state for any cards or letters that members of the public would like sent to the two wounded Boise Police officers.
USFS seeks comment on Starry Goat Project: The U.S. Forest Service will prepare an Environmental Impact Statement (EIS) to disclose the environmental effects of commercial and non-commercial vegetation management activities, prescribed burning, watershed and recreation improvement activities on the Starry Goat Project in Boundary and Lincoln Counties.
Otter pays successful visit to China: Following his recent trade mission to China, Governor C.L. "Butch" Otter reported positive preliminary feedback from participating Idaho companies and organizations. "Our recent mission to China was one of the best we've had," Otter said.
Moyie Springs City Council minutes, October 5
November 11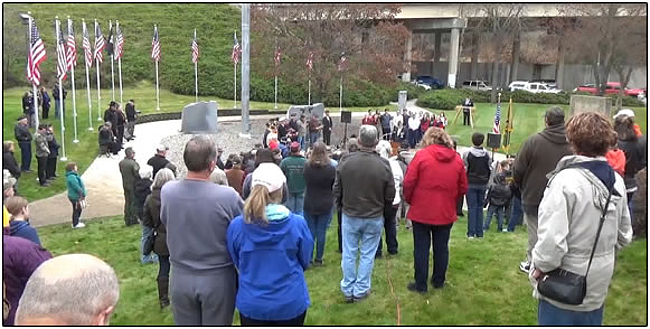 Community's veterans honored: On Friday, November 11, exactly at 11 a.m., a bell was solemnly struck to open Boundary County's Veteran's Day Memorial service. As that bell repeatedly sounded, it was joined by church bells throughout the community, all tolling at the eleventh hour, of the eleventh day, of the eleventh month in honor and recognition of veterans who have served our country.
November 9
Flags to be dedicated on Veterans Day: The public is invited to a memorial service at the Veterans Memorial Park in front of the Boundary County Library at 11 a.m. on Veterans Day November 11. Explorer Post 190 is proud to be able to be there to watch the flags they recently helped install get dedicated.
Americorps coaches needed in Idaho schools: The Idaho Department of Labor is looking to fill several positions for Future in Action AmeriCorps college and career coaches to work with students in Idaho schools where they will help create a school-wide, college-going culture and provide targeted services for students and families with high school-to-college career transitions.
November 8
General Election 2016 results: With 91% voter turnout, Boundary County voters for the most part stood the Republican Party line in the 2016 General Election, voting Trump in a landslide, retaining Crapo in the U.S. Senate, Keough in the Idaho Senate and Sage Dixon in the House. Walt Kirby retained his seat as a county commissioner and Dave Kramer will be our new sheriff. In a much closer vote, the hospital levy passed.

Flags now fly over the Port: Since the establishment of the Bonners Ferry Port of Entry (POE) more than two decades ago, there has always been something missing — the United States flag, the Idaho State flag and the POW/MIA flag. Thanks to the request of POE Inspector Tom Chaney, the efforts of other District 1 staff, an area business that donated and poured concrete for the base of the flagpole, and an ample amount of sweat equity, the Colors are now flying at the port.
Free Christmas trees for fourth graders: The Idaho Panhandle National Forests will issue free Christmas tree permits for fourth graders with an Every Kid in a Park pass!
Redneck entertainment in Moyie Springs: "Hurry Up, it's goin' to burn good." With those words, I was once again invited to attending a so-called innocent event. By Mike Ashby
Boundary County Commission minutes, October 24
Boundary County Commission minutes, October 11
November 7

Augusta Street project complete: A group of Bonners Ferry officials and school district personnel were joined Thursday by a happy bunch of Valley View kindergarten students to celebrate the completion of a a street project designed, among other things, to make it easier and safer for Valley View students to get to and from school.

ISP trooper injured escorting National Christmas Tree: An Idaho State Police trooper suffered minor injuries Sunday afternoon in a collision while she was leading the motorcade escorting the National Christmas Tree from McCall to Boise. The 80-foot Englemann spruce was cut last week on the Payette National Forest near McCall.
November 6
Productive first quarter for the Wolverines and Wildcats! First quarter came to an official end on November 3, and what a productive first quarter it was! Mt. Hall Elementary and Naples Elementary started the school year running, and it doesn't seem like we have slowed down since. By Principal Lisa Iverson
November 5
Hearing set on zone ordinance changes: The Boundary County Commissioners will meet to conduct a public hearing at 1:30 p.m. Monday, December 5, in the Commissioners Office at the County Courthouse, 6452 Kootenai Street, Bonners Ferry to review Application 16-111, which proposes changes to Land Use Ordinance 2015-2.

Ashby promoted to ISP sergeant: Idaho State Police Corporal Allen Ashby, Coeur d'Alene, the son of Mike and Linda Ashby, Moyie Springs, and a Bonners Ferry High School graduate, has been promoted to patrol sergeant in District 1. Ashby began his law enforcement career as a reserve deputy with the Boundary County Sheriff's Office.
November 3
Spooky Citizens of the Month!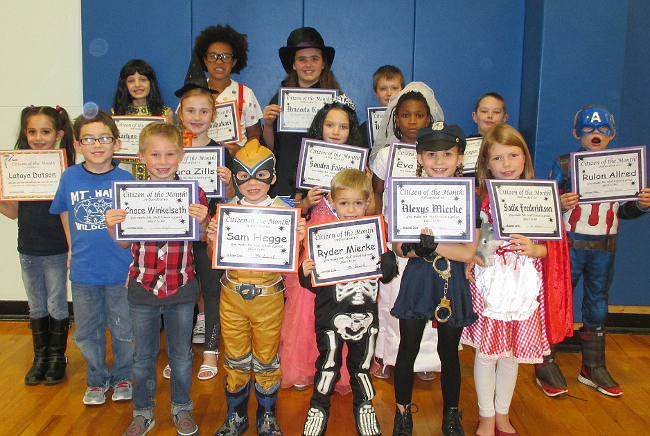 Mt. Hall school celebrated its October Citizens of the Month and Halloween on the same day!Pictured from left to right are: Back Row: Kaelynn Baisden, Asha Abubakari, Amanda Koehn, Wyatt McDonald. Middle Row: Lataya Dutson, Clara Zills, Sondra Fairchild, Eva Willis, Logan DesMarais, Rulon Allred. Front Row: Colton Carpenter, Chace Winkelseth, Sam Hegge, Ryder Mierke, Alexys mierke, Sadie Frederickson.
Where to get word on school closures: With the winter months at hand, Boundary County School District No. 101 wants to inform patrons that school closures due to weather/road conditions will be announced on the following ...
Idaho high schoolers invited to help make roads safer: Idaho high school students are encouraged to use technology to help make roads safer through the National Institute for Advanced Transportation Technology distracted-driving safety messaging challenge going on through November 18.
Back to archives