Boundary County Archives ~ December, 2012
Home
News
Sports
Social
Obituaries
Events
Letters
News
December 31
County loses a quiet icon: Darvie McAbee, age 90, passed away in his humble home north of Three Mile on Saturday. He was a waif, a little guy few of us had the privilege to know. He didn't draw attention to himself, though he had claim to fame. Many of us older folks grew up with him, and didn't even know it.
December 29
Deadline Monday for CNA scholarship: Boundary Community Hospital is providing one scholarship for the Certified Nursing Assistant class that is starting in January. You will need to act fast; the application for the scholarship needs submitted by Monday, January 7.


City council to meet Wednesday: Due to the New Year's Day holiday, the regular meeting of the Bonners Ferry City Council has been postponed until 7 p.m. Wednesday, January 2.


Naples community watch meeting set: With a recent spate of burglaries and incidences of malicious mischief raising concerns in the south half of Boundary County, a preliminary meeting to establish a Naples Community Watch program.


Accident disrupting traffic
10:10 a.m.: A multi-vehicle accident has just been reported on Highway 95 near the Kootenai River Inn and southbound traffic is blocked. Emergency crews are responding. 10:47 a.m.: Emergency units are clearing from the scene of the accident on Highway 95 near the Kootenai River Inn. No injuries were reported.
December 28
Highway 95 closed
5:40 p.m. Dec. 28: Emergency crews are responding to a injury collision on Highway 95 near MacArthur Lake that occurred at about 5:15 p.m. It is reported to be a two vehicle head on collision with at least three people with minor injuries. If driving in that area, use extreme caution. Traffic is moving in one direction with traffic control as of 5:45 p.m. None of those involved are requesting medical treatment.
December 24
We need the joy that Christmas brings: This is the time of year we gather with our loved ones to share the joy of the season. Many of us have long-held traditions such as singing Christmas carols with friends or taking our children and grandchildren to see Santa. We meet at the table for Christmas dinner and exchange gifts with one another. By U.S. Congressman Raul Labrador.


Have a safe New Year's Eve on Idaho Roads: The Idaho Transportation department joins Idaho law enforcement agencies statewide to make Idaho's highways safer by funding education campaigns and high-visibility impaired driving patrols through New Year's Day.



Senator Crapo facing DUI charge: U.S. Senator Mike Crapo, representing Idaho's First District, is facing a charge of DUI after being arrested Sunday morning after running a stop sign in Alexandria, Virginia. Crapo, 61, was arrested at 12:45 a.m. December 23 by an officer on routine patrol, who saw a vehicle go through a red light at the intersection of Hume and Mount Vernon Avenues without stopping.


Court records and sheriff's log
December 23
Christmas bird count coming Friday: The National Audubon Society's 113th annual Christmas Bird Count takes place Friday, and once again Bonners Ferry birders are pitching in.
December 21
Spirit Lake man arrested for local sex crime: The Spirit Lake Police Department has arrested Joseph B. Herbst, age 38, from Spirit Lake, for several counts of lewd conduct with a minor under the age of 16 and one count of delivery of a controlled substance to a minor in Boundary County.


Villelli seeking zone map amendment: The Boundary County Planning and Zoning Commission will hold public hearing at 5:30 p.m. Thursday, January17, to accept public comment on Zone Map Amendment application 12-042 by Richard A. Villelli to change the 12.65 acre parcel, RP64N02E152111A, current zoning Agriculture/Forestry to Suburban.


January to be busy at Valley View: The first half the school year has come to an end! Our focus this year has and will remain keeping Valley View Elementary School safe, civil and productive! Compared to last year at this time, we have shown great progress.


Search for child pornographer ends with arrest: The nationwide search for a "Jane Doe" suspected child pornographer, by U.S. Immigration and Customs Enforcement's Homeland Security Investigations, ended Wednesday with the arrest of an Okaloosa County, Florida, woman on federal charges for child pornography production.


Climate change effects speeding up: Plant and animal species are shifting their geographic ranges and the timing of their life events – such as flowering, laying eggs or migrating – at faster rates than researchers documented just a few years ago, according to a technical report on biodiversity and ecosystems used as scientific input for the 2013 Third National Climate Assessment.


Idaho unemployment below seven percent: Idaho's seasonally adjusted unemployment rate in November dropped below seven percent for the first time in three and a half years as more than a thousand idled workers found new jobs. Thirty-six of the 44 counties posted declines in their jobless rates from October and all but Custer County had rates lower than a year ago.
December 20
Snow Day II


Tonight's Moose Madness matchup has been cancelled, according to school board trustee David Brinkman, as both schools are closed today due to snow. The match against Sandpoint will be rescheduled sometime in January.
The National Weather Service says there is a 100% chance of snow today with additional accumulations of three to seven inches; an 80% chance tonight with one to three more inches, and an 80% chance of snow Friday with the possibility of one more inch.
December 19

After devastating illness, Beyond is on its way back! When Beyond closed its doors in the fall of 2011, many people in Boundary County were sad to see it go, and none more so than owners Tom and Theresa Stahl, who were forced to make the agonizing decision for the sake of Theresa's health. Now, more than a year later, Theresa's debilitating condition is slowly improving, and Beyond is back, via the Internet.


Annexation talk over for now: After a long and often bitter attempt to annex over 70 parcels into the City of Bonners Ferry, the attempt ended last night in a tie breaker.



ICE seeking child pornographer: U.S. Immigration and Customs Enforcement's Homeland Security Investigations urgently needs the public's help to identify an unidentified woman for producing child pornography and the rescue of a four- to five-year-old victim of sexual exploitation.


Woodbury lends voice in national discussion: With the tragic killings of 20 innocent children last Friday, the subject of mental illness is the hot topic affecting many families, schools and professionals across the United States. Lon Woodbury, Bonners Ferry, an independent educational consultant and President of Struggling Teens.com, was among a panel of guests discussing it Tuesday on Huffingtom Post Live.
December 18
More winter on the way: Enjoy today's relatively mild conditions ... according to the National Weather Service, Spokane, another round of winter is on the way, and a winter storm watch goes into effect Wednesday afternoon.
December 17
Christmas Lights winners named
:
The first News Bonners Ferry Boundary County Christmas Lights contest is now over, and despite only three entrants, all three are winners! Renee Clarkson, who lives at 216 Flintlock Lane, is the first place finisher, earning her a $100 gift certificate from Huckleberry Variety Christmas Store and one wild huckleberry pie from Artisan Bakers.


Mourning the loss of a great doctor
:
Dr. Lucero was part of the medical community in Boundary County for over 33 years. Arriving in Bonners Ferry in 1971, he worked with Dr. Edwards as a Physician Assistant. He left the community to continue his education and obtain a degree as a medical doctor from the University of Utah School of Medicine in Salt Lake City, Utah. He then returned to Bonners Ferry setting up a solo practice.


Thinking the unthinkable
:
In the wake of another horrific national tragedy, it's easy to talk about guns. But it's time to talk about mental illness. Three days before 20 year-old Adam Lanza killed his mother, then opened fire on a classroom full of Connecticut kindergartners, my 13-year old son Michael (name changed) missed his bus because he was wearing the wrong color pants. An article by Liza Long.

Court records and sheriff's log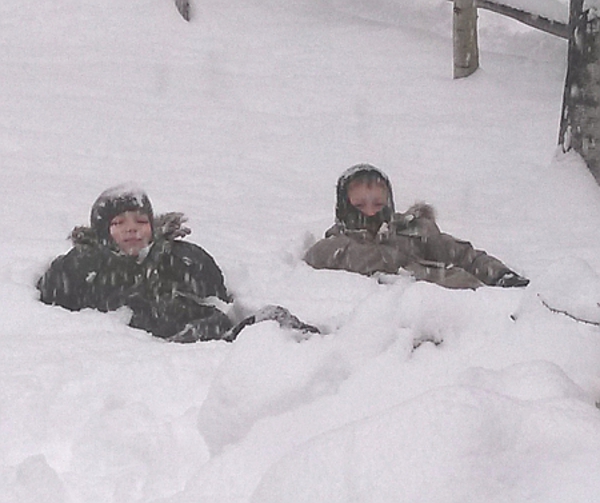 Falen and Joziah Eberhardt wasted very little time this morning, getting outside on the North Hill and enjoying the very reason they had a snow day at school.
Photo by Marsha Eberhardt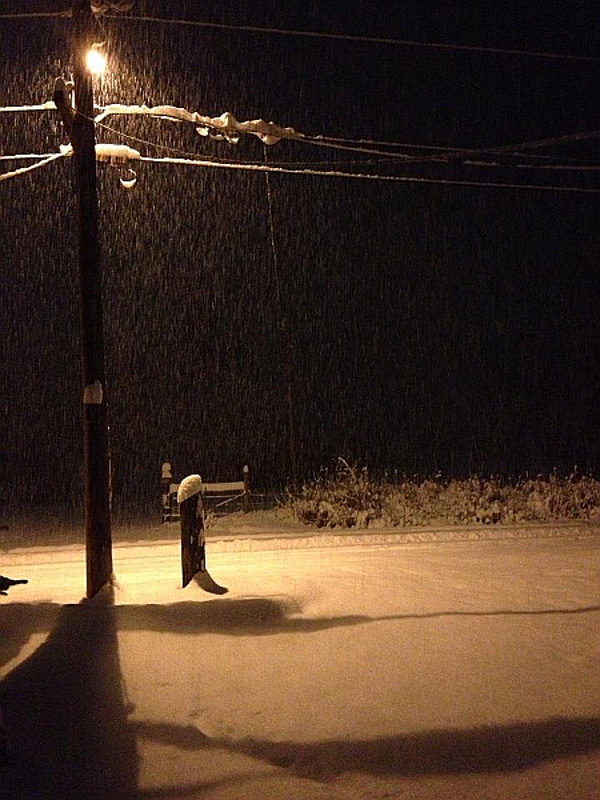 A picture of the overnight snow in Bonners Ferry taken early today by Deborah Youngwirth, whose husband, John, has been going since 1:30 a.m. leading the Bonners Ferry road crew in plowing city streets. State and county crews also got an early start today.
Boundary County public schools have been closed
today due to snow.

Up to a foot of new snow now blankets Boundary County. Bonners Ferry crews were called in to begin plowing at about 1:30 a.m. today. County and state crews are also working to clear roads. Use extreme caution driving in this morning! The Boundary County Sheriffs Office reports that there are no particular trouble spots on the county's roads this morning; they're icy and slick everywhere. Please drive safely during your commute to work this morning; it's still snowing and visibility is limited. Give yourself extra time and remember that everyone you share the road with is just getting re-used to snowy driving conditions. Lake Pend Oreille and West Bonner County School District schools are also closed today due to snow. Troy, Montana schools are open.

The Bonners Ferry Senior Center is closed today as well.
December 16
Dr. Ernie Lucero passes: News Bonners Ferry is saddened to report the sudden passing of long-time Bonners Ferry medical practitioner Dr. Ernie Lucero, who died at his home Saturday of an apparent heart attack, his wife, Carol, at his side.


Winter storm warning issued for snow: The National Weather Service, Spokane, has cancelled a winter weather advisory and replaced it with a winter weather warning in effect from 8 p.m. today through 4 p.m. Monday, calling for heavy snow.
December 15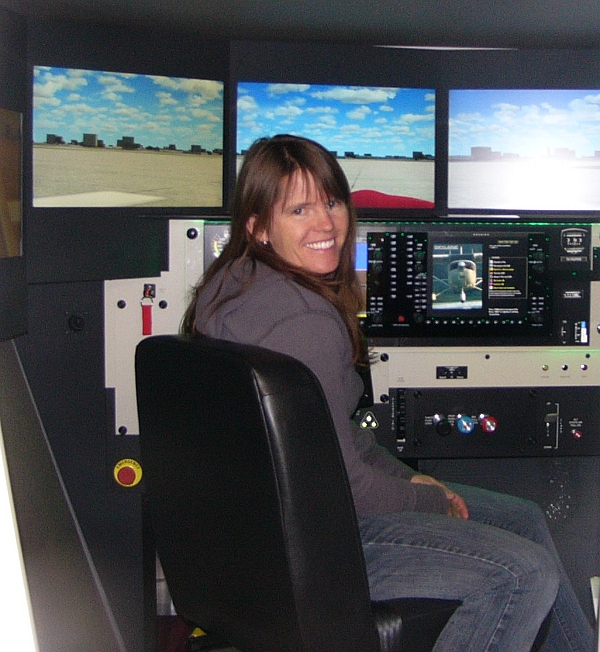 Boundary County Airport office manager Ashley Glaza at the controls of Northern Air's new Redbird FMX Flight Simulator.
Technology lands at Northern Air: Since early November, there have been several serious incidents at the Boundary County Airport, but no one's read about them until now. Pilots flying in severe weather beyond their experience or ability and crashing, numerous incidences of equipment malfunction or failure. All right at our small airport at Three Mile. The Federal Aviation Administration knows all about it; instead of being alarmed, they're glad to see it.


Flags at half staff for Connecticut victims: As a mark of respect for the victims of the senseless acts of violence perpetrated on December 14, 2012, in Newtown, Connecticut, by the authority vested in me as President of the United States by the Constitution and the laws of the United States of America, I hereby order that the flag of the United States shall be flown at half-staff at the White House and upon all public buildings and grounds, at all military posts and naval stations, and on all naval vessels of the Federal Government in the District of Columbia and throughout the United States and its Territories and possessions until sunset, December 18, 2012.
December 14
First half property taxes due by December 20: Boundary County Treasurer Jenny Fessler would like to remind all Boundary County taxpayers that the deadline for paying the first half of this year's taxes without penalty is Thursday, December 20.
December 12
Community choirs set to brighten Christmas: For over 40 years the Bonners Ferry Community Choir has been ushering in Christmas for Boundary County. This year 90 singers in the combined Bonners Ferry Community Choir and Swingin' on a Star Children's Choir have worked since October to prepare "Christmas Across America."



Looking for host at Snyder Guard Station: The Bonners Ferry Ranger District is seeking volunteers for the Snyder Guard Station Host Position starting in the spring 2013. This is an ideal position for friendly, high energy folks looking for an inexpensive, quiet setting in return for host responsibilities on a National Forest treasure.


Drive safe for the holidays: The Idaho Transportation Department reminds motorists to make this holiday season safer for everyone by choosing to not drive impaired.



Moyie Springs City Council minutes, Nov. 7
December 10
Valley View Student Council minutes: The December 6th meeting began at 11:45 in Mrs. Funkhouser's classroom. Katie took role; all members were present. After a review of the November Minutes, a change in the spelling of Rikki's last name was made. Cameron made a motion to approve the minutes. This was seconded by Katie and approved.


Court records and sheriff's log
December 8
Raffle to raise funds for ISP trooper fighting cancer: An Idaho State Police sergeant is facing the fight of his life against a serious form of bone cancer, and his fellow peace officers from throughout the region are rallying to help him and his family.
December 7
Sturgeon spill tests end in failure: A controversial experiment affecting northwest Montana and northernmost Idaho has ended by legal edict after failed attempts -- using large surges of water -- to draw white sturgeon farther up the Kootenai River to the most desirable spawning habitat.


Tribe gets go-ahead on new hatchery: The Northwest Power and Conservation Council on Tuesday gave the go-ahead for the Kootenai Tribe of Idaho to proceed with final design and begin construction on a $16.2 million project to upgrade an existing white sturgeon hatchery at Bonners Ferry, and build a new hatchery upstream to support both sturgeon and burbot restoration goals.


Forest Service warming hut burned: Forest Service law enforcement officers are investigating the destruction of the Skitwish Warming Hut, which was discovered this morning to have been destroyed by fire sometime during the past 48 hours.
December 6
Flags at half-staff Friday: On Friday, December 7, all U.S. flags at federal, state and public facilities in the United States will be flown at half-staff in commemoration of Pearl Harbor Remembrance Day.


Moscow Boys Choir to perform: The Moscow Boys Choir is a careful blending of heavenly soprano voices with the rich resonance of bass, tenor and baritone sound that brings a distinct Russian flavor to the choral experience, and they're coming to Bonners Ferry at 7 p.m. Sunday, December 16, at the Bonners Ferry High School Becker Auditorium.



Bondurant sentenced on weapons charge: George J. Bondurant, 35, Bonners Ferry, was sentenced Monday in United States District Court to ten months in prison followed by three years of supervised release for felon in possession of a firearm, U.S. Attorney Wendy J. Olson announced.


State educators seek to help guide K-12 policy: Leaders in education assembled Thursday, November 29, to begin finding solutions for immediate and long-term issues facing the future of K-12 education in Idaho.


Winter weather advisory issued: The National weather Service, Spokane, issued a winter weather advisory including Boundary County for possibly heavy snow today and Friday. The advisory is in effect from 6 a.m. to 10 p.m. today.


School district offers to explain M&O: Boundary County School District 101 Superintendent Dick Conley extends an invitation to talk with any group or organization that would like additional information on the up-coming Maintenance and Operations levy (M&O) that the School District will be running in March.
December 3
IPNF snowmobile guide available: As snowmobiling season arrives on the Idaho Panhandle National Forests (IPNF) snowmobilers are strongly encouraged to obtain a copy of the 2012-2013 Snowmobile Guide for the Priest Lake, Bonners Ferry and Sandpoint Ranger Districts.


Court records and sheriff's log
December 1
Winter storm watch upgraded: A winter storm watch issued yesterday by the National weather service has been upgraded to a winter storm warning, which is in effect from 10 p.m. today to 4 p.m. Sunday above 3,500 feet.
Obituaries
Darvie Charles McAbee,
May 27, 1922 ~ December 29, 2012
Edward Raymond Jennings,
April 11, 1925 ~ December 25, 2012
Phillip Eugene Justus, Jr.
, April 23, 1925 ~ December 21, 2012
Ernest Anthony Lucero, MD
, October 21, 1947 ~ December 15, 2012
Frances Marie Colby
, January 21, 1930 ~ December 16, 2012
Eric William "Chris" Christenson
January 31, 1924 ~ December 11, 2012
Gladys 'Toni' Esther Dale
, February 19, 1923 ~ December 10, 2012
Donna Mae (Melander) Sanders
, November 25, 2012
Tyler R. Piper
, May 20, 1948 ~ December 5, 2012
Lester 'Les' Herbert Richardson
, March 21, 1939 ~ November 25, 2012
Mary M. 'Penny' Taylor,

October 20, 1946 ~ November 25, 2012
Robert Bruce Aitken
, September 12, 1962 ~ November 22, 2012
Social
Courtney Tucker nominated for Naval Academy: Senator Jim Risch has announced his nominations to the United States Military Academies for the 2013 school year, including Courtney Tucker, Moyie Springs, nominated for attendance at the U.S. Naval Academy, Annapolis, Maryland.

Klaus, Riebli exchange vows: Rachel Klaus and Luke Riebli, both of Bonners Ferry, were married October 6 at Mountain Springs Church. After a honeymoon in Park City, Utah, the couple returned to make their home in Bonners Ferry.
Sports
Badger wrestlers fall to Libby: In their first dual meet of the season, the Bonners Ferry Badgers wrestling team fell to a dominating performance by the Libby Loggers, 61-24.
Letters
Rosanne Smith: The Big Picture ... Step 1: Close Riverside School ...
Congressman Raul Labrador: Last week, the Business Roundtable, an association of some of America's largest multinational corporations, sent a letter to Congress suggesting that tax hikes on individual taxpayers and small businesses should be considered to avert the 'fiscal cliff.'
Amanda Fairchild: The audacious hypocrisy of a public school board insuring that they will fund a school for another school year, then voting to close it mid-year, with only six weeks' notice leaves my mouth hanging open!
Congressman Raul Labrador: Last week, the Business Roundtable, an association of some of America's largest multinational corporations, sent a letter to Congress suggesting that tax hikes on individual taxpayers and small businesses should be considered to avert the 'fiscal cliff.'
Amanda Fairchild: The audacious hypocrisy of a public school board insuring that they will fund a school for another school year, then voting to close it mid-year, with only six weeks' notice leaves my mouth hanging open!
Congressman Raul Labrador: Last week the U.S. Fish and Wildlife Service announced the final critical habitat designation for woodland caribou. Under this designation, 30,010 acres in Idaho's Boundary County and Washington's Pend Oreille County will be designated critical habitat for woodland caribou, which have been listed as an endangered species since 1984.
Dennis Watson: On Friday, October 26, I picked up my daughter for the weekend. I noticed she had a deep hoarse cough.
Back to archives