Boundary County Archives ~ September, 2012
Home
News
Sports
Social
Obituaries
Events
Letters
News
September 27
County commission minutes, September 10-11
September 25
Badgers gearing up for 'Dig Pink' rally: Thousands of volleyball teams across the nation will participate this fall in the Side-Out Foundation's annual "Dig Pink" National Breast Cancer Awareness Rally, including the Bonners Ferry Badgers, participating now for the third year.



Relief in a sling ... a love story: When a person undergoes and survives an event that suddenly and profoundly changes life as it was just moments ago, be it something as dramatic as a crash or as subtle as a stroke, a whole new world of learning opens up. This article, though, isn't about strokes or head injuries. It's a love story, and a tale of how small the world has become, thanks to the Internet. It's about how one man's love for a woman brought she and I a measure of relief, and how that relief has the potential to help millions.


Court records and sheriff's log
September 23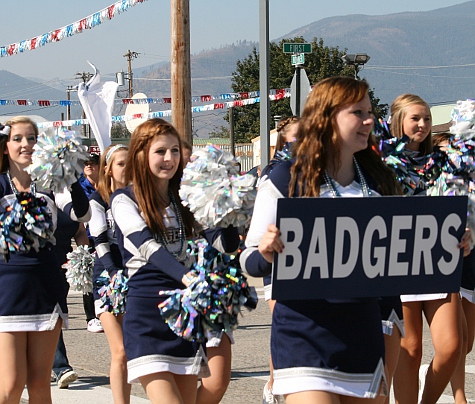 County celebrates Badger homecoming: Though the game didn't go as Badger fans hoped, homecoming weekend in Boundary County ushered in the first day of autumn in fine style, replete with Badger pride and events that brought folks from all around the county together.
September 21
Church delving into 'Heart of Africa:' Works of art, guest speakers, special music and more will be featured at the "Deeper Into the Heart of Africa" Mission Conference Saturday and Sunday at Bridgeway Assembly of God Church, 66027 Highway 2, Bonners Ferry.


Tiki B, Hippie Chic teaming up: Tiki Bighouse, owner of Tiki B Photography, and Jess Bremer, owner of Hippie Chic Cosmetics, 6389 Kootenai Street, are teaming up to give ladies a pampering, refreshing experience on Saturday, September 29, with a makeover and a mini photo shoot.

Railroad crossings to be closed: Union Pacific Railroad will be repairing three Boundary County railroad crossings next week, and those who drive the Moyie River Road should plan to take alternate routes.


Conditions tinder dry in Idaho woods: A lack of rain and persistent warm and dry weather across the Idaho Panhandle are combining to keep much of the forest in "very high" fire danger as we transition into fall.


Idaho's jobless rate, labor force down: Fewer people seeking available jobs was enough to nudge Idaho's seasonally adjusted unemployment rate down a tenth of a percentage point to 7.4 percent in August.
September 19
Missing teen home safe: Deya Avery, 15, who went missing from her Moyie Springs home this morning, arrived back home safely at about 9:15 p.m. tonight after her brother found her at the home of a friend.



Search on for missing Moyie teen: Family and friends are on the look-out for a Moyie Springs teen who went missing from her home this morning. A missing person report has been filed with the sheriff's office, but the girl will be listed as a runaway until 48 hours pass, when her status will be changed to missing if she hasn't returned home.


Kootenay Lake board to meet here: The International Kootenay Lake Board of Control will hold a public meeting September 26 in Bonners Ferry.


Habitat for Humanity raffling log cabin: Boundary County Habitat for Humanity is now selling raffle tickets for a log cabin. The tickets are $5 each or five for $20 and can be purchased at Super 1 Customer Service Desk in Bonners Ferry.


Be 'Fit and Fall Proof:' Panhandle Health District (PHD) encourages seniors in the five northern counties to recognize Falls Prevention Awareness Week, September 16-22, by joining a free Fit and Fall Proof™ fitness class in their area.


Valley View a hive of activity: The Valley View staff enjoyed a great turn out for Back to School Night/Open House last week. The hallways were packed and filled with excited chatter. Our PTO also held the first meeting last week to set the course for the year.
September 18

Police looking for man over NIC threats: Coeur d'Alene Police officers responded to the North Idaho College Campus at 7 a.m. Monday in reference to a possible threat made by a male student. Officers learned the student, identified as Patrick Ryan Budig, 33, Spokane, made a statement on September 14 to a disability counselor that was a veiled threat.



Beautiful blue skies draw pilots: Not a cloud in the sky! And it looks like it's going to stay that way for a while, which is good news for aviators and we have had a lot of them at the airport this summer!

Governor seeks 'Service Before Self' nominees: Every year the Medal of Honor Society and Foundation ask Idaho Governor Butch Otter to help find citizen heroes in Idaho who demonstrated a willingness to go above and beyond by making some sort of sacrifice for others.


USFS gate opening dates change: As summer draws to a close, and hunters and firewood collectors take to the woods, the Idaho Panhandle National Forests remind visitors that some gate opening dates have changed from November 16 to December 1 in the Purcell and Cabinet Mountains on the east side of the Idaho Panhandle National Forests' North (Kaniksu) Zone.


Black bear on the move: In preparation for denning, Idaho's black bears are on the move, looking for any and all food sources that might help them gain weight.


Levee work underway: Repairs to the Bonners Ferry levee started Monday as U.S. Army Corps of Engineers' officials began work to rebuild two damaged segments totaling approximately 350 feet on the Kootenai River's left bank at Bonners Ferry.


Labrador introduces STEM jobs bill: Idaho First District Congressman Raúl Labrador has introduced the STEM Jobs Act in conjunction with House Judiciary Committee Chairman Lamar Smith, Texas, and Representative Bob Goodlatte, Virginia.


Court records and sheriff's log
September 15

Naples school wants to enrich volunteers: The magnet school program at Naples Elementary, now in its second year, has been delightfully successful, not only for the students who get to combine a variety of real-world activities with their regular curriculum, but for the volunteers who share with them their experiences and interests. They're looking, once again, for volunteers.


REACH group forming: With the Boundary County School District 101 Board of Trustees voting at the last minute last spring to fill all the teaching positions at the Naples and Mt. Hall Elementary School, and the threat that budget cuts will again raise that specter this year, parents and school staff alike are banding together to form the REACH group, Reaching Educational Achievement through Community Help.


Flu shots available October 3: Boundary County folks aged 18 and older can help protect themselves from the flu this season by getting a flu shot Wednesday, October 3, at the Senior Center, 6635 Lincoln Street.
September 13
Local team walking to end Alzheimer's: A team of walkers from Bonners Ferry will be participating in the Walk to End Alzheimer's September 22 in Coeur d'Alene, and thy need your help, either by walking with them or by donating to the cause.


Labrador awarded for backing small business: Idaho First District Congressman Raúl Labrador today was presented the Guardian of Small Business Award, given by the National Federation of Independent Business (NFIB), the nation's leading small business association.
September 12

Bondurant pleads guilty to weapons charge: George John Bondurant, 34, Bonners Ferry, pleaded guilty yesterday in United States District Court in Coeur d'Alene, to being a felon in possession of a firearm, United States Attorney Wendy J. Olson announced today.


Flags at half staff for fallen ambassador: President Barack Obama today ordered United States flag be flown at half-staff through sunset Sunday, September 16, as a mark of respect for fallen U.S. Ambassador John Christopher Stevens and three other Americans killed Tuesday in an attack on the U.S. consulate in Benghazi, Libya.


Fighting childhood obesity: Panhandle Health District (PHD) will launch an ambitious program designed to reduce childhood obesity in the five northern counties in Shoshone County this week.
September 11
Freeze warning through Thursday: The National Weather Service, Spokane, has issued a freeze warning in effect until 9 a.m. Thursday, September 13.


Swingin' on a Star auditions set: Auditions for "Swingin' on a Star: the Bonners Ferry Children's Choir" will begin at 4 p.m. Wednesday, September 19 and again on Wednesday, September 26. Auditions and choir practice will be held at the Pearl Theater, 7160 Ash Street, Bonners Ferry.


When dining out, look for the gold star: Starting this month, a certificate with a bright gold star will help diners in the five northern counties recognize food establishments for excellence in food safety. The recognized establishments have met all the state's standards of excellence for health and safety during their last regular inspection.


Moyie Springs City Council minutes, August 8
September 10
Why flags fly half staff Tuesday: On September 11, 2001, a bright autumn day was darkened by the worst attack on the American people in our history. Thousands of innocent men, women, and children perished when mighty towers collapsed in the heart of New York City and wreckage burned in Pennsylvania and at the Pentagon. They were family and friends, service members and first responders -- and the tragedy of their loss left pain that will never fade and scars our country will never forget.


Court records and sheriff's log
September 7

Eagles birthday party slated for kids Jerre and Jack: A birthday celebration for two Boundary County young 'uns, Jerre Stemmene, a kid at 85, and her little brother, Jack Snodgrass, a baby at just 75, will be held from 2 to 4 p.m. Saturday, September 15, at the Boundary County Eagles Aerie, 7159 Second Street, Bonners Ferry.
September 6

"Eagle cam' going up at KNWR: Thanks to the Friends of the Kootenai National Wildlife Refuge and a grant the group received from the National Fish and Wildlife Foundation, visitors at the Kootenai National Wildlife Refuge will soon be able to get a bird's eye view of one of the region's most majestic raptors, thanks to a new "Eagle Cam" currently being installed.


KREM sending Tom Sherry to Badger game: With over 5700 votes cast, 57% favored sending KREM 2 meteorologist Tom Sherry packing his famous tailgate party from Spokane to Medical Lake High School Friday evening, where the Cardinals will be hosting the Bonners Ferry Badgers.
September 5
Wind advisory issued for tonight: The National Weather Service at 7:38 p.m. issued a wind advisory for an area including Boundary County until 5 a.m. Thursday. Sustained northeast winds of 20 to 35 mils per hour could gust to 50 mph, causing blowing dust. There have already been reports of trees in power lines as well as intermittent power outages.



KREM's Tom Sherry could see a Badger game: Spokane's KREM 2 meteorologist Tom Sherry is going to a prep football game Friday night, and if the votes come in, it could be to see the Badgers as they take on Medical Lake, Washington. Don't delay; voting ends tonight!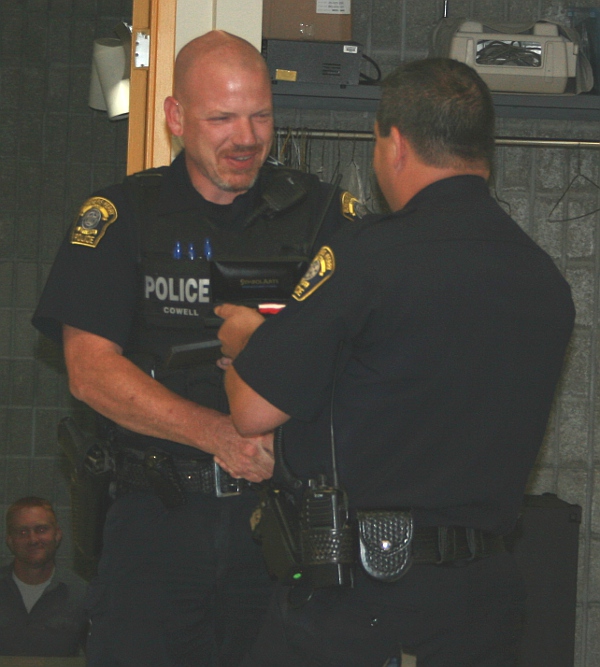 Officer Willie Cowell honored: An observant officer who took all the right actions during what started out as a routine traffic stop early March 18 wound up taking eight pounds of heroin off the street with two in custody on felony charges, one of them wanted in California for a double murder. For his actions, Bonners Ferry Police Officer Willie Cowell was awarded the Distinguished Service Medal August 29 by Chief Steve Benkula.



Anya Krmpotich visits home, Rotary: Anya Krmpotich, one of the 13 Rotary Scholarship recipients for 2012, was unavailable to receive her scholarship in person at the dessert social at the Kootenai River Inn in May. She stopped by in August to say, "thank you."


A fair old time ...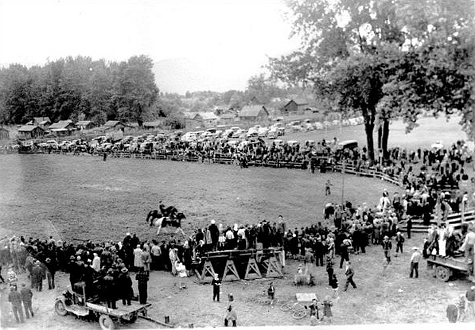 For those of you who enjoyed this year's Boundary County Fair, here's a glimpse of what it looked like in 1940 ... we've come a long way. The photo was featured in the Bonners Ferry Rotary Club's August newsletter.


New CNA class starts September 18: You can still register for the Certified Nursing Assistant (CNA) class offered by Boundary Community Hospital starting Tuesday, September 18. CNA training can begin as early as age 16. A high school or college diploma is not a prerequisite for either the training or the certification.


Court records and sheriffs log
County commission minutes, August 27-28
September 1

Funkhouser guilty in Old's death: John August Funkhouser, 62, remains in jail after a Boundary County jury found him guilty Thursday of second degree murder for causing the death of Anna Old, 43, who died of a single gunshot wound to the back of the head in late October or early November, 2011, in the home they shared in Moravia.


Dr. Thompson returns to the race track: On Sunday, September 9, Dr. Jim Thompson of Thompson Chiropractic Center in Bonners Ferry will compete in the master's division of the U.S. National Road Cycling Championships held in Bend, Oregon.
Obituaries
Barbara "Bobby" Barnes Goodson
Linda Hubbard Langness
Thomas Duane Vinion
David Rex Baker
Nancy Vernice Eason
David Allen Tesdall
Glen Edward Grove
Lila Cassadi Swift
Delmar D. Unruh
Social

Evelyn Ward celebrates 102: Several members of a Bonners Ferry family flew to North Carolina this week to celebrate a very special occasion, as family matriarch Evelyn Ward, born September 5, 1910, celebrated her 102nd birthday.
Sports
Badger girls have best match yet: The Badger varsity volleyball team chalked up another loss Tuesday evening as they hosted old league rivals the St. Maries Lumberjacks, but their level of intensity was cranked to high for what coach Janis Tucker called by far their best match of the season.
Badger soccer squads get homecoming wins: The homecoming coverage on this site inadvertently omitted two big highlights as the Badger soccer squads both sent the Priest River Spartans home in defeat, the boys in a 7-0 shutout, the girls winning 8-1.
Youth waterfowl hunting clinics Saturday: Registration is underway for the limited number of spots in the annual Youth Waterfowl Hunting Clinics sponsored by the Idaho Fish and Game Department's Panhandle Region.
Badger boys show tenacity: Last Thursday, September 13, the Badger boys soccer team faced a talented, experienced Sandpoint squad at Centennial Field.
Badger girls drop two in league: The Badger varsity volleyball team was competitive against the Timberlake Tigers Tuesday, but couldn't close, and the loss of starting setter Emma Kelly to a hand injury during warm-up Thursday threw the team in turmoil as they fell dismally to the Priest River Spartans.

'Cav' Cavendar sets personal best: The Bonners Ferry Badger cross country team experienced flat and fast courses at both invitationals last week. The Kellogg Invitational was held at the Pinehurst golf course on Thursday and included teams from Moscow, Potlatch, Priest River, Kellogg, Kootenai, and Troy, Idaho. The Badger girls took third, and the boys were second.
IDFG seeks comment on fishing rules: Idaho Fish and Game wants to hear from the public about proposed fishing rule changes.

Badger ladies hit a rough patch: It took five sets, but the Badger varsity volleyball team eked out a league win over Kellogg in front of a home crowd Tuesday, September 4, but the rest of the week's matches, seven in all, didn't go as well, with the Badgers playing tough, but coming up just short.
Boys soccer squad busy: The Badger boys soccer team had a busy series leading up to the first day of school, beating St. Maries Thursday to keep their league record perfect, falling Friday in a non-league game to Kalispell's Stillwater Christian, and ending with a tie Saturday with Coeur d'Alene JV.
Boys first, girls third at Priest River Invite: The Badger boys edged Timberlake by one point to claim the invite trophy at the Priest River Invitational August 30. Luke Reoch won the individual championship handily, looking "solid," according to Badger coach Paul Bonnell.
Badger JV shuts out Libby: On Saturday, August 25, the Bonners Ferry Badger JV football team traveled to Libby, Montana, to play the Libby Loggers, and won a 25-0 shutout.
Letters
Senator Mike Crapo: This year, Idaho has had more than 600 fires on federal land. More than 100 of these fires have burned in excess of 100 acres. As we take stock of where we go from here, we must continue to work to ensure that we are prepared for the worst, equipped with the best methods to deal with catastrophic fires and trained for mitigating the consequences of fires.
Gary Leonard: Many of you have indicated that there seems to be an increase in crime recently. My perception is burglaries have increased significantly over the past several years and drug use and juvenile drinking seems on the rise. There are a number of reasons for this increase but only one solution we can take action on today as a community. We need a community watch program.
Harv and Pam Martin: It's never easy to lose a child. My family and I, as EMTs, have seen that many times. We weren't ready for how so many shared with us our grief when our son, Ethan, laid down his life.
Tammy Satterlee: Politics. How many people under the age of 60 really give a flying rat's butt about politics?
Senator Mike Crapo: The phrase, "Kilroy was here," with a cartoon, is engraved on two remote spots on the National World War II Memorial. This is found on the memorial because American troops during World War II used it to leave their mark in various places they served.
Gary Leonard: In these times of ridiculous national politics, endless spending, and oppressive regulation, voting has never been more important. It is imperative that you exercise your voting privileges to garner control over your local politicians and issues.
Gary Leonard: When it comes to local politics, specifically our Sheriff's office, where do you stand? Are you informed, misinformed, or uninformed?
Congressman Raul Labrador: This week the Department of Labor will release its report on unemployment in the United States. This report is a candid look at whether the policies of the Obama administration have worked to help Americans find employment or whether they have done just the opposite. Unfortunately, the president's record is nothing to be proud of.
Back to archives