Boundary County Archives ~ April, 2012
Home
Sports
Social
Obituaries
Events
Letters
News
There were no newsbf.com updates through May 14 due to publisher Mike Weland's stroke April 22.
April 21
Head-on collision slows traffic on U.S. 95: A two vehicle head-on collision occurred at about 10:25 p.m. on U.S. 95 at Kootenai Trail Road.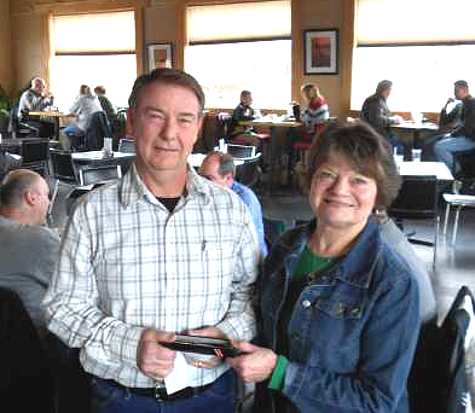 Standing inside what was once a downtown eyesore, Mike Naumann told the Rotary Club last month a little about what it took to convert an empty garage into a vibrant new downtown business, the Kootenai River Brewing Company.
Transforming a derelict into a vibrant business: In March, Kootenai River Brewing Company owner Mike Naumann told the Bonners Ferry Rotary Club a little bit about his background and about transforming an old eyesore in downtown Bonners Ferry into a vibrant gem.
Risk of flooding still high: With the record moisture that fell throughout the region in March, much of it snow at the higher elevations, and prolonged cool temperatures, local emergency managers are concerned that a warm up could bring significant local flooding. The Northwest River Forecast Center, part of the National Oceanic and Atmospheric Administration (NOAA), predicts that the elevation on the Kootenai River at Bonners Ferry could reach very close to 61 feet by early next weekend. Flood stage is 57 feet.
Bonners Ferry welcomes new police chief: The City of Bonners Ferry earlier this month welcomed a new chief of police to town, Steve Benkula, a 27-year law enforcement veteran from Twin Falls, Idaho.
SWISH replaces Valley View hoops: On April 18, Ron Sukenik, Bonners Ferry Rotary Club, and Gary Mohler, a devoted SWISH volunteer, delivered two new basketball hoops to the students at the Valley View School.
Hospital Auxiliary holding basket raffle: The Boundary Community Hospital Auxiliary is offering tickets for a beautiful basket, "Especially for You," with the drawing to take place May 12 during the hospital Health Fair.
Moyie Springs City Council minutes, March 7
Closed fire season begins May 10: The closed fire season in Idaho begins May 10 and extends through October 20 each year.
April 17
Valley View Student Council minutes
Train crossing safety stressed Thursday: On Thursday, April 19, City, County and State Law Enforcement Officers will be conducting an Officer On A Train and Adopt A Crossing enforcement operation in North Idaho.
Court dispositions and sheriffs log
Prescribed burns slated on IPNF: The Idaho Panhandle National Forests plan to conduct prescribed burning during the spring and fall of 2012 on multiple locations across national forest system lands.
Verizon 4G LTE coming to Bonners Ferry: On Thursday, April 19, Verizon Wireless customers in more areas of Eastern Washington and Northern Idaho, including Bonners Ferry, will be able to take advantage of the Verizon Wireless 4G Long Term Evolution (LTE) network, the nation's largest 4G LTE network.
April 14
Marine Corps Commandant to give commencement: Commandant of the U.S. Marine Corps and University of Idaho alumnus, General James F. Amos will visit his alma mater May 12 to inspire the Class of 2012 with the commencement address.
IWDC seeks proposals to train at-risk teens: The Idaho Workforce Development Council is soliciting proposals to train low-income, at-risk high school students for jobs in demand by the high-growth industries that will drive Idaho's economic future.
Forest practices committee to meet: The Idaho Forest Practices Act Advisory Committee (FPAAC) will meet via videoconference from the Idaho Department of Lands (IDL) Coeur d'Alene office and the Boise IDL Director's Office on Tuesday, April 24.
April 11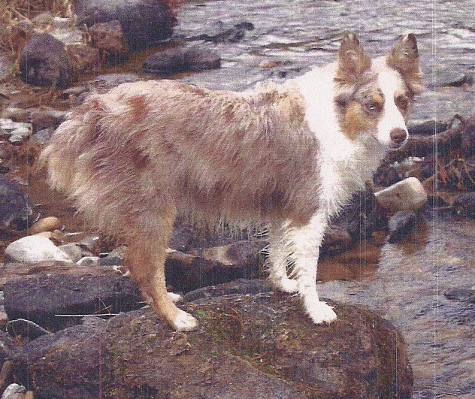 !! LOST !!
"Sydney" is an eight-year-old female red Merle Australian shepherd who wandered away from a kennel on Lost Mile Road Saturday afternoon, April 7. Her owner, Howard Nusbaum, has posted fliers all over the area and even gone door to door, but so far to no avail. He said she is a farm dog, used to being outdoors, she's very shy, but nice, and he's anxious to get her back home. If you spot her, please call him at (208) 610-0807, Debb at (208) 244-5620 or Kate at (208) 290-3595. A reward is being offered for assistance in her return.
Super 1 job fair at Job Service tomorrow, Saturday: The Idaho Department of Labor will hold a Super 1 Grocery job fair at the Bonners Ferry Job Service from 9 a.m. to 5 p.m. Thursday, as Super 1 seeks to fill as many as 100 positions in time for their grand opening in mid-June.

Deadline for property tax relief programs Monday: Assessor David Ryals would like to remind Boundary County property owners that the April 16 filing deadline is fast approaching for certain property tax relief programs.

County Commission minutes, March 26-27
April 10
County tax deed sale set: A public auction to sell several properties due to non-payment of taxes in Boundary County has been scheduled for 1:30 p.m. Tuesday, April 24, at the Boundary County Extension Office.
April 9
On Stage at the Pearl: Saturday, April 14, 7 p.m. "On Stage at the Pearl" presents two local favorites; Barb Robertson and "Quarter Moon," with Trenee Solt, Mike Meier, John Marquette, and Jerry Causi. When it comes to finding local talent, the Pearl is a treasure.

Court dispositions and sheriff's log
April 8
One killed, one injured in collision: A Moyie Springs couple out for an evening motorcycle ride on Highway 2 Saturday met with tragedy.
April 3
Body found in burned-out trailer: Details remain extremely sketchy, but it has been confirmed that a body was discovered Monday evening in the rubble of a burned out trailer on Curley Creek Road.


Cody Gross deployed to Afghanistan: Cody Gross, 18, who graduated early from Bonners Ferry High School in January, 2011, so he could join the U.S. Army, and immediately left for basic military training in Fort Benning, Georgia, recently deployed to Afghanistan with the 3rd Bridgade, Second Infantry Division.
April 2

Local charges dropped in heroin bust: At the request of the Boundary County prosecutors office, local drug trafficking charges stemming from a Sunday morning traffic stop on U.S. 95 at Alderson Lane during which the biggest heroin bust in Idaho history went down have been dismissed.

American Legion Post 55 celebrates 93rd: Members of American Legion Boundary Post #55, their spouses and guests, and members from the Women's Auxiliary recently gathered at Chic 'n Chop Restaurant for the 2012 Legion Birthday Dinner.

Court disposition and sheriff's log
Obituaries
Juanita Ann Matlock
, August 6, 1951 ~ April 23, 2012
Robert Eugene White
, November 22, 1947 ~ April 26, 2012
Clarence Alton "Bud" Roberts
, August 8, 1932 ~ April 8, 2012
Richard Duane Cunningham,

August 13, 1925 ~ April 17, 2012
Gary Lee Cavender,

December 22, 1950 ~ April 17, 2012
MarieJoy (Obermayer) Becquart,
January 10, 1938 ~ April 11, 2012
James D. Fries
, August 30, 1953 - April 13, 2012
Fanny Lou Lilly
:
July 29, 1930 ~ March 31, 2012
Bernice Jacobsen Figg
, August 29, 1915 ~ April 6, 2012
Wayne Wilbur Williams
, April 11, 1960 ~ April 7, 2012
Kenneth A. Brunger
, July 3, 1951 ~ April 1, 2012
Bobby Leigh Bradley
, February 11, 1943 ~ March 25, 2012
Sports
Avery Creek cabin available for rent: Starting this spring forest visitors will have the opportunity to rent the historic Avery Creek Cabin on the North Fork of the Coeur d'Alene River.
Badger softball just waiting on sunshine: As we all anxiously await the arrival of spring and the sunshine it might someday bring, the High School Varsity Girls Softball Team has been working hard in preparation for their season.
Letters
Rosanne Smith: Kudos to Valley View Student Council for putting their minutes in Newsbf!
Raul Labrador: We all have wonderful memories of recreation with family and friends in any of Idaho's beautiful wildlife areas. Whether it's boating in McCall or hunting in Clearwater County, Idaho has so much to offer its citizens and visitors outdoors. That's why on Tuesday, April 17, 2012, I voted in favor of H.R. 4089, or the "Sportsmen's Heritage Act of 2012."
Un-Republican Activities; Challengers accuse Boundary County Republican Central Committee of trying to follow the Idaho Republican Party rules and platform!
Several RCC candidates: We, the following individuals, have come to the conclusion that there is a need to change the makeup of the current Boundary County Republican Central Committee. We feel that the views of all of the Boundary County Republicans are not being represented by Chairman Donna Capurso, or the majority of the committee.
Back to archives