Boundary County Archives ~ July, 2011
Home
Sports
Social
Obituaries
Events
Letters
News
July 31
Missing hikers found safe: Two hikers reported missing late Friday night were found safe Saturday afternoon in the Pyramid Lakes area. Melody Braden and Raymond Sayers, both 22 and from Bonners Ferry, had gone hiking Friday.

Those we'll remember at Run for the Fallen: At 7:45 a.m. Saturday, August 20, people from across the state and the nation will gather at the Veteran's Memorial at the Boundary County Library, hold a brief service in remembrance of all those who've given their lives in service to their country in the nation's wars on terrorism since September 11, 2001, and set out to walk or run portions of a 44-kilometer course along the Kootenai River, each kilometer marked with the picture and biography of 44 Idahoans who paid the ultimate sacrifice.
July 30

'Little Shop of Horrors' opens for business August 5: With a cast of 15 Boundary County youth, a technical crew of two local teens plus some stalwart, hardworking parent volunteers, David Carpenter is bringing his seventh Bonners Ferry Summer Youth Theatre production to the Becker Auditorium stage in early August. Slated for four performances, "Little Shop of Horrors," a campy musical theater production in the style of an over-the-top "B" movie is sure to delight audiences.

City, IFG resolve dispute: The City of Bonners Ferry and Idaho Forest Group LLC have reached an agreement resolving a dispute regarding rates for electric service to the IFG mill in Moyie Springs.

Paper plane contest to be held at the fair: Kids and kids at heart are being invited to build and fly their own paper airplane at the "hangar" that will be set up near the exhibit hall entrance at the Boundary County Fair on Friday, August 19.

The Man Store: Testosterone on the South Hill: Open for business since May, The Man Store, located at 6503 Harrison in the refurbished Ruby Motel, has had a positive response from the men (and women) of Bonners Ferry.

Who is this years' Fairest of the Fair? This year's Boundary County fair is fast approaching and you once again have the opportunity to acknowledge that special woman who has touched your life, served our community and stood out among the rest.

Commissioners minutes, July 18-19
Commissioners minutes, July 11
Commissioners minutes, July 5
July 27
False alarm costs local business dearly: A local growing business with a hard-earned reputation for quality has all but died due to a scare of salmonella issued by Panhandle Health and the Food and Drug Administration in late June. It turns out that it was a false alarm; the businesses products have been proven good and healthy. But the trust the business has lost as a result of the scare has cost nine people their jobs and the reputation of its owners, Fred and Nadine Scharf, who wonder if they can hang on.

Libby Dam update, July 27
July 25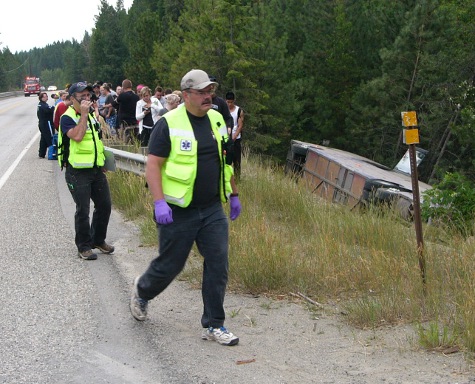 With EMTs checking them out for injuries, passengers from an Edmonton tour bus gather behind the guardrail at the south end of the Naples Bridge after the bus left U.S. 95 and rolled onto its side. Fortunately, injuries were all minor.
Tour bus overturns south of Naples: 6:30 p.m. -- A Traxx tour bus from Edmonton, Alberta, traveling north with 54 people aboard, drifted off U.S. 95 and overturned at about 7:35 a.m. today at the south end of the Naples Bridge, sending several people to the hospital with minor injuries. The driver was cited for inattentive driving.


Young Eagles rally a huge success! Saturday, July 23, was a perfect day for flying, and nine pilots took 121 kids into the beautiful blue skies of Boundary County for their very first flights.


Moyie Springs City Council minutes, June 8
Bonners Ferry City Council minutes, July 12
Bonners Ferry City Council minutes, July 5
Court records and Sheriff's Log
July 24

Native tribes lose an icon; services set for Amy Trice: Amy Trice, a long-time leader of the Kootenai Tribe of Idaho and chairman of the Tribe when, in 1974, it became the last Indian tribe to declare war, albeit peaceful, on the United States, died Thursday morning in Spokane following complications during surgery.


Chamber saying goodbye to 'right arm:' Good tidings have befallen the Kersavage family of Bonners Ferry, but their boon is our loss. On Saturday at a special Bonners Ferry Chamber of Commerce meeting, Chamber president Rhea Verbanik bid Brittany Kersavage, for more than a year the "feet, hands and head of the Chamber," a fond farewell.

How to walk, run, ride or feed Run for the Fallen: "I've had requests and inquiries about how to register to run, walk, bike, horseback ride, etc. in the Run for the Fallen event August 20," said Rhonda Vogl. It's easy.

Barrell Bash hitting the fairgrounds Saturday: August 6, 2011, marks the date for the Praying Monk Ranch Barrel Bash down at the Boundary County Fairgrounds, offering another fun-filled barrel racing event with great prizes and, as always, an event free for the spectators.
July 23
KVRI looks back at ten years of accompishment: t the turn of this century, Boundary County's future looked bleak. Mills were closing, you couldn't get into the federal forests to cut trees because most areas were home to one endangered species or another. Going into the second decade of the new millenium, a collaborative group of local leaders was formed, and the progress they've made has been impressive. (Updated with meeting information)
July 22
Geocaching outing turns tragic: Geocaching is a high-tech pastime enjoyed by millions around the world, who glean hints from the Internet on "treasures," usually of little value, hidden in places around the world. Using the hints and GPS coordinates that help them reach the general area, geocachers set out on treks to find those treasures for the sheer joy of visiting new places, solving the mystery and tallying their successes on websites dedicated to the the challenge. On Wednesday, just such a trip turned tragic for two Bonners Ferry families.

Rudy Gatlin is ... a ... card, and he's coming to Bonners Ferry, Indiana: I was surprised on Wednesday, July 13, to get a call at work from Katrina Tsang, who introduced herself in a southern drawl as a publicist of some kind. "Wanted to let you know that legendary country group Larry Gatlin and the Gatlin Brothers are headed to Bonners Ferry for a show August 6 in downtown Bonners Ferry," she said. "I wanted to offer you a phone interview with the Gatlins in support ... Let me know if you are interested and I'll be glad to set something up."

BF Swish video available on line! If you're reading this page and were one of the unfortunate souls not to have been here to see the success of the 2011 Swish, there is good news ... you can watch much of it on-line at http://www.boundarycountylive.com/Video_Revue.html.

P&Z closing in on county land use ordinance: Members of the Boundary County Planning and Zoning Commission in attendance at a Thursday evening workshop, stymied by lack of quorum, are confident that they see the culmination of several year's work next week, when hopefully with a quorum, they finalize their recommendation on a zoning map and come to agreement on the text of a new Boundary County Zoning and Subdivision Ordinance.

July 21
Run for the Fallen heroes named: On August 20, people from around the region and across the nation will gather at 7:45 a.m. at the Veteran's Memorial at the Boundary County Library, and after a brief prayer, a reading of the names of the fallen soldiers being honored and a 21 gun salute.
July 19
Local men involved in fatal Libby crash: A collision Friday near Libby involving two Bonners Ferry men claimed the life of one of them, Joshua Richard Peters, 29, who recently moved to Bonners Ferry from Sandpoint, where he grew up, to live with his long-time girlfriend, Stephanie Lederhos.

Kootenai River Ride dedicated to memory of Tanya McCoy: This year's ninth-annual Rotary Club Kootenai River Ride, taking place September 10 at the Boundary County Fairgrounds, is being dedicated to the memory of Tanya McCoy, a life-long resident, teacher, family woman and business woman who left us too soon when she lost her life at the age of 39 in a vehicle collision in Boundary County November 25, 2010.


Labor director to visit Bonners Ferry: Idaho Department of Labor Director Roger Madsen will launch a second round of meetings with business owners, legislators, local officials and community leaders from around the state to hear what's on their minds, answer questions and get suggestions on how the agency can improve its services September 28.

Biologists monitoring impact of high flows on sturgeon: While Libby Dam operators were able to keep flooding at bay in Bonners Ferry this year, the extraordinary runoff on the Kootenai River presented a new and different environment for white sturgeon spawing.

Troy Mine sees increased production: Revett Mineral's Troy Mine has seen a 65-percent increase in silver production and a 60-percent increase in copper production over the same period last year, and a 40-percent increase in silver and 51-percent increase in copper production over the first quarter of 2011.
July 18
Pawsitive Works seeks shelter partner: Pawsitive Works, the program that pairs at-risk youth with shelter dogs, is ironically in need of dogs for the Bonners ferry sessions. With a solid record of two successful years of providing classes for Sandpoint and one year for Coeur d'Alene behind them, this innovative program is seeking a shelter partner in order to continue serving its mission in Bonners Ferry.

No one takes credit for Swish success: "It just happened," everyone said. "It" was the sweetest and smoothest Bonners Ferry Swish to take place to date. Director Ron Sukenik said he didn't do all that much, and couldn't have done it without everyone else. The Bonners Ferry Rotary Club, official event organizers, seems to think it all just happened by itself, too, though more than 30 of its 38 members were walking around with prized pale yellow T-shirts identifying them as official volunteers.

Get cracking on the grills, Bonners Ferry Back Yard BBQ Cook Off coming! Bob Hovish, recently retired but now busier than ever doing what he loves in the personna of grill-master Border Bob, a familiar fixture at just about every community get together region-wide, is looking for all the back-yard barbecuers he can find to compete in the first ever Bonners Ferry Back Yard Barbecue Cookoff, to take place at the Boundary County fairgrounds Saturday, September 10.

Mobile Hearing Care comes to region: Dana and Jackie Fox and their four rat terriers moved to their home in Paradise Valley in 2004, and they brought with them a new business that goes the extra mile, Mobile Hearing Care, one that brings their business, and better hearing, to folks from as far south as Cocollala and east to Libby.

Court records and sheriff's log
July 16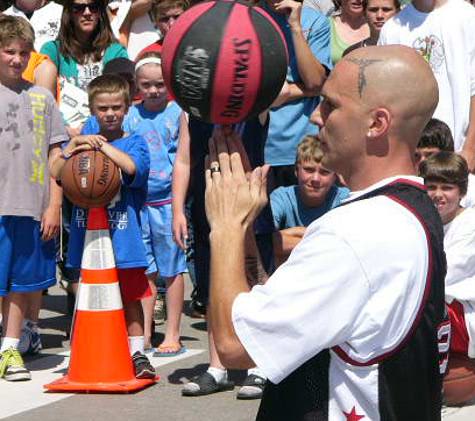 While the hoops action on Main Street was fierce Saturday for opening day of Swish 2011, former Harlem Globetrotter Seth Franco proved a hit no matter where he went or who he talked to ... and he went everywhere and talked to everybody!
Swish a Smash! While the number of teams was slightly down this year, the fourth annual Bonners Ferry Swish is carrying on a tradition of excellence that grows stronger each year the three-on-three hoops tournament is played. (Winners updated)
July 14
County seeking proposals on building addition: Boundary County Commissioners are accepting sealed requests for proposals for the construction of a 36-foot by 52-foot addition to the county waterways building on Riverside Street.

State ends fiscal year better than expected: Governor C.L. "Butch" Otter announced Tuesday that the State ended fiscal year 2011 on June 30 with significantly more General Fund tax revenue than expected, but not enough to warrant big changes in the cautious, conservative approach to budgeting that yielded such a positive result.

Restorium surplus auction slated: Boundary County will hold a public auction at 1:30 p.m. Wednesday, July 27, at the Boundary County Community Restorium, 6619 Kaniksu Street, Bonners Ferry, to sell surplus Restorium property to the highest bidder.

Habitat acquires land for new homes: After a long search, Boundary County Habitat for Humanity, an organization that helps those who couldn't otherwise afford it achieve the dream of a home of their own through offering a hand up, not a hand out, has aquired a large property on Spokane Street in Bonners Ferry.
July 13
Memorial set for two fallen Idaho soldiers, third recovering: The Idaho National Guard will hold a memorial service Saturday for two of its soliders who gave their lives in the line of duty in Iraq July 7. A third soldier seriously wounded in the same attack, Staff Sergeant Jason Rzepa, though having lost both legs, is reported in good spirits.
July 12
Chamber offering great incentives to join: The Bonners Ferry Chamber of Commerce is offering area businesses mid-year specials to new members interested in investing in the benefits of membership, offering half-off discounts to become members for the rest of the year.

Insect pest long confined to Boundary County spreading: An insect pest that has been reliably confined to Boundary County for 20 years has been discovered in three Washington counties, according to Washington State University scientists.

Court records and sheriff's log
County Commission minutes, June 27-28
County Commission minutes, June 20-21
Kootenai River conditions
July 9
Two North Idaho soldiers killed in Iraq: Two North Idaho members of the 116th Cavalry Brigade Combat team died July 7 in Iraq as part of Operation New Dawn when their convoy was attacked by insurgents using an improvised explosive device. Both men, specialist Nathan R. Byers, 24, originally from Littleton, Colorado, but who lived in Coeur d'Alene with his family, and Specialist Nicholas W. Newby, 20, of Coeur d'Alene.


Kramers home from Greece: Dave and Andrea Kramer, owners of the Stampede Lake Studio, returned home from Athens, Greece, last week after a three-week photo assignment covering the final leg of the International Law Enforcement Torch Run for the Special Olympics World Summer Games.

Expect delays traveling through Eastport: Work begins Monday, July 11, on the U.S. 95 bridges on the Moyie River near Eastport, and the Idaho Transportation Department says those traveling through the Eastport Port of Entry in either direction can expect delays.

Crime rate drops in Boundary County: The Idaho State Police recently released its 2010 Crime Report, which shows a significant drop in crime in Boundary County last year from the year before, particularly within the City of Bonners Ferry, and the lowest crime rate for both offenses and arrests for the past five years.

Commissioners Minutes - June 13-14
Bonners Ferry City Council minutes - June 21
July 7

'Oyster' becoming a Pearl: After the amazingly successful run of "Seussical Jr.," the old gray church on Ash Street is now officially being transformed into the Pearl Theater. 7160 Ash Street has been a hive of activity, both inside and out, as walls come out, pews go in, work is underway on the stairwell and "The Garden Goddess," Kathryn Starr-Heart," transforms the "little jungle"outside into manicured grounds worthy of a community performing arts center.

Court record and sheriff's log
Obituaries
Judith A. Rafferty, February 21, 1939 ~ July 11, 2011
Frank Michael Lucanto, May 12, 1938 ~ July 23, 2011
Amelia "Amy" Trice, April 26, 1936 ~ July 21, 2011
Robert Wayne North, July 13, 1936 ~ July 20, 2011
Crystal Marie Anderson, April 16, 1927 ~ July 20, 2011
Joshua Richard Peters, December 5, 1981 ~ July 15, 2011
Alice Louise "Lou" Stevens, May 12, 1941 ~ July 14, 2011
Marie Magdelena Allen, August 11, 1920 ~ July 11, 2011
Dale Arthur Sargent, September 6, 1929 ~ July 8, 2011
Lee Franklin McGlocklin June 16, 1923 ~ July 3, 2011

Social
Recent marriages
Derek Armijo born: Derek Scott Armijo was born at 8:35 a.m. Tuesday, July 5, the first child of Sandy Poole and Ryan Armijo, Bonners Ferry.
Shannon, Krejci wed: Andrea Shannon and James Krejci, both students at the University of Idaho, Moscow, were married May 27 at Highlands Golf Course, Post Falls. A reception in there honor was held June 18 at the Kootenai River Inn.

Elsie Hollenbeck honored: At their recent state convention, long-time Boundary County educator Elsie Hollenbeck was recently honored with the State Achievement Award of Alpha Nu State of the Delta Kappa Gamma Society International.
Recent marriages
Davys' welcome baby girl: Jeremy and Staci Davy, Bonners Ferry, are the proud parents of a baby girl, Karis Ruth Davy, borh June 27 at Bonner General Hospital.
Burgess graduates Army basic training: Brian Burgess, the son of Sandy and Jeff Burgess, Bonners Ferry, and a 2010 graduate of Bonners Ferry High School, completed Army basic training in Fort Jackson, South Carolina, earning the rank of Army private.
Denning, La Porto exchange vows: Briana Gae-Lin Denning, the daughter of Gene and Erica Denning, and Joseph Anthony Lo Porto, the son of Mike Lo Porto and Pamela Mollohan, all of Bonners Ferry, were married May 14 in Bonners Ferry.
Sullivans welcome baby boy
:
Garrett and Kruisten Sullivan, Moyie Springs, are the proud parents of Finley Ray, born June 19. He weighed eight pounds, five ounces and was 20-inches long.
Unruh, Litwiller to wed:
Gilbert and Lisa Unruh, Bonners Ferry, are pleased to announce the engagement and forthcoming marriage of their daughter, Roaslyn Unruh, to Quint Litwiller, DeRidder, Louisiana.
Restorium enjoys grand picnic: What a gorgeous day, specially ordered for the occassion by Larry Dirks, for a picnic! The Friends of the Restorium send out thanks to the community for the great turn out Sunday, June 26, for their annual Community Picnic and Barbecue Fundraiser, which everyone agrees was a great success.
Recent marriages
Sports
Badger harriers attend distance running camp: Several Badger cross-country runners spent several days maintaining their conditioning for the coming season, which begins with practice August 12, attending the Flathead Lake Distance Running Camp, Bigfork, Montana, June 13-16.

Badger football season starts Monday: Bonners Ferry High School football coach Stephen Fisher has put out a call to all returning and new members of the Badger football team that at 6 p.m. July 25, it's time to get to work.

Women's softball getting underway: It's time to sign up for women's slow-pitch softball, open to women 18 and older at all skill levels.

Controlled hunt drawing results on line: Hunters who applied for elk, deer, pronghorn, fall turkey and black bear controlled hunts can check online to see whether they were successful in the recent computerized drawing.

Early elk season starts next month: Some early elk hunts open August 1, most of them antlerless "green-field" hunts. The early "green-field" hunts in seven elk management zones - Palouse, Weiser, Lemhi, Beaverhead, Pioneer, Snake River and Owyhee-South Hills zones - are meant to help landowners reduce crop damage.

Registration deadline for Swish extended: Even though there are already 60 teams signed up to take part in this year's Bonners Ferry Swish, taking place this weekend in downtown Bonners Ferry, coordinator Ron Sukenik has extended today's registration deadline until noon Thursday, July 14.

Like grandpa, like grandson: John Alt recently helped his grandson, Derrick Alonzo-Alt, move to Eielson Air Force Base, Alaska, to report for his first duty assignment. On the way home, however, John took time to fulfill a dream to fish in Alaska. Though much younger than grandpa, Derrick did the same today.

Northwest A's shine at Spokane tourney: The Northwest Athletics, a fast-pitch softball team of five Bonners Ferry girls and six Rathdrum girls, took second place in the Spokane Fourth of July Shootout tournament.

Gearing up for Swish: It's the final days until the Bonners Ferry Swish fills the streets of downtown Bonners Ferry, and coordinator Ron Sukenik has a few announcements to make as the clock counts down.

Letters
U.S. Congressman Raul Labrador: I have arrived at the same conclusion that the majority of Americans have: the time for a balanced budget amendment to the Constitution is now.

U.S. Congressman Raul Labrador: Since the 2010 elections the U.S. House of Representatives has been busy cutting spending and enacting the measures that voters sent us to Washington to accomplish. One after another appropriations bills have moved through the House of Representatives – while the President has asked for increased funding for these government programs – I have worked to instead cut spending across the board.

Jeanne Osborn and Family: Words cannot express the outpouring of love and comfort I have received from this community and all who knew and cared for Oz.

Governor C.L. "Butch" Otter: My office has responded to numerous calls, e-mails, and letters about the nature of Idaho's trade and investment relationship with China.
June, 2011 Archive →