Boundary County Archives ~ June 2014
Home
News
Sports
Social
Obituaries
Events
Letters
News
June 27
"All Hands on Deck" for Idaho State Police today; traffic safety emphasized: The summer days between Memorial Day and Labor Day are known as the 100 deadliest days of the year on our state's highways. The Idaho State Police want to change this sad statistic and make Idaho's roads as safe as possible.
The broncos await . . . .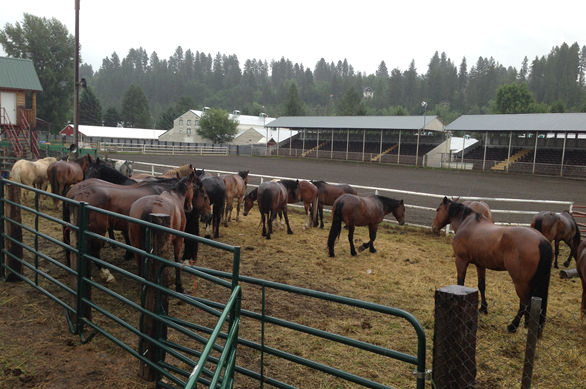 If you've ever wanted to see a mud rodeo, this may be your chance. In spite of our current downpours, a rodeo official tells us the show is still on. Don't worry, rodeo fans will be protected in the comfort of the covered bleachers.

These broncos await the action tonight and tomorrow night for the New West Rodeo at 7:00 pm at the Fairgrounds.
June 25
Leading worldwide mining company to do test drilling at Hall Mountain: Global mining company MMG Limited, with headquarters in Melbourne, Australia will start three test drills next month in Boundary County in the Hall Mountain area.
June 23
Kootenai River Inn gets upgrades and improvements: The Kootenai Tribe of Idaho's casino and hotel, the Best Western Plus Kootenai River Inn Casino and Spa, has upgraded its amenities and added new gaming machines.
Speed limits going up on southern Idaho freeways; no change on I-90 in northern Idaho: Speed limits going up on southern Idaho freeways; no change on I-90 in northern Idaho.
Field Day for Amateur Radio coming up: Amateur Radio is alive and well, and Field Day is a celebration of our ability to talk to the world via radio. Amateur Radio Field Day takes place June 28-29.
June 21
Hall Mountain area lands are high national priority for conservation program: A two thousand acre group of six privately-owned parcels of forest land in the Hall Mountain area of Boundary County, valued at $3.6 million dollars, is ranked second in the nation as a national priority to protect its timber resources and wildlife habitat under the Forest Legacy program.
Local students on NIC spring Dean's List: North Idaho College recently announced its Dean's List for spring semester 2014. Several area students have worked hard and are on the Dean's List.
June 17
Bonners Ferry Police Department hires new second in command: The Bonners Ferry Police Department has hired and sworn in a new Lieutenant for the Department, according to Michael Meier, Public Information officer for Boundary County.
June 15
Bridge Construction
Just to remind all--tomorrow is the day: Both bridges on US Highway 95 in downtown Bonners Ferry will be limited to two lanes only, beginning tomorrow, Monday, June 16, for construction upgrades. This includes the Kootenai River Bridge and the Arizona Street Bridge. Bridge decks will be resurfaced, along with other work. To read our full story on these projects, click here.
June 13
An evening in Bonners Ferry: A great evening for fun today in Bonners Ferry, Idaho. Is this one of those "only in Bonners Ferry" things, on a Friday the 13th evening in extreme northern Idaho . . . ?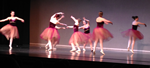 June 12
Fish and Wildlife sets local public hearings on controversial caribou issues: The U.S. Fish and Wildlife Service has announced three proposed rules and findings on the sometimes controversial issue of the southern Selkirk Mountain woodland caribou. You can find more information and give your input at their upcoming hearings.
Samples of public comments submitted on caribou issues: Many public comments have already been posted regarding the petition asking the U.S. Fish and Wildlife Service to change the Endangered Species Act listing of our local Boundary County population of southern Selkirk Mountain woodland caribou. You can read some of those comments here.
June 11
Borders 3 Jamboree has record number of entries: A r

ecord number of 222 cars were on display for the Rod Benders sponsored car show,"Borders 3 Jamboree," held this past Saturday right in downtown Bonners Ferry.

New facilities available at County Fairgrounds: As the summer months roll out here in Boundary County, we need to make sure you are aware of some of the new structures available at the County Fairgrounds.
Free fishing day this Saturday: Idaho Free Fishing Day is coming up this Saturday, June 14. That means anyone can go fishing in the state of Idaho, without having to purchase a fishing license. Note that all other fishing rules and limits still apply.
Annual community picnic at Restorium: The always fun-filled Annual Community Picnic at the Restorium is scheduled this year for Sunday, June 29. The event will be held at the Restorium, from 11:00 a.m. until 3:00 p.m.
June 9
Coach DePriest sets summer football conditioning: Ed DePriest, Head Football Coach at the high school, has sent a letter to NewsBF asking all potential football players to take advantage of the weight room being available this summer. He's also asking the players and community to commit and work together now for a successful season this fall.
June 6
Landowners can learn forest management at coming Field Day: Family forest landowners have a unique opportunity to spend a day in the woods with natural resource experts at the Idaho-Washington Forest Owners Field Day on June 21.
Barbecue for 4th of July fundraiser and Super 1 anniversary: Super 1 Foods and the folks who put on the Boundary County/Bonners Ferry July Fourth fireworks event announce a big celebration and barbecue coming up on Friday, June 13. All are invited to this fun barbecue event to help celebrate Super 1 Foods second anniversary, and to help raise funds for the July Fourth Celebration and Fireworks Show.
Graduation for local D.A.R.E. program: Local elementary schools graduate D.A.R.E. students with Bonners Ferry Police Department.
Special assignment for Bonners Ferry Police Dept.: Special Needs Children all have dreams and wishes that sometimes go undiscovered and never realized. Occasionally those dreams are possible and this is one of those stories.
The Great Golf Ball Drop: Five dollars secures an entry into the Great Golf Ball Drop game for a chance to win a 55 inch SMART TV! Perched twenty feet above hole number nine, a bright yellow bucket of golf balls will be turned upside down releasing a cascading free-for-all during Fry Healthcare Foundation's 6th Annual Golf Tournament on Friday.

Sorensen selected as Classified Employee of the Month for May: Our classified employee of the month hails from Boundary County Middle School, where she acts as the central logistical and informational hub.

Wages selected as Certified Employee of the Month for April: Bonners Ferry High School would like to congratulate Judy Wages for being selected as the certified employee of the month.
Lecrenski selected as Classified Employee of the Month for April:

Bonners Ferry High School would like to congratulate Barb Lecrenski for being selected as the classified employee of the month for April 2014.
June 4
BCSD Certified Employee of the Month for May: According to Gary Pflueger, principal at Valley View Elementary School, the best teacher is one who

epitomizes "Life-long Learning" and lives as a positive example to emulate. Mr. John Beck is such a teacher!
Obituaries
Radene Eloise Griffith: September 4, 1949 ~ June 20, 2014
Donel Rae Stippich: July 11, 1968 ~ June 16, 2014
Shannan Jo Boyenger Roldan: October 13, 1961 ~ May 23, 2014
Jimmy Dale Sullivan: June 30, 1953 ~ June 6, 2014
Thelma K. Hill: July 21, 1921 ~ June 8, 2014
Edward Gene Hanson : May 21, 1942 ~ May 28, 2014
Sadie Larissa Smith: November 24, 1992 ~ June 4, 2014
Jeanette T. Steinhorst: March 23, 1924 ~ June 5, 2014
Social
Eagles sponsoring Fathers' Day Burger Burn: Looking for a great Fathers' Day activity? The local Eagles Auxiliary is sponsoring a Fathers' Day Burger Burn, on Fathers' Day, Sunday, June 15. And what father doesn't like a great burger?
Annual Spring Dance Recital Announced: Almost 100 students ages 2 – 18 will perform creative dance, ballet, jazz, and contemporary dance styles in The Dance Studio's annual Spring Dance Recital, schedudled for Friday,

June 13 and Saturday, June 14. Both evening's performance begin at 7:00 p.m. at the BFHS Becker Auditorium.
Community invited to special church speaker: The community is invited to the Holy Myrrhbearers Orthodox Church this Saturday, June 7 for a special presentation about missionary activity throughout the world.
Sports
Submit your great photos to Idaho Fish and Game website: Do you have a photo from a recent Idaho hunting or fishing adventure you want to share? How about a photo you've taken of wildlife in Idaho? You can submit your favorite photos electronically for display on Idaho Fish and Game's website.
Badger Football summer conditioning update: The Badger football team started our summer strength and conditioning workouts last Monday. There were many positives and some areas of concern.
Fish Stocking Schedule: Time to plan your fishing strategy for the month of June. And to help out, check out the June fish stocking schedule for Idaho's Panhandle waters, just released by the Idaho Fish and Game Department. You can see the stocking schedule, which includes several Boundary County lakes, by clicking here.
June 14 is Free Fishing Day in Idaho: Saturday June 14 is your chance to try fishing for the first time, or dust off your rod and put it back into use. It is Free Fishing Day in Idaho, and Idaho Fish and Game invites everyone to celebrate the day by fishing anywhere in Idaho without a license.
Letters
Speeding on rural Roosevelt Road: Time for the annual rant concerning speeders. As usual, Roosevelt Road continues to see people 20-25 MPH over the posted 35 MPH speed limit.
Coach DePriest: Summer Football Conditioning: Although I know that it is hard to believe, but the first day of football practice is on Monday August 11; that is only nine weeks from now.
Back to archives