Boundary County News Archives ~ May 2011
Home
Sports
Social
Obituaries
Events
Letters
May 30, 2011
For This We Remember: Today's Memorial Day observance was a day to remember, from heroes past to heroes we only now know. A News Bonners Ferry pictorial.
May 27, 2011

Momentum for local Medal of Honor growing: Support for upgrading the Navy Cross Marine Corps Lance Corporal Ricardo C. Binns, retired, was awarded for heroism 44 years ago during the Vietnam War is growing, with U.S. Senators James Risch and Mike Crapo and Idaho Senator Shawn Keough all agreeing to help.


Governor declares flood emergency: Idaho Governor Butch Otter has declared a Statewide Declaration of Emergency because of statewide flooding and the potential for record runoff. The declaration, approved today, brings the availability of state resources and rapid response to support impacted areas.


High water could help sturgeon: While the U.S. Army Corps of Engineers continues to regulate Libby Dam for flood risk management, conditions are such that many attributes for a previously planned sturgeon spill are likely to be achieved without the spill.


Decision reached on East Fork of Meadow Creek: After careful review of the East Fork Meadow Creek Environmental Assessment (EA), resource reports, the Finding of No Significant Impact (FONSI), comments from the public and the project file, I decided to implement a subset of Alternative 2, referred to as Alternative 2- South. This Alternative is composed of those treatment units in the southern half of the East Fork of Meadow Creek project area, located in sections (or portions of) T63N, R2E; Sections 6-8, of the Boise Meridian.
May 26, 2011
Property valuation notices to be mailed June 6: The 2011 Boundary County property valuation notices will be in the mail on June 6 this year, and the market value shown becomes the basis for the property tax bill generated in November. Changes cannot be made after June 27, so property owners are encouraged to review their notices right away and call the Assessor's Office, (208) 267-3301, if there are questions.



Jefferson to present Memorial Day oration: Two years ago, Army Staff Sergeant Lawrence Jefferson II marked Veterans Day at the Spokane Veterans Memorial Arena, where former U.S. Ambassador to Iraq Ryan Crocker pinned the Purple Heart to the tunic of Jefferson's already beribboned uniform. This year, Jefferson, now a Sergeant First Class, will mark Memorial Day here in his home town, presenting the Memorial Day oration during services at Grandview Cemetery.
May 25, 2011
Flood Watch issued for Eastport: The National Weather Service in Spokane has issued a flood watch for the Moyie River at Eastport.


Commissioners minutes
Court records and sheriffs log
May 22, 2011
Army Corps flood fighters continue work in Idaho: The Army Corps of Engineers' Seattle District has flood fight teams out in three river basins, and the Corps' Emergency Operations Center is under 24-hour operation as rivers remain high. On Monday the Corps began reducing outflows from Libby Dam from 20,000 cubic feet per second to 16,000 cfs. The Libby Dam outflow reduction should help to keep the stage below 1,764 feet at Bonners Ferry while the local inflows remain high.


Run for the Fallen seeks Facebook friends: Because of changes to Facebook group policies, organizers of the upcoming Bonners Ferry "Run for the Fallen" have had to set up a new Facebook page, and they're looking for Facebook friends to help spread the word.


Gatlin Brothers to perform at Mountain Fest II: After bringing country legend Ricky Skaggs and Country Thunder to Bonners Ferry last year for a free concert in Mountain Fest I, Mountain Springs Church is doing it again this year, hosting Mountain Fest II and bringing in as headliners The Gatlin Brothers.


School district salary negotiations begin Monday: T

he Boundary County Board of Trustees and Boundary County Education Association will meet in open session to negotiate salaries and benefits for 2011-12 beginning on Monday.
May 21, 2011
Victims of Tuesday accidents doing well: Two Bonners Ferry people injured in separate accidents Tuesday, one of them flown out on a MedStar helicopter and the other one nearly so, are recovering well.


Investigation into arrest death delayed: The Idaho State Police investigation into the death of a California man during an attempted arrest early Monday morning north of Bonners Ferry has been delayed by a more pressing homicde investigation that broke almost simultaneously in St. Maries.


Idaho's jobless rate falls in April for first time in four years: Idaho's economy generated more jobs than expected in April, putting over 3,000 people back to work and dropping the seasonally-adjusted unemployment rate for the first time in more than four years.
May 19, 2011

Legion planning another memorable Memorial Day: On Monday, May 30, Boundary County American Legion Post 55 will continue a tradition that goes back for decades, that of recognizing those of our neighbors who've answered the call of duty from a nation in need.

May 18, 2011
Second time a charm for school levy: More than 3,000 Boundary County voters went to the polls today, more than 900 more than turned out March 8, and when the counting was done, the School District 101 Supplemental Maintenance and Operations levy passed by a margin of 371 votes, Melanie Staples retained her seat as zone 4 trustee and David Brinkman earned the zone three seat.
May 17, 2011
MedStar called in for two injured in separate accidents: A Bonners Ferry woman is reported to have suffered non-life threatening injuries after colliding with a south-bound semi on U.S. 95 this morning, and a Bonners Ferry man was injured shortly after 1 p.m. in a tractor roll-over in Paradise Valley. MedStar helicopters were called in for both accidents.


Permits required for outdoor burning: Burning permits are now required for individuals wishing to use fire outdoors. As of May 10, anyone doing open burning between then and October 20 must have a valid permit.


Flood dangers increase on area forests: The combination of late snowpack, warm temperatures and predicted rains are increasing the potential for flooding and associated damages across the Idaho Panhandle National Forests.

Commissioner's minutes
Court records and sheriffs log
May 16, 2011
California man dies during arrest: A suspicious activity call on U.S. 95 north of Bonners Ferry near milepost 526 early Monday morning resulted in the death of an as-yet unnamed California man.


Long time local resident dies in collision with train: Long-time Bonners Ferry resident Richard E. "Dick" Kelson, 77, was pronounced dead at the scene Monday morning after his 2002 Volkswagen Jetta was hit by an east bound Burlington Northern Sante Fe train at a private railroad crossing near Mirror Lake Golf Course.
May 7, 2011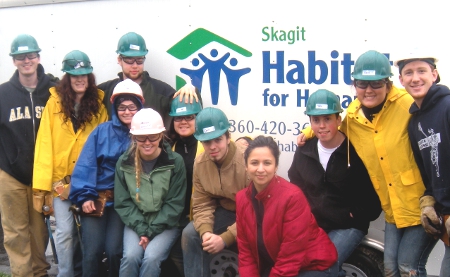 Ten North Idaho College students participated in an Alternative Spring Break trip March 27 through April 1 in Skagit County, Wash., to build a Habitat for Humanity house. On the job site are (left to right) Derrick Meister from Bonners Ferry, Molly Jean Canegaly from Boise, Stephen Baxter from Post Falls, Natosha Beach (blue jacket) from Sandpoint, Gwendolyn Miller (green jacket) from Idaho Falls, Fatima Madrid from Hayden Lake, Josh Holland from Coeur d'Alene, the future homeowner Gabriella Gonzalez from Skagit County, Nick Dimico from Post Falls, Smantha Magill from Priest River, and Wesley Saunders from Moscow.
Conachen claim against county tossed: A tort claim against the Boundary County Sheriffs Office and a patrol deputy over the arrest of former Boundary County resident James Conachen was dismissed April 29 by Idaho Court District Judge Edward Lodge without oral arguments.


Three injured, two arrested after crash: Three women were injured Friday afternoon and two men jailed after a head-on collision on Eileen Road.


Comments sought on Moose Drool restoration: The Coeur d'Alene River Ranger District, Idaho Panhandle National Forests, is considering a proposal to accomplish watershed improvement activities within an area identified for the purpose of this analysis as the Moose Drool Restoration Area.

Register vehicles on-line: Vehicle owners now have the option of renewing their annual vehicle registrations on-line using a credit or debit card.
May 6, 2011
Teacher explains teacher pay: At a recent school board meeting, someone asked about the salary schedule for teachers, how long our teachers have been in Bonners Ferry and what it takes to keep their teaching certificates. Long time high-school art teacher Tama Bergstrand decided to answer.


Conoco Food Mart closes suddenly: Without warning or fanfare last Friday, staff at the Conoco Food Mart and Subway on the South Hill in Bonners Ferry shut out the lights, strung yellow tape in front of the gasoline pumps and locked the doors in what appears to be an acrimonious split.


Historic flooding possible on the Moyie: During the May meeting of the Local Emergency Planning Committee, Emergency Management Director Dave Kramer told those in attendance of the risk of major flooding on the Moyie River, particularly in Eastport, as spring warms up, and Jay Baker, Idaho Bureau of Homeland Security, said the risk was extremely high region wide.


Roads closed list still shrinking: Boundary County Road and Bridge reopened several more county roads to hauling May 4, but the March weather caused significant damages to county roadways.

May 5, 2011
'Run for the Fallen' coming to Bonners Ferry: Last year, more than 8,300 runners in 45 states and two countries ran over 49,000 miles in honor of U.S. service members who gave their lives in service to their country in Operation Iraqi Freedom. On August 20 of this year, "Run for the Fallen" makes its Idaho debut in Bonners Ferry, to honor 51 service members who paid the ultimate sacrifice with ties to this great state.


School board to meet in Moyie Springs: The Boundary County School District 101 board of trustees will meet at 6 p.m. Friday, May 6, at Moyie Springs City Hall to provide information to the community about the May 17 Supplemental M&O levy.
May 2, 2011
Flood threat high: Today, Boundary County Emegency Management Director Dave Kramer and Incident Commander Bob Graham alerted Boundary County Commissioners to the heightened potential for flood risk in the days ahead, and set in place measures to minimize potential damage and to alert county residents if danger becomes imminent.



Moose Valley Farms appreciation day a two-way street: For the eighth year in a row, Mary Kimball and her daughter, Cindy, have set aside a day to show their appreciatioin for their customers at Moose Valley Farms, an old fashioned nursery on U.S. 95 south of Naples on Latigo Lane. That day came Saturday, April 30, and judging by attendance, it was much more. It wasn't a business event, but a community event.


Court record and sheriff's log
Obituaries
Lary W. Troutner, September 6, 1954 ~ May 24, 2011
Marcella Lee (Elston) Abell, March 16, 1945 ~ May 6, 2011
John Poston:May 30, 1928 ~ May 17, 2011
Richard 'Dick' Elmer Kelson: September 2, 1933 ~ May 16, 2011
Linda Carol Turner Sawyer, August 15, 1948 ~ April 25, 2011
Tory Oliver Andrew Fort, August 8, 1961 ~ May 4, 2011
Larry Oliver Billingsley, February 6, 1933 ~ May 2, 2011
Social

Rotary presents scholarships: The Bonners Ferry Rotary Club handed out a baker's dozen scholarships worth $7,600 to deserving high school students during their meeting May 12.
Holzhauser, Leach to wed: Penny Howell and Roy Holzhauser, both of Bonners Ferry, are pleased to announce the engagement of their daughter, Andre'a Holzhouser, to Benjamin Leach, also of Bonners Ferry.

Smiths welcome Calvin William: Jessica and Layne Smith, Bonners Ferry, welcomed their second son, Calvin William Smith, May 16, born at Bonner General Hospital in Sandpoint.

Dugger graduates West Point: Bonners Ferry High School graduate Zachary Dugger graduated from the U.S. Military Academy at West Point May 21 and was commissioned a second lieutenant in the U.S. Army. After leave, during which he plans to marry Riley Boorman, he will report to Fort Rucker, Alabama, for flight training.

Local students graduate NIC: Around 900 students were awarded degrees at a North Idaho College commenencement ceremony held May 13 on the campus in Coeur d'Alene, and among them were 16 students from Boundary County.

News from Naples: The Naples Easter Egg Hunt was a big success, and thanks to all the hard work of numerous volunteers and for Linda Rs leadership. We put together 1,000 eggs for all the Naples Elementary students and some home schooled students who braved the weather for candy-filled eggs.

Visitors Center volunteers gather: On Wednesday, 15 people who volunteer at the Bonners Ferry Visitors Center gathered at the lovely Great Northwest Territories Event Center for their annual spring meeting and potluck.


Huff publishes 'Courting Felicity:' Isabell Huff lives in a log cabin at the base of Hall Mountain, part of the setting for her second novel, "Courting Felicity: In the Days of Long Butt Logging in Northern Idaho," recently published by Outskirts Press.
Northern Air trained pilot to attend USAF Academy: New Private Pilot Barry Wilson recently received a full scholarship to the United States Air Force Academy.
Sports
Vandals basketball camps coming in June: Registration is now open for the Idaho women's basketball camps, which run June 13-17. The Vandal Scrimmage Days will be offered two different days, June 13 and 14.

Fry Foundation to host golf tourney: Bright sunshine, green grass, glass surfaced ponds. If you're wondering what these three elements call to mind, the answer is golf, and Mirror Lake Golf Course is calling on all you duffers to come alone or join up with a teammate and take part in this year's Fry Healthcare Foundation Golf tournament, hitting the greens at 1 p.m. Friday, June 17.

Warriors end highly successful season: Although the Warriors lacrosse team lost the last game of the regular season to the Sandpoint Bulldogs 9-8 in a close contest that saw the Bulldogs score the go ahead goal with just over two minutes left in the game, the Warriors had many firsts for the season.

Badger nine third at state: The Bonners Ferry Badger baseball team had one of their most exciting season finishes in years, knocking off Buhl and Kimberly before falling to Payette in the 3A State Championships held in Ontario, Oregon.

Girls 7th, boys 9th at state track meet: The Badger girls finished in seventh place at Bronco's Stadium Saturday at the state 3A track and field tournament, and the boys finished ninth, led by Courtney Tucker's second place finish in the 400-meter run.

Pass in the Grass Mower Races coming June 4: The sixth-annual Pass in the Grass lawn mower race hits the outdoor arena at the Boundary County Fairgrounds at 5:30 p.m. Saturday, June 4, and everyone is invited to either participate or come watch.

Badger softball team makes history: The Badgers softball team, along with the baseball and track programs, converged at Timberlake High School on Friday, May 13, for the beginning of district playoffs. The ladies' first game was a buy-in game against Kellogg to determine who would compete in district play.


Warriors down U-High, advance to playoffs: The Bonners Ferry Lacrosse Club Warriors Traveled to Spokane May 13 to take on the University High School Titans in a league game. They walked away with a 16-6 victory which propels them into a semi-final playoff game against Gonzaga Prep May 18 at 7:30pm at Gonzaga.

BF Swish need help: Ron Sukenik never asks for help. When driving, he doesn't need no stinking directions. But as manager of the upcoming Bonners Ferry Swish 3-on-3 hoops tournament, coming July 16, he needs all the help he can get, and he's asking.

Popular Priest Lake campground closed: The popular Outlet Campground on Priest Lake is closed for the season as the U.S. Forest Service works to make renovations.
Letters
Gil Hagen: What has the school district done do save money? A look at some of the numbers.

Sherri Wood: Over three years,
Idaho
's public schools have lost nearly a quarter of a billion dollars in funding, and we rank 50th in the
United States
in per-pupil investment. State Superintendent Tom Luna's radical plan to overhaul education has piled insult on top of injury.