Boundary County Archives ~ August, 2013
Home
News
Sports
Social
Obituaries
Events
Letters
News
August 26
Court records and sheriff's log
August 25
A terrible week: I'm stunned to see the article you published of Danette Vaughn online! Her only daughter is 16 years old, has JUST heard of her mother's death, and you are profiting off the gross exploitation of their tragedy without even contacting the immediate family!
August 24
A young man remembered ...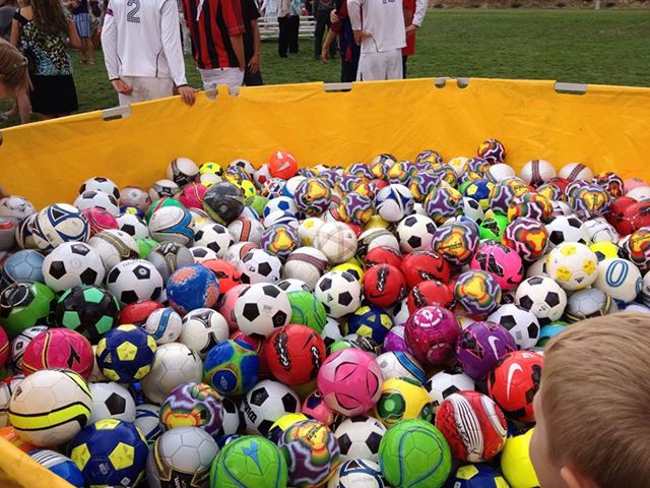 Photo and caption by Debbie Flory
What an amazing outpouring of love in our community. Today we celebrated the life of an amazing young man, Joshua Wilkerson, taken away from us way too soon. These soccer balls will help spread Josh's love of soccer around our community and around the world.

Gold Star Mom brought to tears: On Friday morning, Super 1 manager Brian Ennis had to call employee Bernadette Kirk-Bonner upstairs to the office, and she left in tears. "You deserve this, Bernie," he said. What she deserved was given her by members of her own family; her daughters and grandchildren. What they gave her represented the gratitude and support of an entire community.
Pinson boys facing burglary charges: Three runaway Boundary County boys who were found safe in Bonner County Wednesday are each facing multiple burglary charges and the eldest, Ethan Pinson, 15, remains in police custody.

Max is missing! This is Max. He went missing from the Lunch Peak Lookout area near Clark Fork on Wednesday, August 21. Please help bring him home as soon as possible. If you have seen him or have any information, please call Tami White at (406) 293-8609 or (406) 334-0189.
Moyie Springs woman dies in crash: Danette J. Vaughn, 45, Moyie Springs, lost her life Friday in a single vehicle accident on Highway 2 near Twin Rivers Road. According to the Idaho State Police, Vaughn, the sole occupant of the vehicle, was driving a 1997 Chevrolet Blazer east on Highway 2 when she missed a curved, drove off the right side of the road and rolled her vehicle.
August 23
Fund established to help Natasha Wilkerson: A fund to help Natasha Wilkerson, who lost her husband of less than a month, Josh, in a vehicle collision Tuesday, has been established at Panhandle State Bank and donations can be made at any bank branch.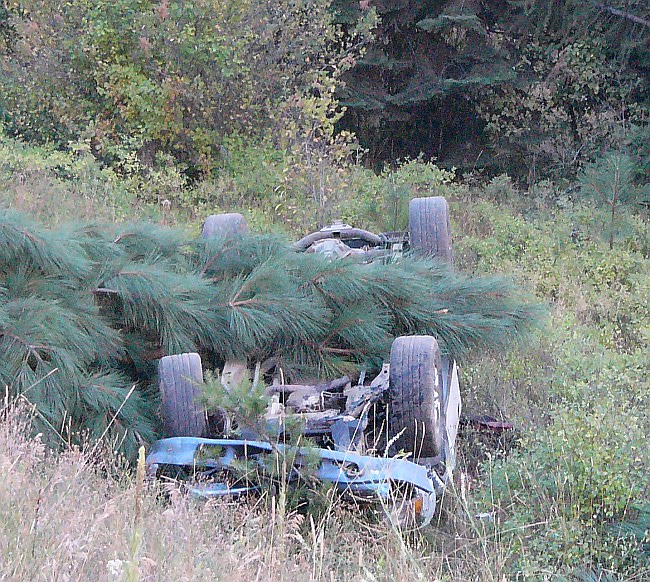 Moyie Springs woman dies in crash: Danette J. Vaughn, 45, Moyie Springs, lost her life Friday in a single vehicle accident on Highway 2 near Twin Rivers Road. According to the Idaho State Police, Vaughn, the sole occupant of the vehicle, was driving a 1997 Chevrolet Blazer east on Highway 2 when she missed a curve, drove off the right side of the road and rolled her vehicle.
The accident on Highway 2 at Twin Rivers Road was a fatality, but the names of the occupant(s) has not been released. The vehicle was traveling east on Highway two and went off the roadway on the curve at the east end of the Moyie Bridge, went airborne, clipped a small tree and traveled several hundred feet through the ditch, clipping several more small trees before coming to a rest on its top in a clump of trees near the junction with Twin Rivers Road about 50 feet from the highway. There is no lane blockage as yet.
7:24 p.m.: Rollover on Highway 2: The accident on Highway 2 at Twin Rivers Road was a fatality, but the names of the occupant(s) has not been released. The vehicle was traveling east on Highway two and went off the roadway on the curve at the east end of the Moyie Bridge, went airborne, clipped a small tree and traveled several hundred feet through the ditch, clipping several more small trees before coming to a rest on its top in a clump of trees near the junction with Twin Rivers Road about 50 feet from the highway. There is no lane blockage as yet.
August 22
Thank you: News Bonners Ferry is a truly small business. Most of what you see and read on these pages is created on a single computer in a bedroom in a nondescript home north of Three Mile, by a guy sitting in a mobility scooter, using one hand only.It's not me making this site a success, it's you.
Drivers, be prepared for start of school: Streets and neighborhoods become more crowded when school resumes every fall. Routes that might be free of pedestrians and bicycle riders in the summer can become congested. Travel times increase along with the potential for vehicle crashes with school-age children, according to the Idaho Transportation Department.
Thanks all for great market animal sale! A big thank you goes out to all those who made the 2013 4H/FFA Market Animal sale such a huge success, from the many volunteers to those who worked the ring to the buyers and the kids who showed. (PDF)
BCSD 101 proud to offer free/reduced lunches: Boundary School District 101 is proud to participate in the free/reduced school lunch program to ensure that no students' school experience is diminished because he or she is hungry. They encourage the parents of all who qualify to take full advantage. (PDF)
Freshman orientation set: Hello Badger Freshmen and Parents! We would like to invite you to a special orientation at the high school. Come and join us from 8 a.m. to noon Thursday, August 29.
Kootenai flows to drop: Tonight, Libby Dam will begin ramping down to target Koocanusa Reservoir elevation 2449' at the end of August.
Welcome back to BFHS: I would like to welcome you to the start of an exciting year at Bonners Ferry High School! Throughout the year it will be our goal to make our school a place where students receive a quality education that will prepare them for anything they want to do in life. By Principal Tim Gering
Important news for middle school students: I hope that you have been enjoying your summer break. Even though it is still summer, there are some important dates that I wanted to alert you of regarding pre-registration for the 2013-2014 school year. By Principal David Miles II
Welcome to BCMS, sixth graders! The staff at Boundary County Middle School would like to welcome you and your child to your new school. Sixth grade is a very exciting and important year in your child's education, and as such we will be hosting a few events to help with the transition from elementary school to middle school. By principal David Miles II
Red flag warning tonight, Friday: The National Weather Service has issued a red flag warning for the region, effective this evening through 2 p.m. Friday, when a series of fast moving thunderstorms are expected to roll in from the south.
August 21
6:09 p.m.: Fire reported on Highway 1: Emergency crews are responding to a report of a fire in the bedroom of a home on Highway 1 near milepost 3; it is reported that there are children in the home but no adults. Those travelling in the area should be alert to and get out of the way of emergency traffic. All the occupants are reported to be out and safe.
Missing children found safe: The three missing/runaway children; Ethan, Cody and Dakota Pinson, were located in Bonner County just before noon today.
Memorial to be held for Josh Wilkerson: A memorial for Josh Wilkerson, 25, Naples, who lost his life Tuesday in a vehicle collision, will be held at 10 a.m. Saturday, August 24, at a place he dearly loved, the Bonners Ferry High School soccer field.
Vehicle collision claims Naples man: A three-vehicle collision on Highway 95 at Mountain Meadows Road Tuesday evening stopped traffic through Boundary County for several hours and claimed the life of a Naples man married just a month ago.
August 20
Josh Wilkerson lost in crash: It is with great sadness that I confirm that Josh Wilkerson, the son of Wayne and Wanda Wilkerson, married just a month ago, lost his life in a vehicle collision tonight on Highway 95 at Mountain Meadows Road.
5:29 p.m., Major injury crash: Crews are responding to a major, three vehicle collision on Highway 95 near Mountain Meadows Road. Serious injuries are reported, and traffic is tied up. Motorists are being asked to avoid the area if at all possible. 5:46 p.m.: Traffic is now being shut down in both directions. It will be awhile before traffic begins moving. Again, motorists are advised to avoid the area if at all possible. South bound traffic is being turned around at Brown Creek Road. 6:37 p.m.: Southbound traffic on Highway 95 is being turned around at Brown Creek Road. Motorists traveling south to Bonner County may save time by detouring through Montana. 7:30 p.m.: ISP anticipates at least another hour and a half for traffic to begin moving.
Court records and sheriff's log
Three boys missing from home: Sheriff's detectives and a Paradise Valley family are searching for three boys who have been missing from their adoptive home since Thursday, August 15. Updated
August 19
Rockey Burkholder recovering after seizure: A family outing to Lake Pend Oreille over the weekend turned frightful when Bonners Ferry icon Rockey Burkholder suffered a seizure and collapsed, lost his pulse and stopped breathing. When brother-in-law Marty Becker anxiously entered Rockey's room at KMC, not only was Rockey looking much better, he was almost chipper.
August 16
Make way - Physicians riding to the fair! They are on the way! The Boundary County Fair's theme is "It's Magic" and the Medical Staff physicians of Boundary Community Hospital are galloping through the sagebrush on their racing horse to join in the fun at the Fair.
August 15
End of Boundary Volunteer Ambulance? By Idaho state law, each of the 44 counties in the state are required to provide ambulance service. For 47 years, the county didn't have to think of it Boundary Volunteer Ambulance did the job for a pittance. It was service the volunteers have long been proud of, but BVA fears their dedication, and service, may be at an end.
Buy a brick for Hall Mountain VFD! For 35 years, the men and women who have volunteered with the Hall Mountain Volunteer Fire Department have given of themselves, going out in all weather, at all times of day or night, to answer their neighbors calls for help. To keep that legacy alive, they now ask the community's help. In so doing, they're building a lasting legacy.
Labrador nixes bid for governor ... for now: Over the past few months, many of you have encouraged me to run for Governor. I have been humbled and surprised by the great outpouring of support that I have received from the people of the great State of Idaho. By Congressman Raul Lebrador
August 14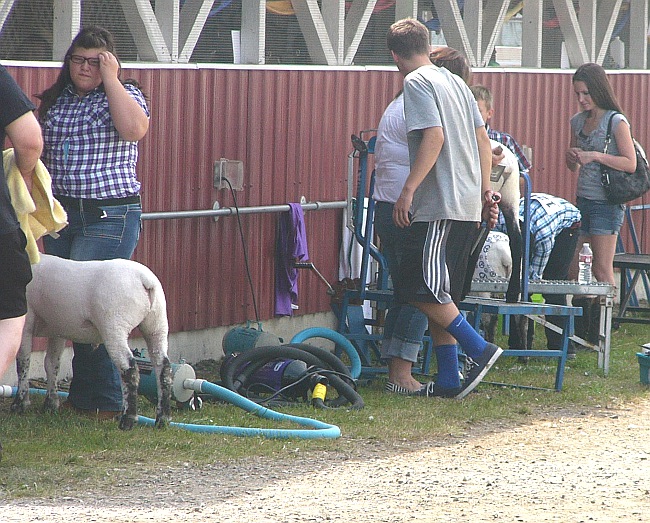 Fair off to a great start, and more to come! The 2013 Boundary County Fair is off to a great start, and though it's early, there's magic in the air! The crowds aren't all that big as yet, that'll come closer to the weekend, but everything is up and ready for their arrival.
Thanks for food service van! On behalf of Boundary County School District #101, I would like to thank the following businesses for their extremely generous donations to the Food Service Program.

63 Young Eagles soar at Northern Air: The EAA's Young Eagles Day was smooth sailing on August 10. Volunteer pilots gave free flights to 63 local kids ages 8-17, giving them a new perspective on their world and introducing them to the trill of flight.
Important info for start of school: Boundary County School District 101 has provided important information for the parents of all students who will begin classes in county public schools September 3.
August 13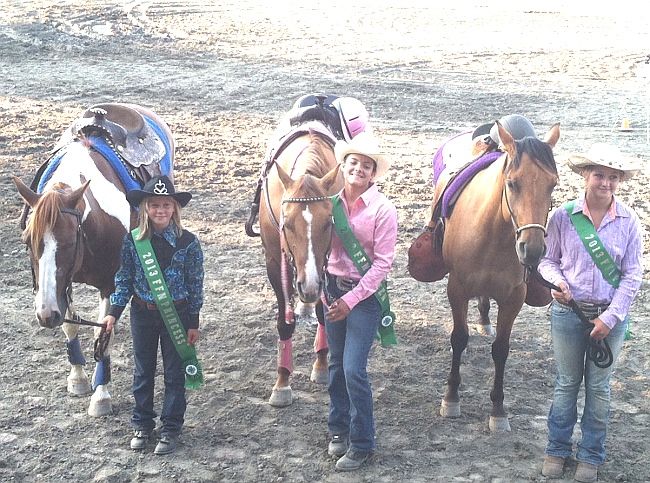 Opening day at the Boundary County Fair: While the fairgrounds are a bustle of activity today, for most folks, the fun doesn't begin until tomorrow at 9 a.m., when all displays and exhibit areas are opened to the public, vendors are set up and you can get that spicy sausage, cotton candy, elephant ear or other delicacy you've been craving since around this time last year.

Maniac here to lead BFHS: On behalf of the Boundary County School District 101 Board, I am pleased to introduce Tim Gering as principal of Bonners Ferry High School. He's long been a Maniac, but both he and his family are obviously eager to become Badgers ... and neighbors. News/editorial by Mike Weland
August 12
A lot of love going into Abby's fence: On June 15, two tough teams of amazing men and women met on the gridiron at Bonners Ferry High School and waged a hard-fought battle before a generous crowd. No one who played really cares to remember the score, but none has forgotten who won -- seven year old Abby Bliss and her family.

Distinctive hat a clue in burglary: On January 31, 1999, the Denver Broncos defeated the Atlanta Falcons 34-19 to win Superbowl XXXIII. Legendary quarterback John Elway who threw for 336 yards and ran in a three-yard touchdown, became the oldest player at age 38 to be named a Superbowl MVP. Now a memento from that historic game is a major lead in a local crime.
Sunday morning crashes claim three in area: Two early morning accidents Sunday, one in Bonner County, the other in Troy, Montana, claimed the lives of three area residents. Updated.
Court records and sheriff's log
County commission minutes, July 29
County commission minutes, July 22-23 & 25
August 10
Power outages planned Sunday night: Both the City of Bonners Ferry and Northern Lights will be shutting down power beginning at midnight Sunday for maintenance, which will affect many in Boundary County.
August 9
Blown transformer causes outage: A blown transformer behind Bonners Ferry City Hall caused a power outage shortly before noon today that affected areas both in town and in the county, including the traffic lights at Three Mile.
August 8
Free lunch to help build playground: Everyone is invited to a free lunch being hosted by hosted by the Bonners Ferry Herald for Boundary County Parks and Rec between 11:30 a.m. and 3 p.m. Friday, August 23, in downtown Bonners Ferry. It's their second annual block party to continue raising funds for the Memorial Park Project to build an amazing new playground at the Boundary County fairgrounds.
All School Reunion a resounding success: On Saturday, August 3, dozens of Boundary County alumni began gathering at the former Roundheels pawn shop to pick up their registration forms. Hardly anyone made it inside however, as there was so much back slapping and handshaking going on. A News Bonners Ferry pictorial.
Delays expected for memorial procession: There will be several significant traffic impacts associated with the August 16 Vietnam Memorial Wall procession through North Idaho, the Idaho Transportation Department announced.
'Without Compromise' gives look at ISP: It has been a journey ranging from barely-functioning motor vehicles and hardly-there roads to high-tech computer systems and biotechnology - a long way. Some of what the Idaho State Police does emerges in newspaper headlines and local television news reports, but only pieces of it, as glimpses of the larger story.
August 7
City PD faces second tort claim: The second tort claim alleging a hostile work environment within the Bonners Ferry Police Department was filed Tuesday by officer Tiffany Murray, citing, in part, actions by police sergeant John Lunde, who filed a claim against the city June 21.
August 6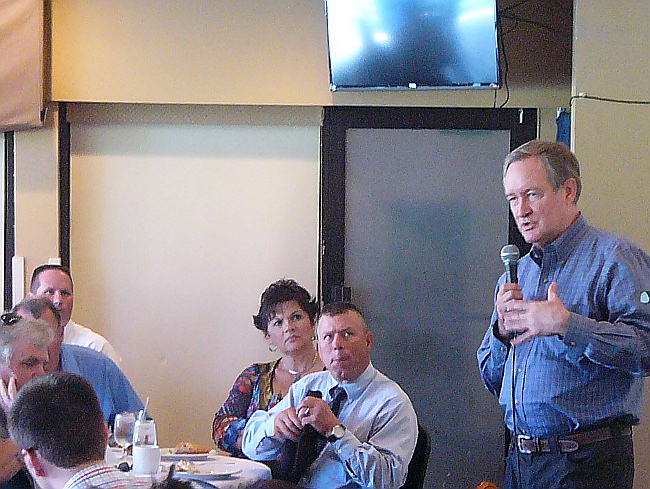 Senator Crapo late for lunch: U.S. Senator Mike Crapo is just like everyone else ... when travelling north to Bonners Ferry today for a 12:30 p.m. luncheon, he was tied up in road construction right along with countless others. His guests started eating while awaiting his delayed arrival.
August 5
It's Magic at the Boundary County Fair! Hot on the heels of a wildly successful All School Reunion (pictures and story coming soon!), folks have been working hard for the summer's next big event, the Boundary County Fair, which is just over a week away.

Hound waiting to go home at Naples Store: This little girl was found this morning at the Naples General Store, and by the look of her, she's missing someone as much as someone must be missing her. Safe at home!
Mayor proclaims Little League Week: In honor of the outstanding achievements of the Boundary County Yankees, Bonners Ferry Mayor David Anderson has officially proclaimed this week to be Bonners Ferry Little League Week.
Court records and sheriff's log
August 4

404 remembered with tears, laughter: On Wednesday, July 31, a memorial service was held at Real Life Church in Post Falls to honor former Bonners Ferry resident Kevin Bennett, who lost his battle with cancer July 23, 2013. Kevin was a Sergeant with the Idaho State Police, based out of Coeur d'Alene.
Lewis missing after collision: Motor vehicle accidents scare and shake up the people involved, but they scare the living bejeebers out of a pet, and a family involved in an accident Saturday is praying for the safe return of their dog, Lewis. Found! Scared, a little dirty, but happy to be back home!

Young Eagles will soar at Northern Air: Area young people ages 8-17 will have a chance to take to the skies on Saturday, August 10, as Experimental Aircraft Association (EAA) Chapter 757 hosts a Young Eagles Flight Day at the Boundary County Regional Airport in Bonners Ferry.
River restoration work to continue: This summer and fall the Kootenai Tribe of Idaho will be leading construction of two river habitat restoration projects in the braided reaches of the Kootenai River upstream from Bonners Ferry.
Sandpoint armory axed: Due to a lack of federal funding for this military construction project, the Idaho Army National Guard is discontinuing a project to construct a new Readiness Center (armory) near the City of Sandpoint.
Senate passes hydropower development act: U.S. Senators Jim Risch (R-ID) and John Barrasso (R-WY) on Friday praised the Senate's unanimous passage of the "Bureau of Reclamation Small Conduit Hydropower Development and Rural Jobs Act."
August 2
Ed DePriest returns as head football coach: After a controversial process that saw each of the five candidates for the position of Bonners High School head football coach appear today in special session before the school board of trustees to explain why they felt best qualified for the position, the board officially named former coach Ed DePriest to the job.
Obituaries
Donna Jean Dinning, March 24, 1940 ~ August 23, 2013
Joshua Wayne Wilkerson: December 30, 1987 ~ August 20, 2013
Faye Ellen Saunders, March 20, 1924 ~ August 20, 2013
Arletta Presley, August 21, 1927 ~ August 15, 2013
Carl Z. Smith, January 4, 1925 ~ August 10, 2013
David Russell Elliston, September 8, 1950 - August 8, 2013
Katherine J. Woodbury, March 19, 1921 ~ August 2, 2013
M. Lucille (Childress) Owen-Huston, November 9, 1931 ~ July 31, 2013
Social
Grief acceptance classes offered
:
Bonner Community Hospice, a local not for profit hospice, is pleased to again offer a "Grief Acceptance Class," starting September 10 in Bonners Ferry at the United Methodist Church Library.

Tatum, Crum married
:
Alicia Nicole Tatum, the daughter of Del and Tara Nelson, Bonners Ferry, and Gary and Nancy Tatum, Las Vegas, and Joshua Daniel Crum, the son of Roy Crum, Bonners Ferry, were married by Minister Cynthia James July 21 in Bonners Ferry.

Riebli basis training honor grad:
Air Force Airman Lucas J. Riebli recently graduated from basic military training at Joint Base San Antonio-Lackland, San Antonio, Texas.
Sports
Comment sought on elk management plan: The Idaho Fish and Game Commission Monday, August 19, released a proposed 10-year elk management plan for a 30-day public review and comment period.

75 students receive free physicals: Boundary Community Hospital hosted another successful Free Sports Physical clinic Tuesday, August 6. The medical staff of Boundary Community Hospital, along with hospital employee volunteers, Boundary County School District coaches, and the high school athletic director came to the outpatient clinic of Boundary Community Hospital to help students complete their physicals.
Second Bike & Hike in the books: It was a good day July 27 for the second annual Hike and Bike on the Dike event sponsored by Boundary Search and Dive Rescue Team. The winning team this year was Jessie Gondek and Jared Lysne.
Letters
Lee Haarstick:
What I have discovered is that Islam is not a religion, nor is it a cult. In its fullest form, it is a complete, 100% system of life. Islam has religious, legal, political, economic, social, and military components.
Ruth Sutton:
I have been trying since August 6 to find a nice way to voice sentiments regarding the City of Bonners Ferry administration that are not just mine but a whole group of citizens' of Bonners Ferry and the surrounding area.
Mike Weland
:
I've been catching a bit of flack regarding some articles and opinions I've published of late that seem to imply something, but don't really say much. I don't write from malice or to cast aspersion.
Congressman Raul Labrador:
In 1981, when President Reagan took over from Jimmy Carter, America was stuck in the worst economy since the Great Depression. In his first inaugural address, Reagan diagnosed the source of America's economic ills by declaring, "Government is not the solution to our problem; government is the problem."
Tom Mayo:
Sometimes I have a sense that the county considers residents of the City of Bonners Ferry to be refugees, undocumented aliens or, at best, second class citizens who are a heavier burden on the county than are those living outside the city limits.
Back to archives