Boundary County Archives ~ February, 2013
Home
News
Sports
Social
Obituaries
Events
Letters
News
February 28
County P&Z to revisit comp plan: After re-electing proud new father Matt Cossalman chair and John Cranor co-chair, and by unanimous vote to stay with the long-established meeting schedule, the Boundary County Planning and Zoning Commission agreed, also unanimously, to revisit a document long in the making, the Boundary Count Comprehensive Plan, so as to amend it.
---

Vapor Max opens Friday: After nearly two years doing reviews of electronic cigarettes on YouTube, Crystal Anton's husband, Zeus, had an idea. "Why don't you go into the business?" he asked. That business, Vapor Max, opens its doors at 10 a.m. Friday.
---

CNA class beginning March 25: Boundary Community Hospital provides classes to earn certification as a Certified Nursing Assistant (CNA) four times a year. These classes are a great way to be eligible for steady work. A new class will begin March 25 and continue through May 16, 2013.
February 27
Idaho leads nation in minimum wage workers: The share of Idaho's hourly workers making the minimum wage of $7.25 an hour – or less – jumped to 7.7 percent in 2012, the highest percentage in the nation.
---
Priest Lake history on-line: The University of Idaho Library's Digital Initiatives department announces the online release of the Priest Lake Museum Association Collection, a digital collection of historical photographs of Priest Lake, Idaho, and the surrounding area. The 380 images span the years 1880 to 1950, documenting the area's waters, boats, buildings, landscape and people.
---
Naples School - A legacy of love: One of February's holidays is Valentines Day, a day that is cherished by children as they exchange Valentines with their classmates and loved ones. Love is really an important part of any relationship that works well, and it is a big part of the daily life at Naples School.
February 26
Newsbf turning two: On March 1, 2013, News Bonners Ferry will celebrate its official second birthday. No party is planned. While it's not quite where I want it yet, I started it because I felt that traditional media had shifted away from proper; that the reader, not the advertiser, deserves more.
February 25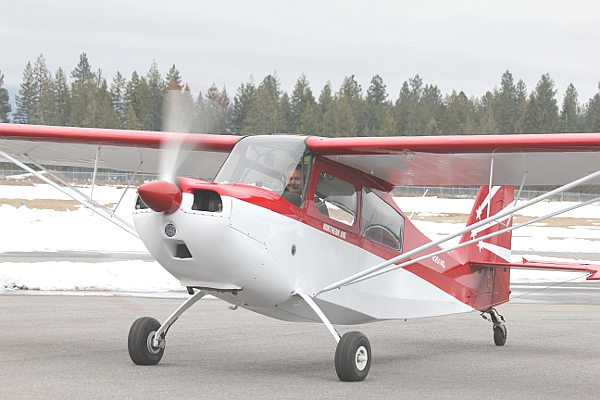 Dave Parker at the controls of the newest Northern Air acquisition, a 1964 Citabria, a taildragger purchased as a pile of parts more than two years ago, now in the air once again.
Northern Air Photo
Taildragger takes to the sky: Spring was in the air early this February. The snow is almost gone from the valley and the longer days and warm sunshine are brought out all the eager pilots who were blocked from their planes by a two foot snow bank in front of their hangar door all winter. Northern Air is also proud to announce the newest addition to its fleet, a 1964 American Champion Citabria, a traildragger that adds to all Northern Air offers. By Ashley Glaza
---
All School missing list grows: While still looking for a long list of BFHS alumni whose invitations to the August 3 Boundary County All School Reunion were returned earlier this month, a second batch of invitations just came back undelivered, making that first list longer. Help is needed in letting everyone know; please take the time to look for your missing classmates, and to pass the link along to all your Boundary County those you know.
Valentine serenade ...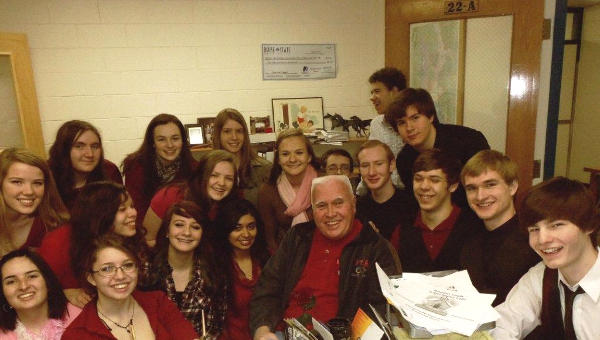 The Bonners Ferry High School Choir, led by David Carpenter, serenaded Gil Hagen on Valentine's Day. Gil was very surprised to receive a valentine, a red rose and a song from a couple of his admirers.

Director excited about 'Joyful Noises:' I am so excited about our show, "Joyful Noises," that opens Friday, March 1, at the Pearl Theater in Bonners Ferry. I'm discovering that I absolutely love working in this format with choral, solos/duets, theater sketches, dance, and beautiful strong visuals. By Vicki Blake Thompson
---
Court records and sheriff's log, February 19-24
---
Court records and sheriff's log, February 11-18
February 24
Winter weather advisory for snow, wind: The National Weather Service, Spokane, has issued a winter weather advisory in effect from midnight tonight to 10 a.m. Monday, calling for snow and gusty winds.
---

Patrice Webb to perform at the Pearl: The Pearl Theater is excited to present local singer, guitarist, and award winning songwriter Patrice Webb in concert at 7 p.m. Saturday, March 23. Patrice's songs tell of the lives of those whose stories make up the vibrant tapestry known as "Americana."
---
Firefighters hone skills in practice burn: North Bench Fire Department hosted a National Fire Protection Association 1403 live fire training, on an acquired structure along the Westside Road in Bonners Ferry on Wednesday, January 16.
February 23
Eastport phones down
12:52 p.m.: U.S. Customs has just informed the Boundary County Sheriff's Office by radio that telephone service is down in the Eastport area, though the cause at this time is unknown. Those in the area able to read this message are advised to go to the customs office in the event of an emergency, as cell service in that area is largely unavailable. 1:04 p.m.: Frontier has been notified; we are told that telephones at Good Grief are working.
---
February 21
Mt. Hall, Naples Elementaries recognized: Two Boundary County elementary schools, Mount Hall and Naples, were recognized earlier this month by Idaho Superintendent of Public Instruction Tom Luna, who may pay a personal visit to see what's making them do so well.
---
Celebrating Idaho's history: March 4, 2013, marks the 150th anniversary of the creation of Idaho Territory. Kootenai Tribal Chair Jennifer Porter, Boundary County Commission chair Dan Dinning and Bonners Ferry Mayor David Anderson are proclaiming this date in commemoration of a yearlong statewide recognition of Idaho's Territorial Sesquicentennial.
---
Hearing set on proposed gravel pit: The Boundary County Planning and Zoning Commission will hold public hearing at 5:30 p.m. Thursday, March 21, 2013, in the main courtroom at the Boundary County Courthouse to accept public comment on conditional use permit application 13-009 by Alan Winkelseth, Wink, Inc., to develop a rock crushing/gravel pit commercial operation at RP62N02E144812A, located on Twin Rivers Road.
---
Tree planting workshops slated: Promptly renewing a forest with tree seedlings is key to sustainable forestry, whether to replace harvested trees or those that died from fire, insects, or disease. In March, a half-day workshop titled "Successful Tree Planting" will introduce participants to key elements of planting forest trees successfully.
---
Winter weather watch above 3,000 feet: The National Weather Service, Spokane, has issued a winter storm watch effective Friday afternoon and into Saturday calling for heavy snow and gusty winds above 3,000 feet.
February 19
Few turn out to question M&O: Ten minutes before 6 p.m. today, with six school district officials on stage, the Becker Auditorium at Bonners Ferry High School, the venue for a public information meeting on the upcoming $1.4-million, two-year School District 101 Maintenance and Operations Levy, was packed with two people, both of them reporters.
Bomb scare at school, detonation not related: A strange convergence of events, a bomb threat this morning followed by a loud explosion early this afternoon left more than a few parents fearful that a school bomb threat that evacuated Bonners Ferry High School was real, but the two events were not related.
Bomb unit at landfill
1:38 p.m. February 19: The Boundary County Landfill was closed earlier this afternoon as a bomb disposal unit detonated explosives; I am awaiting details at this time. It is not believed connected to this morning's bomb threat at Bonners Ferry High School. The landfill was reopened a few minutes ago.
---
High School evacuated
Bonners Ferry High School has been evacuated yet again due to a bomb threat; students are at Valley View and, according to staff, are not being released. The threat was reported shortly before 10 a.m. Bonners Ferry High School has been evacuated yet again due to a bomb threat; students are at Valley View and, according to staff, are not being released. The threat was reported at about 9:50 a.m. Emergency responders began returning to station at about 10:44 a.m., and students are expectyed to return to class at 11:30 a.m.
---
Winter weather advisory issued: The National Weather Service, Spokane, issued a winter weather advisory including Boundary County at 6:35 a.m. today and in effect until noon calling for one to three inches of snow.
February 18
E.L. Internet Northwest to be down: Internet service provider E.L. Internet Northwest will be shutting the system down at 4:30 p.m. Tuesday to make upgrades. According to the owners, the system should be down for no more than an hour.
February 14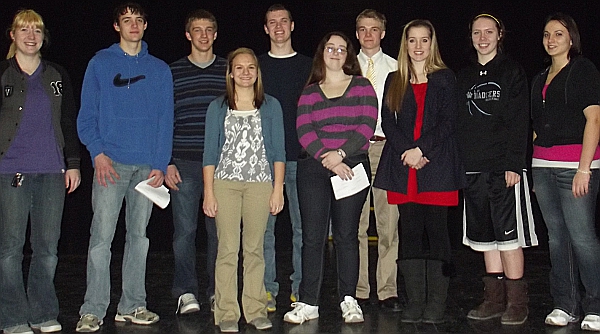 National Honor Society inducts 12: On Monday, February 11, in the Becker Auditorium, the National Honor Society inducted its 12 new members of the 2012-2013 year. NHS advisor Paul Bonnell gave a speech about the accomplishments of the new inductees.
More than 150 attend rally: The sun was shining Saturday afternoon as people began trickling in twos and threes onto the fairgrounds lawn, but it was cold. Organizers of the Bonners Ferry Second Amendment Rally who'd been there awhile getting set up were thoroughly chilled by the time the event started at 2 p.m. In all, between 150 and 200 people showed up.
---
Regional spelling bee contestants named: A total of 52 fourth- through eighth-graders from the five northern counties of Idaho will participate in the ninth annual North Idaho Regional Spelling Bee Saturday, March 23 at North Idaho College. Travis Zigler, Mariah Roy, Charcy Ricks Bullock, Katie Clairmont and Chase Tucker will represent Boundary County.
---
'Joyful Noises!' coming to the Pearl: The Pearl Theater is pleased to present "Joyful Noises!" Join our 65 member cast to celebrate life on planet Earth in song, drama, photography and dance in this original musical theater event.
---
Bullying serious, but not always the problem: As we continue into the doldrums of winter, sometimes patience can be lost; there is clearly a legitimate syndrome called, "Cabin Fever." Conflict is a natural part of life; students will experience conflict at VVES. By Valley View Principal Paul Pfleuger
---
Court records and sheriff's log
February 13
Letters returned ... Where did they go? At the Boundary County All School Reunion committee meeting Tuesday evening, Nona Kaye reported that of all the letters mailed out to the last known address of all those on the All School Reunion list she inherited, 35 former Bonners Ferry Badgers have replied ... not bad considering that the event happens five months into the future. Not so good was her next report, passed around on two single-spaced sheets of paper, double columned. This was the list of the names of people whose letters came back, "unable to deliver, address unknown."
February 8
Man in prison for theft at Ace Elder Care: Christopher M. Doyle, 25, Bonners Ferry, was sentenced February 5 in United States District Court to 36 months in prison for bank fraud and aggravated identity theft.
---

Idaho Youth Challenge director named: The Idaho Adjutant General, Major General Gary Sayler, announced today that the first director of the new Idaho Youth Challenge Academy is Mr. Derek Newland.
---

Idaho's biggest drug bust nets 18 months: Barbara Jeanne Willoughby, 23, Paramount, California, arrested in Bonners Ferry last March, was sentenced February 4 in United States District Court in Coeur d'Alene, to 18 months in prison for conspiracy to possess with intent to distribute cocaine.
---
Valley View PTO looking to raise big bucks: Valley View Elementary is in dire need of new bleachers in the school gym, and the Valley View Parent/Teacher Organization hopes to raise $40,000 in February, with a lot of help from Mountain West Bank and several local businesses.
---
Suit filed over caribou habitat: A coalition of conservation organizations last week filed a formal 60-day notice of intent to sue the U.S. Fish and Wildlife Service for what the groups say were violations of the Endangered Species Act in the agency's final declaration of "critical habitat" needed to sustain endangered mountain caribou that roam northeast Washington and northern Idaho.
February 7
Middle school students staying busy: On Wednesday, January 30, close to a hundred eighth graders took the ACT Explore Test during the school day. The test included four different content areas: mathematics, science, language arts, and reading. By principal Dick Behrens
February 6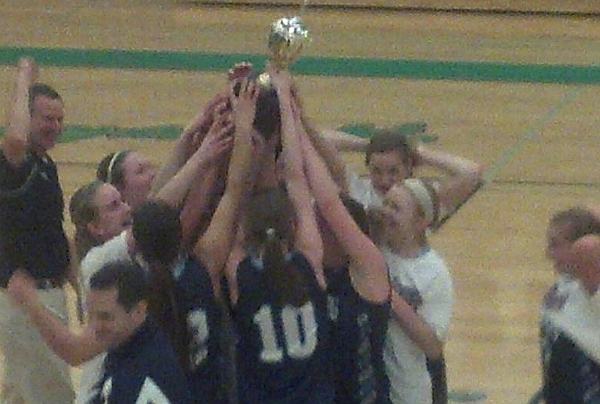 The Badger girls hoist the IML trophy after defeating the Priest River Spartans tonight at the district championship game in Lakeland.
Ketta Everhart photo
BADGER GIRLS DISTRICT CHAMPS!!
The Bonners Ferry Badgers defeated top ranked and previously undefeated Priest River tonight, 45-42, to take the Intermountain League championship. The Badger girls go on to the state championships, taking place February 14-16 at Skyview High School in Nampa. GO BADGERS!!
---
Big crowd expected at 2nd Amendment Rally: Organizers have no idea how many people to expect, but response has been so overwhelming they've changed the venue of the Second Amendment Rally this Saturday from the parking lot at Far North Outfitters to the much more spacious green at the Boundary County Fairgrounds.
---
Friends of the Arts to hold important meeting: Do you enjoy attending quality performing arts productions right here in Boundary County? If so, please join Friends of the Arts at 5 p.m. Friday, March 22, in the banquet room of Mugsy's Tavern & Grill, 7161 Main Street, Bonners Ferry, to help plan its new chapter.
---
BFHS Choir offers unique Valentine's: Members of the Bonners Ferry High School Choir once again want to make this Valentine's Day something special for that special someone in your life, a song, a rose and a card.
---
Krichbaum appointed school trustee: At its regular meeting Tuesday, the Boundary County School District 101 Board of Trustees formally appointed Beverly Krichbaum, Moyie Springs, to fill the vacancy in Zone 2 created by the resignation of 11-year member Tim Bertling.
---
Fire alarm at Valley View
Bonners Ferry fire crews and ambulance personnel are setting up at Valley View Elementary after a fire alarm was called shortly before 2 p.m.
2:10 p.m.: According to the district office, the alarm went off due to a hot spot in an electrical panel; fire crews have cleared the incident and students should be back in class soon.
All units cleared at 2:33 p.m. It was later announced that smoke from dust in a baseboard heater that had been turned on caused the alarm.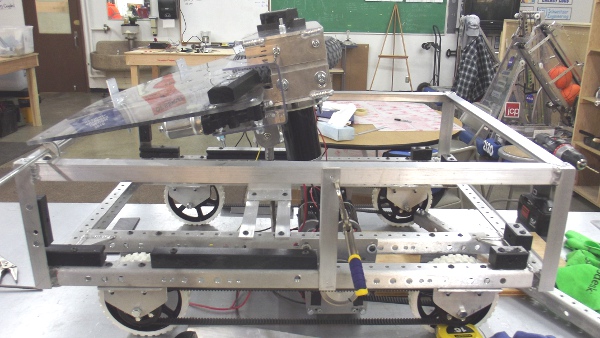 FIRST Team 2130 robot nearing completion: FIRST Team 2130 has finally finished the design using Autodesk Inventor and is going full speed ahead with building the robot.
---
Moyie Springs proposes new comp plan: The Moyie Springs City Council has developed a proposed comprehensive land use plan, and they're asking people in the city to take a look and offer their comments.
---
Doctors save cancer patients long trip: One of the most promising new treatments for many types of cancer is the stem cell transplant, and a Spokane doctor appeared in an interview this morning on KHQ Television to talk about the 100th such transplant performed in the region. A local man was number 54 on that list.
February 5
Badger girls in championship game: The Bonners Ferry Badgers girls basketball team, coached by Ken Robertson, took out the Kellogg Wildcats Monday night, 34-26, to move on to fight for the district championship. They'll face the Priest River Spartans at 7:30 p.m. Wednesday in Lakeland.
---

Lauding a school counselor: National School Counselor Week is the week of February 4-8. I have enjoyed over 20 years as a school administrator, and have come to learn and appreciate the school counselor and how important it is that they work closely with the building administration; and RaNae Barker is one of the best I have worked with! By Principal Gary Pfleuger.
---
Three elections on tap for 2013: Though 2013 is an off-election year, three elections will be held this year, including a school district maintenance and operations levy election coming up March 12.
---
Students invited to enter USFWS art contest: We would like to invite you to participate in the 2013 Idaho Junior Duck Stamp Art Contest. The contest is sponsored by the U.S. Fish and Wildlife Service, the only federal agency dedicated solely to the conservation of fish, wildlife, and their habitats.
---
Court records and sheriff's log
February 2
Mail being stolen in Moyie area: A mail carrier in the Moyie Springs area received complaints from residents on her route over the past few weeks that expected mail and packages hadn't arrived. She found out what's happening, the mail is being stolen.
---

The Grub Stake' to be shown at museum: The Boundary County Historical Society is sponsoring the showing of Nell Shipman's 1922 silent film, "The Grub Stake," on of several she filmed in Priest River in that era, at the Boundary County Museum on Saturday, February 23.
---
Wolverine may be listed as threatened: The U.S. Fish and Wildlife Service announced Friday, in response to a court-ordered deadline, that it is seeking information from the scientific community and the public on a proposal to protect the North American wolverine as a threatened species under the Endangered Species Act.
February 1
'Gun was definitely there,' students say: The two students who allegedly witnessed a firearm on the Bonners Ferry High School campus Thursday afternoon and reported it, prompting a lockdown, are insistent that there was, indeed, a pistol on campus, and both are concerned that the owner of the weapon, who both said they've heard boasting of having it "24/7," will continue bringing it to the school campus in spite of school policy.
---

Hero bus driver had North Idaho roots: Charles "Chuck" Poland, 66, the driver of an Alabama school bus who stood off a gunman, refusing his demands to turn over two young children and allowing 21 students time to evacuate before he was shot and killed, was from Payette, Idaho, and grew up in North Idaho.
---
PUC meetings set in Sandpoint, Moscow: On October 11, 2012, Avista Utilities filed for an average 4.6 percent rate increase for electric customers and an average 7.8 percent increase for gas customers. Staff from the Idaho Public Utilities Commission will conduct workshops for Avista customers on February 12 at 7 p.m. at the Sandpoint Community Hall and on February 13 at 7 p.m. in the Great Room of the 1912 Center in Moscow.
Obituaries
Clifford Ray Utter,
---
Frank Todd Plew
---
Marlan Eugene Entriken,
---
Donna Beth Stoner
---
Janet Lou Ray
---
Lawrence 'Larry' E. Watts
---
Philip David 'Phil' Melior
---
Charles Albert Poland,
---
Social

Harmans welcome Kyla Rose: Jesse and Kelsey Harman, Hayden, are proud to announce the birth of their daughter, Kyla Rose, born November 16, 2012, at Kootenai Medical Center, Coeur d'Alene.
Students invited to audition: Boundary County students in grades kindergarten through 12 are invited to audition for the upcoming Missoula Children's Theater production, "Snow White and the Seven Dwarves."
---
Art event celebrates Lightning Creek: The National Forest Foundation (NFF), in partnership with the Idaho Panhandle National Forest, the Pend Oreille Arts Council (POAC) and Panhandle State Bank, will host a public art reception at the Sandpoint Center on March 1, 2013.
---

FoR name Valentine's Raffle winners: Chanalea Pennock and son Layne won the romantic basket and Sue Ireland won the fun basket, but was unable to be present for pictures, in the Friends of the Restorium's recent Valentine's basket raffle.
---

Valentine's basket raffle starting: The Friends of the Restorium will be selling raffle tickets for two Valentine's Day baskets designed and donated by Donna Jo Dirks, and they'll be signing up new members as well.
---
Hospital Auxiliary calling for pies: The Boundary Community Hospital Ladies' Auxiliary will host their annual pie sale on Friday, February 22, and they're welcoming pie donations.
Bonnie Peterson looking to renew acquaintances: Bonnie McGlocklin was born in Bonners Ferry July 30, 1935, and went to schools here through the ninth grade. She won't be able to come back for the All-Class Reunion in August, but she would like to renew old acquaintances.
---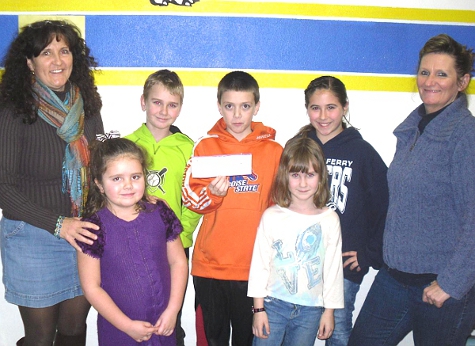 Poetry Alive! visits county schools: Poetry Alive! gave performances for the Bonners Ferry High School, Boundary County Middle School, and Valley View Elementary January 9.
---
Sports
IDFG seeks comment on peregrine take
:
Once listed as an endangered species, the American peregrine falcon has rebounded to the extent that in 2004 the U.S. Fish and Wildlife Service authorized the capture of nestling peregrines from the wild for use in falconry.
---
Invernon wins, Garner 'Coach of the Year'
The Bonners Ferry Badgers took fifth place in the Idaho State 3A wrestling tournament on Saturday, with senior Blaine Invernon winning his third state title, making he and Adam Hall the only two Badgers in history to accomplish the feat, and coach Conrad Garner was once again chosen as Idaho high school wrestling's Coach of the Year.
---
Badger girls named to All-Tournament teams: After winning the consolation trophy at the Idaho State 3A girl's basketball tournament February 16, several Bonners Ferry Badgers were given special recognition by www.idahosports.com.
---
Three in contention for state championships: After the first day of competition, three Badgers; Aaron Smith, Blaine Invernon and Carmen Krichbaum, are still in the running for state wrestling titles in the 3A State Championship, which concludes tomorrow in Pocatello. Here are the Badger results for day one:
---
Camp to give kids a glimpse at volcanoes: The University of Idaho's 2013 Natural Resources camp for youth 12-14 years old will offer something new: a look at Idaho's volcanology. Campers will learn about Craters of the Moon National Monument, Snake River Plain geology, volcanoes and other close to hand examples of Idaho's fiery past.
---
Badger boys fall in district opener: Timberlake defeated Bonners Ferry 72-58 today in the opening round of district play. The Badgers play Kellogg Wednesday at 6 p.m. in a loser out match; Priest River and Timberlake play at 8 p.m. Both games are at Lakeland.
---
Spring wrestling begins Tuesday: Bonners Ferry Wrestling Club's Spring wrestling, Freestyle and Greco Roman, begins at 6:30 p.m. February 19 in the Bonners Ferry High School wrestling room. Open to students in first through eighth grade. Practices will be held from 6:30 to 7:30 p.m. each Tuesday and Thursday. To learn more, PM Corey Richards at http://www.facebook.com/corey.richards.927 or call (208) 290-5667.
---

Bonners Ferry High School sent 18 wresters to fight in the Idaho District I-II Wrestling Tourney held this weekend in Lakeland; six took championships and led the Badgers to a 1.5-point win over Timberlake to claim the District title. Representing the Bonners Ferry Badgers at state will be: 98 Aaron Smith; 113 Jaeger Schnuerle; 120 Chase Erickson; 138 Blaine Invernon; 145 Parker Davis; 152 Anthony Skeen and Josh Miller; 160 Quinn Cummings; 195 Carman Krichbaum; 220 William Gaspar; 285 Morris McAllister and Jonathan Gaspar.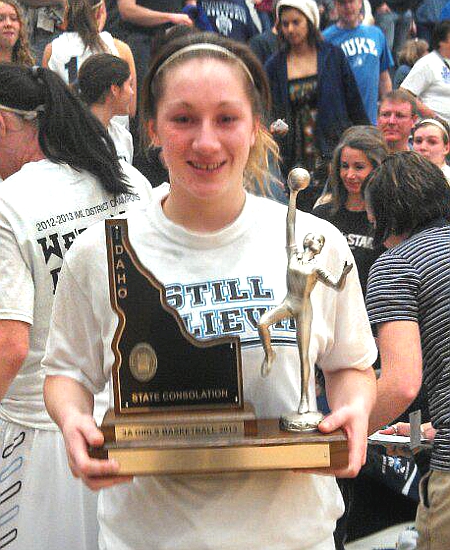 Lady Badger Allyson Merrifield, the only senior on this year's team, proudly holds the Idaho State 3A Consolation trophy after a win over Marsh Valley this morning, a fine victory for the last game of her high school career.
Angela Day photo
Badger girls take State 3A consolation trophy
:
The Bonners Ferry Lady Badgers basketball team capped off a stellar season with an early morning game today, facing the Marsh Valley Lady Eagles, Arimo, Idaho, at 8:30 a.m. PST, in the consolation round and coming away with a 48-34 win to take fourth place in the Idaho State 3A Championships.
---
Badger girls fight on!
The Bonners Ferry Badger girls basketball team once again defeated the previously perfect in the IML Priest River Spartans today, 45-35, to advance to the next round in the state playoffs. The Badgers will face the winner of the Marsh Valley/Homedale game at 8:15 a.m. PST Saturday. Our man on the spot, David Brinkman will call the game live on AM 1450 KBFI.
---
Badgers fall to Parma, face Priest River again: The Bonners Ferry Badger girls, who led for much of the game, fell to Parma today, 41-40, in their opening bid for a state title. The team next plays at 12:15 PST on Friday, once again facing their IML rivals the Priest River Spartans, who fell to Snake River today, 42-30. Once again that game will be broadcast live by David Brinkman on AM 1450, KBFI.
---
Badger girls to take on Parma:
The IML Champion Bonners Ferry Badgers girls basketball team will open their bid for a state title at 3 p.m. Mountain Standard Time on Valentine's Day, Thursday, February 14, taking on the Parma Panthers, who've won 20 of their 22 games this season, at Skyview High School in Nampa. The game will be aired live on AM1450, KBFI.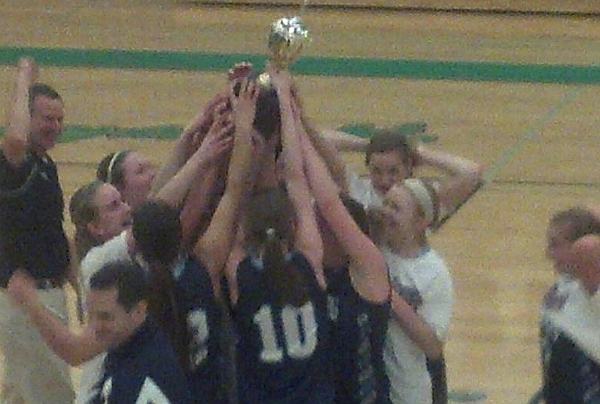 The Badger girls hoist the IML trophy after defeating the Priest River Spartans tonight at the district championship game in Lakeland.
Ketta Everhart photo
BADGER GIRLS DISTRICT CHAMPS!!
The Bonners Ferry Badgers defeated top ranked and previously undefeated Priest River tonight, 45-42, to take the Intermountain League championship. The Badger girls go on to the state championships, taking place February 14-16 at Skyview High School in Nampa. GO BADGERS!!
---
Badger girls in championship game: The Bonners Ferry Badgers girls basketball team, coached by Ken Robertson, took out the Kellogg Wildcats Monday night, 34-26, to move on to fight for the district championship. They'll face the Priest River Spartans at 7:30 p.m. Wednesday in Lakeland.
---
Gearing up for summer sports: While the chill, wintry days of February loom ahead, it's a sure sign that spring is not far off as the Boundary County Parks and Recreation Department gears up for its summer sports program ... and notice that's missing the word "youth."
---
Letters
Senator Mike Crapo and Congressman Mike Simpson: Senator Alan ‍S‍imp‍s‍on (R-Wyoming), Senator Mark Warner (D-Virginia) and President of the Committee for a Responsible Federal Budget Maya MacGuineas recently joined us at a federal fiscal issues symposium hosted by the University of Idaho's McClure Center for Public Policy Research.
---
U.S. Senator Mike Crapo: Like many, I watched with great interest President Obama's recent State of the Union Address, in which he outlined his priorities. Fiscal reform and economic growth should top the list of priorities for the President and Congress over the next four years.
---
U.S. Congressman Raul Labrador: Over the last several years, the Obama administration spent nearly $1 trillion of taxpayer money on an economic stimulus package and stifled small businesses with regulations. The result is an America where too many new graduates are still out of work, too many families struggle to provide for their families and the unemployment rate is virtually unchanged from when the president was first sworn into office.
---
U.S. Congressman Raul Labrador: Recently, the Ninth Circuit Court of Appeals upheld an Idaho rule that gives more flexibility to the public seeking to cultivate untapped natural resources on federal lands.
---
Back to archives