Boundary County Archives ~ June, 2013
Home
News
Sports
Social
Obituaries
Events
Letters
News
June 30

Training conference a big success: If you were going to get lost, last weekend would have been the time to do it. The Idaho State Search and Rescue Association summer training conference brought volunteer Search and Rescue members from all over the state, British Columbia and Montana along with law enforcement from city, county, state and federal agencies to Bonners Ferry.
Local students earn NIC Dean's List honors: Four Boundary County students at North Idaho College have been named to the school's 2013 spring Dean's List
Highway work to be suspended for the holiday: Work that could impact travel will be suspended on all Idaho Transportation Department highway construction projects statewide July 3-5 for the Fourth of July holiday, except in special circumstances.
County commission minutes, June 17-18
County commission minutes, June 10-11
Road construction waits to ease: Traffic flow through this summer's many construction zones statewide will improve as the Idaho Transportation Department (ITD) enacts guidelines designed to alleviate long-held driver frustrations.
Columbia River Treaty could impact Libby Dam: Montana may be a bit player in the grand scheme of the Columbia River Treaty, but the state, and Libby Dam, will be affected by any changes to the treaty that could be negotiated over the next 10 years.
Senators seek more wildland fire funding: In the midst of a rapidly intensifying fire season, four U.S. senators on Friday called on the administration to produce a plan for budgeting for wildfires and increasing funding for fire prevention.
Civil justice lacking for Idahoans: Tens of thousands of low to moderate income Idahoans are not getting their legal needs met, according to a University of Idaho report released June 21.
.S. deserves better, Crapo says: Idaho Senator Mike Crapo voted against final passage of S. 744, the Border Security, Economic Opportunity, and Immigration Modernization Act, or the Immigration Reform bill.
Idaho personal income down in first quarter: A decline in investment earnings offset rising business profits to push down Idaho's total personal income for the first three months of 2013.
June 28
Heat advisory issued: The National Weather Service, Spokane, has issued a regional heat advisory, including Boundary County, in effect from noon Monday through 11 p.m. Tuesday, forecasting potentially record high temperatures Tuesday of 100 to 110 degrees in most low lying areas.
June 27
Projected high heat to affect dam operations: Inflows at Libby Dam were driven up by last week's storm to a peak near 94 kcfs on Friday. Since then, they have been gradually receding, and are currently just below 50 kcfs.

Mind your huckleberries, August will be special: Every aviator in Boundary County, as well as many aviators from around the region and folks here who just like huckleberry pancakes for breakfast, well know that the Boundary County Airport is the place to go on the morning of the last Saturday of each summer month. Not in August.
CROP Hunger Walk a big success: Thank you Bonners Ferry! The Bonners Ferry CROP Hunger Walk was a success again this summer with 66 walker participating. $6,517.20 was contributed by our neighbors and friends to support the hunger-fighting efforts of Church World Service, both here at home and around the world.
Simpson to fight Obama on emissions: Idaho Congressman Mike Simpson today said that his FY2014 Interior and the Environment Appropriations bill will be part of the battleground over President Obama's intention to issue new rules, regulations, and executive orders on greenhouse gas emissions.
June 25
High temps on the way: The National Weather Service in Spokane has issued a warning for high temperatures for the region including Boundary County. Temperatures are expected to rise quickly into the 90s within the next three days and could reach 100 degrees by Monday, July 1.

Young male found near landfill: This young male was found today on Hillcrest Rd near the landfill. If anyone recognizes him please let his owners know that he is at Second Chance Animal Shelter, or give the shelter a call at 267-7504. He would very much like to go home!
Beware Microsoft 'fix' offer: There have been reports of Boundary County businesses receiving calls, obviously foreign and likely from India, informing that a problem with a local computer is causing them problems with their computer servers. Falling for this one could prove costly.
All School Reunion agenda finalized: After months of planning, the All School Reunion Committee has finalized the agenda for the reunion August 3, and it's going to be a fun and busy day!
Deep Creek Loop to lose last small bridge: Beginning July 15, traffic on Deep Creek Loop will once again be disrupted as work begins to replace the last single-lane bridge on its route. County taxpayers aren't paying directly for the upgrade, and Boundary County Road and Bridge crews are working to make the inconvenience as painless as possible.
June 24
Court records and sheriff's log
June 23
August mud and crawl a go: In spite of a number of restrictions imposed on his one-time special event that initially appeared to have made it impossible, DelRey Romero has decided to go forward and host the North Idaho Mud and Crawl August 10-11 at 3096 Highland Flats Road in Naples.
Medical building dedicated to Dr. Lucero: On Saturday, June 15, about a hundred people gathered at the medical services building to witness a short ceremony giving the facility a new name in honor of one of Boundary County's most beloved physicians; "The Lucero Medical Services Building."
County Commission minutes, June 3-4
June 22
Dangerous conditions on the Moyie
12:30 p.m.: Boundary County Sheriff Greg Sprungl has a deputy in route to the Meadow Creek Campground on the Moyie River to warn rafters and kayakers of extremely dangerous river conditions. An extremely large log is stuck in the river at Eileen Dam, increasing turbulence and making passage impossible. The sheriff is working with the Forest Service to remove the hazard, but it's unlikely that any attempt will be possible until at least Monday.
June 21
Rare rainfall means high flow on the Kootenai: A rare, extreme rainfall pattern developed over the Kootenai and upper Columbia basins during the last two days. Managers at Libby Dam have increased outflow and are working to regulate for extreme conditions.
Recycling working, could be better: A number of people have asked staff at the Boundary County Landfill of late if, after going through the extra effort of sorting and putting recyclables in the proper places, their household garbage is just going in the ground.
June 19
Flood advisory issued: The National Weather Service, Spokane, has issued a small stream flood advisory in central Boundary County after heavy overnight rains that are expected to continue through the rest of the day.
June 18

Puppy found on Perkins Lake Road: This young male was picked up Monday, June 17, on Perkins Lake Road. He appears to be a border collie mix, around six months of age. This little fellow is so incredibly sw
June 17
Football helps Bliss family: I would like to thank everyone who volunteered their time to make this year's US Customs vs. Border Patrol charity flag football game happen. I know that the Bliss family was overwhelmed with the support from our community coming together to help their family.
Court records and sheriff's log
June 13

Young bulldog found: This young fellow was picked up June 12 along Highway 2 just west of Division Street in the Moyie Springs area. He's a very sweet boy who would much rather be at home! If anyone recognizes him please let his people know he's at Second Chance Animal Shelter, or give the shelter a call at (208) 267-7504.
BSDRT hosting state conference: The Boundary Search and Dive Rescue Team is hosting this years Idaho State Search and Rescue Association summer training conference June 21-22, which will bring in teams from across the state, Montana and British Columbia.
June 12
Helping Habitat ...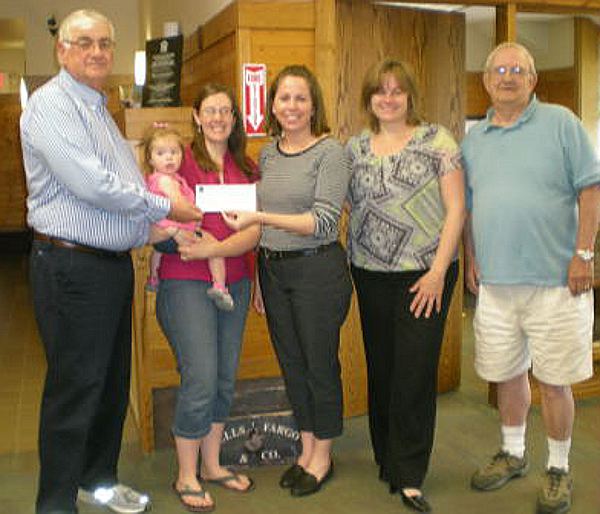 Wells Fargo manager Therese Osborne presents check for $15,000 to Boundary County Habitat for Humanity president Ken Myers. This money will enable BCHFH to proudly begin construction this summer on their ninth house in Bonners Ferry, which will provide a local family with better housing. Pictured left to right, President Ken Myers, Treasurer Amy Robertson with Emma, Wells Fargo representatives Therese Osborne and Kris Dufrene and Vice-President Rege McNeill. Thank you Wells Fargo!
Fletcher apologizing for school scare: Jacob Fletcher, 12, Naples, and his parents have been making the rounds in apologizing for his phoning in two fake bomb threats to local schools, and the young man is making some lasting friends on the way.
Josh Harty to play the Pearl: As Europeans discovered and Midwesterners have known, it doesn't get more Americana than Josh Harty. His father, both a preacher and the sheriff of his boyhood small town in North Dakota, was also Harty's musical mentor.
County commission minutes, May 13-14
County commission minutes, May 20-21
County commission minutes, May 27-28
June 11
Marble sentenced for felon DUI, eluding: Travis Jay Marble, 36, Bonners Ferry, will serve a six-month boot camp program at the Idaho Correctional Institution at Orofino after pleading guilty to his fifth DUI ... and attempting to elude a peace officer just one week later.
Bad headlight leads to drug conviction: A burned out headlight brought about a traffic stop in January that resulted in multiple drug charges and a felony conviction for the passenger, Anne Marie Solt, 42, Naples, who pled guilty and was sentenced last week ... and spared a lengthy prison sentence if she gets help.
Court records and sheriff's log
June 10

Black helicopters swoop into Bonners Ferry: A squadron of six black helicopters coming into Boundary County this morning stirred a buzz around town, especially from dogs and livestock as they flew in, low and loud. While many wondered what was going on, some lucky folks who happened to be at the Boundary County Airport at just the right time this morning received a rare treat.
June 9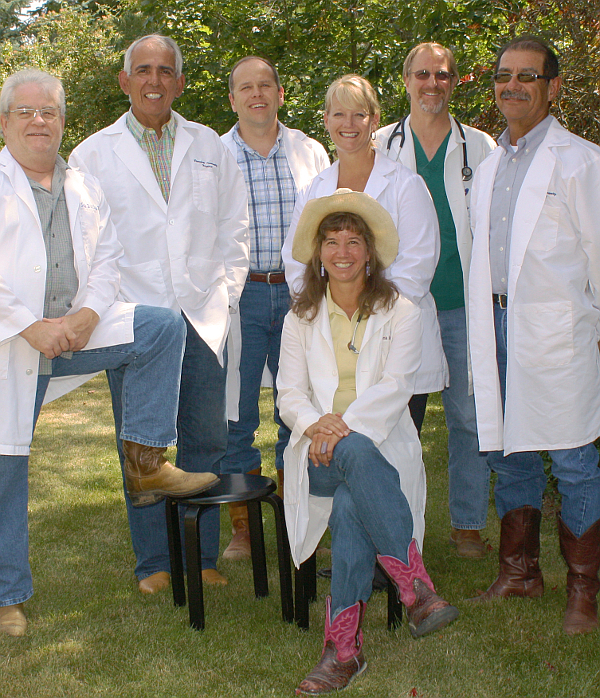 Dedication, memorial set for Dr. Lucero: In honor of Ernie Lucero, and all of the community work he did, both in and out of his medical practice, the Board of Trustees of Boundary Community Hospital is dedicating the building where Dr. Lucero practiced medicine for the last fifteen years as the Lucero Medical Services Building. The dedication, which includes a commemorative bronze plaque, will be at 11 a.m. on Saturday, June 15, directly across the street from the front of the hospital in the parking lot at 6641Kaniksu Street.
Local students graduate NIC: There were 613 students who graduated from North Idaho College this year, including eight from Boundary County.
Sturgeon flow regime ends Monday: Libby Dam discharge decreased from 22 kcfs to 20 kcfs at midnight Friday. and to 18 kcfs at midnight Saturday, where it is being held constant for two days. At midnight on Monday, it will decrease again to 16 kcfs.
School district offers kids free summer meals: Boundary County School District 101 is participating in the Summer Food Service Program, serving free meals to all kids 18 and under at various locations in Bonners Ferry.
Boot camps, more at BMA: If you've ever wondered if you'd like the martial arts, Boundary Martial Arts is offering individuals age five and older or whole families the chance to find out with a series of summer boot camps beginning Monday.
CNA class starts Tuesday: Boundary Community Hospital provides classes to earn certification as a Certified Nursing Assistant (CNA) four times a year. These classes are a great way to be eligible for steady work. A new class will begin Tuesday, June 11, and continue through August 1, 2013.
County P&Z still seeking applicants: Boundary County Commissioners are still seeking letters of interest from those in our community interested in serving on the Boundary County Planning and Zoning Commission.
Traffic to shift on Highway 95 near Athol: Traffic on a seven-mile section of U.S. 95, between Chilco and Athol will shift to the nearby frontage road paralleling the highway beginning Monday, June 10, and continue through July 1, the Idaho Transportation Department announced.
June 8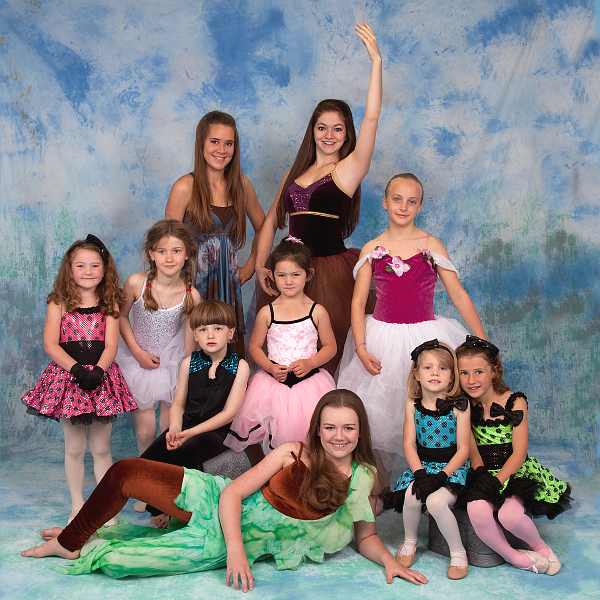 Dance Studio 'still burning strong:' For years, Barb Russell and The Dance Studio have given Boundary County kids the joy of dance, and at 7 p.m. Friday and Saturday, June 14-15, Barb's latest class will present the 35th annual Dance Studio Spring Dance Recital in the Becker Auditorium at Bonners Ferry High School.
June 5
Summer doesn't mean learning stops: Before we close our doors for the summer, I need to let you know of a few changes for next year. The biggest change will be in the fifth grade program. As I have done in two previous schools, we are "departmentalizing" the fifth grade. By Valley View principal Gary Pfleuger
Body recovered on Smith Creek: A body believed to be that of a man who committed suicide December 30, 2012, by jumping off a high cliff into Smith Creek was discovered near a picnic area there Tuesday afternoon and the partially skeletonized remains were successfully recovered.
Frozen berries recalled: A frozen mixed berry product potentially linked to an outbreak of hepatitis A in seven states was also sold at Costco stores throughout Idaho, the U.S. Food and Drug Administration (FDA) reported this week. Idaho has had no reports of illness associated with Townsend Farms Organic Anti-Oxidant Blend.
June 4
Two pass Idaho bar, come home to practice: Two long-time Bonners Ferry residents recently passed the Idaho State Bar exam and, after years of study and hard work, earned the right to practice law. One came home to begin a new career, the other never left.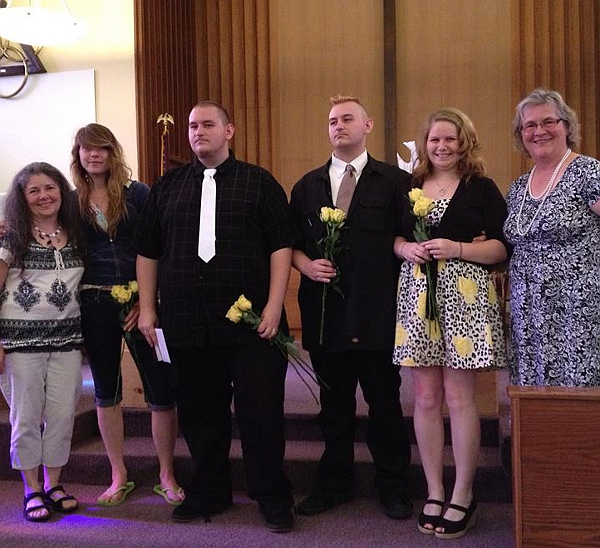 Chirisa Coleman final Riverside graduate: Though its doors were closed mid term this year, one final graduation ceremony for Riverside High School on Friday to honor a single graduate, Chirisa Coleman.
Eby pleads guilty to bomb hoax: Robin Ann Eby, 45, Bonners Ferry, pled guilty in Bonner County on Monday to a charge of use of weapons of mass destruction for phoning a false bomb threat to the Bonner County Administrative building November 5, 2012.
June 3
Given a chance: With the recent Bonners Ferry High School graduation of 2013, News Bonners Ferry reached an unanticipated milestone. As publisher of this journal, I have not had a moment more proud or rewarding.
The circus is coming to town: Thanks to the sponsorship of the Bonners Ferry Rotary Club and Culpepper & Merriweather Circus, America's favorite big top circus is coming to Bonners Ferry on Friday, June 14, at the Boundary County Fairgrounds with two scheduled performances at 5 and 7:30 p.m.
Court records and sheriff's log
June 2
Rodbenders host busiest show yet: If you like cars; antique, classic, muscle, work rigs ... nearly any kind of automotive excellence, Bonners Ferry was the place to be Saturday, as the Bonners Ferry Rodbenders hosted their 14th annual Borders Three Jamboree, and it was one of the best yet. A News Bonners Ferry pictorial
June 1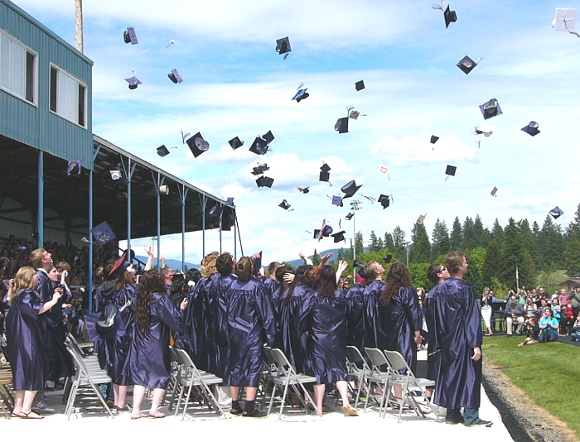 Class of 2013 moves forward: "We cannot discover new oceans unless we have the courage to lose sight of the shore," is the motto of the Bonners Ferry High School Class of 2013, and today, under hazy skies, this year's graduates pushed away from shore, their eyes bright and fixed on a variety of new oceans.
Obituaries
Rudy Selent, October 15, 1930 ~ June 24, 2013
Sandra "Sandy" Fern Wilder, January 6, 1955 ~ June 22, 2013
Gary J. Wittgenstein, November 16, 1945 ~ June 15, 2013
Carter Davis, March 5, 1946 ~ June 12, 2013
Elana Gail (Carpenter) Karl, April 26, 1955 ~ June 4, 2013
Social

Welcome Delaney Mae
:
On Thursday, June 6, Colin and Amber Weymer, Bonners Ferry, welcomed their second child, Delaney Mae, who was born in Sandpoint. She joins big brother Brydin.
Nordheims welcome twin girls:
Kyle and Jessica Nordheim, Sandpoint, are the proud parents of twin girls; Josephine Mae and Grace Izetta were born at June 5 at Bonner General Hospital, Sandpoint, at 5:07 p.m. and 6:15 p.m., respectively.
Sports
BCH offers free sports physicals: Boundary Community Hospital is offering free sports physical for student athletes Tuesday, August 6. Save the date!
Risch works to maintain shooting ranges: Senator Jim Risch, along with Senator Mark Udall (D-Colo.), recently introduced a bipartisan and deficit-neutral bill this week to help states create and maintain public shooting ranges for hunters and sportsmen to responsibly practice their sport and promote firearm safety.
Volleyball camps this week: Junior volleyball camp runs Wednesday through Friday, June 12-14, from 8:30-11:30 a.m. at Bonners Ferry High School. The junior camp is for girls entering grades four through eight.
Kids shine at Hershey track meet
:
A bunch of kids gathered at the Bonners Ferry High School track May 23 for this years' Hershey Track Meet, sponsored by Boundary County Parks and Rec, and a good number of them qualified for the state meet July 6 in Rexburg.
Mushball tourney to benefit Julie Eby:
A mushball tournament will be held beginning at 8 a.m. Saturday, June 8, at the Riverside Park ball fields, and all proceeds will benefit Julie Eby, Bonners Ferry, who is going through treatment for breast cancer.
New game in town
:
There's a new game in town! Perched twenty feet above hole number nine, a huge bucket of golf balls will be released in a cascading ball free-for-all during Fry Healthcare Foundation's fifth Annual Golf Tournament on Friday, June 14, at Mirror Lake Golf Course.

Badger girls meet new coach
:
The Bonners Ferry High School varsity girls basketball team had the opportunity to meet their new head coach for next season for the first time today, and he's a certified sports fanatic who has long been active in North Idaho athletics.
Letters
Fr. Gregory Horton: Is there anyone who can assist one of the families that attends our church? They live in Creston, BC, and run a little coffee house/music place.
Rosanne Smith: I don't understand how the county can assess a tax rate based on the need to repay the 80k taken from the Solid Waste Fund and given to Boundary Volunteer Ambulance.
U.S. Congressman Raul Labrador: Last week, the House Judiciary Committee – which I sit on – continued to make important progress on the issue of immigration reform.
Mike Weland: Next month, Nichele Whitakker and I are to be sworn in as new sitting members of the board of trustees of Boundary County School District 101. We are, officially, elected officials. A few have pulled me aside since the election to bid me congratulations, and I am grateful … but:
Mike Weland: I apologize to the readers of newsbf.com for the recent dearth of coverage. I'm trying to fight, but I'm learning that what I think I should be able to do because it was once so easy isn't what I can do now.
Senator Mike Crapo: The recently-revealed targeting of conservative groups by the Internal Revenue Service (IRS) for additional tax scrutiny is outrageous and goes against the freedoms on which our nation was founded. The federal government is supposed to work for the American people and help strengthen our nation, not tear down our freedoms from within.
Congressman Raul Labrador: During the past week, we've heard about a series of major violations of our civil liberties, including the extremely alarming news that the National Security (NSA) is collecting the telephone records of tens of millions of American customers of Verizon.
Teresa Lummus: It has recently come to my attention that when the Kalispell's 495th CSSB returns after a year long deployment in Afghanistan this September, they will be required to participate in two parades and attend an additional event.
Back to archives