Boundary County Archives ~ January, 2013
Home
News
Sports
Social
Obituaries
Events
Letters
News
January 31
High school locked down, gun reported: Bonners Ferry High School went into lockdown this afternoon after a student reported that another student had a firearm on campus. That report proved false.
---
Chamber members reminded it's dues time: The Bonners Ferry Chamber of Commerce would like to remind members that it's time to budget for this year's dues, and encourage businesses that haven't joined yet that now is a great time to do so!
January 30

Mrs. Doolin honored: When you walk into the third grade classroom at Naples Magnet School you may see students hard at work at their desks while their teacher walks around the room supervising their work and offering instruction. You are sure to see a loving smile and hear the words of encouragement from their teacher, Mrs. Reenie Doolin.
---

Tragedy on the North Hill: A passing motorist isn't sure of the exact circumstances, it happened so fast, but the Idaho Sheriff's Office is investigating a death this morning on the North Hill as either a case of apparent homicide or vehicular manslaughter after an as yet unidentified orange met its gruesome and tragic demise. It's not necessarily news.
---

Local woman to attend MoH ceremony: On Monday, February 11, President Barak Obama will confer the nation's highest award for bravery, the Medal of Honor, upon Clinton Romesha for his actions in combat at Outpost Keating October 3, 2009, in Afghanistan. Among those attending the ceremony will be Jessica Tingley, Bonners Ferry, whose brother, Joshua Kirk, was one of eight American soldiers to die in the Battle of Kamdesh.
---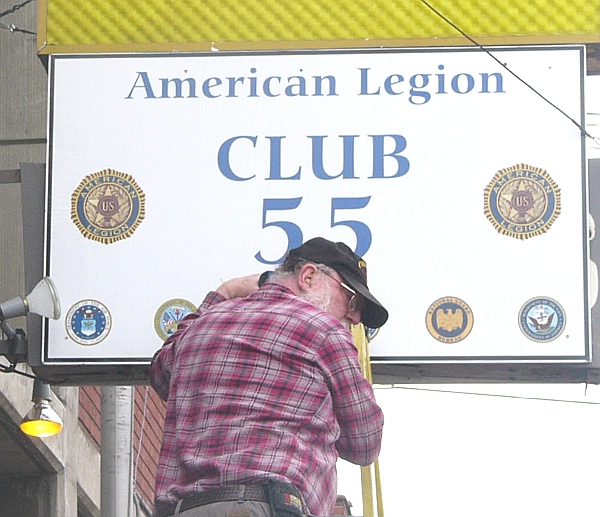 Club 55 to open Super Bowl Sunday: After months of work cleaning, scrubbing, painting and remodeling, an old venue is opening Sunday with a brand new look and feel, as Bonners Ferry American Legion Post 55 assumes management of their lounge, now renamed Club 55, for the first time in more than 30 years. Club 55 will reopen to the public at 2 p.m. Sunday, February 23, just in time to air Super Bowl XLVIII on their big new 60-inch television.
---

Dianna Cossairt employee of the month: Dianna Cossairt, a para-professional Title I aide at Valley View Elementary, was named Boundary County School District 101 classified employee of the month for January.
---
Badger Building Center now open: There's a new building supply store in town; after months of work, Badger Building Center, 34 Swift Lane off Highway 95 at the top of the North Hill, opened its doors to customers on Monday.
---

Will it stay or will it go? At the beginning of the school year, Valley View Elementary principal Gary Pfleuger set a series of reading and writing goals for all the students there, and made them a promise; he wouldn't cut his mustache unless they reached them.
---
Krispy Kreme donuts for Valentine's Day: The third annual Boundary County Youth Crisis and Domestic Violence Hotline Valentine's Day fundraiser is now underway, offering the opportunity to give your sweetie s big box of Krispy Kreme donuts.
---
Odds and ends from Valley View: We are halfway through the school year—we must be having fun, 'cuz time is sure flying! I typed up a list of upcoming events, listed below, and we are busy. I have a number of odds and ends to let you know about.
---
County commission minutes, January 7-8
---
County commission minutes, January 14-15
January 28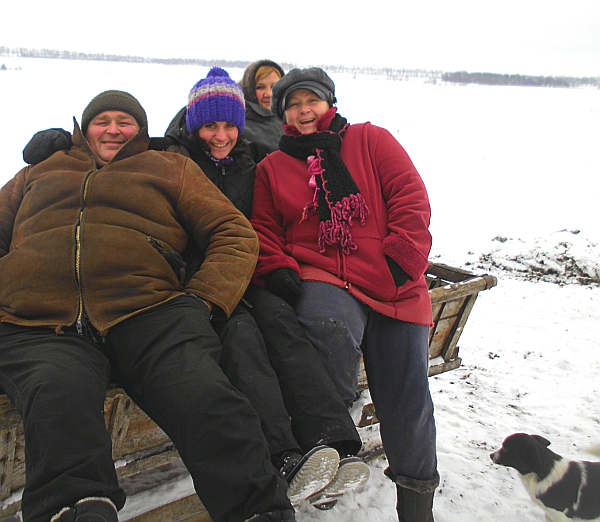 Local woman learning new culture in Peace Corps: After two years of applying to join the Peace Corps, changing my mind repeatedly before fully committing to it, and three months of intensive language and cultural training, I found myself in a small village in Central Ukraine. By Molly Rivkin
---

Testa first new pilot of 2013: Sam Testa is Northern Air's first private pilot of 2013. He has worked long and hard at getting his license. He started flying with Northern Air in the early part of 2010 but got a busy with life and had to put flying on the back burner for a while.
---
Funds available for Kootenai River restoration: Landowners in the Kootenai River Basin in Boundary County may be eligible for USDA cost-share funds to restore fish and wildlife habitat on their property. Boundary County is the focus of a special Natural Resources Conservation Service initiative to provide funds through the Environmental Quality Incentives Program.
---
Court records and sheriff's log
January 27

Naples Community Watch issues alert: While he's currently in jail, a place he's apparently not unfamiliar with, Naples Community Watch has issued an alert for residents to be on the lookout for Kenneth McGuire, 28, who is a suspect in several burglaries in Bonner and Boundary Counties.
---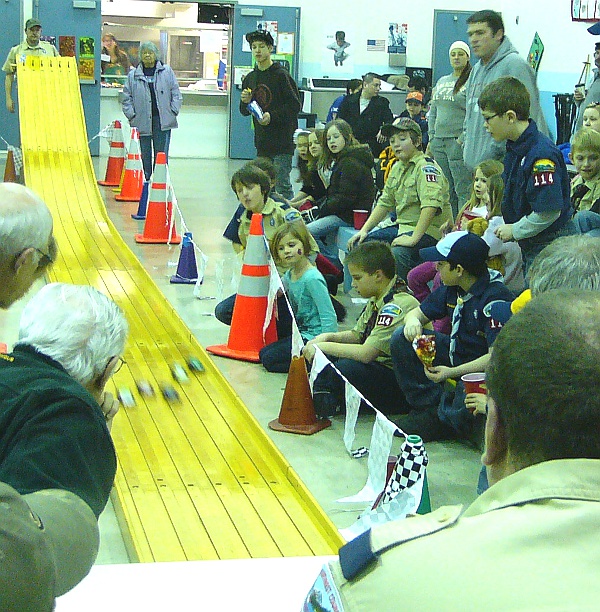 Pack 114 enjoys exciting Pinewood Derby: The Naples Elementary gym was a hive of activity Saturday as 31 Cub Scouts and Webelos from Pack 114 gathered to compete in the 2013 Pinewood Derby and carry on a lasting legacy, racing on a track hand-built by long-time scout leader Rich Carlson and his sons. A News Bonners Ferry pictorial.
---
Winter weather advisory issued: The National Weather Service this morning issued a winter weather advisory over North Idaho and northeast Washington, calling for snow just in time for the Monday morning commute.
January 26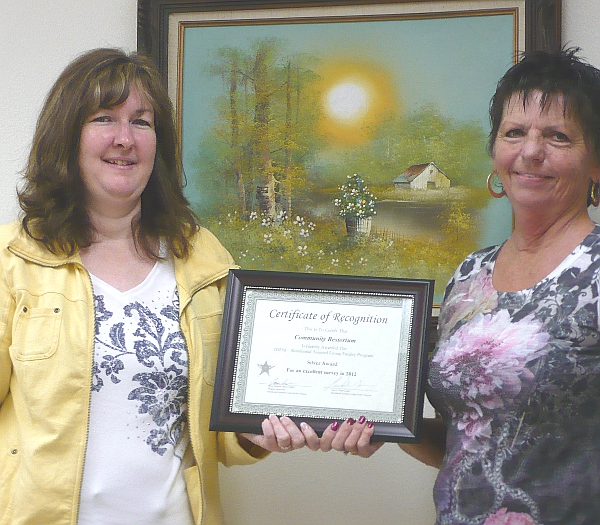 Restorium earns Silver Award: One day in mid-September, a team of inspectors from the Idaho Health and Welfare Department's Bureau of Facility Standards showed up unannounced at the Community Restorium to embark on one of the most thorough inspections required of state assisted living facilities.
---
'Fill the Bus' drive a success: Empty school buses pulled into the parking lots at three local grocery stores Monday for the sixth-annual "Fill the Bus" food drive, but they didn't sit empty for long, as once again the people of Boundary County showed their generosity and hard work in fine fashion.
---

DYW orientation Monday: Bonners Ferry's Distinguished Young Women's Scholarship Program is accepting applications from high school girls graduating in 2014. The program will take place on April 27, 2013, in at the Becker Auditorium, located at Bonners Ferry High School. The orientation meeting for participating students and their parents will be held at 6:30 p.m. Monday, January 28, 2013, in the Bonners Ferry High School Library.
---
Water runoff predictions scaled back: The bad news is that, after a mostly dry late December and first three weeks of January, forecasts of available water runoff volumes during this coming spring and summer in the Columbia River basin have been trending downward.
---
Northwest could feel global warming early: "Evidence for climate change abounds, from the top of the atmosphere to the depths of the oceans. This evidence has been compiled by scientists and engineers from around the world, using satellites, weather balloons, thermometers, buoys, and other observing systems," according to a new report prepared for the U.S. government with the contributions of more than 1,000 individuals.
January 24
Last chance to be included in walking map: The Friends of Downtown are once again publishing the Bonners Ferry Downtown Walking Map and Business Directory, and if you're not in it yet, you'd better hurry and call (208) 267-1000, the deadline is 1 p.m. today!
January 23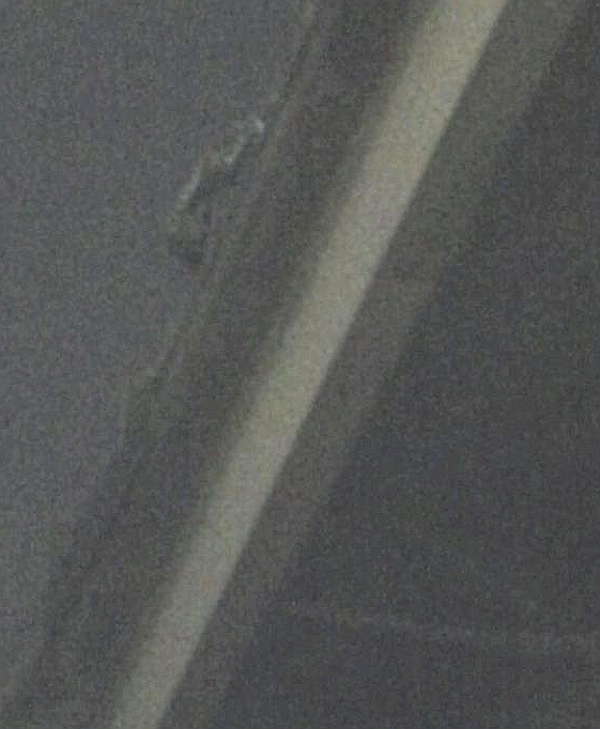 It's a little hard to see, but this shot was taken from underneath the Highway 95 underpass from Arizona Street. The dark object seen through the haze of falling snow is a semi that jack-knifed projecting over the edge of the overpass.
Geoff Mason photograph
Semi jack-knifed in town
7:23 p.m.: Crews are responding to a jack-knifed semi on Highway 95 on the South Hill in Bonners Ferry near Kootenai Street. Lane blockage is reported, and the truck is leaking an unknown fluid. Road conditions are worsening, and extreme caution is advised if you have to drive this evening. 8 p.m.: The southbound lane of U.S. 95 is blocked at Kootenai Street as emergency crews work to contain the leakage and clear the scene of this accident. Other slide-offs are being reported and driving conditions are continuing to worsen. 8:55 p.m.: It was just reported that crews anticipate the wreck will be cleared in about half an hour.
---

A tip of the H.A.T.S.: A vision comes to life: "Today we have H.A.T.S.," a teacher announces as an eruption explodes with enthusiastic students showing excitement and unbridled energy for what is to come. With overwhelming success, the H.A.T.S. program at the Naples Magnet School has enhanced learning with a variety of classes and enriched learning.
---

Boundary County celebrates 98th birthday: On this day, January 23, 1915, Bonner County, Idaho, was split and a new county, named Boundary, was created, with its county seat established in Bonners Ferry. Looking Back, by Jack Flinn
---
Winter weather advisory issued for snow: The National Weather Service has issued a winter weather advisory for North Idaho and the northeastern Washington mountains, calling for a chance of four inches of snow in the valleys tonight.
---
Tax info for unemployed now on-line: Unemployment insurance claimants who need the federal 1099-G tax information forms to complete their 2012 tax returns can download the forms directly from the internet.
---
Labrador pleased with committee assignments: The Office of Congressman Raúl R. Labrador is pleased to announce the following subcommittee assignments were made at the Republican Organizational Caucus meetings held yesterday.
January 22
County subdivision violation notices going out
:
With the way the real estate market has been of late, there haven't been that many land divisions in Boundary County outside city limits since the new county zoning and subdivision ordinance was adopted in October, 2011, but according to zoning administrator Dan Studer, there have been several of late that haven't been done according to the new regulations.
---

Outgoing ISP chief to assess school safety:
Governor C.L. "Butch" Otter announced earlier this month that Colonel Jerry Russell, who is retiring as Idaho State Police director this month, has agreed to assess and recommend possible safety and security improvements in Idaho's public schools.
---
Court record's and sheriff's log
Crews responding to tanker fire
3:45 p.m.: Emergency crews are responding to a report of a tanker truck on fire on Highway 95 in the Monk Creek area in the northern part of the county. It is unknown if there are injuries or if the highway is blocked. Please avoid the area if at all possible, and exercise extreme caution if you must travel in that area. 4 p.m.: It's now reported the fire is out and there is no lane blockage. Ambulance crews and emergency responders are standing down.
---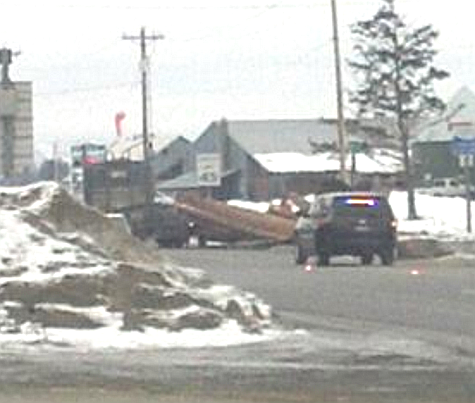 Photo by David Brinkman
Logging truck accident Highway 2
A log truck lost its load on Highway 2 near Three Mile at about 12:30 p.m., blocking the eastbound lane. Please use caution if driving in the area. There are no injuries.
---
January 20
Labrador vows to defend Constitution: This week the President announced a series of executive actions that he would take regarding firearms laws at a theatrical press conference at which the President surrounded himself with children. Like many of you, I found the President's use of children to drive his agenda shameful. by U.S. Congressman Raul Labrador
---
Food thieves risk 'a face full of sorry,' First it was firewood, now food? Times must be tougher than most of us think. A Naples woman posted notice on Facebook this morning warning residents to lock up their freezers ... hers is on her enclosed porch, she wrote, and she's had food stolen three times in the past two weeks.
---
Layoffs possible at Troy Mine: Rockslides in unused areas of the Troy Mine in Lincoln County, Montana, forced suspension of operations there December 1, and uncertainty on when the mine can reopen has raised the possibility of layoffs.
---
'Give Kids a Smile' in February: This February, Idaho dentists and their staffs throughout the state will be providing free dental care to uninsured children whose families are unable to afford care as part of the 11th Annual "Give Kids A Smile" program.
---
Idaho December jobless rate lowest in four years: Idaho's seasonally adjusted unemployment rate dropped another two-tenths of a percentage point in December to 6.6 percent - the lowest rate in nearly four years.
January 17

Penguin Plunge changing venue: This year's Penguin Plunge, in which intrepid and slightly crazy people immerse themselves in frigid water in support of Idaho Special Olympics, will still be in the cold, cold Kootenai River, but a little closer to town, in a place where getting warmed back up shouldn't be quite as hard as it was for last year's plungers.
---
Air stagnation advisory issued: For many in Boundary County wheezing and coughing from a nasty flu bug making the rounds, the next several days may get even worse, as a mass of stagnant air has settled over the region.
---

Barbara Buchanan appointed to bench: Governor C.L. "Butch" Otter announced the appointment Wednesday of Bonner County Magistrate Barbara Buchanan to succeed First District Judge Steve Verby.
---
Appeal hearing set on gravel pit permit: Boundary County Commissioners will hold a public hearing at 9 a.m. Tuesday, February 19, to accept public comment on two appeals of Conditional Use Permit 11-063 granted Tungsten Holdings, Inc., to operate a gravel pit on a seven acre parcel located 1.6 miles south of Porthill on the Farm to Market Road.
---
Student admits to bomb threat: A student has confessed to perpetrating the bomb scare that forced evacuation of the Bonners Ferry Middle School on Tuesday, and a special school board meeting is being set up, possibly next week, to decide on disciplinary measures to be taken by the school.
---
Moyie Springs City Council minutes, December 5
January 16
NIC to hold dual credit info night: High school juniors and seniors interested in the North Idaho College dual credit program are invited, along with their families, to the NIC Dual Credit Information Night, taking place at 5:30 p.m. Tuesday, January 22, at the NIC Center, S102 Euclid, Sandpoint.
January 15
Students forced to evacuate middle school: It's the start of a new year, but some terribly bad old habits are lingering as the Bonners Ferry Middle School was evacuated once again for a bomb threat scribbled in a restroom stall; the fourth so far in local schools this school year.
---

Dr. Newhouse to help fill void: Chuck Newhouse, M.D., has agreed to help for two months with the treatment of Dr. Lucero's patients during this time of transition following Ernie Lucero's unexpected passing.
---
Valley View Student Council minutes: Teresa Rae has offered to help the Student Council prepare and promote activities. One of her jobs will be to publish a Student Newspaper. To begin with, we need a name for the paper. Please enter your ideas for this in the Student Council Suggestion Box.
---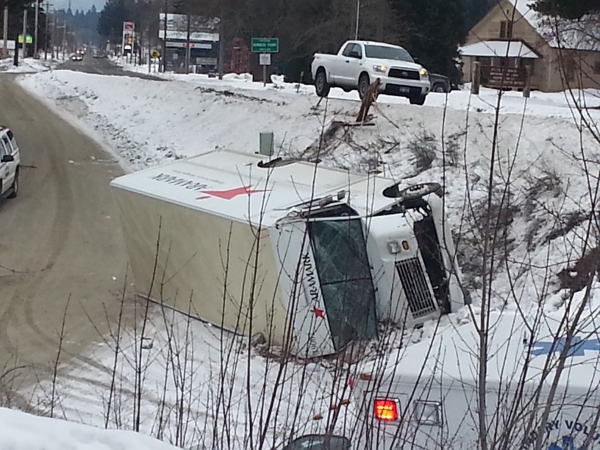 Photo courtesy Micheline Riley
Panel van crashes onto Pine Island Road: An Aramark panel van traveling south went off Highway 95 at at 10:57 a.m. today, knocked down a power pole and came to rest on its side on Pine Island Road.
January 14
Petition hopes to keep Riverside School open: A Bonners Ferry mother has launched a petition to keep the Riverside Alternative High School open, and in just two days and with little fanfare, 110 people have affixed their digital signature.
---
Court records and sheriff's log
January 13

Most befriended local Facebook page? Mirror, mirror, on the wall ... who has the most popular local Facebook page of all? From Bonners Ferry, that is. If you answered, "the one that asks us, 'If you could wave a magic wand and for just a few minutes, your pets would have the ability to perfectly understand everything you said to them... what would you tell them?'" you might be right.
January 11

County icon stepping down: If the late Gladys Richardson earned the sobriquet "Ma Badger," it would be safe to say Ron Smith has earned the title "Pa Badger." As a devout Badger fan and the longest serving commissioner ever to serve the people of Boundary County, Idaho, his greatest joy has been to watch "his" students and his community succeed.
---
2012 sets dubious U.S. weather records: 2012 was warmest and second most extreme year on record for the contiguous U.S., according to an analysis http://www.ncdc.noaa.gov/sotc/ released by National Oceanic and Atmospheric Administration's National Climatic Data Center.
---
County commission minutes, November 26-27
---
County commission minutes, December 3-4
---
County commission minutes, December 10-11
---
County commission minutes, December 17-18
January 10
Roads hazardous all over state: A series of storms in Idaho this week is creating difficult driving conditions and has prompted several highway closures or warnings throughout the state. The Idaho Transportation Department encourages motorists to check highway and weather conditions before traveling on state highways or interstates.
---
Children's Choir expanding with the Pearl: The Pearl Theater is pleased to announce our new collaboration with the Bonners Ferry Community Children's Choirs that will expand opportunities for kids to take part.
---
Meeting set on SPCC Regulations: The USDA Natural Resources Conservation Service will hold a meeting for agricultural producers to learn about the U.S. EPA Spill Prevention, Control and Countermeasure Regulation (SPCC) regulation and what to do to be in compliance.
---
Samaritans keep family warm: While no culprits have been identified in an alleged theft of a family's supply of firewood, their future is once again warm thanks to several Good Samaritans who stepped up and replenished the woodpile.
---
Fill the Bus food drive coming: The sixth-annual Boundary County Fill the Bus food drive to re-stock shelves at the local food bank is taking place at all three local grocery stores on Martin Luther King Jr. Day, Monday, January 21.
---
Deadline approaches for school trustee: The January 23 deadline for letters of interest from those interested in filling the vacant zone 2 trustee position on the Boundary County School District 101 board is fast approaching, and those who'd like to be considered are encouraged to submit their letters.
---
Gearing up for spelling bees: Students in 54 schools in 11 North Idaho districts, including home-schoolers, are gearing up to compete in spelling bees this month to qualify them for the North Idaho Spelling Bee taking place Marc 23 at North Idaho College.
---
State launches 'transparency' website: Earlier today, Governor C.L. "Butch" Otter and State Controller Brandon D. Woolf jointly announced the launch of Transparent Idaho, the state's new financial transparency website developed by the Controller's Office.
January 9
Dillin, Romine school Employees of the Month: Boundary County School District's employees of the month for December are Mount Hall fourth grade teacher Julie Dillin, certificated, and high school custodian Jessie Romine, classified.
---
Talent needed for original production: The Pearl Theater is seeking community actors and singers for an exciting musical theater production to be staged the first two weekends in March.
January 8

'Emory's Gift' a Boundary County must read: A good work of fiction can make the reader forget all they know, for the moment, and fall into the tale the writer conveys. There's a book in the Boundary County Library, "Emory's Gift," signed by acclaimed author W. Bruce Cameron, that does just that. It's the joy of fiction, but the bane of all but the best writers. Especially when the fiction is set directly in a place familiar to some. A place like Boundary County, Idaho, featuring a town that's never been but places we all know.
January 7
Reading and writing on tap at Valley View: At the beginning of a new year, it is exciting to think of the possibilities. My thoughts go to the strengthening of student minds and improved/informed decision making. The life skills made possible through the writing and reading process is huge.
---
Final tally in on Festival of Trees: People flooded into Boundary County Fairgrounds Memorial Hall on Saturday, December 8, for the 17th Annual Festival of Trees. The event that began in 1996 to raise money for the local hospital, Boundary Community Hospital, continues today.
---
amily to Family class offered: Family to Family, a 12 week course for family and friends of individuals with mental illness, is being offered by the Far North Chapter of National Alliance on Mental Illness.
---
Use caution on Forest Service roads: Forest visitors are urged to use caution when traveling forest roads in the Bonners Ferry area as increased logging truck traffic is expected.
---
Theft of firewood leaves family cold: On Sunday morning, Misty Reader's son went out as he does every morning when the wood pile by the stove goes low to fetch some more firewood, but all he found were a few lonely pieces. When he went in and told mom, she couldn't believe it, but when she went out to check, she discovered, to her shock, that it was true. The full cord she bought just before Christmas was gone, apparently stolen in the night.
---
Winter storm warning issued: The National Weather Service, Spokane, early this morning upgraded a winter weather advisory issued yesterday to a winter storm warning for heavy snow through 4 p.m. today.
---
Court records and sheriff's log
January 6
Sold out Moose Madness games rescheduled: Bonners Ferry High School's Moose Madness basketball games, originally scheduled against Sandpoint December 20 but cancelled due to snow, will instead take place this Friday, January 11.
---
Zip Trip to close for remodel: The store that never closes in Bonners Ferry, the Cenex Zip Trip, 6723 Main Street, will close for a week beginning at 6 a.m. Monday for an extensive interior remodel.
January 4

Benefit slated for Cheryl Jackson: A bowl-a-thon and raffle fundraiser will be held at AJ's Lanes, 6696 South Main, to help Cheryl Jackson, Bonners Ferry, and her family as she undergoes treatment for stage four endometriosis.
---
Brutal cold could be coming: AccuWeather today reports that beginning near or just past the middle of the month, signs are pointing toward waves of frigid air moving southward across North America from the North Pole.
---
Tribe working to bring back burbot: The odds are long, but Kootenai Tribe of Idaho biologists and others are hoping this year to witness a rebirth of burbot reproductive activity in north Idaho's Kootenai River-reservoir-tributary system.
---
Idaho gets ok for health insurance exchange: Idaho received an important endorsement to Governor C.L. "Butch" Otter's determination to create a state-based health insurance exchange yesterday. The federal Health and Human Services Department announced it had given conditional approval for Idaho to create a state exchange.
---
Crapo sentenced, issues statement: U.S. Senator Mike Crapo, charged with DUI after running a red light December 23 in Alexandra, Virginia, pled guilty to the misdemeanor charge Friday. After being sentenced, he issued a statement taking responsibility for his lapse and apologizing to his family, his church, his colleagues and to the people he represents.
January 3
Highway 95 closed due to collision
5:30 p.m.: Highway 95 is blocked near milepost 494 due to a two-vehicle collision and backed up for nearly a mile. No traffic is moving except emergency crews responding. At least one person is injured. Motorists stuck at the scene of a two-vehicle collision, apparently also involving a moose, on Highway 95 near milepost 494 are being advised that it will take considerable time to get the scene cleared and traffic moving. Traffic is blocked in both directions, Motorists traveling south should use McArthur Lake Road as a detour rather than Shiloh Loop. According to a motorist on-scene, northbound traffic is blocked from using either detour route. 6:30 p.m.: Traffic is now moving in one lane. 7:43 p.m.: Highway 95 has been reopened.
---
Christmas eve ruined by vandals: Joe Ward and his wife, Adelle, came to Boundary County to enjoy the good life and spend time with their grandchildren after his retirement from a career as a math teacher in big-city schools. After what happened Christmas eve, they're beginning to wonder if this piece of heaven is all it's cracked up to be.
---
'Operation Sunflower' rescuing exploited kids: One hundred twenty-three victims of child sexual exploitation were identified by U.S. Immigration and Customs Enforcement's (ICE) Homeland Security Investigations (
HSI
) special agents during an international operation aimed at rescuing victims and targeting individuals who own, trade and produce images of child pornography.
January 2
Loneliness likely too much to bear for missing man: The man who sheriff's deputies and search and dive rescue members have spent two days looking for up Smith Creek likely died of loneliness, authorities say. Based on notes and letters found in his home, Richard Corday, 66, who had never been married, lost his will to live when his last companion, the dog he loved, was killed in what he believed was a cougar attack.
---
Crews searching for missing man: Boundary County sheriff's deputies and Search and Dive Rescue members have been scouring Smith Creek and the Kootenai River near Copeland since Monday morning after a daypack was discovered at Smith Creek Hydro, along with a set of footprints leading to the top of Smith Creek Falls, where a pair of shoes were found.
---

Famed children's poet to visit Valley View: Get ready to have some fun; nationally-acclaimed children's author and poet Kenn Nesbitt, Spokane, is coming to visit Valley View School on Wednesday, January 16.
---

Pamela Benton to play the Pearl: Playing a variety of styles that defy categorization, Spokane multi-instrumentalist Pamela Benton will perform in concert at 7 p.m. Saturday, January 12, at the Pearl Theater.


---
Idaho delegation weighs in on fiscal cliff deal: Idaho's First District U.S. Congressional delegation issued statements regarding the passage New Years Day of a deal to stave off a looming fiscal crises, and while the statements differ, all agree the deal leaves a lot of work to be done.
January 1
Car versus deer near Naples Bridge
6:19 p.m.: A car versus moose collision was reported in the northbound lane on Highway 95 near milepost 496, near the Naples Bridge, and emergency crews are arriving at the scene. The vehicle involved bears Montana plates. Traffic is down to one lane. Highway 95 was reopened at 7:30 p.m.
---
Rotary names Students of the Month: The Bonners Ferry Rotary Club introduced its 2012 year end Students of the Month at their meeting December 18. Lakota McClean and Michael Warren were named November's Students of the Month; Hailey Beazer and Jacob Gray were so honored for December.
---
Unemployment benefits end for thousands: Federal extended unemployment benefits have been terminated for over 6,000 jobless Idaho workers.
Social

Valentine's basket raffle starting: The Friends of the Restorium will be selling raffle tickets for two Valentine's Day baskets designed and donated by Donna Jo Dirks, and they'll be signing up new members as well.
---
Hospital Auxiliary calling for pies: The Boundary Community Hospital Ladies' Auxiliary will host their annual pie sale on Friday, February 22, and they're welcoming pie donations.
Bonnie Peterson looking to renew acquaintances: Bonnie McGlocklin was born in Bonners Ferry July 30, 1935, and went to schools here through the ninth grade. She won't be able to come back for the All-Class Reunion in August, but she would like to renew old acquaintances.
---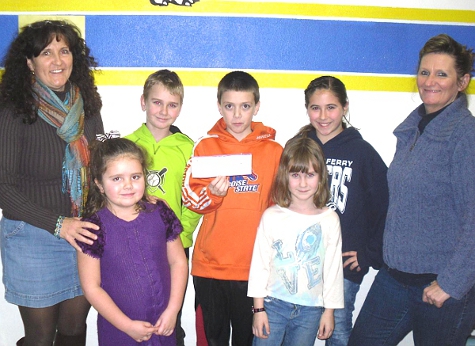 Poetry Alive! visits county schools: Poetry Alive! gave performances for the Bonners Ferry High School, Boundary County Middle School, and Valley View Elementary January 9.
---
Obituaries
Edward Charles Neumayer
, October 27, 1924 ~ January 20, 2013
---
Chet Goodson
, July 20, 1930 ~ January 25, 2013
---
Bernadine Carol Boy Chief
, October 15, 1960 ~ January 22, 2013
---
Beverly Lou Tuin
, October 17, 1929 ~ January 15, 2013
---
Florence Virginia "Ginger" Pintok
, November 5, 1926 ~ January 16, 2013
---
Jeanette Hanket Wagner
, November 2, 1926 ~ January 14, 2013
---
James Francis O'Leary
, January 21, 1948 ~ January 12, 2013
---
Raymond (Ray) Elsberry
, January 6, 1925 ~ December 27, 2012
---
Dorothy Kittell
, May 2, 1934 ~ January 7, 2013
---
Linda Faye Freeman
, October 24, 1946 ~ January 6, 2014
---
Stacy Gjovik Gamet
, April 27, 1971 ~ January 6, 2013
---
Emma Rose Decker
,
June 8, 1925 ~ January 1, 2013
---
Grace Lucille Irons
, February 15, 1939 ~ December 26, 2012
---
Sports
Future Badger Basketball starts soon: Boys and girls in third through sixth grade who are interested in participating in Future Badger Basketball need to get their registrations in to Boundary County Parks and Rec by February 16; that's the day the first clinic is being held.
---
Super Hunt entries on sale now: Even hunters who don't draw a tag win in Fish and Game's Super Hunt drawings for a chance at the hunt of a lifetime. The deadline to enter is May 31 for the first drawing in June.
---
Badgers win antlers, Sandpoint wins games: The Sandpoint Bulldogs won both varsity games in front of a sold-out Badger crowd Friday night, but the Badgers came away with the antlers, and no one lost in this year's delayed Moose Madness match-up.
---
Lottery open for popular rental cabin: The St. Joe Ranger District is now accepting lottery applications for reservation rental dates at the popular Red Ives Cabin. Lottery applications must be received by February 28, 2013.
---
New hunting, fishing rules in effect: Several new rules, including a mentored hunting program and changes to fishing rules, take effect today; all of them are subject of legislative review.
Letters
Governor Butch Otter: Yesterday I submitted legislation to create a state-based health insurance exchange. I learned that your state legislators are hearing from constituents who would rather cede all control to the federal government to make decisions about your health care coverage. It's time for Idahoans to tell their elected officials that they want Idaho to be actively engaged in the decision-making process by taking a seat at the table.
---
Lee Haarstick: Three disturbing trends are converging that should have every American rushing to get their ducks in a row. Something paramount is in the wind ... and it's anybody's guess when or how it will all go down.
---
Dana Kunz: I know you report about more important things than this, but I need to put this out there. Earlier this week, the neighbor's loose dogs attacked my chickens and killed two of them.
---
Back to archives