Boundary County Archives ~ August 2014
Home
News
Sports
Social
Obituaries
Events
Letters
News
August 27
New business in downtown Bonners Ferry: Woodsman's Shop: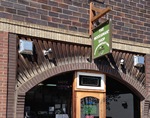 Open now for six months, the Woodsman's Shop is located in downtown Bonners Ferry at 6389 Bonner Street (just down the side street from Jill's Cafe). Click on this story for more information about this new business.
Bonners Ferry High School advises of open house and other upcoming Back-to-School events: Check this story for information about the BFHS Open House, Freshman Orientation Day, and picking up school schedules.
August 26
Idaho to auction Priest Lake lots Thursday: The Idaho Department of Lands (IDL) will auction 59 lakefront Priest Lake lots for deeded ownership during a live public auction Thursday in Coeur d'Alene.
August 25
Search and Rescue crews practice raising sunken automobile in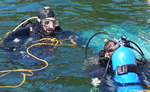 Pend Oreille: Rescue Divers from Boundary and Bonner Counties have completed a difficult training exercise involving a sunken automobile in Lake Pend Oreille.
Boundary County Clerk Glenda Poston elected Vice President of statewide Association: The Idaho Association of County Recorders and Clerks held its annual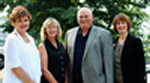 meeting in Orofino last week. One order of business was the electing of officers for the new year. Boundary County's Clerk Glenda Poston was selected as one of the state association's officers.
Idaho Senator Crapo seeking veteran's opinions on their medical care: If you are a veteran, Idaho Senator Mike Crapo is looking for information on how you feel about medical care you have received through the U.S. Department of Veterans Affairs and other federal programs administered in Idaho.
August 21
Update on medical condition: We have been advised of an update on the condition of Garrett Graupner, one of those involved in the automobile collision north of Bonners Ferry on August 18.
P

olice Explorer program holds graduation: The Bonners Ferry Police Department is proud to announce that the first group of "Police Explorer Scouts" have graduated from a one week, 40-hour boot camp. Click on this headline to learn more about the activities of the Police Explorer Post.
August 19
Social media updates on yesterday's Driver's Ed car collision: To provide full update, we note in this story news and updates that have been posted on public social media websites about yesterday's collision. This includes our own Facebook page, and the Facebook pages of relatives or associates of some of those involved in the collision.
Vehicle crash yesterday required multiple medical helicopters: Idaho State Police has

released limited information regarding yesterday's motor vehicle accident on US Highway 95 at milepost 513 at Hooten's Hollow, approximately six miles north of Bonners Ferry.
August 18
Update: Two serious motor vehicle accidents reported on US 95: Two motor vehicle collisions have been reported in Boundary County this morning (August 18), at least one of which appears to have serious injuries.
Fatal auto accident on US 95 north of Three Mile (occurred August 17): A Bonners Ferry man died at the scene in a single vehicle rollover near mile 511.6 north of Three Mile.
August 14
Here is your schedule for the Boundary County Fair, 2014: Click on this headline to see the schedule for all days of the Boundary County Fair.
August 12
Bonners Ferry holds special meeting to discuss water, sewer rates: "We are in a zero sum game in our utilities," Mayor David Anderson stated to start off Tuesday evening's special city council meeting, held to advise city residents and other utility users of water and sewer expenses, rates, and capital improvements.
August 11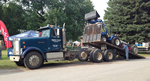 A lot happens before the Fair opens . . .
(see some photos of the day before the Boundary County Fair opened).
August 4
BFPD Corporal Winters completes DARE training: The Bonners Ferry Police Department is proud to announce that Corporal Winford "Buddy" Winters recently returned from two weeks of training in Las Vegas, Nevada at the Drug Abuse Resistance Education (D.A.R.E.) academy.
August 3
Many thanks to area power crews for their long night's work: While most of us

hunkered down in our homes after last week's terrific storm, wondering when the power was going to come back on, crews for Northern Lights and for the City of Bonners Ferry were out there working to actually bring the power back on.
August 2
Fire danger high in much of North Idaho: The persistent hot and dry weather pattern continues to dry forest fuels, prompting fire managers to raise the wildland fire danger to "High" throughout most of North Idaho, including the Boundary County area.
Obituaries
Terry Lee Mullin: September 23, 1955 ~ August 25, 2014
William (Bill) Bennett: December 16, 1935 ~ August 22, 2014
Betty Mae Long: March 22, 1931 ~ August 15, 2014
Howard Wayne Tucker: February 12, 1929 ~ August 17, 2014
Ronny Ray Dowell: June 17, 1953 ~ August 17, 2014
James Burdett Dunnington: July 29, 1927 ~ August 16, 2014
Patrick Thomas Turley: July 12, 1944 ~ August 7, 2014
David Lee Erickson: June 18, 1971 ~ July 30, 2014
Earl Duane Erickson: September 1, 1929 ~ August 3, 2014
John Alexander Clark: November 25, 1925 ~ July 31, 2014
Ervin L. (Zeke) Moore: June 6, 1936 ~ July 16, 2014
Marjorie Unruh: October 30, 1923 ~ July 30, 2014
Social
Community Band Festival a huge success: Some members of our

community participated in this band concert north of the border.
Sports
Fish and Game looking for your help: Have you seen a wolf? Scouting for upcoming hunting seasons, huckleberry picking, and general late summer recreating are all good reasons for getting away to Idaho's great outdoors. If during these forays, you see a wolf, Fish and Game staff would like to hear about it.
Second controlled hunt drawing complete (find out if you got one): The moment you've been waiting for is here! Here's how hunters who applied for controlled hunts in the second application period can find out if they were successful.
Disabled hunter access available in the Idaho Panhandle National Forest: The Disabled Hunter Access Program on the Idaho Panhandle National Forest will be available again this year to qualifying hunters. The program allows motorized access for hunters with disabilities on two roads on the Bonners Ferry Ranger District and three roads on the Sandpoint Ranger District.
Last chance to apply for controlled hunts: The application period for the second drawing for deer, elk and pronghorn remains open through Friday August 15.
New ADA Deer Hunt Blind on Kootenai National Wildlife Refuge: Kootenai National Wildlife Refuge has a new Deer Hunt Blind constructed specifically for disabled big game hunters. The Refuge will conduct a random drawing on August 15, 2014, to award ten hunters an ADA Deer Hunt Permit.
Latest Fish and Game news on: drawing for controlled hunts, leftover controlled hunt tags, and fireworks or explosive targets: In this story, read the latest news from Idaho Fish and Game on these important topics.
Successful summer for Badger Girls' basketball: The Badger Girls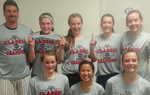 have been bringing championships home in summer tournaments recently. Click on the headline of this story to read more.
North Idaho baseball team with BF players wins Idaho championship again, moves to regional play: The Idaho Little League state champions, with three members from Bonners Ferry, is once again playing for a spot in the Little League World Series. The North Idaho Little League team beat out Boise in the state championship held in Sandpoint on July 12th.
Wildlife officials predict good year for deer hunt: Many Idaho hunters are optimistic about taking a deer, or maybe even two, this fall. Three consecutive mild winters across most of Idaho are resulting in unusually high numbers of mule deer and whitetail deer.
Letters
Lee Haarstick:

Questions their real motivation:
. . . . politically-motivated agitators use fear, anger, excitement, guilt, anxiety, and personal conflict to keep tempers on edge supporting chaos.
Back to archives