Boundary County Archives ~ January, 2012
Home
Sports
Social
Obituaries
Events
Letters
News
January 28
WAY TO GO!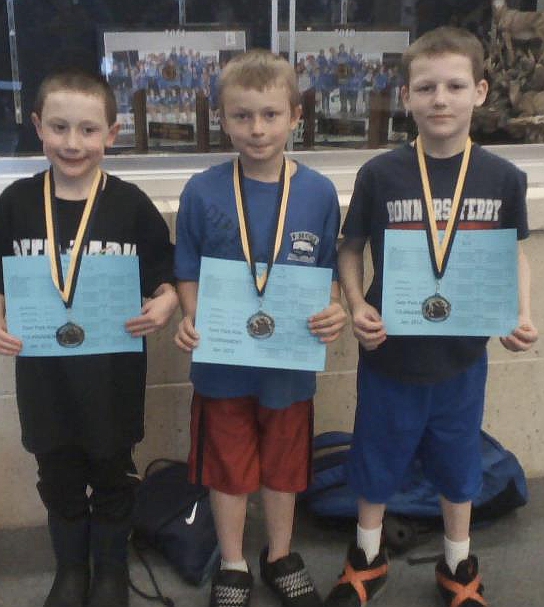 Young Badger second graders Ethan Whittaker, Kyle Smith and Eli Richards won gold medals last week ... and the Badgers went 15-0 at last week's Deer Park Tournament. In addition, Valley View girls Lily Blackmore, third grade, Katie Clairmont, fourth grade, and Ashlynn Rushing, fifth grade, took top honors in the Boundary County Community Spelling Bee!
PPP: Pfleuger's pupils making strides! The students of Valley View have had a very productive week! They participated in the "Fill the Bus" project on Martin Luther King, Jr. Day, collecting a total of 851 items for the Food Bank.
BSU's veggie-powered pickup wows D.C. crowds: Fresh off their achievement of the building the world's fastest vehicle that runs on vegetable oil, Boise State University's Greenspeed student club is in the nation's capital this week to talk about their record-setting performance and sustainable fuels.
January 27
Burglars strike again ... ineptly: Two separate burglaries were reported in Bonners Ferry today; in one of them, a culprit yet to be captured made off with an empty cash till ... in the other, two alleged culrpits who dropped the loot when the lady they stole it from told them they'd better, and who ran, each blaming the other.
January 26
Apologies: There have been two reports recently published on this site and picked up by local media which were inaccurate and for which I am solely responsible.
Two teens arrested for Pro-X burglary: Two Boundary County teens are in custody in the Kootenai County Juvenile Detention Center after being charged for Tuesday for allegedly breaking into Pro-X Building Supply. Hopefully, their period of confinement will allow them to contemplate a career different from the one they appear to have embarked on ... if as guilty as the evidence makes them appear, it's obvious they aren't smart enough to be thieves.
City residents asked to weigh in on recycling: After a two month free trial offered by Frederickson's Bonners Ferry Garbage, and a city-funded extension until February 10, the City of Bonners Ferry wants to know if city residents are willing to pay increased fees for easier recycling, or retain current garbage disposal fees and leave it up to the individual as to whether solid waste is recycled or merely hauled to the county landfill.
Commissioners gain concessions on caribou habitat: After Boundary County Commissioners formally invoked their intent to coordinate with the U.S. Fish and Wildlife Service earlier this month and asked for an extension of a public comment period that ends January 30 regarding the establishment of critical habitat for the woodland caribou, the Service's state supervisor, Brian Kelly, has agreed.
City faces annexation challenge: The Annex Opposition Group, an Idaho unincorportated non-profit group comprised of most of the owners of the more than 70 properties recently annexed by the City of Bonners Ferry, have formally requested a judicial review of that decision.
January 24
IDFG commissioner calls for common sense on caribou: Until the USFWS properly evaluates the effect of predation on the Selkirk Caribou herd, they should withdraw their habitat plan and evaluate more realistic options.
Con artists targeting Idaho's jobless claimants: The Idaho Department of Labor has received a number of reports recently of unemployment insurance benefit claimants being asked to provide personal financial information over the telephone to a person identifying himself as associated with a bank.
Court dispositions and sheriff's log
January 23
Not necessarily news: An open letter to Darrell Kerby on caribou, a way of life, and pileated peckerheds ... by Mike Weland ... revisited February 2
January 22
Fill the Bus food drive adds 2,880 pounds to food bank's shelves: The fifth annual Fill the Bus food drive held on Martin Luther King Jr. Day was another successful year for food collection in Boundary County, according to Pam Moe.
January 21
One dead, two injured in Bonner County crash: An Oregon truck driver was killed and two people injured, one critically, in a multi-vehicle collision at about 8:40 a.m. today near milepost 459 on U.S. 95, near Cocolalla Creek. One of those involved in the collision was Brian Fendos, 39, Bonners Ferry, who was not injured.
Expert to address community leaders on crisis de-escalation: Memphis, Tennessee, Police Major Sam Cochran, the nation's acknowledged leader in implementation of Crisis Intervention Training (CIT) for law enforcement, will address community leaders at a February 8, 2012, banquet at the Ponderay Event Center behind Sandpoint Furniture.
December jobless rates drop in 27 of Idaho's 44 counties: The seasonally adjusted unemployment rate dropped from November to December in 27 of Idaho's 44 counties, following the decline in the statewide rate to 8.4 percent.
Labrador announces re-election bid: U.S. Congressman Raul Labrador, representing Idaho's First District, announced this week that he will officially kick off his re-election campaign with a rally on the capitol steps in Boise, to be followed by a luncheon at the Rose Room.
BPA proposes to buy land near Twin Rivers: The Bonneville Power Administration (BPA) is proposing to fund the purchase of 87 acres in the Kootenai River watershed in Boundary County, Idaho for fish and wildlife habitat protection.
BPA proposes to buy land near Mirror Lake: The Bonneville Power Administration (BPA) is proposing to fund the purchase of approximately 149 acres along the Kootenai River in Boundary County, Idaho for fish and wildlife habitat protection.
January 19
Commissioners cite federal law for say in caribou designation: After weeks of study and consultation, Boundary County Commissioners today invoked federal law to be included as participants in the process currently underway to designate over 600-square-miles of North Idaho and eastern Washington as critical caribou habitat. Thanks to their efforts, an impossible deadline has been extended and local voices will be heard.
'Fill the Bus' fills the food bank: The fifth annual Fill the food drive held on Martin Luther King Jr. Day was another successful year for food collection in Boundary County according to Pam Moe. It was much more than that.
Not hiring just yet, Super 1 Foods is fast approaching: Not but a couple of weeks ago, the site where the old Lantern Tavern and the KOA campground once stood, there was a massive back wall and the hint of two sides ... heavy equipment and the people to run it seeming in constant movement, and it's building fast. The 80 people they'll need to run the store are eager to apply ... have patience.
Montana man sees slide off ... slides off spectaculary: Traffic on U.S. 95 was snarled this afternoon after an 80-year-old Montana man, whose name has not yet been released, lost control of his Cadillac, rolled over a guard rail and plunged down a steep embankment and through several trees before coming to rest at the bottom nearly 20 feet below ... and it turns out that he crashed on encountering the flares of a "simple" slide off that deputies were attending just a little further south.
County commission minutes, January 9
January 17
Court dispositions and sheriffs log
January 13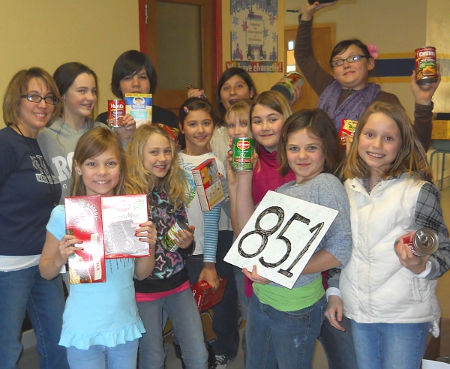 Valley View kids help out the Food Bank: Valley View students brought in 851 items of food for our Fill the Bus food drive, an AmeriCorp service project.
North Idaho up in arms over Caribou proposal: In late November, with little to no fanfare, the U.S. Fish and Wildlife Service made public an intricately detailed proposal to set aside more than 600 square miles of the Selkirk Mountains in North Idaho and eastern Washington as habitat critical to the Selkirk Mountain Caribou.

County's second oldest business in 'old' new hands: Sharlene Delaney went to work for the late Pete Wilson's law firm more than 31 years ago. Two years later, Pete's other business, Boundary Abstract, was going through transition, and he asked Sharlene, because of a unique skill she held, if she'd be interested in moving to that side of the shop. She was, and now, nearly 29 years later, Sharlene has purchased the business.

Paisley Ann Maas is county's first baby of 2012: The first Boundary County baby of 2012 is Paisley Ann Maas, born to Rebecca Maas, Bonners Ferry, on January 6 at Bonner General Hospital, Sandpoint.
County GOP to hold presidential caucus: At its winter meeting, the Idaho Republican State Central Committee, the governing body of the Idaho GOP, met in Boise, and reaffirmed its support of a change to State Party Rules that will move Idaho's presidential candidate selection to Super Tuesday and conduct the nominating process through a county by county caucus system.
Bonners Ferry City Council to address annexation: The Bonners Ferry City Council has a packed agenda for their meeting at 2 p.m. Tuesday, January 17, and among the things they'll be discussing is the highly controversial annexation.
Martin Luther King Day celebration set: The Boundary County Human Rights Task Force announced that Martin Luther King/Human Rights Day will be celebrated at 2 p.m. Sunday, January 15, in the basement at Trinity Lutheran Church.
Principal Pfleuger Press: As this is the first Principal Press of the New Year, I would like to wish you all a very happy and prosperous New Year. I have enjoyed this school year and look forward to continuing the positive direction Valley View is heading.
North Idaho schools slate spelling bees: Elementary students throughout the region are gearing up to compete in the North Idaho Regional Spelling Bee, which takes place Saturday, March 17, at the Coeur d'Alene campus of North Idaho College. Time corrected
TIME CORRECTED: School district to meet with food service staff: Boundary County School District 101 will hold a special meeting at 7:30 a.m. Friday, February 10, in the Valley View Elementary conference room to meet with food service staff and to recieve input regarding contracting food services.
January 10
Soaring into the New Year: Northern Air is proud to announce the first two new pilots of 2012. Jared Brown, Creston, and 2009 Youth Aviation Scholarship winner Adam Alverez both earned their pilot's licenses earlier this month.
Court records and sheriff's log
January 7
Gary Leonard to make bid for sheriff: Paradise Valley Fire Chief Gary Leonard, 56, recently announced his decision to put his name on the ballot for Boundary County Sheriff, and he's launched a website, http://www.leonard4sheriff.org through which to gain ideas, contributions and support.

Aitken spared prison: After spending 274 days in the Boundary County jail after pleading guilty to his fifth DUI, former Kootenai Tribal leader Gary A. Aitken Sr. was released on Thursday, spared up to four years in prison provided he gets treatment for alcohol abuse.
Moyie Springs City Council minutes, December 7
January 5
Watts sentenced to prison: Despite confessing to her crime, working to make reparations and a plea agreement she thought was iron-clad, Judge Steven Verby today handed down a hard sentence against Jennifer Watts, setting aside a plea agreement she'd reached with county prosecutors.

Sergeant Goad solves Bigfoot disappearance: For several years, the eight-foot-tall Bigfoot sculpture waved to those passing by the home of Robert McRay on Highway 95 near the Mt. Hall Junction. When the former "Conan the Adventurer" actor and master sculptor returned to California, he left "Biggie" in the care of Kathryn Ray, poised outside her iconic Good Grief Grill and Grocery near Eastport, where people from around the world stopped regularly to have their picture taken with the friendly looking monster. On Tuesday night, one late-night group of passers-by went a little too far, and as a result, one of them is now sitting in jail.

January 4
'Word of the Week' by Goad? Say yes! It seems a simple concept, the word "vigilant." "Keeping careful watch for possible danger or difficulties." I ran afoul, though, of one of my favorite people in the Sheriff's Department, Chief Patrol Deputy Bobby Goad, who said he's never said such a word. His wife thinks he should submit a "word of the week." What do you think?


Idaho POW may soon be repatriated: The U.S. has given its blessing for the Taliban to be brought in from the cold with a critical step towards reconciliation as the world paused to mark the 10th anniversary of the 9/11 attacks. So read headlines, and hopes, around the world.

Funds available to help land owners assist river restoration: Agricultural landowners along 55 miles of the Kootenai River in Boundary County can help the Kootenai Tribe with a restoration project along the river corridor. The Tribe received special funds from the Natural Resources Conservation Service to restore and enhance fish and wildlife habitat conditions along the river. NRCS will provide financial and technical assistance for conservation work; applications for funding will be taken through January 27.

School Board meeting January 10
County Commission minutes, December 26-27
January 3
Fire destroys shed, belongings: A quick-moving fire Tuesday afternoon left a Pleasant Valley family looking on in shock as possessions collected over a lifetime were destroyed.

Police seeking info on stolen truck: Major crimes in Boundary County, except to law enforcement officers, are rare. A December 29 truck theft outside a Main Street restaurant in which the stolen vehicle was found floating down the Kootenai River, headlights on, even before the rig had been noticed missing, may give lie to that assumption.

Montana man may be spared prison for felony DUI: A Montana man who admitted drinking, driving erratically, crashing his truck into a vehicle bound for the Mother's Day Moyie Mud Bog, injuring three young women and then fleeing the scene of the accident has been given the chance to avoid up to nine years as an inmate in the Idaho State Prison.

IPNF forest plan released: The U.S. Forest Service is seeking public comment on the Draft Forest Plan and Draft Environmental Impact Statement (DEIS) for the Idaho Panhandle National Forests released today.



Court records and sheriff's log
January 2
A New Year for a New Resolution: This year instead of making a resolution out of guilt or pressure that could trap us in a counterproductive or pessimistic attitude, let's make a resolution that will empower us with strength and clarity. Personal empowerment paves a pathway to freedom and in that freedom, we can explore the best parts of ourselves in ways that can unleash hidden potentials, regardless of our age or level of experience.

Free 'Family to Family' program set for February: "Family to Family," a twelve week course for family and friends of individuals with mental illness, is being offered by the Far North Chapter of National Alliance on Mental Illness (NAMI).

Poston, Gray inducted into Rotary: Glenda Poston and Marc Gray were inducted as new members in the Bonners Ferry Rotary Club in December.

Japanese tsunami debris expected on U.S. coast this winter: Debris from the tsunami that devastated Japan in March could reach the United States as early as this winter, according to predictions by NOAA scientists.
Obituaries
Linda Darlene Maggi, October 8, 1955 ~ January 19, 2012
Mildred M. Fleming, January 19, 1914 ~ January 1, 2012
Sam J. LoPorto, April 28, 1918 ~ January 10, 2012
Patricia Ann Nelson, October 2, 1934 ~ January 8, 2012
Barbara Thelma Daniel, June 2, 1922 ~ January 8, 2012
Jon Jeffrey Plum July 28, 1956 ~ January 2, 2012
Vance Neil Jones, Jr., October 16, 1935 ~ January 2, 2012
Ruth M. Loughery, May 15, 1922 ~ December 31, 2011
Seward R. "Denney" Dinsmore, November 15, 1924 ~ January 1, 2012
Harold Fairchild, September 12, 1926 ~ December 29, 2011
Social
Spencer joins Bicknell family: Spencer John Bicknell, the son of John and Brittany Bicknell, was born at 10:45 p.m. Thursday, January 5, at St. John's Lutheran Hospital, Libby, Montana.
Copeland, Gage engaged: Jody Copeland, the son of Larry and Pam Copeland, Bonners Ferry, and Jackie Gage, the daughter of James and Carrie Gage, Sagle, recently announced their engagement to be married.
Kyler Lee born in Germany: Kyler Lee Cunningham was born January 2 in Grafenweir, Germany, to Patricia and Army private Brandon Cunningham.
Sports
Use caution snowmobiling on Forest Road 302: Recent private timber management operations being conducted on Forest Capital lands north of Nordman are resulting in logging trucks and snowmobilers sharing Forest Road 302 for approximately 4 miles.
Letters
Congressman Raul Labrador: This week marked a milestone as the United States Senate passed the 1,000th day without a budget and without a clue. Instead of passing a budget, the Senate has passed Obamacare, preferential industry bailouts and failed stimulus packages ... saddling American taxpayers with an additional $4 trillion in debt.
Donna Capurso: Insanity continues to remain alive and well in the
U.S.
Fish and Wildlife Service as evidenced at the January 9 meeting at the Kootenai River Inn in Bonners Ferry.

The KVRI agenda was amended to move the topic of the USFWS's Caribou Critical Habitat presentation to the top as every seat in the KRI banquet room quickly filled with people and then every bit of standing room was taken up with an overflow that stood outside the double doors to listen to the proceedings.
Mike Weland: One of the big attractions in our local Boundary County Museum is a stuffed albino caribou. People from the world over stop in, take a picture, and go home, many from places where caribou are common. The caribou don't raise as much stink ... we hardly know they're here. Somehow, it isn't our caribou raising the controversy, it's us.
LeAlan Pinkerton and Lester Pinkerton: Now is the time for citizens of Boundary County to join together to make your opinions known regarding the latest land closures outlined in the U.S. Fish and Wildlife Service's caribou critical habitat proposal. We need to join with the residents of Bonner County to challenge the rule proposed.
U.S. Congressman Raul Labrador: Last year, I campaigned on a promise to change the way Washington works. I am proud to report that in the first year, I've done just that.
Back to archives