Home
News
Sports
Social
Obituaries
Events
Letters
Boundary County Archives ~ October, 2016
News
October 31

Pro X expansion gets industry attention: The successful grand opening and continued momentum of a new Bonners Ferry location has put Pro X Home Center in exclusive company within the home improvement industry. The recent expansion has transformed the business from a small-town lumber yard into a major regional center for do-it-yourselfers and contractors alike.
Safe driving class coming soon: Would you like to learn some driving safety tips and simultaneously save some money on your car insurance premiums? Then consider taking a half-day class on Thursday, November 10.
Boundary County Commission minutes, October 3
October 30
Bonners Ferry Clean Up Week coming: The Bonners Ferry Street Department will pick up yard waste from the front curb side of residences and businesses during the week of November 7 through November 14.
October 29

Local author slates Halloween book release: There'll be a Halloween book unleashing party for the horror comedy "Ambulatory Cadavers," the third and latest novel published by Bonners Ferry author McCallum J. Morgan, from 6 to 8 p.m. Monday, October 31, at Bonners Books, 7195 Main Street, Bonners Ferry. There'll be prizes, free candy and a reading by the author.
October 27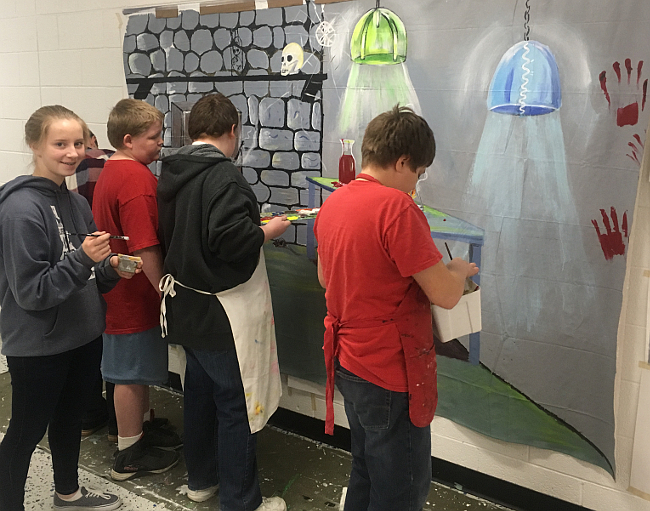 Advanced Art Students at Boundary County Middle School paint the final touches on the background scene for this weekends' haunted house. All students are invited to attend the Haunted House at 6647 Lincoln Street, Bonners Ferry, on October 28, 29 and 31 from 5:30-9:30 each evening. Admission is by donation, and all proceeds from this event go to Second Chance Animal Adoption.
Missing Post Falls man murdered: A body discovered Tuesday near the Hayden Creek Shooting Range, northeast of Hayden Lake in the Coeur d'Alene National Forest, has been identified as William "Bo" Kirk, 41, a Post Falls man reported missing on Saturday. Kootenai County Sheriff's detectives have ruled the death a homicide.
Dime candy and a small-town Halloween: Probably the most enjoyed season for us kids was Halloween. The days had grown shorter, so you could start getting prepped for the evening early, say around 2 p.m. Since this was a small town, we were, for the most part, allowed to go out trick or treating by ourselves. By Mike Ashby
ITD an Innovative Company finalist: The Idaho Transportation Department was named a 2016 Innovative Company of the Year finalist by the Idaho Technology Council October 25 in Boise. No other state public service agency has ever been a finalist in the category, typically reserved for private-sector firms.
Be aware of domestic violence: Thousands of Idaho citizens will recognize October as Domestic Violence Awareness Month (DVAM). The goal of DVAM is to increase public awareness about the realities of domestic violence and encourage all individuals to take action by being an important part of preventing violence before it occurs.
October 26
BFPD working to make Thanksgiving safer: The Bonners Ferry Police Department is joining in a national effort to send Thanksgiving travelers an important lifesaving reminder to Buckle Up. Every Trip. Every Time.
Espress O'Clock to shut its doors: A popular Bonners Ferry eatery will close its doors, hopefully temporarily, after receiving notice that the building must be vacated by October 31. The owners of Espress O'Clock, 6603 Main Street, Bonners Ferry, are now scrambling to get their equipment and inventory into storage as they search for a new location in which to reopen.
Blanchard man dies after hitting tree: A Blanchard, Idaho, man died Tuesday afternoon after a single vehicle collision on State Highway 41 south of Spirit Lake.
Woody's Gun & Pawn offers a game: Woodys Pawn & Gun, 7197 Main Street, Bonners Ferry, is throwing out a fun game for the public. This morning, owner Kyle Watts wrote a number on a piece of paper and stuck it in the bottom of his till ...
Kootenai Tribe looking for police officer: The Kootenai Tribe of Idaho is seeking a full time police officer to join their police department to begin duties around the second week in January. Applications are being accepted through November 18.
Drivers urged to be alert to big critters: The number of auto collisions involving big game animals typically rises during fall and winter, so Idaho Fish and Game encourages motorists to slow down and be extra cautious.
NOAA says wetter, cooler winter ahead: Forecasters at NOAA's Climate Prediction Center Thursday issued the U.S. Winter Outlook, saying that La Nina is expected to influence winter conditions this year.
Idaho unemployment rate stays steady: Idaho's seasonally adjusted unemployment rate held at 3.8 percent in September. Nationally, the unemployment rate increased from 4.9 to 5 percent.
October 25
The whole community is Badger Awesome! We are rounding the corner toward the end of the first quarter of school, and BFHS is moving full speed ahead. I am extremely proud of the high school students and staff because of their efforts to support the idea that we are a family. By BFHS Principal Kevin Dinning
Good things are happening! I have enjoyed writing this edition of the "Supt Scoop" to our community. Good things are happening! And yes, challenges will keep us striving for ways to improve. I'll begin with the best news — Bonners Ferry was awarded the "High Five" grant sponsored by Blue Cross of Idaho. By Superintendent Gary Pflueger
October 24
A big High Five, Bonners Ferry! For the next three years, beginning in 2017, Boundary County youth are going to discover new ways to eat better and stay more active, fit and healthy, thanks to a High Five Community Transformation Grant awarded Bonners Ferry by the Blue Cross of Idaho Foundation For Health.
October 23
Scoping meetings set on Columbia Basin EIS: The U.S. Army Corps of Engineers, Bureau of Reclamation and Bonneville Power Administration have announced their intent to prepare an environmental impact statement on the Columbia River System operations and configurations for 14 federal projects in the interior Columbia Basin.

Search on for missing Post Falls man: On the evening of Saturday, October 22, the Post Falls Police Department was informed that William "Bo" Kirk was last seen at his place of work, Northwest Specialty Hospital in Post Falls, at approximately 7 p.m. He was expected home at around 7:20 p.m., but did not arrive.
Missing hunter found safe: A local hunter was found safe this morning, walking out on his own after spending a chilly night in the woods off Giles Connection Cutoff.
October 21

BCMS students get progress reports, go to the polls and more: Midquarter progress reports were sent home last Wednesday with students. I can't believe we are already 1/8 of the way through this year! If you did not receive your child's progress report, ask your child why ... and then give us a call! A BCMS & NewsBF pictorial by Principal David Miles II
October 20
Community merits a High Five: While the final results have not been posted online nor an official public announcement made by the Blue Cross of Idaho Foundation as yet, the Rexburg Standard Journal last evening reported that Rexburg, one of five Idaho cities named as finalists, was awarded a $250,000 High Five Grant, and that the other two Idaho Five Grant awards this year have gone to Sandpoint and Bonners Ferry.
Wallace man dies in rollover: A 41-year-old Wallace man died Wednesday night in a single vehicle rollover in Wallace.
October 19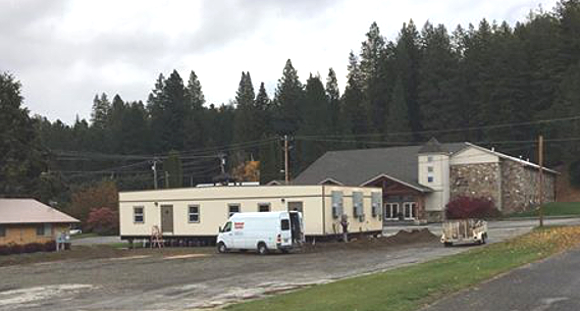 The temporary St. Ann's Catholic Church building is here and being setup for use! They will soon announce when services are to begin in the new building.
October 18
Bridgeway seeks childcare assistant: BridgeWay Assembly of God, 66027 US-2, Bonners Ferry, is looking for someone who will be able to fill their need as a childcare assistant in the preschool room working around 30 hours per week.
October 17
Investigation continues on pedestrian collision: Idaho State Police are continuing to investigate the vehicle versus pedestrian fatality crash involving a Kootenai County Sheriff's Deputy which occurred in the intersection of US 95 and Miles Avenue in the early morning hours of October 8.
Forest gates to open: As visitors take to the woods to hunt and/or collect firewood, the Idaho Panhandle National Forests remind them that forest gates in grizzly bear management units will be opening soon.
State DMVs to close for new software: County Division of Motor Vehicle offices across the state will close for half-day increments in late October or early November to install software in conjunction with new driver's licenses and identification cards.
October 14
Areal flood watch issued: The National Weather Service has issued an areal flood watch for portions of North Idaho and Washington, including Boundary County, in effect from midday on Saturday through late Saturday night.
A trip through history at the Porthill Cemetery: Perched on a hill above what was once called Ockonook ("a grassy hillside with rocks") at the very top of Boundary County lies a small cemetery with an incredible history dating back to 1898. Familiar historical names such as Klockmann, Sloop, McLoughlin, Baker, and King can be found in this, the Porthill Cemetery.
October 13
Community Hospital hosting open house: Boundary Community Hospital is throwing its doors open to the public from 3 to 5 p.m. this Friday, October 14, for tours of the facility, the various hospital departments, and to provide information to all who wish to see and learn for themselves why the hospital is asking Boundary County residents to pass a levy of $414,000 a year for the next two years at the upcoming general election in November.
High winds expected in the Palouse: The National Weather Service in Spokane has issued a wind advisory, which is in effect from 2 a.m. to 7 p.m. Friday. Areas affected include Whitman, Lincoln, Benewah, Latah, Kootenai and Spokane Counties.
October 12
Forage and grazing school set: The North Idaho Forage and Grazing School will be held from 9 a.m. to 5 p.m. Tuesday, November 1, at the Ponderay Event Center, 401 Bonner Mall Way, Ponderay.
Land use amendment hearing set: The Boundary County Planning and Zoning Commission will meet in special session to review Application 16-111, which proposes changes to the Boundary County Land Use Ordinance 2015-2.
Coats for Kids drive on at Valley View: Valley View Elementary is now conducting its annual Coats for Kids drive, and anyone can drop off their clean, gently used coats with working zippers, hats, gloves, boots and scarves during Valley View's office hours, 8 a.m. through 4 p.m. Monday through Thursday at 6750 Augusta Street in Bonners Ferry.
Online survey seeks opinions on school funding: The Idaho State Board of Education and the Idaho Legislature's Public School Funding Formula Interim Committee have partnered to collect public input from Idahoans on how the state's public schools are funded.
Labrador sticking beside Trump: In the wake of what may be seen as a crippling week for Republican presidential candidate Donald Trump, U.S. Representative Raúl Labrador, R-Idaho, remains steadfast in his support.
October 10
Kootenai River Brewing Co. brings home bronze! Out of 7,227 entries submitted by 1,752 breweries, a panel of 264 beer experts hailing from 12 countries awarded a small brewery in North Idaho a prestigious bronze medal in the 30th annual Great American Beer Festival, held October 6-8 in Boulder, Colorado.
Spread the word, not the weeds: As hunters head out into our forest this fall, remember that you can help or hurt with the spread of noxious weeds. Unknowingly, many people will spread noxious weeds with their ATVs, trucks, horses, dogs, boots, etc.
Jobs galore at Fall Job Fair: Sixty employers looking to fill more than 500 positions are expected to attend the Fall Job Fair organized by the Idaho Department of Labor. The event will be held from 10 a.m. to 2 p.m. Wednesday, October 12 at Real Life Ministries N1866 Cecil Road in Post Falls.
Moyie Springs City Council minutes, September 7
October 8
Pedestrian hit, killed by Kootenai County deputy: A Hayden woman was struck and killed by a Kootenai County Sheriff's deputy at 1:35 a.m. today, and Idaho State Police are asking that anyone who witnessed the collision please come forward. Neither the deputy nor the pedestrian have been named in a release issued at 6:39 a.m. Update October 10: The pedestrian has been identified as Amber E. Viuhkola, 38, Hayden. Update, October 11: The deputy has been identified as 33-year-old Andrew Nye.
October 6
Valley View celebrates 20th International Walk to School Day: Valley View Elementary students joined with students around the world in celebrating the 20th year of International Walk to School Day on Wednesday, October 5.
Crapo introduces veterans health care reform bill: Federal legislation to cut the red tape for veterans seeking local health care has been introduced by Idaho Senator Mike Crapo, as part of his continuing commitment to Idaho's vets. The "Improving Veterans Care in the Community Act," would make it easier for the U.S. Department of Veterans Affairs to send veterans to local communities for health care.
October 5
Boundary County School District 101 by the numbers: The Top 10 in BCSD101. Superintendent's Scoop by Superintendent Gary Pflueger
Two die in collision near Careywood: Two people died and two were injured when a car hit a semi head on on Highway 95 in Careywood in Bonner County Tuesday night, and Idaho State Police are asking for help from anyone who may have seen what happened.
County commission minutes, September 26
County commission minutes, September 19
October 3
Don't toss those old shoes! If you have any shoes left after your yard sales or when cleaning out your closets, the Boundary County Leadership class is doing a shoe drive from now through November! Call Kelly Hinthorn at (208) 290-1506 and she'll make arrangements to pick them up!
October 1
Shopko Grand Opening set: Shopko has announced that it will open a new Shopko Hometown store located at 6355 Main Street on October 14. Shopko Hometown provides local residents a convenient new community-focused shopping experience that features essential name-brand items.
Community Choir tradition continues: A 40-year Bonners Ferry tradition continues when the Bonners Ferry Community Choir starts rehearsals for the new season at 6:30 p.m. Tuesday, October 11, at Trinity Lutheran Church in Bonners Ferry. Barb Nelson, accompanist, and Vicki Blake Thompson, conductor join forces once again to lead the choir's annual Christmas concert.
Conservancy established near McArthur Lake: In an area recognized as one of the region's most important wildlife linkage zones and one of Idaho's highest priority areas for benefiting forest-based markets, approximately 5,568 acres of forestland has been permanently conserved to benefit wildlife, local economies, clean water and recreation.
Letters
Larry D. Nelson: I am writing in support of the Boundary County Community Hospital levy on November 8. I do this for two basic reasons that I hope will also be the motivation of the members of our county.
Karl Dye: I'm writing to share my support for Kate McAlister in her campaign for State Representative 1-A and excited to ask you to vote for her. But I'm also writing to share my fears about the future of our end of the state.
Idaho Governor C.L. "Butch" Otter: Continuous bickering and name calling at the top of the ticket in this election year are understandably creating a lot of anxiety among voters. So there's no need for anyone to add to that angst by frightening folks about the Idaho Legislature having too little authority to protect them from government bureaucrats run amok.
Charlene Godec: Elections are about choices and choices are about values. The race between Heather Scott and Kate McAlister provides a very clear choice for the voters of District 1.
Kirk Dixon: I want to thank Rebecca Husbey for her letter. Voter fraud is wide spread this election year. I was saddened when I heard that Boundary County got the machines.
Rebecca Huseby: Folks, I have just received word from a state representative that the people have the right to refuse to use the voting machines.
Brian Zimmerman: Dave Kramer is the right choice for Sheriff. I have heard and read the rumors and falsehoods circulating about Dave and his lack of qualifications.
U.S. Senator Mike Crapo: The men and women who serve in the Guard and Reserve and their families give immensely of their time and talents to serving our nation. Their skills and commitment also add great value to the workforce and our communities.
U.S. Congressman Raul Labrador: As we near the end of the 114th Congress, many groups have released their scorecards rating members of Congress on their performance. I'm happy to report that my record of fighting for jobs, growing our economy and a smaller, more limited, government has been recognized by four important groups.
Crapo working to improve health care for vets: Idaho veterans and their family members have made it clear that the Veterans Choice Program (Choice program), created to make it easier for veterans to get health care, does not work for Idahoans.
Back to archives