Fishing heats up on the North Fork CdA and St. Joe Rivers
June 28, 2017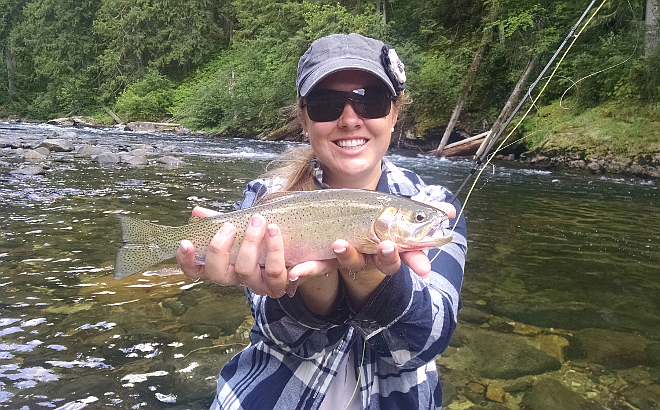 By Carson Watkins
IDFG Regional Fisheries Biologist

With the summer months upon us, trout fishing on the North Fork Coeur d'Alene and St. Joe rivers is heating up. Up until now, float fishing has been exceptional, but with flows receding on both rivers, walk-and-wade anglers will have access to more water and better fishing.

Several reports have been filtering-in as of late, with all indicating that the fishing has been downright awesome. Currently, anglers will find that much of the North Fork Coeur d'Alene River is wadeable upstream of Enaville.

Flows on the St. Joe are still somewhat high, but bank anglers can still find plenty of water to fish; expect many more opportunities for wade access by the Fourth of July holiday.

For fly anglers, keep an eye on what kind of bugs are buzzing around the water; throwing yellow sallies, PMDs, or green drakes should be a good bet. A variety of other gears, like spinners and spoons, will catch fish too!

Remember to reference your fishing rules and regulations at https://idfg.idaho.gov/rules/fish if you're a first-timer to these rivers. With the holiday weekend approaching, it couldn't be a better time to grab your 2017 fishing license online at https://idfg.idaho.gov/licenses and head upriver. As an added bonus, 2017 license buyers will enjoy 2017 pricing as long as they continue to renew their license under the new Price Lock program.

Enjoy your time on the water!
Questions or comments about this article? Click here to e-mail!