Lake Pend Oreille kokanee fishing outlook
June 20, 2017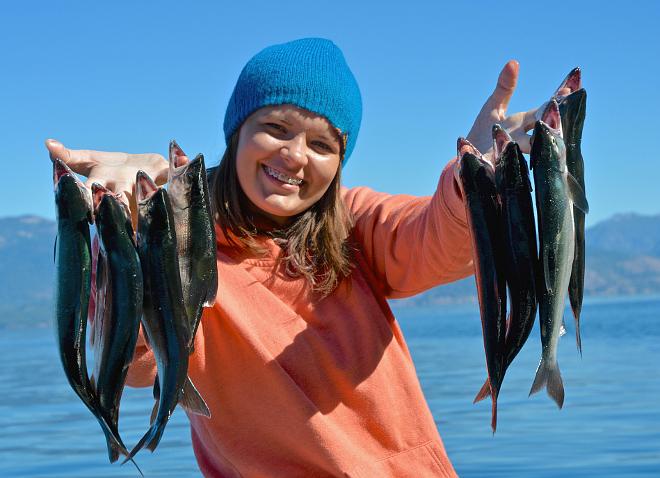 By Pete Rust
IDFG Fisheries Research Biologist

Kokanee fishing is finally beginning to pick up on Idaho's largest body of water. Unusually cool and blustery spring conditions and high inflows have kept most kokanee anglers away from Lake Pend Oreille. With the increasing numbers of kokanee in Pend Oreille over the past few years, anglers have been pleased with the number of relatively large kokanee available from this popular fishery.

In 2017, we expect to see numbers of kokanee comparable to, or slightly higher than, those of the past couple of years (roughly 1.5 million 3 year olds and 300k 4 year olds available to anglers).

One notable difference this spring has been the slightly smaller size of three year old fish to begin the year. This year class had begun the year at around eight inches as opposed to nine inches in the previous couple of years.

But water temperatures are warming, the growth of these fish has resumed. Recent observations show these fish now approaching the nine inch mark, and they should continue to grow throughout the summer.

We anticipate an average fish size of about 11 inches by the end of summer.

A bonus to this year's fishery has been a greater number of four year old fish that were already measuring 10.5 to 11.5 inches in May. These fish should exceed 13 inches by fall. A few of these older fish are available each year, but we anticipate a few more than anglers have seen recently.

The bottom line is there are a lot of kokanee available to anglers on Lake Pend Oreille this year. The lake ... and the fishing ... have begun to warm up.

With the Fourth of July holiday weekend approaching, it couldn't be a better time to pick up your 2017 fishing license and get out on the lake. 2017 license buyers will enjoy the benefits of the new Price Lock program.

Your license fees will remain at 2017 prices (at least through 2022) so long as you buy a license every year.

Fishing pressure has been very light, but it is time to get out and start taking advantage of a plentiful resource now that summer has finally arrived in the Panhandle!
Questions or comments about this article? Click here to e-mail!