Mt. Hall names Citizens of the Month, honor rolls
April 12, 2017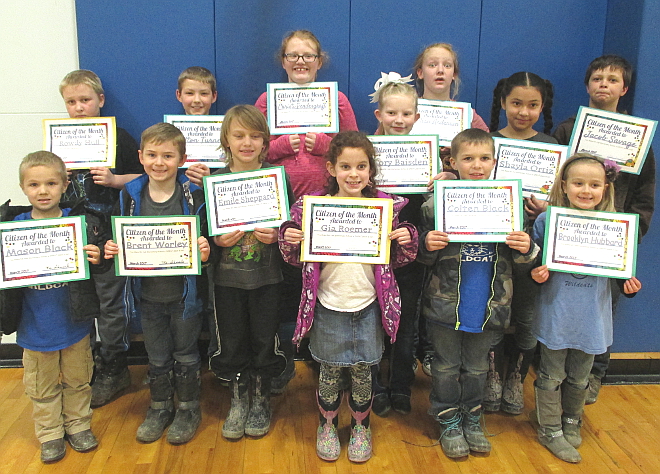 Mt. Hall's March Citizens of the Month are: (back row:, l-r) Rowdy Hull, Colton Turner, Christi Pendergraft, Lillian Anderson, and Jacob Savage. Middle row: Tory Baisden and Shayla Ortiz. Front row: Mason Black, Brent Worley, Emile Sheppard, Gia Roemer, Colten Black and Brooklyn Hubbard.

The Mt. Hall third quarter Honor Roll is now out, with six students in the fourth and fifth grades taking home perfect report cards.

Fourth grader Elizabeth McCoy was the only student in her grade level to earn all As fot the quarter. Earning all As and Bs were Bradlee Bennett. Amanda Koehn, June Marshall, Wyatt McDonald, Jimmy Solt, P.J. Sundstrom, Riley Thompson and Alison Williams.

Earning High As in the Mt. Hall 5th Grade classes were Asha Abubakari, Kaelynn Baisden, Brodie Becker, Ana Chase and Lindsey Onstott.

Earning spots on the A/B Honor Roll were Sonora Christian, Jaime Dorhofer, Colin Fairchild, Ava Frederickson, Aspen Hill, Eli Leyden, Christopher Meyer, Eli Newell, Anita Perez, Amanda Patzer and Noah Varelman.

Questions or comments about this article? Click here to e-mail!