Rotary, Explorers, track team tackle bleachers
April 11, 2017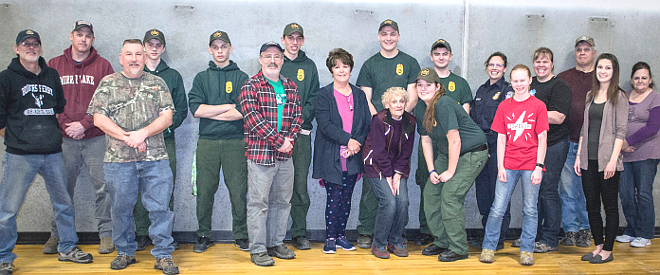 On Tuesday, April 4, the Rotary Club of Bonners Ferry teamed up with Border Patrol Explorer Post 190 and the Bonners Ferry High School Track Team to take care of a long needed project for the Boundary County School District ... removal of the old bleachers from Valley View Elementary, which had been handed down from school to school until they came to rest there years ago.

The Parent Association, community efforts, and Bonners Ferry Rotary have worked to raise money for new and improved bleachers for the elementary school and the time has finally come to begin the process of replacing them.

As a team, the crew worked seamlessly to remove the heavy wood and metal bleachers in just under an hour and a half ... a job that was projected to take all day if not several.

Thanks for all who have participated and worked to raise funds, and to all the community members who came to help disassemble the bleachers.

Bonners Ferry Rotary is especially proud of all the kids who came and worked so hard.

We can't wait to see the new ones when they are put in!
Questions or comments about this article? Click here to e-mail!