Moyie Shrine presents Calam Divan $8,000
April 5, 2017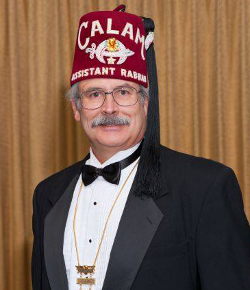 Calam Potentate Russ Graves

At a recent visit by the Calam Divan, Moyie Shrine Club President Richard Hollenbeck presented an $8,000 check to Calam Potentate Russ Graves for the Shriners' Hospital in Spokane.

These funds are the results of the Moyie Shrine Club's fair food booth, raffle, ice cream booth and popcorn sales as well as donations from Sater's Auction and community members.

The members of the club are very appreciative to the community for the support given to these fund raising projects that benefit children.

The Shriners Hospital provides at no cost to families the treatment of all children who are in need of orthopedic or burn care.

A free screening clinic will be held from 9 a.m. to noon Saturday, April 22, at Panhandle Health, 440 Kaniksu Street, Bonners Ferry, to help identify children in our area who might benefit from the expert care provided at Shriners Hospitals.

If you know any child under age 18 who has orthopedic problems such as club foot, scoliosis, hand problems, back problems, spina bifada, dislocated hips, missing arms or legs or problems associated with burns, please get them to the screening, as they may qualify for free care.

To make an appointment, call (208) 267-5558.
Questions or comments about this article? Click here to e-mail!