Behind The Scenes of "The Manliest Show in Town"
March 21, 2018
by Ashley Guttin

What happens when you take 11 of the manliest senior boys of Bonners Ferry High School and put them through two weeks of intense practices to put on the most masculine show Boundary County has to offer?

Well, every year the Bonners Ferry High School Forget-Me-Nots (The Distinguished Young Women participants from the previous year) volunteer their time to train the soon-to-be male graduates of our local high school to go through a similar preparation process as the DYW women go through every year. This year our 11 brave young men participating in Mr. BFHS are Seamus Skeen, Nikolous Bertling, Jesse Sandelin, Zac Duffens, Kendall Stone, Shayne Walker, Amar Fischer, Chris Sabin, Mason Eby, Shiloh Thomas, and Malin Worley. They are a combination of the most suave, witty, and intelligent men BFHS has to offer, and they are ready to display it all on stage this Friday, March 23rd.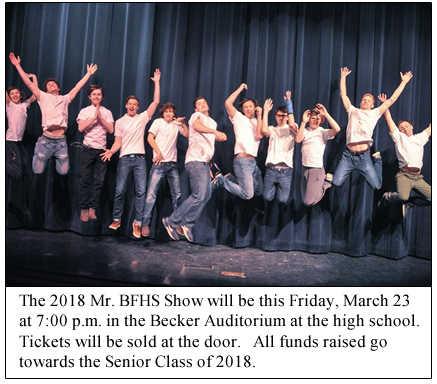 Mr. BFHS isn't just a comedic parody of Distinguished Young Women. The categories these men are really judged on are Talent, Lip Sync, Self-Expression, and Fitness. Our charismatic participants have a limited amount of time to prepare their acts before they are in the spotlight in front of their community for a performance they'll never forget.

Shiloh Thomas, an ultra-masculine competitor, talked about his feelings toward these categories. He said he was "least excited for lip sync because he can't dance and is uncoordinated", but "he is most excited for talent because they are going to be really funny this year." The Forget-Me-Nots have been helping them with their routines and choreography for the past two weeks, making sure they are show ready Friday night!

Of course Mr. BFHS is the most humorous event of the year, but it is also a fundraiser for the senior class of 2018. The proceeds they earn from the community's support helps them go on their senior trip, an annual tradition that helps our seniors make those long lasting memories!

One of our macho competitors, Nikolous Bertling, explained why he decided to participate in Mr. BFHS. "I did it for our class' sake because there weren't enough guys participating. However I was pretty intrigued with the idea of doing something ridiculous."

Mr. BFHS is a great way for these men to have fun on stage and showcase their personalities we have all come to know and love! So come down to the BFHS Becker Auditorium this Friday, March 23rd at 7:00 p.m., to witness the manliest show in town! Doors open at 6:30 p.m. and tickets cost $10 for adults, $5 for students and senior citizens, and free for children 3 and under! All are welcome to come and support the class of 2018 to see who will be crowned Mr. BFHS! (More details can be found on the BCSD101 webpage).
Questions or comments about this article? Click here to e-mail!