Governor Otter meets with public in Moyie Springs—
Idaho's Capitol for the Day
March 17, 2018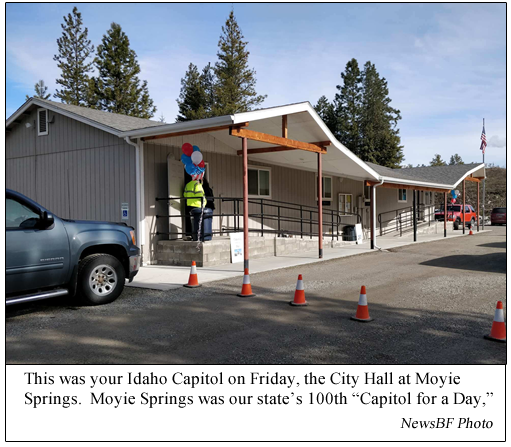 Boundary County residents traveled to the State Capitol to meet with the Governor and many senior state officials on Friday, March 16. Not as long of a trip as it might sound, since the City of Moyie Springs served as Idaho's capitol for that day.

Idaho Governor Butch Otter has made it a practice to proclaim a different small Idaho town as the state's "Capitol for a Day" each month. His stated goal is to visit all 44 counties twice in his two terms as Idaho's governor. Moyie Springs was the 100th town to serve temporarily as Idaho's capitol under Governor Otter's program.

"It is our job in State government to ensure people in communities all over Idaho have a real say in determining their own future," Governor Otter has said. "It shouldn't be the case that folks in Boise have a greater role in contributing their civic virtue to our statewide discussions than people in Moyie Springs or Malad, Ferdinand or Firth, Wallace or Wendell.

Friday's meeting was held in City Hall at Moyie Springs. Along with the Governor, Idaho's Lieutenant Governor Brad Little attended, along with several members ofthe Governor's cabinet, and leaders or representatives from many state agencies and departments. Several hours were provided in the meeting to allow Idaho / Boundary County citizens in attendance to ask questions of the Governor or of the leaders of the state agencies. Attendees also took the opportunity to share their comments and opinions.

The City of Moyie Springs provided a lunch for those in attendance.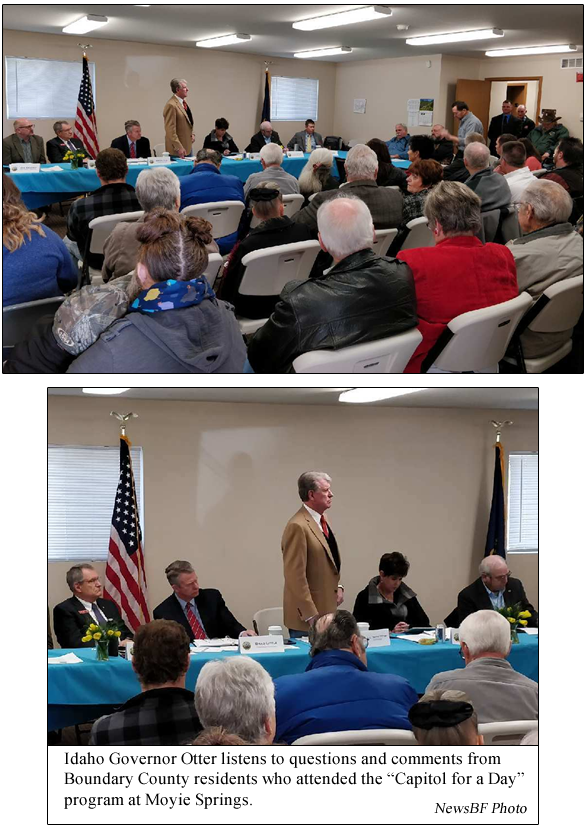 Questions or comments about this article? Click here to e-mail!