BFHS Students sit-in to support Florida school
and anti-violence
March 15, 2018
by Kevin Dinning
BFHS Principal

Yesterday Bonners Ferry High School had a student-led, optional, sit-in to pledge to be anti-violent.

The sit-in was for a duration of 17 minutes in honor of the 17 victims from the recent school shooting in Florida.

Students sat in the shape of the number 17, and they signed a pledge to be anti-violent.

Kira Carla Hull, a student leading the sit-in at BFHS, has family connections in Parkland, Florida, and she addressed the 80 student participants at the sit-in with thanks and appreciation.

BFHS students will be providing suggestions to administration to develop a list of 17 ways to better our schools culture to prevent violence.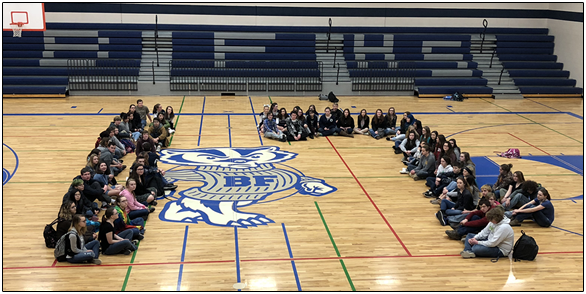 Questions or comments about this article? Click here to e-mail!