New Forest Supervisor on the
Idaho Panhandle National Forests
March 5, 2018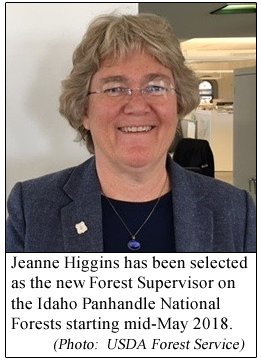 Jeanne Higgins has been selected as the new Forest Supervisor on the Idaho Panhandle National Forests starting mid-May 2018. She is taking over the position previously held by Mary Farnsworth, who near the end of 2017 acceepted a Deputy Regional Forester position for the Intermountain Region of the Forest Service in Ogden, Utah. During the interim gap between Farnsworth's departure and the mid-May starting date of Higgins, Holly Jewkes has served as acting Forest Supervisor on the Idaho Panhandle National Forests. Jewkes is the Deputy Forest Supervisor on the Willamette National Forest in Oregon.

A University of Idaho graduate, the soon-to-be Supervisor of our local area national forest, Jeanne Higgins, currently serves as a natural resources specialist providing policy reform leadership for the National Forest Systems of the USDA Forest Service in the Washington Office.

Higgins has been active in developing strategies for large-scale recovery and forest sustainability efforts. She has been a leader in forest restoration processes and strategies.

Higgins grew up in Northern California and attended Sierra College obtaining an Associate of Science Degree in Forest Technology. She has held many positions with the Forest Service over the years, starting with front line boots on the ground positions, and including upper level management positions.
• Her first seasonal position was as a Forestry Aid on the Klamath National Forest in Northern California in 1980.
• Higgins obtained a Bachelor of Science in Forest Resource Management from the University of Idaho in 1988.
• Upon graduation, she served in a variety of positions including Forester, Planner, Staff Officer, and District Ranger on several national forests throughout the west.
• Higgins was Forest Supervisor on the Chequamegon-Nicolet National Forest in 2007.
• She next served as Forest Supervisor of the Humboldt-Toiyabe National Forests in 2010.
• She was appointed Deputy Regional Forester for the Southwestern Region of the USDA Forest Service in 2012.
• Higgins was also the Forest Supervisor on the Stanislaus National Forest before serving as the Acting Associate Deputy Chief for National Forest Systems in 2016.

Higgins is excited to come to the Idaho Panhandle National Forests with her husband. They have two grown daughters who are pursuing careers of their own in Idaho and Montana, as well as a new granddaughter. Higgins enjoys spending time with family, hiking, hunting, kayaking, camping, skiing, and traveling.
Questions or comments about this article? Click here to e-mail!