If it's 4:30 in the morning, you might see a light on in the kitchen of Selkirk Sweets Bakery and Catering, a new business located at the south side of Bonners Ferry inside the Dodge Peak Lodge. Four-thirty is when Selkirk Sweets owner Sharon Hintze starts her day, which is going to be a day busy with cupcakes, croissants, tarts, cookies, various flavors of icing, cinnamon rolls, turnovers, and of course, much more.

Selkirk Sweets Bakery and Catering was opened for business about four months ago, just this past November. Sharon Hintze, owner and operator of the business, grew up in Michigan, and before coming here had been living in Minnesota. "I grew up working in my parent's grocery store. I worked in a number of restaurants." She went off to college in the Northwoods area of northern Wisconsin, and earned a degree in Hospitality Management.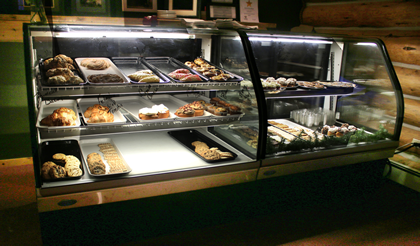 After working in baking and decorating cakes for over 20 years, she was eventually offered an opportunity to become a partner in the bakery where she had been working in St. Paul, Minnesota. She took that opportunity, and thus became co-owner of a busy St. Paul bakery.

So how did she go from operating a busy bakery in metropolitan St. Paul, to starting up her own bakery and catering service in the mountains of North Idaho? She had family living in Bonners Ferry, and once in a while she would break away from baking to visit her Idaho relatives. "I fell in love with the area."

She decided to move to Bonners Ferry, but finding a job here did not go as smoothly as she had hoped. Then one day she heard about a place in town that had an empty commercial kitchen that was not in use. With her background, skills, and experience, she knew she could put that location to good use, and Selkirk Sweets was born. That's how those 4:30 a.m. mornings get going.

(Story continues below picture)



And beginning at 6:00 a.m. most days, you can stop by and try out her variety of pastries, cookies, and other baked goods. On the day we visited Selkirk Sweets, the brightly lit display case contained croissants filled with either cream cheese or jalapeño peppers. There were apple turnovers and apricot turnovers with craisins. Also on sale that day were your choice of cinnamon rolls with either German cinnamon honey butter, or maple espresso icing and bacon.

"We change our items daily," said Sharon. "We bake in small batches so we can rotate our offerings, so you will not find the same products everyday. We love to make so many items, rotating gives us the chance to do numerous items. We do encourage our customers that if there is something you would like for a specific day, please give us a call and place a special order."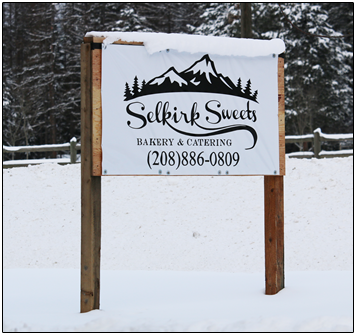 She has also started offering fresh hot breakfast in the morning. On the day of our visit, the breakfast menu offered biscuits and sausage gravy, and baked apple French toast topped with cranberry sauce and finished off with whipped cream and walnuts. "There is no set menu for breakfast," she said. We change items daily, rotating foods in and out. We also do a variety of egg bakes for breakfast."

But it all doesn't end there. Selkirk Sweets does children's birthday parties, and she plans to start having pasty days once a month. (Pasty: from the French pasté, a kind of meat pie). "You will be able to preorder your pasty to pick up and take home for dinner or freeze for a later evening."

People have been asking about donuts. She says she doesn't have those yet, they will be appearing in the near future. But she does welcome ideas and suggestions for what people would like to see available in the shop. "We welcome the community's thoughts. If you like or don't like something, let us know. If there is something you would like to see, let us know. We are planning on offering some gluten-free items in the near future. We have had some of our guests give us recipes they would like us to try."

She enjoys living in Bonners Ferry and owning a business here. "I am really loving it. I grew up in a small town in Upper Michigan and really like getting to know so many people."

Selkirk Sweets Bakery and Catering is located inside Dodge Peak Lodge at 5952 Main Street in Bonners Ferry, telephone (208) 886-0809. Days and hours are: Tuesday through Saturday 6:00 a.m. - 2:00 p.m. Closed Sunday and Monday.