Representatives Scott, Dixon report back to Boundary County citizens in Town Hall meeting
February 28, 2018
By Sara Hall, Writer

BONNERS FERRY — Idaho State District 1 Representatives Heather Scott and Sage Dixon spoke to a full house during a Town Hall held at Providence Bible Presbyterian Church in Bonners Ferry on Saturday, February 24.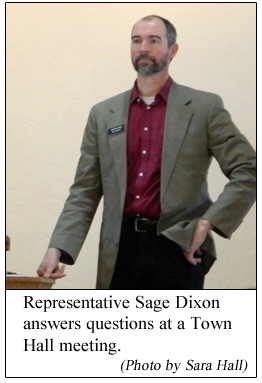 Representative Sage Dixon presented first, saying that when he went to Boise, he had two main goals. One was to do something to stop human trafficking, and the other was to help better the jobs situation for Idaho veterans. He was gratified that he had been able to work on each of those goals. He had met other individuals working on those issues, and had worked with them by sharing his files and ideas.

Dixon, who is on the Joint Finance and Appropriations Committee, described legislation meant to stop the trafficking of prostitutes across state lines. Dixon emphasized that oftentimes underage girls are forced into prostitution against their will, and then are kept in that industry by the lifestyle. According to Representative Dixon, in the Boise area alone there are 3,000 women involved in prostitution, including underage females. The House heard testimony from women between the ages of 15 and 40 years old. Legislators worked with citizens in the hospitality industry as part of their work to address this problem.

Under previous code, people trafficking persons across state lines were guilty of a felony on the third offense. By striking the "s" from persons, legislators hope to make the act of trafficking even one person across state lines a felony, since previously, by transporting only one person at a time, violators were able to circumvent the law.

A second step in closing loopholes in existing code is to make procuring a prostitute a felony on the first offense. Dixon said that the idea is to lower the demand side of the industry, and that most of the individuals engaging in procuring prostitutes are upper-class and well-to-do. "We can't just go after the pimps and the women," he said. "We have to go after the man side of the equation." According to testimony, the majority of those seeking a prostitute do not protest when offered an underage girl.

Next, Representative Heather Scott shared that she is encouraged by the kind of bills she sees coming up for vote in the State Legislature. She shared information about a bill known as HB419 American and Idaho Laws for Idaho Courts, saying that this bill mandates that, in Idaho courts, American and Idaho law, rather than foreign laws and legal doctrines, will be used to decide court cases. Acccording to Scott, this bill is designed to protect American Constitutional and Idaho individual rights and liberties from being silently eroded.

Scott also spoke of HB473, a bill designed to push back on indefinite detention of Idaho citizens, saying that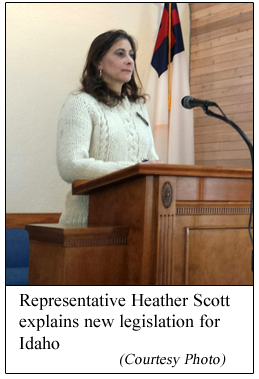 it's an application of the Tenth Amendment. She said that other states are using the Tenth Amendment to allow for the use of marijuana, so why not use it to nullify the provision of the National Defense Authorization Act (NDAA)? The NDAA allows indefinite detention of a person suspected of terrorism without being charged. This bill passed the floor of the House Monday, February 26.
Both HB419 and HB473 now go to the Senate Committee, and then to the Senate floor for a vote.

Among other legislation, Scott described new legislation that reverses trespassing regulations. Previously, property owners had to post No Trespassing signs on their property, or hunters and others could go on their property at will. "If this bill passes in Idaho, you won't have to post signs," said Scott. "It's up to people to know where the private lands are. It protects people with private property." The legislation was lobbied for by the Idaho Farm Bureau.

After their presentations, Scott and Dixon held a Q&A period together.

Town Hall attendees repeatedly thanked both Representatives Heather Scott and Sage Dixon for their service on behalf of North Idaho citizens.



Questions or comments about this letter? Click here to e-mail!