Sheriff's Office plans Crime Prevention presentations
February 28, 2018
by Michael Meier
Boundary County Idaho
Director of Emergency Management
Public Information Officer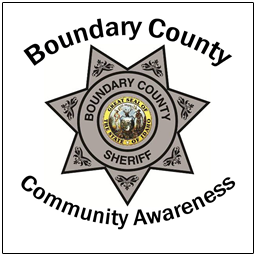 Sheriff Dave Kramer and his crime prevention specialists will be putting on a Crime Prevention Night March 15, from 6:00 p.m. until 7:30 p.m. This event will be held at the Moyie City Council room in Moyie Springs. This training is free and open to the public. It is planned to later offer this same Crime Prevention Night training on later dates in the Naples and Eastport areas.

The presentation is scheduled to last a little over an hour, along with time to answer questions. This short presentation could help lower your risk of becoming a crime victim. We hope you have time to attend and learn ways to help make it more difficult for thieves to steal your property, or break in to your home. There will also be some tips and instruction on internet safety. You are invited, we are hoping you can be there.
Questions or comments about this letter? Click here to e-mail!