Mountain Springs launching Early Learning Academy
June 26, 2017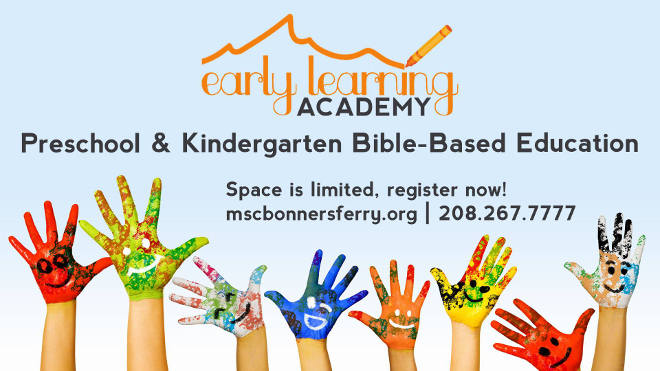 Following the precept of Proverbs 22:6, "Train up a child in the way he should go and when he is old he will not turn from it," Mountain Springs Church is launching the Mountain Springs Early Learning Academy preschool and kindergarten to help instill God's love in each child so that he or she may grow to find his or her courage and confidence from knowing God's unwavering love.

According to staff, biblical principles will drive education in all teachings; life skills, academic and biblical. Each child will be lovingly guided into a personal relationship with Lord Jesus Christ.

Their program will create an environment that emphasizes individualizing education that meets each child's academic goals and spiritual gifts. Staff will create a respectful and nurturing environment that allows each child to reach his or her potential.

Mountain Springs Early Learning Academy is an outreach ministry of Mountain Springs Church, 6789 Main Streey, Bonners Ferry, dedicated to reaching and serving children and families in the church and in the community. Classes will be held from 8:30 to 11:30 a.m. for morning session and from 12:30 to 3:30 p.m. for afternoon session each Tuesday and Thursday beginning Tuesday, September 12.

Cost per sttudent is $120 per month and registration is due by Thursday, August 31. To download a registration form and/or scholarship application, visit www.mscbonnersferry.org. to learn m ore, call the church at (208) 267-7777, or email ela@mtspringschurch.org.
Questions or comments about this article? Click here to e-mail!