Our kids really are worth whatever it takes
February 16, 2017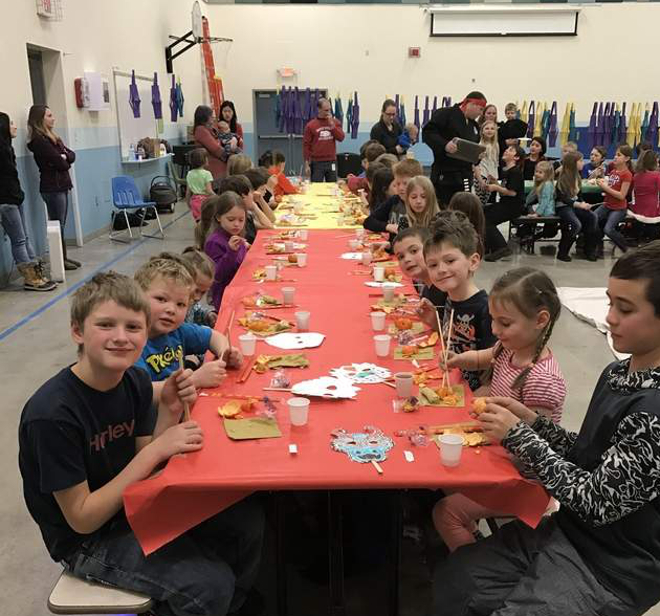 Celebrating Chinese New Year at Naples Elementary.
By Principal Lisa Iverson
Naples and Mt. Hall Elementary Schools

February has been an unpredictable month of school, or lack of school I should say. I know students, staff, and parents are ready to get back to normal. Speaking of normal, this winter has been anything but.

However, as I was shoveling the roofs of Naples Elementary and Mt. Hall Elementary, I was touched by how many people turned out to help the schools. It was great reminder that it really does take a village. From the bottom of my heart, thank you to everyone who helped.

Our kids really are worth whatever it takes.

Now that we are back to school, it's time to get to work. To wrap up a few things from January, both schools celebrated the Chinese New Year. The students enjoyed celebrating the holiday and even learned some martial arts.

A big thank you to our PTOs for supplying the goodies, and of course our special guests that helped us ring in the New Year.

In honor of MLK Day, Ms. Knelsen and the student council at Naples and Mrs. Hart and the student council at Mt. Hall ran two very successful food drives. Both schools set goals and had the classes compete to see who could bring in the most canned items.

Even though both schools had a winning class, the real winner in all of this were the food banks in Naples and Copeland. Good job kids!

Looking forward, both schools have a lot to accomplish in February.

At the end of the month, the schools will be celebrating one of the literary greats, Dr. Seuss. Mrs. Jennifer at Naples and Ms. Schnuerle at Mt. Hall have fun festivities planned for the day. Stay tuned! With reading being a huge focus this year, it's always nice to reward the students for all their hard work.

Silverwood has helped out by adding an incentive for reading outside of school. Students who read over 10 hours will receive a free ticket to the theme park. What a great deal!

Speaking of working hard, the fourth graders at Naples and Mt. Hall have been selected to participate in the National Assessment of Educational Progress (NAEP). I know that Mr. Murray from Naples and Mrs. Nishek from Mt. Hall are tremendous educators. I'm excited to see how we compare to other fourth grades across the nation.

Mark your calendars for the famous Mt. Hall Auction. The auction is set for this Saturday, February 18 at 1 p.m. at Mt Hall Elementary. Mrs. Annie Sundstrom and the PTO have been working overtime to make sure this auction is incredible.

Items have been piling up and I'm excited to bid on a few!

Which ones? Well, there's a football autographed by the Seattle Seahawks, tickets to Silverwood and Triple Play, and a queen-sized log bed.

I'm always amazed at the amazing items that are donated and the generosity of our community.

Please come and check it out. There will be concessions and free childcare available.

In other District 101 news, there are upcoming M&O Levy presentations. Cal Bateman will be at the Moyie Springs Community Center on February 27 and at Naples Elementary on March 13.

I'm sure next month will be here before we know it. Hopefully, it won't bring any more snow. I'll keep my shovel ready just in case.

ntil next time, thank you all for your support of Naples, Mt. Hall, and all the schools of Boundary County.

Go Wolverines, Go Wildcats, and Go Badgers!
Questions or comments about this article? Click here to e-mail!