New law office opening in Creamery Building
February 14, 2017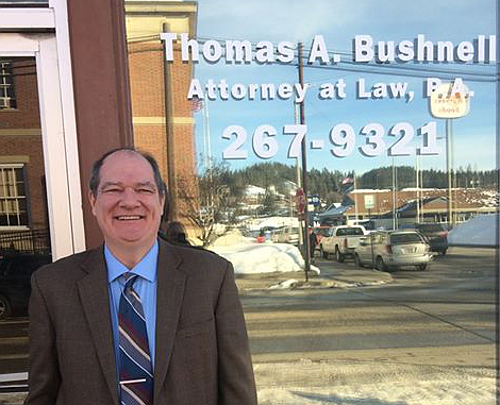 The old Creamery Building office recently vacated by Boundary Abstract didn't stay empty long, and Bonners Ferry attorney Thomas Bushnell, who had been on hiatus since a health scare last year, is bustling, with plenty of help from his family, to get everything ready for his official opening day tomorrow.

And he's stronger, happier and more hale than he's been in years, thanks to a change in diet, losing 50 pounds and adopting a more healthy lifestyle. Of course, as with opening any new business, Tom's a bit more frazzled than he was just a few days ago!

The phones, working just last week, were accidentally disconnected, and at times it looks as if the myriad last-minute details will never get sorted out, even though he knows they will. Plus, he has a hearing to attend this afternoon!

He is planning a grand opening celebration in the near future, after he's first getting through with the bustle and ado of just getting the doors open.

Once open, Thomas will offer the full range of legal services with the exception of divorces and child custody cases, as his practice, he said, will be to build up his clients' legal well-being through offering affordable help with wills/estates, adoption/guardianship, property law, personal injury, contract law, civil litigation, employment law, civil rights, religious liberties and more.

"I want to meet the people in our local community and help them solve their legal problems in a cost-effective way," he said. "My goal is to provide security and peace of mind."

As an opening special, he is offering an opening special; six crucial estate planning documents, including wills, living wills and powers of attorney, starting at just $600 to help families be on firm legal ground that will protect their futures in the event of illness, death or other calamity, and bring peace of mind when peace of mind is most needed.

The offices of Thomas A. Bushnell, at the corner of First and Kootenai Street in downtown Bonners Ferry, will be open from 9 a.m. to 4:30 p.m. Monday through Thursday and by appointment on Fridays. To learn more, call (208) 267-9321 (he's been assured that they will be working!) or visit http://boundarycountylaw.com.
Questions or comments about this article? Click here to e-mail!