Three Elk Mountain farmers honored
February 13, 2017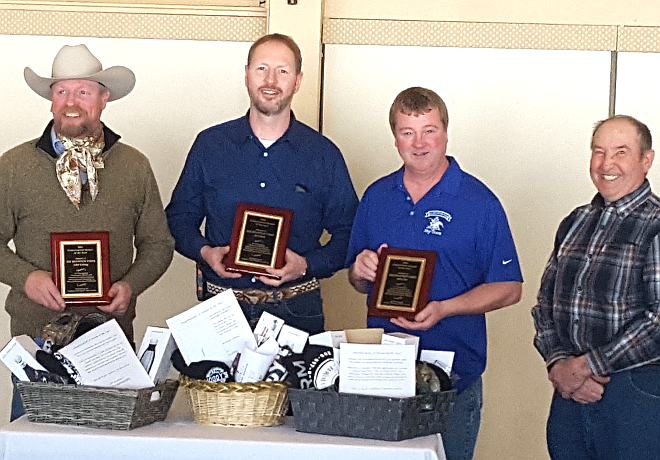 2016 Conservation Farmers of the Year John Kellogg, Ed Atkins and John Solt with Boundary Soil Conservation District chairman Tom Daniel.
The Boundary Soil Conservation District had the pleasure of awarding John Kellogg, Ed Atkins and John Solt 2016 Conservation Farmer of the Year awards at a breakfast banquet hosted at the Kootenai River Inn on February 7.

The three gentlemen accepted the awards on behalf of Elk Mountain Farms.

It was great to hear that all three men will be celebrating 30 years of employment with Elk Mountain Farms this year.

Board Chairman Tom Daniel highlighted on a few of the reasons BSCD chose them for this award. Elk Mountain Farm's diverse agricultural production is a huge part of the Kootenai Valley, and soil and water conservation is an effort that they have continued to improve on each year.

Elk Mountain Farms has converted to a drip hose system to irrigate instead of sprinklers to provide water to their 1,700 acre operation.

Ed Atkins, who is the general manager of Elk Mountain Farms, made it very clear that protecting the environment has always been their goal. They are committed to water conservation practices and sustainable farming techniques.

Elk Mountain Farms recently set an all-time safety record for 1,489 consecutive days without accident. This is a huge accomplishment, considering they employ 19 full-time employees and over 200 seasonal employees.

Elk Mountain Farms is the largest Amarillo hop grower in the world and their 1,700 acre farm spans over two different locations in the valley, Backwoods Farm and Tavern Farm.

After the casual breakfast, guests had the pleasure of listening to the guys and their wives reminisce about the struggles and triumphs that the farm has experienced over the years. It was great to hear them highlight other local farmers in the valley that have helped them over the years when times got tough.

Everything from lending machinery, a helping hand, and as farmers always do, giving their advice.

Their dedication to farming and conservation is undeniable and BSCD could not be more proud than to present them these awards.

Along with the plaques they received, local businesses made very nice contributions; everything from gift certificates to shirts and hats and lots of local goodies to help BSCD put together some great gift baskets as a thank you for all of their hard work!

Thank you to those businesses and Congratulations from BSCD!
Questions or comments about this article? Click here to e-mail!