Barking Saddle has 'soft' opening
February 20, 2018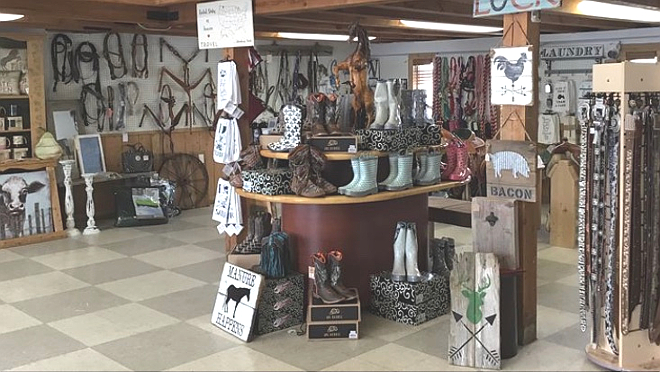 By Mike Weland

After far too long, Boundary County once again has a western shop, Barking Saddle, in the Bonnerport Mall just off the city parking lot in downtown Bonners Ferry. Walking in, you're sure to think, "wow, this is neat!" What's a little hard to believe is that the main lines of merchandise are still at the manufacturer's, waiting to be made.

Lori Ann Marble has spent a lifetime with both dogs and horses, training and showing them. The name of her new store, which opened its doors in a "soft" opening on Saturday, she says, pays homage to two of her passions.

She, her husband Jesse, son Austin, now in the Navy, and daughter Caitlin, now a freshman at Bonners Ferry High School, moved to Bonners Ferry from Portland, Oregon, in 2006 to enjoy the slower paced country life available here, she said. And with the slower pace, she said, her third passion, her family, particularly Caitlin, who is into horses and helps out at the store any time she can, began encouraging her to fulfill a long-time dream of opening her own store.

Inside Barking Saddle you'll find the utile and the wistful, purses, boots, belts, saddles and tack right alongside portraits of cows and other countrified art, much of it by local artists, that would look at home in the old farmhouse or the most upscale city condo.

There are toys and trinkets, saddle blankets, halters, bridles, brushes, leashes and more.

What's missing, she said, and what will trigger her to schedule her grand opening, is the addition of her line of quality western wear; Justin and Tony Lama boots, Cinch and Cruel western jeans and clothing.

"I didn't know it until now, but these companies don't make back stock," Lori said. "They wait until it's ordered and manufacture when orders warrant to ship with the season."

She has no firm idea when the western apparel will arrive, but when it's all in, she'll get everything set up for the official grand opening at Barking Saddle and Bonners Ferry's latest country and western themed store will be complete.

Barking Saddle is open from 10:30 a.m. to 5 p.m. Tuesday through Saturday at 6371 Kootenai Street. To find out more, call (208) 946-1134.
Questions or comments about this letter? Click here to e-mail!