First girls join Cub Scout Pack 114
February 13, 2018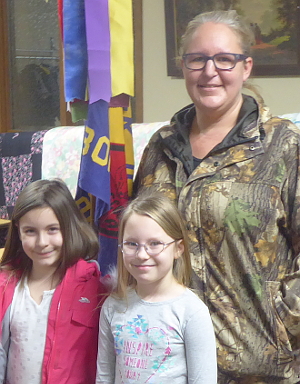 These three are unassuming, but (l-r) Shelby Yocom, Bryn Griffiths and Leslie Griffiths are making history in Cub Scout Pack 114!

Bonners Ferry Cub Scout Pack 114 has signed up its first two young lady Cub Scouts, making Bryn Griffiths, 7, and Shelby Yocom, 6, not only the first Cub Scout girls in Bonners Ferry, but among the very first in all of Cub Scouting!


Shelby, a first grader at Mt. Hall School at a Cub Scout Tiger, is the daughter of Brent and Melissa Yocom.

Bryn, who enters Cub Scouting as a Wolf, is a second grader at Valley View Elementary and the daughter of Lorne and Leslie Griffiths, and her mom is not only the mother of Boundary County's first female Cub Scout, she is also the first Den Mother specifically serving a Den to be made up of girls!

She extends a warm welcome to all Boundary County girls in first through fourth grade interested in becoming Cub Scouts.

Pack 114 meets from 6 to 7 p.m. each Tuesday downstairs at Trinity Lutheran Church, 6784 Cody Street, Bonners Ferry.

None of the three thinks much about their role in Cub Scout history ... they just want to have fun and become the best Cub Scouts they can possibly be!

Pack 114 was chosen as one of a select few Cub Scout Packs in the nation to be allowed to accept girls into their ranks ahead of the official roll-out date in September, based on the Pack's stellar history.
Questions or comments about this letter? Click here to e-mail!