Sloppy roads throughout region
8:35 p.m. January 11, 2018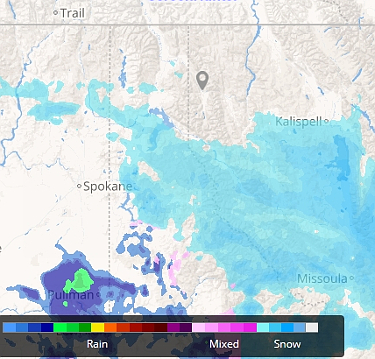 Radar image captured at 8:15 p.m.

As of 8:30 p.m., highway conditions throughout North Idaho, and much of the rest of the state, remain "difficult, according to Idaho 511, as little snow is still falling in Bonners Ferry, having shifted mostly to the southeast in Bonner and Kootenai Counties and into Montana. So far in Boundary County, motorists have been handling the road conditions well.

The 8:10 p.m. temperature in Bonners Ferry is 30-degrees and continued snowfall is likely off and on through Friday morning, with an additional two to three inches falling over night.

Temperatures in Boundary County are expected to climb to about 36 in the valleys on Friday, and snow turn into rain.

Traveling east out of Boundary County into Montana, Highway 2 is reported to be wet with patchy ice from the Idaho state line to about Kootenai Falls, where roads are snow covered east to Kalispell. Highway 37 from Libby to Eureka are likewise snow covered and slick, as is Highway 93 from the Canadian border south nearly to Stryker, where conditions change over to snow and ice into Kalispell.

The chance of snow remains at nearly 100-percent through the night from Troy to Libby, diminishing to 70-percent Friday morning.

Roads north into Creston are compact snow with slick areas, and Canada Highway 3 in both directions is scheduled to be closed for avalanche control 30 kilometers west of Creston in Kootenay Pass for 27 kilometers from 11 a.m. to 2 p.m. PST Friday, January 12, weather permitting. An open alternate route from Nelson to Creston is Highway 3A and the Kootenay Lake Ferry.

Travelers headed east into Washington can expect snow and slush on highways in Spokane, including I90, and Pend Oreille Counties.
Questions or comments about this letter? Click here to e-mail!