Get ready for more winter
6:35 a.m. January 11, 2018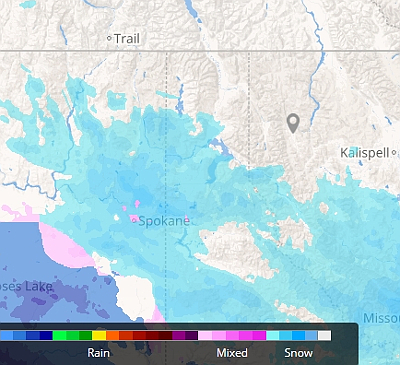 Radar image captured at 6:30 a.m.

With the temperature below freezing and snow on the way, highways in Boundary County are rated "fair" as of 6:10 a.m., but be on the lookout for slick spots.

The weather radar image, captured at 6:30 a.m., shows an active weather system moving to the northwest and into Boundary County; highways from Sagle and Newport south already show as "difficult" south into Latah and Clearwater Counties.

As the system moves in, snow is expected to grow heavier through the day; the indications are that the warning that the evening commute will be difficult will be borne out.

If you need to stock up on groceries and supplies, going as early as possible might be wise -- you might also want to stock up on firewood, candles and lantern oil, as if the snow is as heavy as predicted, power outages are possible.

As of 6:20 p.m., it's 32 degrees in Bonners Ferry, 30-degrees in Troy and 27 in Libby. Lincoln County highways are currently wet with patchy ice in Troy and Libby, dry from Eureka to Whitefish and snowy south of Bull Lake and into Sanders and Lake Counties.

If traveling today, be safe!
Questions or comments about this letter? Click here to e-mail!